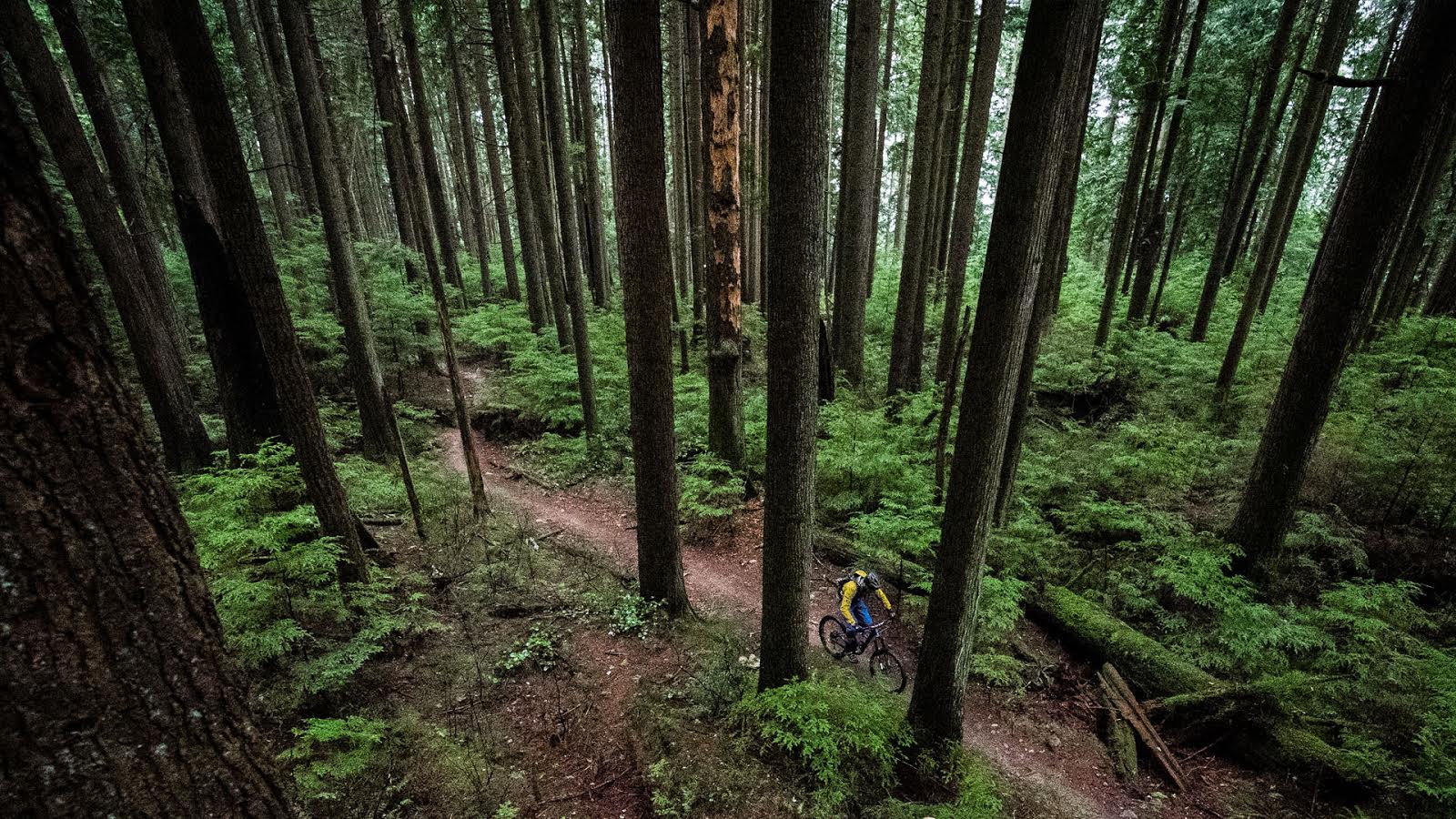 The Changing of the Guard
5 Good Reasons to Ride Through Winter
It's that time of year where the butter in the dish no longer stays spreadably soft, and you avoid getting out of bed to take a piss. Yes, the winds of change are upon us and the reality of another winter is sinking in; here are some reasons to get out on the trails:
1. Vibrant Colours and Atmospheric Conditions. The greenness of the forest is hands-down better when it's wet, and every colour brightens up. Getting out when it's nasty out can be as much about enjoying the time in the woods as the ride itself.

While it does take a bit more motivation to get out on your bike and get soaked instead of having a bubble bath, there are still good reasons—winter-specific, even—to get out on the trails.


As a photographer, dank wet conditions on the Shore are my favourite time to shoot. Look at those greens pop!
Gone are the days where the ground actually dries out between periods of precipitation, so we switch from our summer meaning of dry to the winter meaning—which has more to do with what's falling out of the clouds than the ground conditions. We know it's going to be wet, and for the next six months.

Hit up your favourite low elevation XC loop and enjoy what winter riding has to offer…
2. Clear Courses. While mountain bikers are a hardy bunch, many choose to stay inside all winter and argue on the internet, or "shred the gnar pow" at higher elevations. This means the trails are clear for the rest of us.

Winter provides us much more often with the "classic Shore" condition: socked in with fog, can't see the next feature on the trail awesomeness. 

These are the conditions that you wish you could show your out of town visitors who only seem to show up in the summer.
3. Night Riding. While it may be dark as soon as you get home from work, that doesn't mean you can't still get out for a ride.

Decent lights are available as cheap as $100 to keep your after-work ride going through winter.
4. Fresh pow, on two wheels. There will inevitably be times during the winter when not all the trails are clear of snow, but if you get the chance to ride in fresh pow, rejoice!

The crunch of fresh tracks under your tires…

A good chance this structure has snow on it right now…
5. Fat Tires. Skittering around on last year's bald tires is one way to do it, but a fresh sticky tire on the front can be really nice.

Less trail traffic: no waiting while someone cleans that descent you're about to smash; no irritating guy with a beard chatting you up. Photo ~ Billy Jackson

Remember to bring an extra warm layer and to keep a light in your bag, even if it is just a basic headlamp or flashlight. Matches or a lighter are never a bad idea—and a toque is a must. Same recommendations go for trail building or as others call it, "hiking."

Pete Morrin has done a hell of a job on Seventh this fall. You won't even recognize some corners they're so smooth.
Be nice to the trails: stay off loamers and trail sections with fresh ground work if at all possible. All that rain and snow is doing its best to re-loam the trails, but it won't stay long if it gets ridden!

Choose trails that can handle traffic in the wet. You will be repaid in trail karma.
So while at times we may occasionally be snowed in, and the lure of a warm fireplace may prevail, there's no reason to neglect your bike over winter.

Winter sunset from the west side of Mount Seymour.
---
Every one of these points is debatable. What are your cardinal rules? And what keeps you going through winter? Post from your long johns below…