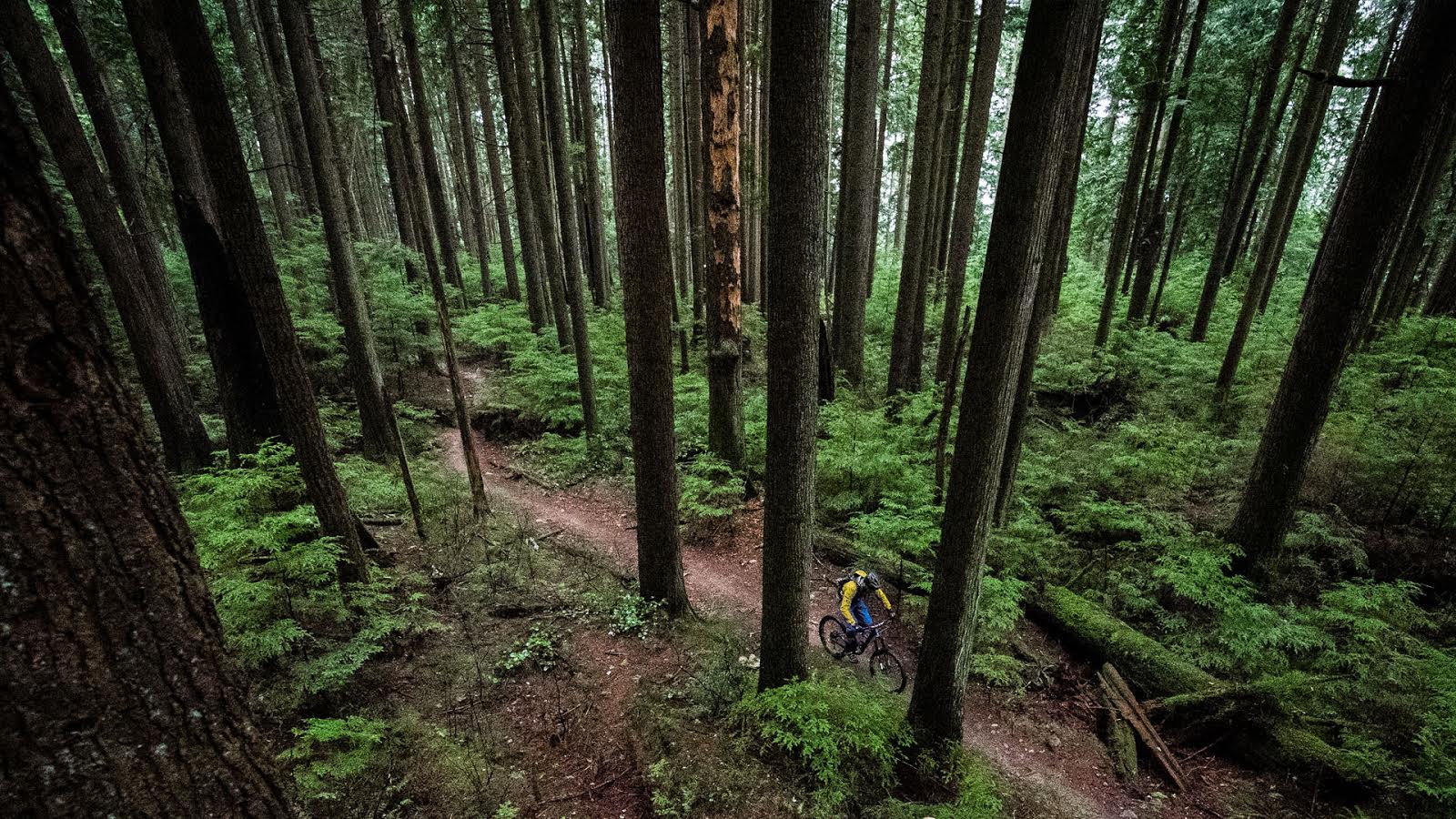 Dale's Trail Day Report 4

  We got lucky with the weather on our fourth TAP trail day of 2011 – and we had a great turnout of almost 30 riders – all eager to get their hands dirty and buff some trail. Photo ~ Morgan Taylor
I get it now. I always thought that trailbuilders were a quirky and obsessed lot. Perhaps a little off kilter. Actually I still think that. But the time we have spent on Dale's has helped me understand their obsession a little better.

  The bridge work from our earlier trail days looks like it'll last a lot longer than the Euro. Rider ~ Garrett Thibault. Photo ~ Morgan Taylor

  This was one structure that didn't need much attention. Some cribbing and filling in of the exit and entrance and it's good as new. Rumour has it Johnny Smoke built this. Johnny? Rider ~ Darryl Marlatt. Photo ~ Morgan Taylor
This was our fourth outing on Dale's and we are getting more and more attached to the trail. It goes to nowhere really and it's a tough line to work on, considering it follows a creek much of the way – but we've grown to love it, warts and all. Every walk in allows us to revisit our previous work and to see what was successful and what needs touching up. Every soft spot has become a personal affront and pooling water is cause for alarm. The teachings of Digger and Jerry have made all of us quite savvy about groundwork, drainage and contour – and proud of our efforts.

   If you are worried about a lack of gnar, never fear. This is the Shore after all. Rider ~ Garrett Thibault. Photo ~ Morgan Taylor

  Something needed to be done to this low, mucky zone. Digger and Jerry decided to divert it to the high ground you see on the left of the photo – which meant cribbing, filling and then paving with gold. Photo ~ Jerry Willows

With that feeling of responsiblity and ownership comes immense satisfaction. This was more palpable than ever at the end of our fourth mission. We had 28 riders out; a high proportion of experienced builders and some first timers as well. The perfect mix really, and we once again set a new high water mark for work done.

  Tracy is a trail builder of some experience and she did a tonne of work – with her son Colton (left) as her sidekick. Here she is working on a grade reversal that doubles as an opportunity to pump or jump . Photo ~ Jerry Willows

  The cribbing required some cutting. Luckily nsmb team rider and certified chain saw artist Eamonn Duignan was there (with his shirt on) to save the day. Having a saw at a trail day is a huge help. Thanks Edawg! Photo ~ Morgan Taylor
One of the first tasks was to deal with a berm that was built on our last outing. We didn't put in enough drainage and there was a puddle at the bottom after a rain. A PVC pipe was brought in and buried under the berm. It was bedded in with rocks and a rock 'grate' was made to filter out material that might clog the outflow. Then it was expertly buried. By the time I got to that point on the trail, well before lunch, it was all done.

  Right away a crew excavated the berm re-route we built on our last mission. Drainage was sub par so a PVC pipe and natural drainage 'tiles' were installed. Photo ~ Morgan Taylor

   Jeremy Schaab and Todd Hellinga (who came from Whistler!) worked this section to perfection. There are at least two ways to get some good air here and skip off the rock below. Try them both and let us know how it goes. Photo ~ Morgan Taylor
There was a mucky section of low lying trail that the crew decided was beyond repair. Digger and Jerry laid out a plan to build some cribbing and reroute the trail onto a higher line. The cribbing was filled with rounds of cedar and large rocks and then packed tight with gold. The finished product looks like something out of Crankworx; a large platform that Matt Montandon could probably spin off. You can roll it, launch a little one or even gap it out to a little tranny and keep your speed up.

   Digger put Mark Wood to work when he showed up on a ride. If riders roll through your trail day putting them to work is fair game! Even Mark – the grand poobah of TAP. In truth he came to give us some moral support and lend a hand. Photo ~ Morgan Taylor

   Trail building is rarely glamourous – but nobody complained about doing grunt work and doing it well. Photo ~ Morgan Taylor

   Who doesn't like a little cheap air? Whenever there was an opportunity to get riders off the ground – even a little bit – we leapt at it. Rider ~ Garrett Thibault. Photo ~ Morgan Taylor

   That low sloppy section i pointed out above? Here's the before and after. Actually another hour or so went into packing it tight (using the Digger Dance) to give it longevity. Photo ~ Jerry Willows

Anticipating riding everything that was created really makes trail work fun. Digger and Jerry have steered us toward sustainability, flow and fun. The difficulty level of the trail has gone down slightly as we have filled holes and protected roots, but in our humble view it's now a trail that can be enjoyed by riders of different stripes. Best of all you can carry more speed than ever before.

  This is looking down the crux of Dale's Trail. It's a nasty slotted chute with several approaches – none of them pretty. A little bit of crack filling and a catcher's mitt of a berm at the bottom added a lower risk option while preserving the rowdiest of the lines to riders' right. We still haven't done much work below this point. Photo ~ Jerry Willows
But we aren't promising a rose garden yet. There's still work to be done below the crux. We're planning one more trail day in November (likely Sunday the 26th) to wrap it all up with a bow. If we get hit by monsoon rains again please give the trail a little time. If the weather is relatively cooperative go and ride Dale's and tell us what you think.
Thanks goes out to Digger and Jerry for their hard work and expertise and to everyone who joined us on one of our four trail days. Thanks as well to Morgan and Jerry for taking photos and to Matt for his cameo to shoot video. Big props as well to Rock Shox and Tyler Morland for pumping in some solid support.

   There is still work to be done on our final mission of the year – which will likely be the 26th of November. We'd love to have you along. Watch the site or email me if you'd like to join the fun. A little spade work will make your next ride down Dale's that much sweeter . Photo ~ Jerry Willows
---
We know that there will be those who think we've gone too far that we've 'dumbed down' Dale's. We'd love to hear from you as much as we're hoping to hear from riders who appreciate the work we've done. Send it all below.