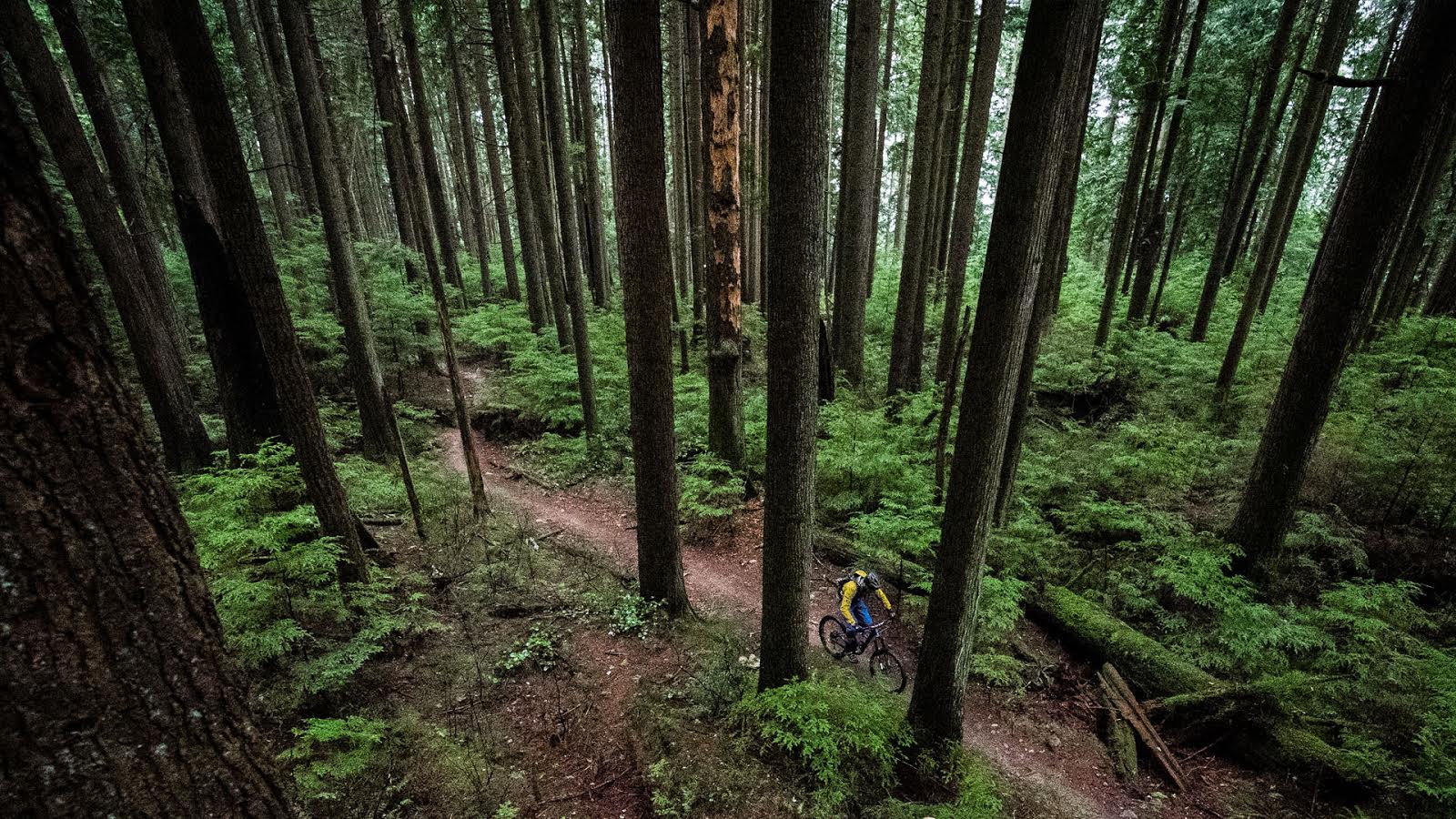 Vid/Story Flying By The Seat part II
Minor problems overcome on Monday morning, team Squamish was waiting for us just outside of Revelstoke at five thousand feet , at the summit of Sale mountain. We stepped out of the truck into the crisp alpine air, and traded stories during a quick reunion as they packed up their camp, surrounded by amazing panoramic views. The Whistler crew was fired up to dig our tires into some fresh, non-bike-park dirt, and so before long, we were rolling into the top of Martha creek trail.

  Stoked to dig the tires into some alpine dirt, but more than happy to get them off the ground too!

Un-nerving flashbacks plagued my mind – the only other time I had attempted to ride this trail, I had lost my rear brake at the top, ruining the run and my mood for the rest of the day. Thankfully this time my bike performed flawlessly, allowing me to soak in each rock, root and loamy turn in all its glory. A mind blowing descent materialized ahead of us, snaking through rock-strewn alpine meadows with unreal backdrops, into flat-out flowy singletrack through the woods. We were shooting past trees like jedis in Endor Forest, hitting natural doubles and berms at every opportunity. Our only reason for stopping was to pinch ourselves to check that the trail was real!
  Snaking alpine singletrack with incredible backdrops is par for the course at Martha creek

A breather at Martha Creek Camp Ground to re-live some of the best moments, and laugh at the sketchy ones, and we were back on the road towards Revelstoke. Peter ordered that every animal, and piece of animal in town was to be piled into his burger, then promptly inhaled the whole thing. Peter is obviously not one to mess around, with his riding or his eating. And so adequately re-fuelled, we put our heads together to figure out which direction we were going to point the truck next.
  From one amazing mountain to the next. This time via boat

Retallack lodge was the consensus for the next destination. We stocked up vehicles with supplies, as we were to be self-sufficient for the next couple of days. Several hours on the road, dissected by a stunning Arrow lake ferry crossing, brought us to the lodge with just enough time to squeeze in a lap of the freshly built Rob Ridge trail before the sun set. We had already racked up some serious vertical, and it was only day 2!
  Kevin Landry, no stranger to the BC backcountry, digs his teeth into a tailings pile

After a night spent in the luxury of Retallack lodge, Tuesday's prerogative was alpine exploration. A cautious drive up a long, steep logging road, that none of us had driven before, led us to our first stop; an abandoned mine shaft. It didn't take much reconnaissance before we had found an interesting looking feature: a long step-down, taking off next to a decrepit wooden hut at the mine entrance, and touching down on a tailings pile lower down. A small amount of buffing up, followed by some time weighing up thoughts of "we're pretty far out there to be sending big gaps at 8a.m" against Mason's words "the light will be perfect in 20 minutes!" and eventually a session began.
  There's nothing like a big gap to wake you up in the morning. Paulo sends


    When it comes to photos, Mason knows what he is talking about. And this is what he was talking about. Peter Matthews, dust cloud through the perfect light and into the abyss.
Checking off a big gap first thing in the morning was a great feeling, and a solid warm up for the rest of the day. Leaving the mine below us, we pressed on, up into the high alpine. We drove as far as the road could take us in the NSMB team truck, unloaded, and kept going as far as we could hike.
  Riding the shale felt like you were on thousands of broken plates, each layer slid over the next with barely any friction.

A dose of bicycle mountaineering brought us up a shaley ridge to the summit, which offered a perfect spot for a much needed break, overlooking a large section of Retallack cat-skiing area, before we began the 6000ft descent back to the lodge.
  Ultimate exposure. Dropping in and trying not to look left!

It rattles the nerves just being in a place like this on your bike. It is pretty harrowing to think about how far out there you are, and about the consequences if anything does go wrong. Glancing to my left I was faced with huge exposure, jagged cliffs dropping down to rocky, shaley death. Making a mistake just wasn't an option out here. I dropped in cautiously, made the crux move, and was out on to the relative safety of the wider ridge.
  Paulo manuals through the moonscape

There was no vegetation on the ridge to gauge how fast you were going, so I let off the brakes and started hooting my way down. I passed Taylor's camera and suddenly felt like I was going warp speed. The time it took to come to a stop made me realize I had picked up a lot more momentum than I thought! Heart pounding, I rolled down to meet the others at the truck before dropping in together for a chinese downhill style section, giving a new definition to the term "road riding." Further down we ducked back into the singletrack to chase each other down the Rob Ridge trail, once again on the lower part of the mountain, and conclude a huge day at Retallack.
---
The combo of Paul, Mason and Taylor make for a powerful media posse. Add in Kevin Landry and Peter Matthews and they become the dream team. Spread the stoke below.