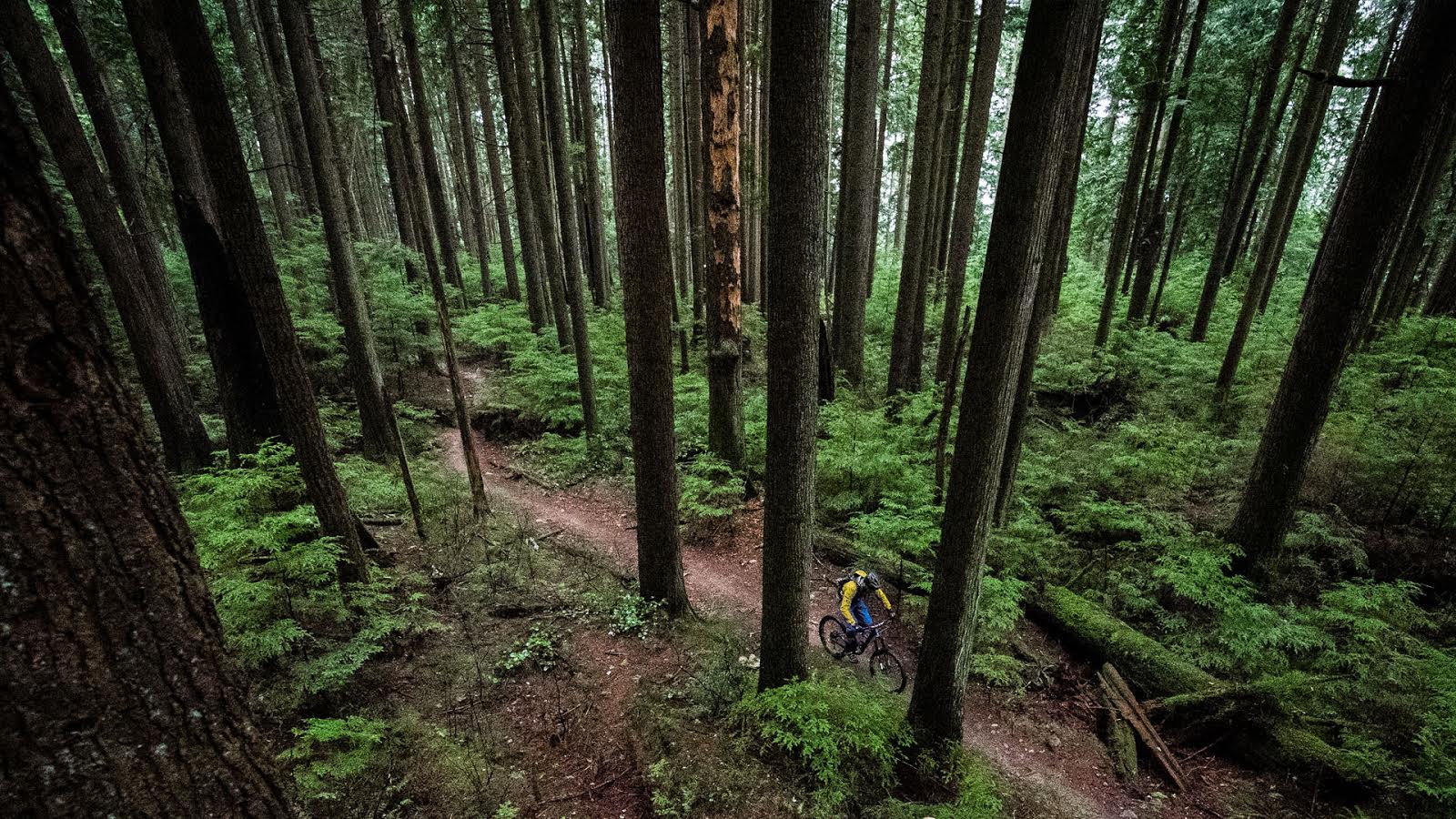 Gear Shots #74
Gear Shots #74: RaceFace, Camelbak, Scott Shoes, and more…
Since writing the review of the Sram XO group, we made some suspension changes to the Trek Remedy test mule. The fork was replaced with a three-position 36 Talas, and the RP23 shock was re-valved to have a stiffer pro-pedal damper.
Along with this change came a freshly serviced RockShox Reverb post, which hooks in to the matchmaker clamp nice and tidy at a fixed angle from the brake lever. The changes were rounded up with a local favourite combo, 2.35 Minion + Larsen single ply tires.
I also had the chance to ride the new 2×10 Turbine cranks from RaceFace. This review also includes a three month look back at some gear that was new in July: the 2012 Camelbak Agent, and the Scott MTB Boa shoe.

Follow-Up: 2012 Sram XO group review.
With the Fox 36 Talas 160 in place of the 150mm Rockshox Revelation World Cup – clearly more of a trail fork than the 36 – the front end of the Remedy immediately became more descent-oriented.  With the Revelation I often fought between a plush fork that dived more than I'd like, or a stiffer fork with less compliance for Shore conditons. For my riding style, the 36 was a better fork on the bike. These forks clearly don't match up in terms of intended use – and the 36 up against the carbon-crowned Revelation isn't comparing apples to apples. The Lyrik, a fork with a strong North Shore pedigree, is the direct competitor for the 36. If I was more into racing, the shorter-travel fork that weighs a pound and a half less might be preferred.

 The RockShox Reverb post ties in to Sram's Matchmaker system nicely, and is a welcome addition to any bike.

With the rear shock retuned and a pair of narrower 'summer' tires, the Remedy became my go-to bike for almost any type of riding. Part of that novelty would have been the Reverb post, on which I am now completely sold. It's not as much that I couldn't live without the dropper post, but the experience of riding with it makes you realize how often (or not) you compromise on seat height.

Uphill skinnies may be out of vogue, but that doesn't mean they aren't still out there and fun to ride. Photo ~ Mike Siemens

---
RaceFace Turbine Cranks
Just one of many options for chainrings, our Turbines are a 10-speed 36/24 classic triple with a light aluminum bash guard in place of the big ring.

Mmmm, 10-speed compatible, Shore-friendly fresh looks.

The XO bash guard on the cranks these replaced was plastic. It was quieter than the RaceFace replacement, but not quite as tough. The RaceFace crank was a good improvement in the sense of durability—much appreciated because I had smashed the bigger and less-protected Sram XO unit a few times and made granite dust with the PG-1080 chain.
Now, as to the question of how the Turbine rings fared with the Sram 10-speed chain? Well, as a background, I have a set of 9-speed Turbine rings on an older pair of Deus cranks and they were very much smooth and quiet; the new Turbines are no different. While the chainline was slightly different than the XO cranks and that required a slight derailleur adjustment, the shifting was spot on from day one.

  Graphic design is a big part of parts production these days, and RaceFace is keeping up with extra logos.

Weighing in at 850 grams, the Turbine set is on par with Shimano XT and 60 grams more than the XO it replaced. Keep in mind these are compatible with Shimano bottom brackets if you're replacing a current set. MSRP is $319 US / $339 CAD.

   Local cachet and compatibility with a widely available standard of bottom brackets? Winning.
---
Camelbak Agent Hydration Pack
New for 2012 in Camelbak's freeride series is the Agent. A whole bunch of little improvements really add up in the 2012 Agent, and it ended up displacing my well-used but still perfectly functional 2010 Mule.

  Taking cheese to the forest, here's a photo of me not riding the bike.
The problem with the Mule was that even with only two litres of water in the reservoir, it became a football on my back. The pack still stayed put alright, but it was noticeably bulky when filled up. With respect to the reservoir, I was happy with the quality of the previous version; the new Antidote reservoir maintains everything that was good about the old reservoir, with a number of refinements.

   The Antidote reservoir is a big improvement in riding characteristic when full, as well as ease of use. In the first photo, you can see the yellow quick release and the new cap which opens with an easy 1/4 turn—no need to ask a football player to open your reservoir any more. The next two photos show the Antidote reservoir detached and filled with 100 oz or 3L or water. Baffles in the reservoir keep it from becoming the football that your aforementioned friend would probably have wanted to throw after getting it open.
I usually carry a SLR camera and one spare lens, a decent-sized pump and shock pump, tube and tools, and extra layers on every ride. What the Agent does that my Mule never could is carry my laptop. I did a summer course up at the local hill and brought a bike along more often than not to enjoy a quick trail rip after class. (And while I've been logging my rides this year, I didn't often ride enough on the short rip down from school to justify a notch in the post.)

  The Agent opens right up to allow access to your bag of rice and plastic bag slash camera case. I also found I could fit my 13″ Macbook in the Agent, which made for a great summer of shred taking a course at SFU.

My Mule was reaching its 12.5L limit of capacity with all the above mentioned gear. The 11L Agent must just use its space better. (I will admit I have a tendency to overpack.) It has plenty of straps for clothes to hang off but the interior doesn't pack especially well. I'm probably lucky my macbook is on the small side, but it's still great to have a hydration pack that carries a computer at all.

  If you just need to go in from the top, the Agent lets you do that too. The front pocket is very useful for a helmet or extra clothes stuffage.

The Agent's front pocket volume isn't quite as good as the Mule, and the fact that its zippers open right up like the rest of the bag has me spilling my tools on occasion. So, while I prefer the Mule's front pocket, mostly everything else is an improvement in the 2012 Agent. The Agent is not quite as robust as the NV series of packs, but is more substantial than the lightweight packs, and it has a smaller sibling called the Asset. MSRP is $140 US.
Scott MTB Team Boa Shoe
Rumbling down a dusty road between the geometric peaks of Idaho's Sawtooth National Forest, I frantically swapped the cleats from my worn out spd shoes on the way to Warm Springs for my first ride in Sun Valley.

I immediately noticed Scott's adjustable arch system, with two removable plastic bits to adjust the footbed to your own needs. The Boa system is easy to use and may attempt to squeeze your feet to death. (The zoom function on Scott's site has a huge res photo of the shoe here.
That ride had twenty-five-plus creek crossings in each direction of an out-and-back. My brand new shoes got completely soaked over and over again in a dusty environment on ride one, and that was only a taste of what was to come.

  Tim Bateman of Western Spirit tours takes plunge number 23 on our descent.

We started the next morning with a knee-deep creek crossing just before the million ones we were going to ride our bikes through on the climb. I was way stoked to have new spd shoes: crappy, worn out shoes will make you reach for the five tens and flats more often. For the first few days riding these shoes, my knees were happy to be riding stiff, new soles again.

  Getting "Out There" with an early morning creek crossing, before we even had a chance to warm up.

Counting creek crossings like we were watching an episode of Sesame Street, blissfully enjoying climbing in the Inter-Mountain West. On the flipside, I was experiencing numbness in my feet, which hadn't happened in recent memory. As it turns out, the Boa system is so good at tightening the shoes on without you feeling anything, that I was unknowingly cutting off circulation. After the first few rides I figured out how loose I could run the shoes and since then they have felt great.
Three months later, the shoes still fit great and are comfortable on the bike. These shoes' major downfall is that they don't grip the ground very well. As a result, they aren't great for exploring freeride trails you've never ridden. They would be great for an XC or cyclocross race, though— where real dirt, grass and sand are more prevalent than mossy granite. My most recent ride on them was on Mt. Seymour, where I confirmed that it's better just to stay on the bike. MSRP for the Team Boa is $140 US.

  Fresh trail work on the North Shore… go get some.

Upcoming Gear Shots…
I've recently jumped on a Brodie Khan 29er hardtail and was stoked to get hold of a pair of Shimano's new M530 Deore Trail pedals for it right from the beginning. Mad science with approach and departure angles on the wagon wheeler, and calipers to see how much wider the "Trail" pedal platform really is.

  Brodie's Khan is an SLX-equipped 100mm 29er. We're putting it through its paces on the Shore.

  Last year, Shimano's XTR Trail pedals were a big hit, and now the technology comes through to the Deore level.
---
Do you wish any of these bike treats find their way into your Hallowe'en bag? Tell us if it's sweet below.