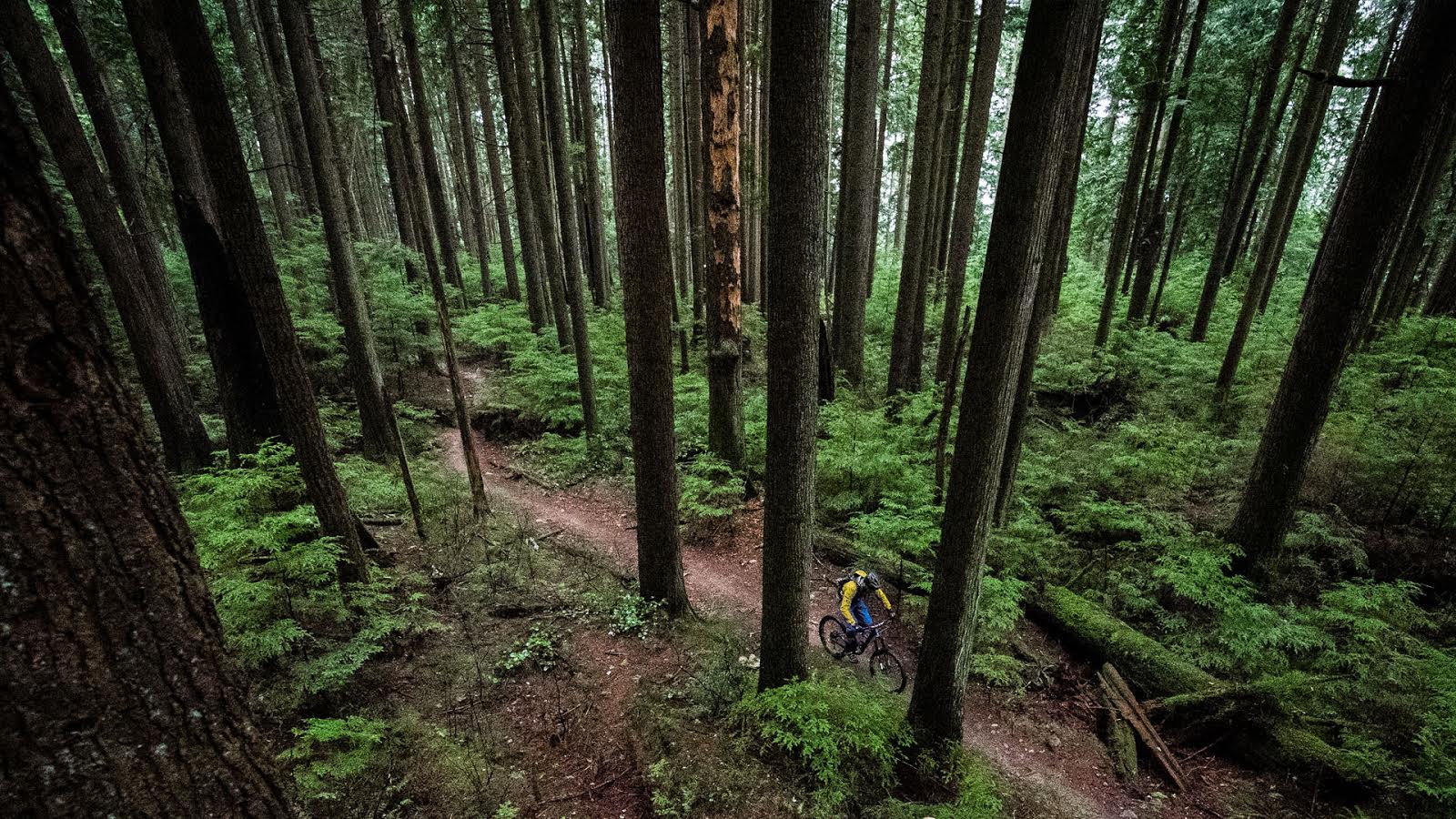 Banshee Rampant Review
The Banshee Rampant isn't hard to form a love-hate relationship with. I purchased my original frame a couple of years ago and fell in love with it right away. Since then I lost my love, regained it, broke the frame, tried replacing it with another bike, missed it, and reluctantly built up another Rampant. Through all of this, I enjoyed almost every minute of the 2 years I've spent riding this bike. The Rampant is heaps of fun to ride over all terrain—but it isn't flawless.

  This isn't everyone's idea of a do everything bike – but the right rider can make the Rampant sing to almost any tune. Photo ~ Morgan Taylor

The Rampant is classified as a 4x/DJ/slopestyle frame, but it is capable of so much more. The frame has not been altered since it 2008 when it first came out, and can be purchased new for around CAD$1600. It comes equipped with a capable Fox RP2 rear shock, a full length (350mm) seatpost, a bolted seat clamp, a spare derailleur hanger as well as few spare bushings. The hydroformed 7005 series aluminum frame uses IGUS bushings at the pivot points to keep the weight down (6.09 lbs or 2762g). Banshee uses their Virtual Floating Four Bar (VF4B) suspension system to achieve great looking lines and an excellent ride. ISCG-05 mounts, a 135mm rear end and a 1 1/8 head tube means finding parts for this frame is easy.  Geometry wise the frame is low (330mm bb height with 100mm fork), out of the way and built for speed. It will accept a longer travel fork (140mm) which slackens the front end and makes it perfect for freeride.

  That looks a little like a DH bike? Photo ~ Logan Swayze
 
The first thing you notice when you ride the Rampant is how quick and nimble it feels under your feet thanks to its light weight and minimal travel. By the end of your first trail you'll likely check to see how much travel you used because you didn't feel it bottom out once. This is a result of the VF4B design, which allows the short amount of travel to ramp up the way a trail bike should. It is quite small bump compliant for a 4″ travel bike, but then steadies out mid-stroke and right at the end it ramps up quickly to cushion the biggest hits. It allows riders to feel the trail without losing speed through rock gardens or rooty sections, encouraging better line choice and more speed. Of course a slopestyle frame like the Rampant is built for pumps and jumps. It will increase your speed on rollers and berms and provide a lot of confidence in the air, to the point where you will want to start moving the bike around beneath you.

  Berms are right in the Rampant's wheelhouse – as expected. Photo ~ Logan Swayze
The Rampant is also a capable freeride frame that encourages you to learn the skills of a well rounded rider. Climbing on the Rampant is a cinch in part because of the pre-mentioned weight, but also because it doesn't bounce or wallow in its travel when the power is down, even with the pro-pedal turned off. Unfortunately there are no cable guides to run a front derailleur, so unless you run a Sram HammerSchmidt, you'll be stuck with one ring up front. Personally, I do not find the lack of a granny ring to be a problem and I'm happy enough climbing with a 32 tooth chainring in front and a 34 tooth cog in the rear.  From fire roads to technical steeps, the Rampant is surprisingly enjoyable to climb.

  A little Whistler boost on a little play bike. Photo ~ Logan Swayze

All bikes have negative traits, but they are hard to spot right away with the Rampant. Being a short travel bike, large drops or jumps to flat cause your body to absorb some of the hit — but it does do a better job at softening the blow than other small travel frames I've ridden. So what's the downside? The main flaw in this super fun machine is the lightweight bushings used at the pivot points. They require constant maintenance by injecting grease into a small grease port on the axle; the process requires a special adapter which is not included with the frame. The bushings wear into the axles and require replacement far more often than bearings. The bushings cost $50 a set and one axle costs $100 or more.  I required four sets of bushings and two axles in one year of riding.

  This looks like the Shore but there is a gap so it must be the Sunshine Coast. Photo ~ Morgan Taylor

I had so much play in the linkage from worn pivot axles that I sent it to Trident (Banshee's Distributor) to see if there was something wrong with the frame. Within two days I received a call from them stating that my frame had a small crack in both the headtube weld and bottom bracket weld, and that they would replace my frame under warranty.

  The Rampant tunes into CBC without any interference. Photo ~ Morgan Taylor

You can have a lot of fun on a wide variety of trails on the Rampant. From technical cross country to gnarly Whistler Bike Park, this bike is going to put a smile on your face when you're riding it. Banshee offers this lightweight frame in a variety of appealing colours and has amazing customer service and a no-hassle two year warranty / life time crash replacement to go with it. The downfall is heavier or abusive riders may crack this frame or at the very least be shelling out for expensive replacement bushings. If Banshee were to build this bike using bearings instead of bushings and increase durability they would have an absolute home run on their hands.

  The Rampant isn't your typical Shore bike – but Garrett isn't your typical Shore rider. Photo ~ Morgan Taylor
 
Performance/Durability/Functionality: Rides great, but doesn't handle constant abuse or heavier riders without maintenance.
Features/Quality:  A suspension system and properly finished frame design that is still competitive 4 years later.
Price:  The initial price ($1600 CAD) is good and warranty is free (for two years), but replacement parts are expensive and a grease gun adapter is not included.

  Summer on Schleyer. What could be better? Photo ~ Logan Swayze

Thumbs Up:
– Lightweight makes it more fun to ride – Banshee's VF4B system provides an excellent ride and makes the most out of the small travel – Straight seat tube and ISCG-05 mounts mean it can be pedalled up hill – Excellent customer service from both Banshee and their Canadian distributor
Thumbs Down:
– Bushings wear out quickly, are expensive to replace and can cause further costly damage if left unchanged   – Cracked at the headtube weld and seat tube weld   – Adapter for grease gun to fit grease ports is not included
---
Do you think you could adapt a slopestyle bike – or the Banshee Rampant in particular – into a Swiss Army bike? What is your version of a do-it-all machine? Your thoughts below.