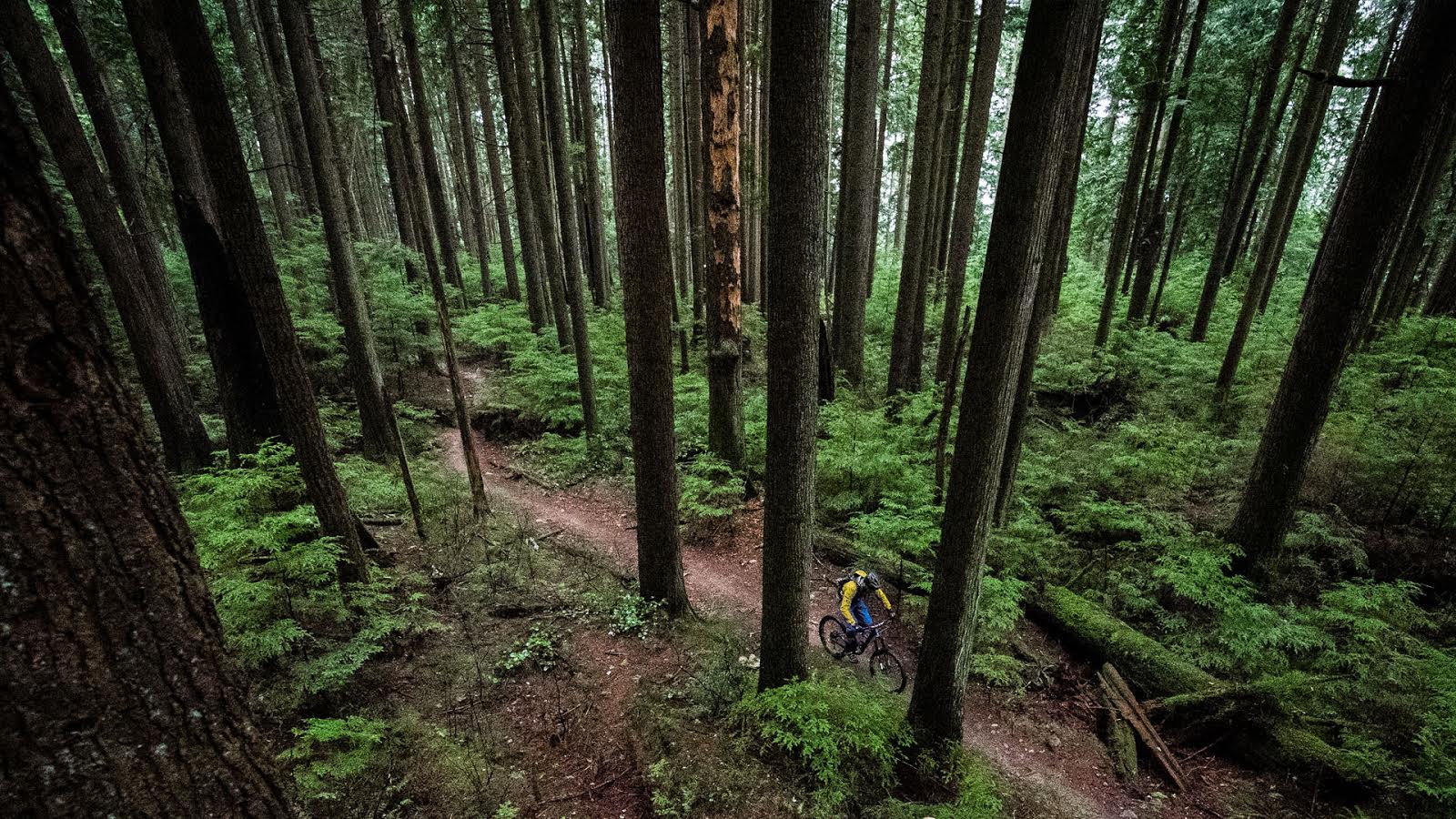 Wine Me Dine Me 29 Me! – REDUX
* This article was originally published in October 2011. The 29er momentum doesn't seem to be slowing down, even in the most unlikely place—the slow-tech of the North Shore. Here's Mark Wood's take on some of the forerunners of the big wheel here on the Shore.

   Arthur Gaillot descends through the chunky rock faces on Skull supervised by an approving Piper

As the 29er craze continues to seemingly sweep the nation, the North Shore may be the last hold out to big wheel fever. Although their numbers are on the increase they are still an oddity here on the Shore. As the amount of converts seemingly grows everywhere else but here, there are a few hardcore mavericks taking up the charge, daring to push the limits of their oversized wagon wheelers and testing their capabilities on the North Shore gnarl.

   Arthur Gaillot leads Kim Steed to the promised land where everything is 29 inches around.
"Drink the kool aid," beckons Brian McCurdy, long time 29er rider. He's been riding the Shore for several years on his quiver of Niners, which includes a carbon single speed. Trading in his Banshee Scream so many years ago, leaving shuttles behind for good, he's a born again XC masochist. Brian rides throughout Squamish, Pemberton and the Chilcotins, favouring epics and long climbs – perfect territory for a 29er. Living at the foot of Mount Seymour, McCurdy frequents Bridal Path and its offshoots. On a dry summer day, I follow McCurdy up steep, techy climbs like Bridal under Cardiac.  He shoots up like a missile, due in part to his stovepipe quads, but the big wheels certainly help.  The advantages are immediately evident the first time you ride a 29er. The wheels seem to turn on their own momentum, even if it takes a bit more muscle to get them rolling. Rolling easily over obstacles, their extra diameter is better able to span holes, making it easier to keep your speed, excelling especially on climbs. But how do they fare on tight, technical descents when the going gets rough?

  Brian McCurdy is a long time Niner convert.
Kim Steed is pushing the limits on his Santa Cruz Tallboy. You can find old footage of Steed clipped in, hopping over A Frames and platform drops in the early NSX films and he's still going hard after all these years. A great all round rider, he's as competent on steep and gnarly terrain as he is pushing the pedals on a big XC loop. Despite the mere 4 inches of travel on his Tallboy, I watch Steed tackle steep chutes with harsh transitions, the big wheels creating what the proponents refer to as a "favourable angle of attack." Essentially the big wheel lessens harsh transitions because it is further out in front. Steed genuinely looks like he's having fun on our early morning rip, even throwing in a 360 pirouette as we exit the tasty double black trail, proving it's a nimble machine in the right hands. This may be the essential part of the equation; your success on a 29er may just depend on the quality of the pilot, as will any ride.

  Gaillot tackles Skull on a misty morning , clouds in the sky.
The lack of travel available in the world of 29ers is a point of trepidation here on the Shore where "6 inches minimum" is the mantra of most. But that's changing.  Take the 5.5" Intense Tracer 2 or the 5.5" travel Niner WFO for instance. And now there's a handful of other 5" offerings like the Norco Shinobi and the Specialized Stumpjumper. Fox now has a 140mm 29er fork to counter the Rock Shox Reba and Marzochhi's buttery smooth 44. Tire selection is on the increase too so options are beginning to open up. No major manufacturer has broken the 6" mark on rear travel however, despite prototype testing of bigger travel 29er DH rigs. Wheel clearance is a design challenge as the larger wheels cycle through their travel. It may be difficult if not impossible to overcome without obtrusively lengthening the wheelbase, already a bone of contention for some.

  Kim Steed hits a tasty rock chute.

Another North Shore rider who is a devout convert is Arthur Gaillot of Suspension Therapy. Arthur is a consistent top finisher in the local Super D series, trading off podium firsts with Chris Johnston, who rides a 26er, ensuring the debate's survival. Gaillot pushes the envelope both up and down He hits class 5 features with his 4" travel Santa Cruz Tall Boy such as the Pile Driver on Boogieman, a 10 foot platform drop. He's also ridden the nasty, high consequence rock faces off the beaten track. But like someone said to me "Gaillot could take a washing machine down the mountain." True enough, a good rider can make any bike roll, but he's proving a 29er is no handicap. Fit and fierce, Gaillot can climb to Pipeline from the Fromme gate in an amazing 12 minutes (albeit seeing stars). Arthur can make the big bike do what he wants. Like Wade Simmons repetitively hitting the Loonie drop on his Rocky Mountain Altitude 29er, a good rider can handle anything.

  Arthur proves you don't need a 50 lb shuttle bike to take on the North Shore gnar.
"It's like carving on powder skis," Gaillot demonstrates, leaning the bike in front of me, making long sweeping carves in the dirt. Drifting is a stable venture with the wide contact patch, you just need to have the courage to lean into it and the rubber hooks up predictably. The big wheels are noticeably stable on fast, wide-open descents, but require a bit more time to coerce round corners in the slow, tight technical trails. Unless you're Andreas Hestler that is.

  Brian McCurdy is a powerhouse on the Shore XC.
I struggle to keep up with Hestler and Simmons on the far side of Seymour as they gobble up vertical through root-strewn terrain on their Rocky Mountain Altitude 29ers. I ask Dre for his thoughts. "They're just different," was all he could offer as I watched him easily pivot his back wheel round tight corners. If you've got the advanced skills, you can adapt to anything.

  The more roots the merrier for Jerry Willows.

Going steep and deep on a regular basis, team nsmb.com rider Jerry Willows  is pushing the limits of his 5 inch Specialized Stumpjumper 29. Tail Willows and it seems there's no trade off even on gnarly terrain. He's charging as fast downhill as anyone on a 6 inch all mountain 26er, most often faster. Plus, he's leading on the climbs. Willows is riding classic, techy Shore terrain that challenges even big bikes and doing it as fast and smooth as anyone on any bike.

  Arthur and his faithful training partner Piper.  Behind every good man, is a great dog.
As the options for 29ers expand their appeal is finally turning heads on the Shore. The big wheel machines are a growing segment of the market and manufacturers are directing their efforts to capitalize. In 2012 for instance all hardtail Rocky Mountain Bikes will be 29ers. As Pat Mulrooney, local Norco rep states "You can't even find a 26inch wheel on the salesroom floor in the States anymore." Hyperbole? There's plenty of hype, and depending on who you talk to these bikes seem to be living up to it. They eat up the miles, climb like a monkey and offer a favourable angle of attack. This helps prevent ass over tea kettle falls and takes the edge off bony bits.

  Steed and his Tallboy gobble up the eroded, chunky terrain of the Shore.
Big wheelers might just be the answer for noobs in the sport. And for the advanced rider, the big wheels are a force to be reckoned with, no matter what the terrain. But as with all things there are tradeoffs. Slow turning, some complain they aren't as nimble as a 26 inch wheeled bike through the tight and twisty. Limited accessory choices and depth of travel may be enough for riders to pass on the conversion. For that 'one bike' owner, it's going to be dependent on how you ride, what you ride, where you ride and of course, what skills you bring to the table. As some formidable riders attempt to find their limitations here on the Shore, there appear to be few as long as the pilot is up to the challenge. There are fanatics out there, and we all know at least one by now, who won't touch anything under 29 inches. So why all the hype? Mark Furlong, long time Shore shredder, gives some perspective; "If we were all riding 29ers and someone came out with a 26er, what do you think everyone would be saying?"

  It doesn't matter what Willows rides, the pace is always fast.

---
What side of this debate do you sit on? I for one don't want to like 29ers because I don't want fall out of love with my 26ers. Choose your team below…