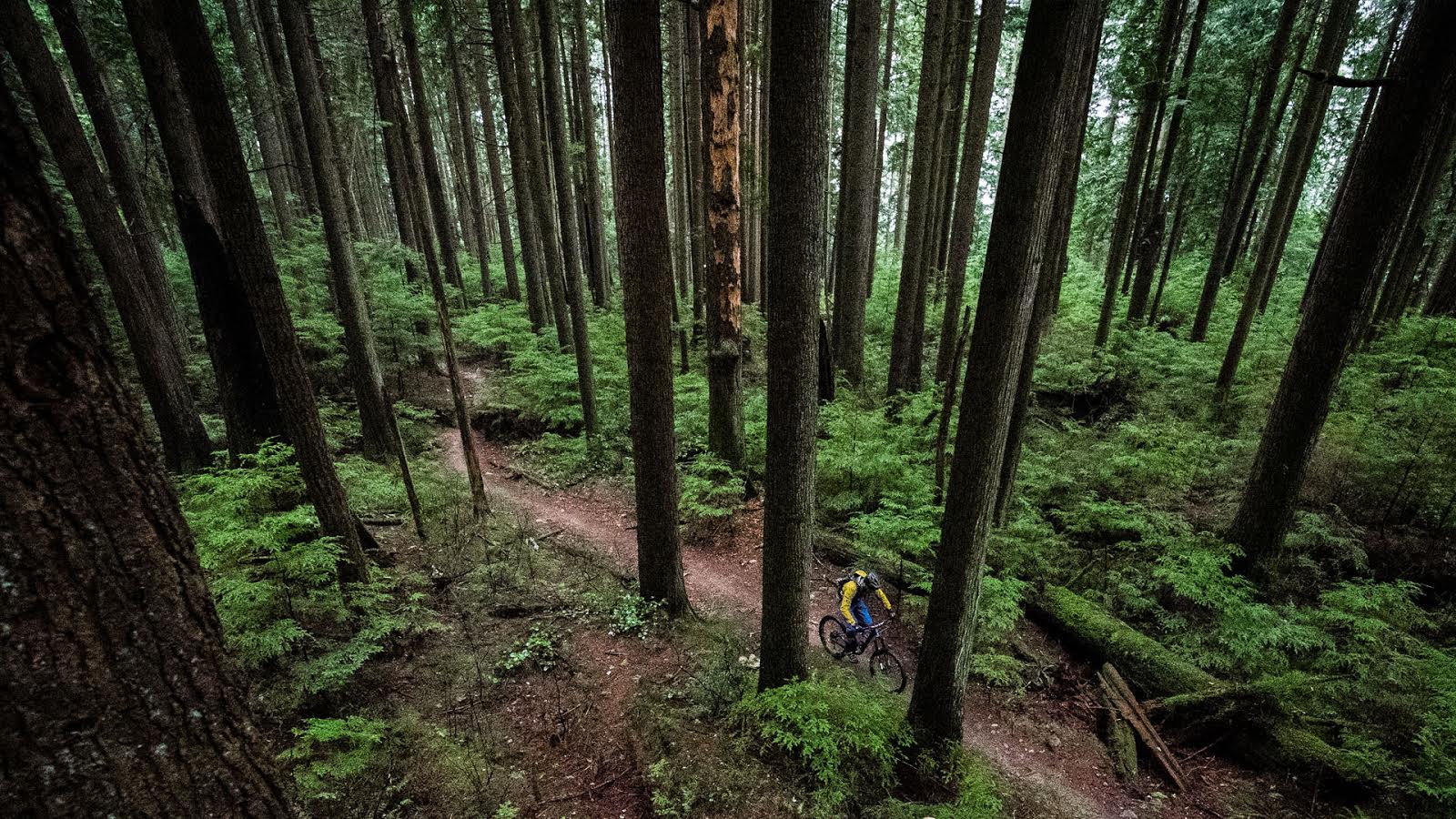 Nelson
I grew up in Nelson. From the age of 4 to the age of 16, a small mountain town was pretty much all I knew. I learned to ski there, discovering the powder, steeps and moguls at Whitewater. I also first thought of myself as a mountain biker there, way back in 1986. I was 12, but for some reason I got it in my head that mountain biking was what I wanted to do. 

  These days starting to mountain bike in Nelson at age 12 puts you wayyyy behind the eight ball.  Kids race at the 2011 Nelson Fat Tire festival. Photo by Jeremy Marczak
I rode a department store bike and spent every penny I had upgrading it. Scott faux aero bars were all the rage with top pro mountain bike racers, so I found a pair of used tri bars and strapped them on. For the next six years I went through several department store bikes with various odds and ends thrown on them to make them more like a read mountain bike. My friends and I would go to the local bike shops and drool over sleek, steel Gary Fishers. Back then the trails around Nelson started to get cut in. Mountain Station was only a couple of cross-country trails by 1990 as far as I knew. We moved to Prince Rupert that summer because my dad got work there. I also got my first real mountain bike and travelled back to Nelson for a week in 1991. While I was down south I even went to my first real mountain bike race in Missoula Montana.
I still remember the steepness of the trails above Nelson, and also riding out to the end of Stanley Street to hit the trails that take you up the highway towards Ymir. That trip was the start of what has become an annual pilgrimage for me.

  Sitting on one of the newly built structures at Nelson's mountain bike skills park, ready to drop in and hit the "trick booter", a local dirt jumper is all zen.
Fast forward 20 years and not much has changed in Nelson. But at the same time, so much has.  Nelson is where Drop In TV got started. It is also home to Freeride Entertainment who created the New World Disorder franchise. Amazingly enough, considering the small population, the Nelson scene has also spawned hockey team's worth of top shelf pro mountain bikers. Mike Kinrade, Kurt Sorge, Garret Buehler, Shawn Denny, Riley Mcintosh, Nick Cima, Robbie Bourdon, Derek Chambers, Russ Fountain and Evan and Joe Schwartz all call Nelson home. It's also one of the only small towns that I know of that has a mountain bike goods distributor in NRG Industries.

  This piece of "movie" trail is impossible to find unless you know exactly where to look. NWD fans will remember Robbie Bourdon riding it, and crashing hard…
The small network of trails I used to ride has blossomed. Maybe exploded is a better term.  Mountain Station sits above town and sports a mix of trails from the craziest steeps you have ever seen to some of the oldest Shore-style stunts off the Shore, to more new school trails with berms, flow and speed. There are even cross country trails and you can find your way around all of it with an excellent map available at all of the local bike shops. My current favourite is a ride I just did on my most recent visit – Menage a Trois to Eli Sim. This is one of the newer trails and is definitely more new school. Berms, straights, some off camber sections, a few well built stunts and no real sustained steeps make for a fast, flowy adventure down the mountain.

  Fast, flowy, bermy modern trails are popping up all over the Nelson area.  Photo by Jeremy Marczak

Giveout creek was the next area to be developed. A little further from town, it is the local shuttle stop. Nelson classics like Placenta Descenta and Oil Can mingle with newer more mellow runs like Illuminati and now the top of that area sports some true masterpieces by Riley McIntosh including Powerslave and Bear's Den. Masterpiece is not an exaggeration for this run. Steep, well groomed, well built with berms, flat corners and Riley's signature woodwork add up to an exquisite mountain bike descent.  There are two ways to access it – heli drop if you can afford it or a part-shuttle/part push up the trail. The full push takes at least four hours, so come prepared.

  Al Danks, my bro-in-law, popping off a lip on Bear's Den.
The last time I rode Bear's Den we finished with Mid Baller to High Baller to Placenta Descenta to Rise and Fry to Skier's Right. This run mixes Riley's flowy goodness with a bit of a roller with small stunts and steep rocky chutes. Then, through the Baller section of trails, the craziness of Placenta
Descenta's sharp turns, smaller drops and steep rock gardens. Rise and Fry is steep! While it includes turns, it has a lot of fall line riding and a several rock gardens. The final run of the route, Skier's Right, is a rip down a powerline right of way with almost a dozen rock slab rolls connected by trail and ladders.  This line is super fun and one of my all time favourites. Also, if you look carefully in the woods you can see ghosts of mountain bike movies past slowly blending back into the rain forest.

  In Nelson, forest eats trail!

The third major trail node is above Kokanee Creek park just a little way down Kootenay Lake. First made famous by Mike Kinrade during Drop-In TV, trail development has progressed beyond the massive stunts he and his comrades built in the area.  The run I am most familiar with in this zone is Newt Sac. I've even done some trail work on it when, for my brother-in-law's rather tame Stag  we went out and helped with a trail day. The run is partly shuttleable but requires some riding/pushing to get to the top. It starts with the almost typical Nelson steep first section and then flows down the mountain over rocks, stunts and steeps to drop you off on the edge of the highway at the lake shore.  Definitely a must ride. The final node for mountain bike trails is the Svoboda Road area.  I've never actually ridden there but I understand it may actually be cross country!

   XC – Nelson style complete with ladder bridges…Photo by Jeremy Marczak
I was lucky enough to get to town just as the annual Fat Tire festival was taking place.  This year's festival included a jump jam, a parade through down town, a road criterium races and a two-part downhill race. It was very well attended and looked like a lot of fun. It's also not uncommon to see the local pro's come out and take part.

  Where were the jumps like this when I was 16!  A local dirt jumper spinning a 360 into the chips at the 2011 Nelson Fat Tire festival.  Photo ~ Andrew Gower

When I went to drop off my Devinci Wilson demo at the Sacred Ride I had a chance to chat with Mark Holt, one of the owners and one of the key people behind the Nelson Cycling Club. We chatted about how the mountain bike biz has taken off in Nelson, although the last couple of years have been off from the 2007-08 peak. If you track the last 20 years the the flow of riders to Nelson has generally been on the rise.

  The sun setting at my sister's place marking the end of my annual summer pilgrimage to this emerging mecca…photo ~ Andrew Gower
Will Nelson be the next Moab? Who can say, but it is definitely on the right path, and if you were to happen to go to Silverstar for some park riding, Nelson isn't that much further. In the opinion of this former local it's definitely worth the trip. Just be sure to bring your big bike and your cajones – you'll need both.
Nelson Cycling Club
Sacred Ride
NRG Enterprises
Freeride Entertainment
---
Anyone who has ridden Nelson likely shares Andrew's enthusiasm. Have you been? Lay it out here…