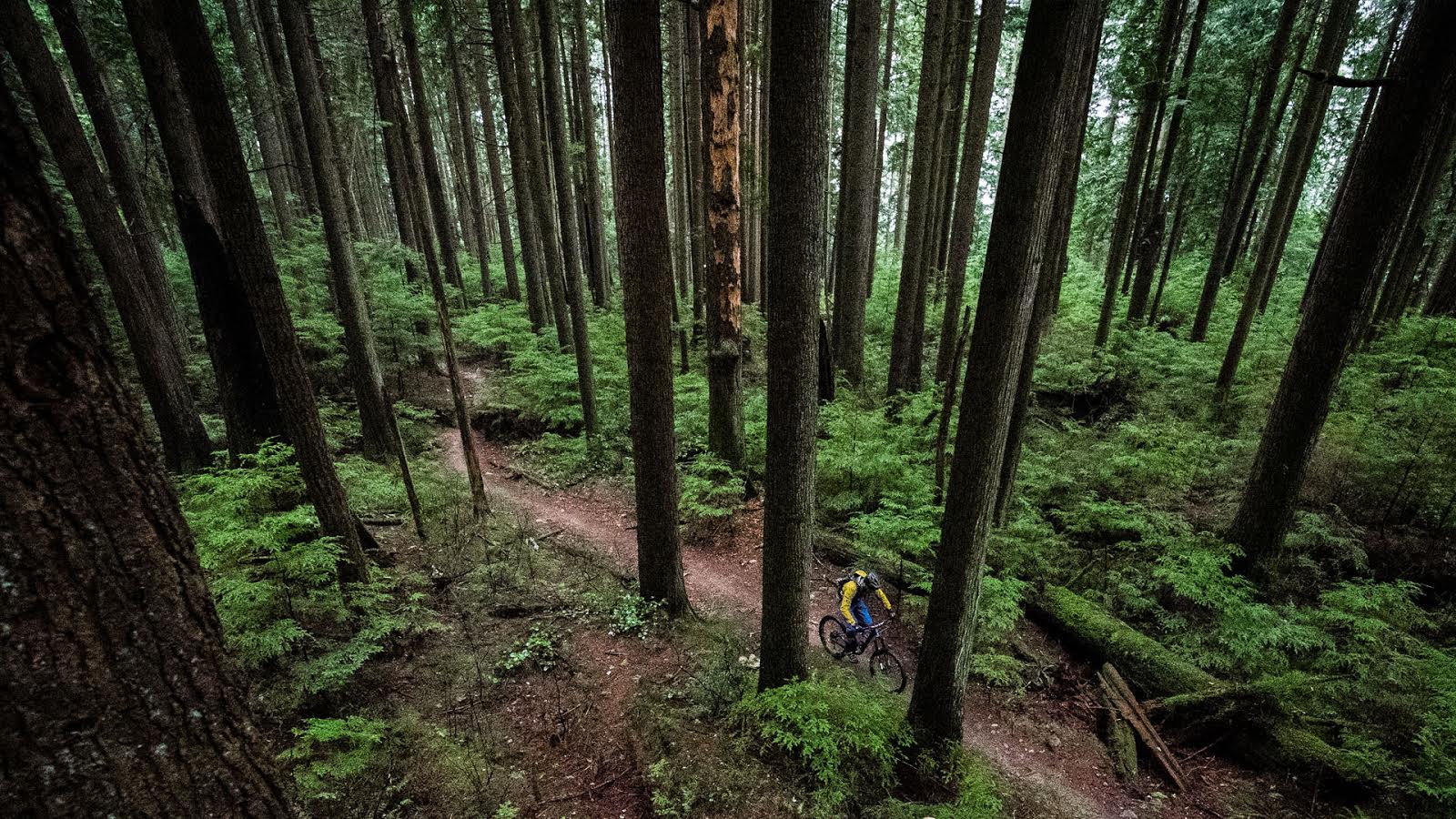 Hell in Della
I guess cursed is a suitable word to describe the experiences had during our visits to Della Creek. It really does make you wonder how a trip can start off so promisingly beautiful, then without warning, somehow manage to bare its teeth/knuckles/steel-toe caps whilst taking a running drop kick to your already scarred shins. Setting off with Steve Storey and Ollie Jones, our purpose was to clear the famous Della DH in Lillooet for the filming of SheGNARnigans 3rd episode. This is a tale to show, no matter how prepared you think you are, the mountains are always in-charge.
  7:00am – Without a care in the world or a problem in sight, we cruise alone.
  "Ooooh, that looks fun!"
  Breakfast in Lillooet consisted of heavily sugared rocky chutes, quickly rinsed down with a blast of fireball.
  The last thing I ever expected to see on the journey, was a golf course being mowed, by sheep!!! Its high on my list of things to do next season, I can guarantee it.
  Monkey see, monkey play.
After incorporating plenty of play time and a few extra hours to the journey, we set off for the trail-head. Now, those of you have been fortunate enough to ride Della know its not exactly a short ride to the top. We had one truck and a single burning question;"do we park at the top, or the bottom?" Both have huge negatives with each having only one obvious positive.
Park at the top –
Positive : We're right at the trail head (3000ft of elevation).
Negative : We have to get back to the truck after the ride (3000ft of elevation).
Park at the bottom.
Positive : The truck is waiting for us after the ride (cold beer included)
Negative : We have to hike to the trail head (cold beer not included)
  …We hiked the shuttle road. It was a bitch! But WOW, it was worth every gruelling step.
  Ollie and Steve dropping into the heavenly trail that is Della
The main purpose for the three of us leaving a day earlier than the rest of the group was to do some trail clearing. Storms had ravaged the fire-weakened forest leaving an unsightly trail of destruction…We broke out the chainsaw and it broke (for a while). Despite any slight fall backs, we still managed to throw down and make a start on what we had come here for. Shots.
  Ollie sending it of a puff of dust.


  Steve gets both wheels drifting in Della's dust.


  Ollie smashing a bunch of rocks/pine cones/trail/small rodents into oblivion.

Now, this article is called 'Hell in Della' for a reason. All seems pretty good so far, in fact, it was probably one of the most fun days I've had. But, when you're 45 minutes from any form of civilisation and maybe 2 hours from a single bar of cell service, things can change and when they do, they move without warning and quicker than an enraged horse wanting past on 'his trail'.
Lets advance past all the tom-foolery of camping, wizard staffs, fires and tree-felling, which was all really awesome. The rest of the team showed up at 10:30pm in high spirits. S'mores were being cooked and our staffs were nearing our limit.
We awoke to a damp morning and a number of lessons.
Lesson 1 : Truck cabs are a lot smaller than a tent and probably just as uncomfortable as sleeping on rocks.
Lesson 2 : Chainsaws make a great morning activity.
Lesson 3 : Don't give Sousa a chainsaw, ever.
Lesson 4 : Sousa's iPhone is waterproof.
Lesson 5 : Really, don't give Sousa a chainsaw!
Lesson 6 : Red Bull is a good substitute for coffee.
Lesson 7 : Hell does not wait for any man. He climbs aboard the truck and shuttles with you.
  Second day, first run.  See that Yeti, that's my bike. See that brown helmet peak, that's me…It hurt…Let the traumas begin!
  Second day, second run. Pretty sure that red stuff is supposed to stay inside the truck.

  Herbert-Billy, Thanks for the laughs.
We never managed to get any relevant filming done. We made it out alive. We will continue doing what we do. We hope you enjoy it.
Cheers,
Mike.
---
It seems the further you are from help and home the more likely things will go sideways. And shuttling always deepens the cluster. Have you had an adventure leave the rails? Share it up…