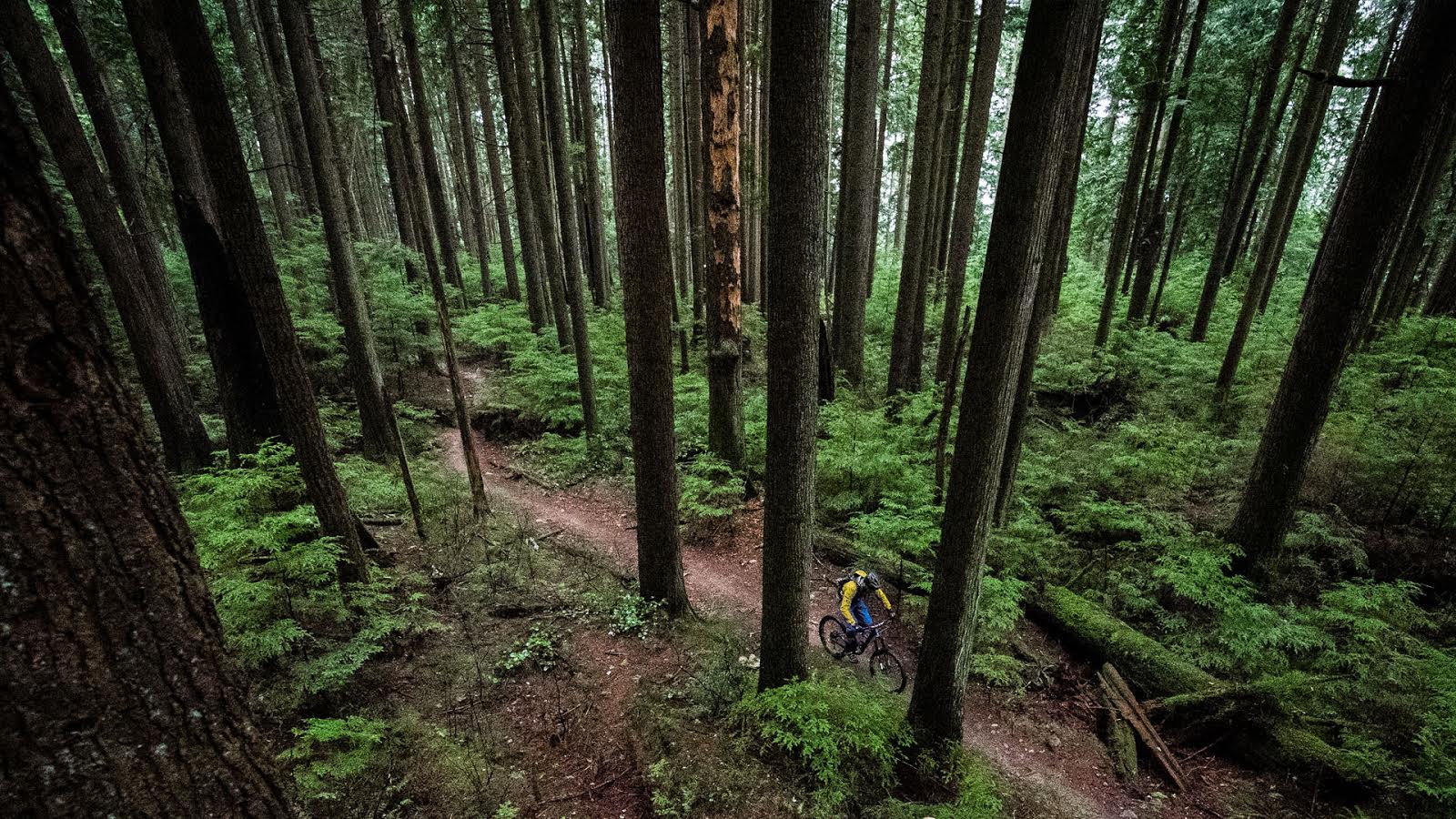 The Scion Whistler Report #21
How do you know it's fall? Well it's cold and rainy for starters. The mountain tops are coated in an ever-thickening blanket of snow, the bikepark closes on Monday, and this is my final report for the year. Another season has flown by, filled with so many great rides and events, but that being said, there's still good stuff to be had, in between the deluges of cold October rain. With winter threatening, a small group of us headed to Pemby on Saturday when the weather broke clear(er). If you've been following the report you know that they've been working hard up there on some epic trails, and we needed to tick one of them off our list.
   Paulo dropping into one of many moss-lined, loam and rock filled chutes.
We weren't the only ones with that plan as we ran into a friendly group at the reflector above Gravitron. Unfortunately seeing Lee's ass wasn't the view from the top I had hoped for, and it made me want to purge my breakfast sandwhich on the spot. But I digress, it was raw Pemberton trail we were after, and we certainly found that in spades. Hard punchy climbs, awkward rock slabs with wheel grabber cracks and ledges on the side of exposed cliffs, loose babyhead filled chutes, coated with a nice muddy film for good measure. JTR is definitely one of the more physical and mentally challenging trails I think I've ridden in the past couple of seasons and I was happy we made it down with no major incident. We were battered and bruised, but what an adventure. Thanks, Jack, hope you got some chuckles out of our flailing down the trail. What a legacy you left us, cheers.
   James McSkimming is a singletrack ninja. He rode lines effortlessly that had me whimpering like a whiny puppy. This wasn't one of those times, sweet green moss and loam through a light filled clearning.
On Sunday with unexpected sunny morning skies we fired up the choo-choo and hit the bikepark for some train action! Tacky trails were on the menu and people were out gorging themselves on second to last weekend amazingness. I can't say I strayed too far off the usuals; A-Line, B-Line, Dirt Merchant, HCM, etc., but I finally also got my guts back and hit up the Crabapple jumps, with a little speed help tow-in from Katrina, thanks Strando! The lower mountain was running pretty sweet, a few wet bits and muddy sections here and there, but no deal breakers.I didn't head up Garbo, but people looked semi-muddy coming down. While the forecast is looking sunny for Friday and Saturday, it seems the rain will come back for the end of the long weekend. I noticed the snowline creeping below treeline today too, so use that to gauge Garbo. It's gonna be wet and cold either way methinks; dress appropriately!
  Shredding fun trails with rad girls never gets old, Rebecca McQueen and Katrina Strand pinning around the bikepark.
I'm looking forward to next year. There's already much to start getting excited about. I'm sure we'll see the completion of Blue/Black Velvet down to Crank It Up, and there are also rumours of the Freecaster DH1 series finals taking place here in town. Given the history of WBP and the UCI, I wouldn't be surprised to see this happen. There have been efforts in the past to secure a world cup (very recently), and we've been close. If not for the arrogance and self-entitlement issues that prevail from the cycling aristocrats it would have happened. Hopefully if it does come to fruition, we'll see a new dedicated World Cup style track built somewhere not in the lower bikepark. Let's face it, it's already tight in there, and it would be really good to see something fresh and new. Pretty please!
   Paulo chases the pot of gold.
The WORCA AGM went down last Thursday and I'd like to give a big thanks to all the board members for their outstanding work this past season. It was a challenging one at times, but one that again blew previous years out of the water for participation and membership numbers. I love how this club continues to grow and evolve and remain relevant to this very diverse biking community. Thanks to everyone who joined too. It's that support that allows us to keep offering such a wide range of activities. Thanks to the long years of service to those that stepped down this year, and congratulations to the new board members for answering the call and stepping up for a go. You get out what you put in, and it seems the new directors are ready to charge forward and prep for another great year! Additionally, the season isn't quite over yet. There is the issue of the Halloween toonie at the end of the month, so pick out a good costume and charge up the night lights, see you in a few weeks!
   Tobi's been released from guiding for the year, was good to get out with the ole chap!
Well, adios for another year. Maybe I'll see you out on the trails this fall, or maybe out in Khyber Pass slashing pow and launching pillows this winter (come on La Nina!). Thanks for reading, keep the stoke level high and the rubber side down!
Todd
---
Thanks to Todd for all his hard work on this during the summer season. He never missed a single report and put his heart into it. You're swell Todd!
Shed a tear for the bike park, the season, or Todd here…