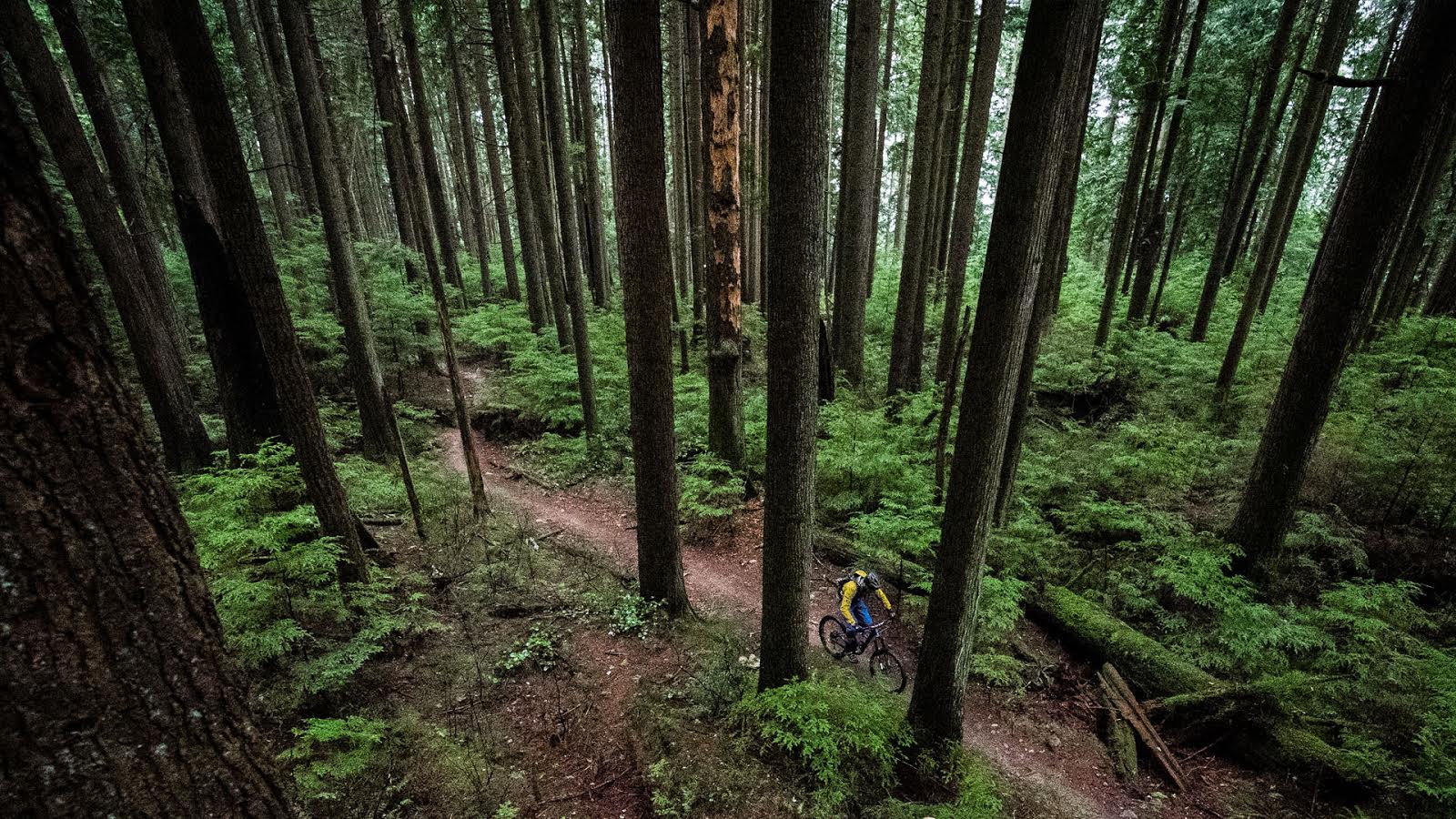 Flying By The Seat…
Interior road trip – Flying by the seat of our pants
Part 1: Peter Matthews and the exploding berms:
I unzipped my sleeping bag to reach out and read a text message at 6.30 on Sunday morning, which was to set the tone for the whole trip. "Bit of a minor problem, call me when you're up". And so before we had even put five tens to pedals, the flying by the seat of our pants had begun. Our compadre's "minor problem" had soon developed into a 12 hour delay. It was a long story, involving the police, a pretentious bank manager and the making of a film in Chile, and had resulted in a few setbacks. But the long and short of it was, it looked like Revelstoke was going to have to wait.
   Silver star was pumping. Peter Matthews off the lip in double over hedge conditions.

We were already away from Whistler and on the road as Plan A hastily disintegrated. We found ourselves in Vernon, and decided it would surely be rude not to gain some altitude and hit some dusty berms, jumps and rocks at Silver Star, while waiting for team Squamish (comprised of Kevin Landry, Taylor Loughran and Mathieu Notargiovanni Preville) to play catch up.
   Paulo, not content with just three points of contact to throw up dust, tries to make his handlebars the fourth
With Stephen Matthews off galavanting around the Swiss Alps, we had fished his gene pool and got a bite from his brother Peter, who would be standing in on berm demolition duty. It soon became apparent that whatever radioactive, kryptonite loaded, spider venom-based serum mama and papa Matthews had put into Stephen's baby bottle, Peter had got the same medicine. The berm (and Mason, behind the lens, capturing the action) cowered in fear as Peter came rumbling in like a semi truck…
   Peter decided that there was far too much dust in this berm, and not nearly enough on the trees


   The view from the front line -mortar or Peter? you decide.

Vvvrrraaaaap! Peters tires emptied the dust from the berm in a land mine-esque explosion, sending shards of rock and dirt shrapnel flying into the air, showering Mason and his camera gear. As the dust settled, he emerged looking at his LCD monitor, grinning, so I joined the demolition squad, and proceeded to help Peter empty the berm into Mason's face, until there was more dust in his teeth than there was on the trail!
   Paulo doing his best to obscure the view


   Mason towels down after a refreshing dirt shower

There is a reason that we return to Silverstar for AIRprentice every year; it is one of the best and most progressive bike parks there is. We checked out the Pro-Star extension "PS-Walk the line" which is looking really impressive  -think dirt jumps for downhill bikes – big jumps with not much space between them, no stand alone features, so to hit one you pretty much have to hit them all!
   Too much dust on this lip as well – should probably scrub that off.


  Sessioning Silver Star in the sun.


   Peter never usually runs eclipse

The afternoon was wrapped up by railing more dusty berms, scrubbing jumps, kicking up roost, and sessioning features as the sun crept towards the horizon. We ripped a couple of warp speed laps of comet trail, and left the dust hanging as we drove back down the mountain, to blast off the dirt with a much needed "lake shower" off the cliffs of Kalamalka lake.
   The aftermath, dust still hanging in the sun beams as we rode away
    Mason en route to lake shower

Day one was complete, and it sounded like the second half of our crew had almost caught up, which meant that Revelstoke would be next…or would it? 
---
I already miss summer. A bad sign in October. Anything to say about Paulo's words or Mason's images? Say it here…