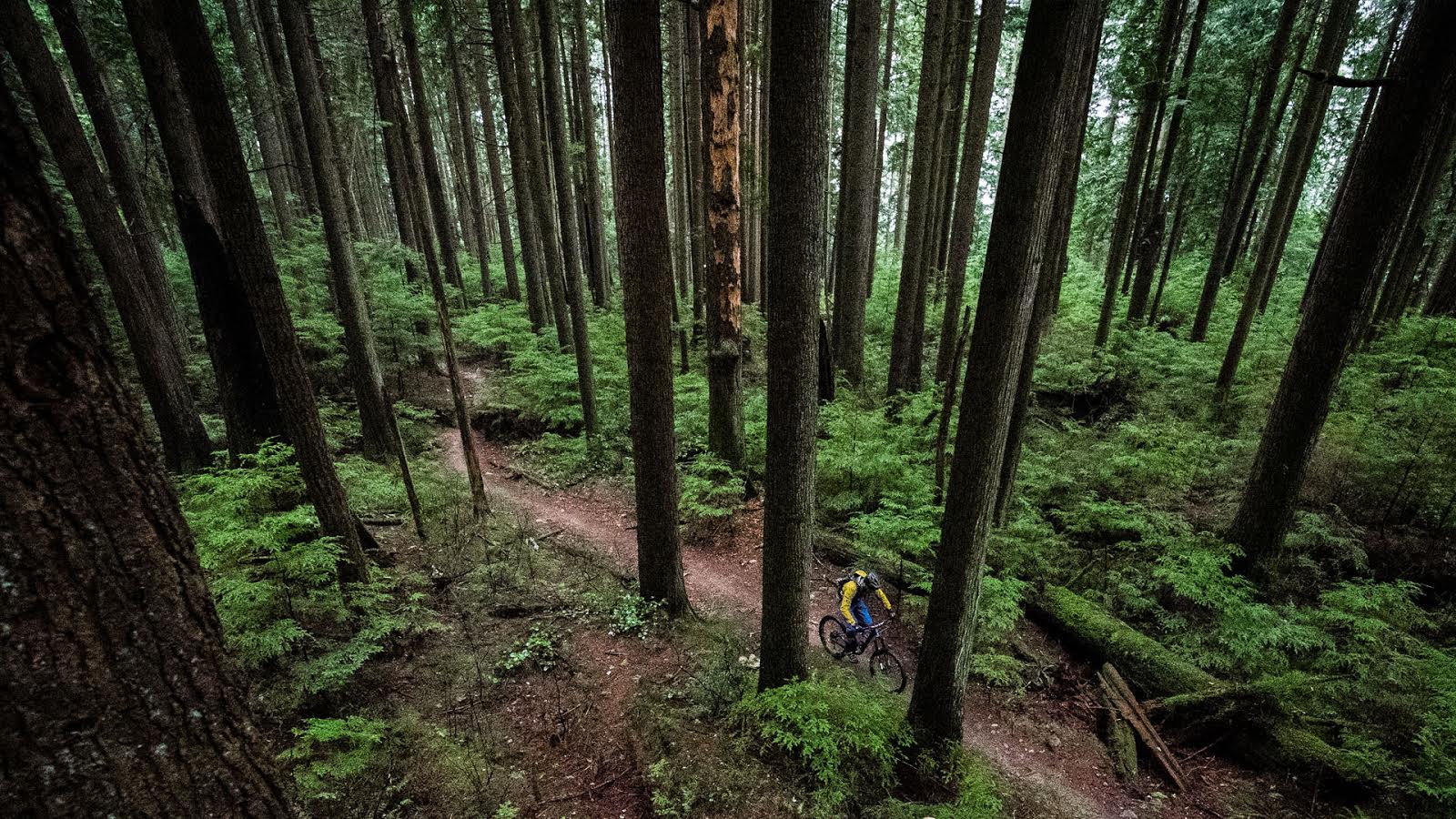 Vid/Story Dangerous Dan – REDUX
* This article was originally published in October 2011; Danger Dan's return to the Flying Circus was one of our favourite stories of the year, and it struck a chord with the nsmb community as well.
Dan has always ridden a big bike. And this one could almost be called an anchor. Photo ~ Morgan Taylor
We were just out for a ride. Morgan and I were climbing the fire road on Fromme, talking about trails and riders and builders, when we passed the bottom of Dangerous Dan's 'The Flying Circus.' The Circus has begun to succumb to natural forces as the forest slowly pulls down structures, rots logs and consumes the once formidable trail.
The Flying Circus' first move – The Tower of Contemplation – was a skinny, steep roll to a drop to platorm. It was built to last, like all of Dan's stunts, but the forest had other ideas. Photo ~ Morgan Taylor
Dan left the Shore for Bowen Island in 2001 but he continued building over here until 2004 when the District of North Van went in and destroyed the trail he was most proud of: Watchamacallit. Using chainsaws they cut through stringers, supports and ladder bridges and left the remains strewn across the forest floor.
Dan's been AWOL from the North Shore but he's never stopped riding or building. Photo ~ Morgan Taylor
The beginning of the Ridiculator. It stays skinny and keeps going up. If not for a broken stringer due to blowdown it would be rideable. If you could find someone aside from Dan to do it that is. Photo ~ Morgan Taylor
As the climb continued our conversation moved to Dan himself and the idea for this piece began; invite Dan over and do a walk through and get him to tell us about the trail. Morgan and Matt were keen to shoot it and Dan's sense of nostalgia was easily piqued.
The Mother Tongue went up skinny and then turned left. The down ramp narrows as you approach the bottom for added excitement. Photo ~ Morgan Taylor
Digger deserves credit for building the first ladder bridges but Dan took his idea and pushed it skyward. According to Digger "Dan is a great trail builder because he always needs to be challenging himself. No one would have thought of articulating teeter totters and log rides way up in the air – without Dan we'd still be on the ground." Dan made the North Shore photogenic and his trails were featured in countless films – with Dan and other riders sharing starring roles.
Digger told me the other day that Dangerous Dan is actually scared of heights. This became clear when he first climbed up to the highest point of the Ridiculator. Photo ~ Morgan Taylor
The Discombobulator is another example of Dan co-opting one of Digger's movs and making it crazier. Amazingly this stunt was fully functional – but it took Dan a few tries to get it. Photo ~ Morgan Taylor
Dan also took his act on the road to places like Italy, Russia, India and all over the US and Canada with his Flow Show. Overseas he'd build the show from scratch but in North America he fills his van and trailer and assembles the show wherever he is requested. Dan still does some Flow Shows but not as many as in his heyday. He's never been the sort to spend time promoting his act. He'd rather be building trails.
This move is from the era when the North Shore went metric. Instead of measuring drops in feet, metres began to make more sense. The more time Dan spent on the Ridiculator the more comfortable he got. And then he asked us to pass up his bike. Photo ~ Morgan Taylor
We met Dan at Coleman Ave. and began to climb Mt. Fromme, he on his 55 lb 'Race Bike' – a cobalt blue, Czech-made tanker of a duallie with 5-spoke composite wheels. Dan's helmet had recently been stolen so I brought him a spare. Danger doesn't pedal up much any more but he still kept up to us on our 30 lb all mountain machines.
The Epitomizer was a very long, high skinny and it was mostly intact – until it snapped under Dan's weight and he fell about 7 feet to the ground. Luckily Dan can take a punch. Photo ~ Morgan Taylor
Quick to laugh, gregarious and humble, Dan's easy to be around. He was surprisingly unsentimental about what was left of his masterpiece and even a little giddy to be back on his most famous creation.
Lobotomizer 2000 could be rolled by mere mortals – but Dan never did it that way. In fact his plan had been to build it another 8 feet or so higher before he moved to Bowen Island. Photo ~ Morgan Taylor
Dan once told me that building trails is more important to him than riding, and on Bowen Island he's has been able to bring his twisted dreams to reality without interference from overzealous land owners. He still builds and rides some of the most challenging trails and structures – for the pure joy of it – now that his notoriety has begun to fade.
There were two ways off the Mother Log – neither of them trivial. Photo ~ Morgan Taylor
The Flying Circus is still Dan's most significant creation. Not only because of the stunts that were pioneered, the insane scale of some of the moves nor the films that were shot there; it's the journey he was on while building the trail that left an indelible mark.
The Skybridge was another move destroyed by blowdown. Hundreds of hours of work erased in a moment. Photo ~ Morgan Taylor.
Back in the late 90s Dan was home for Christmas. He'd been teaching in Sweden but while back in Canada he had a pain in one of his testicles. Soon after he was in surgery and then chemo began. Building The Flying Circus became part of his treatment – and it likely played a role in his successful recovery.
You'll have to watch the video to find out why these are called the IV logs. Photo ~ Morgan Taylor.
Sponsor remnants. Dan hasn't had a new bike in years. Luckily this one was built to survive the apocalypse. Photo ~ Morgan Taylor.
Once we arrived at the top of The Circus Dan began to tell tales and even ride. From here I'll let Matt Dennison's video tell the story. Be sure to watch it widescreen.
View the complete set of photos on Morgan Taylor's Flickr here.
Do you have a Dangerous Dan memory to share? Think you can coerce him back to the Shore? Serve it up here…