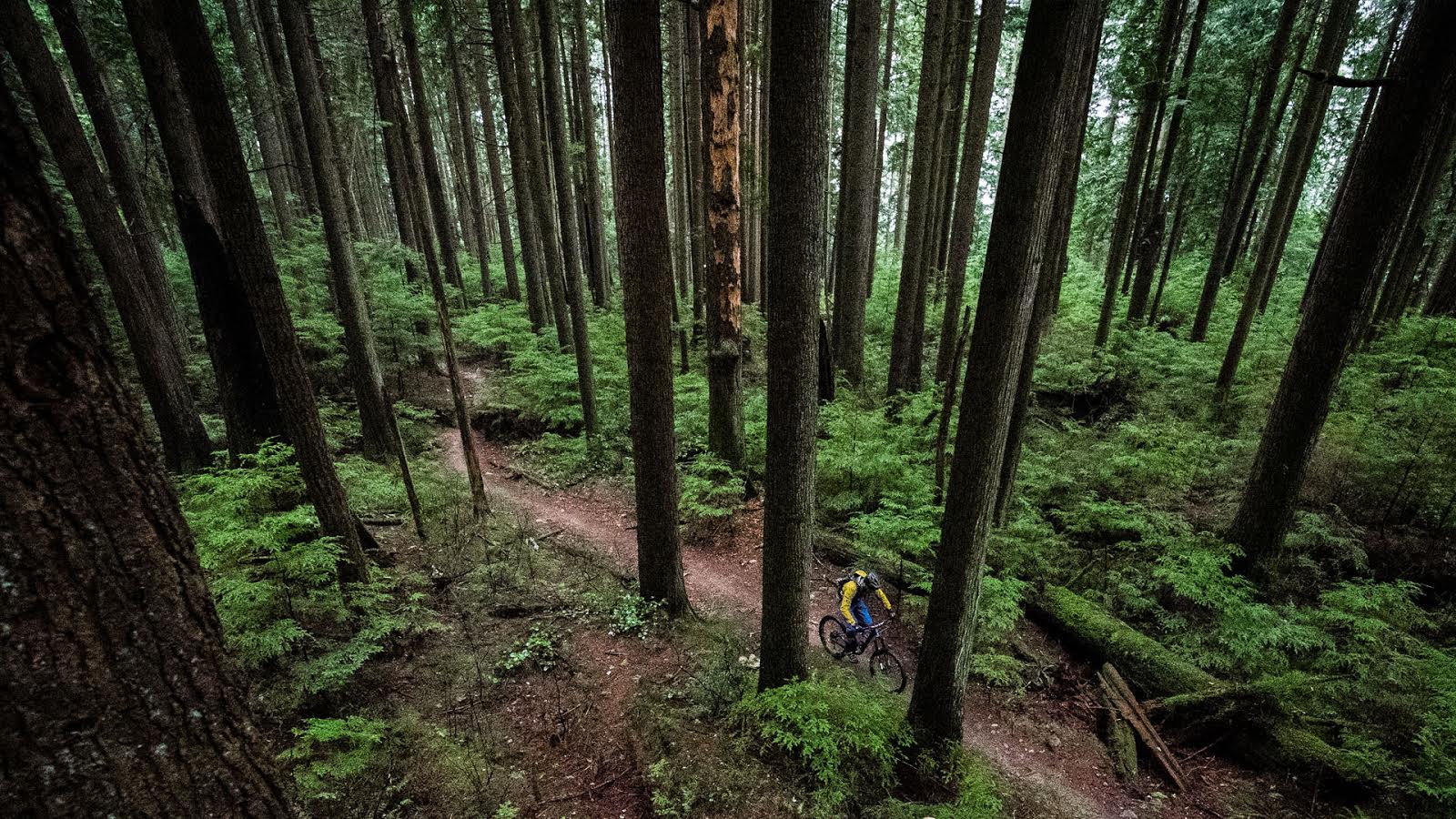 REVIEW: Loeka women's winter jacket and pants
This was the perfect year to test Loeka's winter 2011/2012 line of women's wet / cold-weather mountain bike clothing. I wore Loeka's waterproof Schuzen Tech jacket and Kulla pants throughout the winter, spring and even into the "summer" of 2010/2011—on the Shore, in Squamish and up at Whistler, even snowshoeing and sailing.
Style
Taste is personal, but I love the way the new Loeka line looks. Based on feedback from friends and strangers, I'm not the only one; I was asked more than once where I bought the Loeka Kulla pants. It's hard to find women's mountain biking gear that looks serious but not skulls-and-crossbones-hardcore, feminine but not girly. I am a rider *and* a woman; I don't like gear that treats me as one but not the other.

The Schuzen jacket and Kulla pants were a great set, but the match-and-match may be too much for you.

The designers at Loeka seem to agree. The Schuzen jacket is tapered at the waist; asymmetrical double zippers add interest. The Kulla pants have a straight leg and low waist (subtly elasticized and with belt loops); they feel comfortable with armor and sleek without—not baggy and shapeless (a criticism of earlier Loeka designs). The decorative stitching on the side of the leg is pretty but not overwhelming.
Loeka's entire 2011/2012 line is designed for mix-and-match. Most items are one or two bold colors: Gunmetal (grey), Ceramic (aqua), Persian Red, Lily White, Purple or Black. Color is the star here; the funky graphic elements take a back seat. Complementary colors show up in the details: stitching, lining, pockets, graphics—so your Ceramic jersey works nicely with the Ceramic detailing on your Black shorts.
Although mix-and-match is a great idea, match-and-match can be a little much. I wore the Gunmetal jacket and Gunmetal pants together only once; I felt self-conscious the entire time. Coordinated: great. Same-color separates: a little too contrived, like a suit. I would swap my grey jacket for the Ceramic (better yet: Persian Red, but they haven't made that yet).
Fit
Rory Harmse (co-founder and now sole owner of Loeka) insists that the company doesn't use "vanity sizing", instead making clothes for "real women who mountain bike." At almost 5′ 7″ and a relatively muscular and curvy 140ish lbs, I'm somewhere between a small and medium for Loeka. The medium jacket fit with room to spare over my full upper body armor suit; without armor I was swimming in it.


Note the tapered waist on the jacket. Much more form-fitting than straight lines that you see in a lot of clothing.

The medium pants sat very low on my hips. However, the arm and leg length were just right. Bottom line: as with everything, you gotta try it on.
Feel & functionality
When I ride, I don't want to be conscious of my clothing. I want to focus on what I'm doing, not what I'm wearing. Both jacket and pants scored high in this area. My Fox leg armor fit easily under the pants, which have an articulated knee for easy pedaling (thumbs up).


The jacket came down far enough to cover the pants nicely, without being too long.
The removable hood on the jacket is designed to fit over a full-face helmet, although it limits visibility; I left it off. The jacket zipper is sticky and fussy, which I wouldn't expect at this price point; however, once it's done up, the rain never gets in. Hopefully, this was because the jacket I was testing is a pre-production sample.


The Kulla pants stayed put on technical terrain. Belt loops allow you to throw on a belt and cinch them tight if you want.

I tested both the jacket and the pants in many types of weather: snowy; damp and mild; on a sunny but windy day; during chilly torrential downpours. I'm a cold-blooded Aussie and the gear kept me warm and dry, even after hours of riding in the rain.

I never felt too hot or stifled either, even on warmer spring rides. I have other jackets that feel like plastic bags when I sweat, but the Loeka jacket breathes well. Armpit venting helps (the pants also have venting on the sides).

Putting the Loeka gear to work on a sunny but chilly day on Vancouver's North Shore

Most of all, I felt comfortable in this gear. The 100% polyester fabric feels like soft canvas; it's not scratchy, rough or inflexible. The lining is super-soft mesh (think basketball shorts).
Washability
Loeka recommends using special detergent to wash their clothing but I didn't use anything other than regular liquid Tide, reasoning that I don't usually treat my gear with kid gloves. I'm guessing most people are the same.
I'm a single mum with two teenagers and little interest in anything that takes too much time or effort. I throw my mountain biking gear in the machine with some detergent on a normal cycle; I'm kind enough to drip dry. So far (20+ washes later), the Loeka gear is holding up well. Water resistance is still there; color is great. Even an extremely muddy day at the bike park washed away in the machine.


Zippers on the jacket allow you to adjust fit. The hood is big enough to go over a helmet, if necessary.

Durability
After six months, a lot of wear and a lot of washing, I have only one small tear on the pants. The fact that that happened was slightly annoying, given how minor the tumble was. Other than that, the stitching is all still perfect, the fit is unchanged and the fabric doesn't look worn or faded.
Chances are, I compromised the durability by ignoring the washing instructions—but that's what I'd do in real life, so those are the conditions I expect my clothing (mountain biking and otherwise) to withstand.

Great examples of the detailing on the Kulla pants, with matching colours on the stitching and the pocket liners.

Bonus points for…
1. Side zips on the bottom of the pants so I could put on my leg armor without pulling down my pants.
2. Velcro around the ankles, so I could keep the pants away from my chain while I rode.
3. Detailing—the aqua blue contrasting liner in the pockets, which matches the subtle decorative stitching, which matches the jersey I want to buy…


Zippers and Velcro cuffs were nice touches, even without armor. They were really handy when putting on leg pads.
Would I buy the jacket and pants?
Product testers use gear because they have to write a review. A true measure of the product's success comes after the review, though – if testers genuinely like the gear they've been, they keep using it. And I'm going to continue using the pants and the jacket long after this review goes live.
This gear isn't cheap ($174.99 for the Schutzen jacket, $149.99 for the Kulla pants) but I'd say it's a good investment, based on the style, quality and amount of use I got out of them. In fact, I'd add shorts (look for the pinstripe and plaid) and jerseys from the collection.

The author putting the pants to work on her favourite A-frame. They work well on their own or with your favourite jersey.

The nitty gritty
Pants and jacket are available in store Fall 2011. Visit Loeka.com to purchase online or find a distributor (Canada, US, Europe). All sizes available (sizing chart). Technical details are below:

Schutzen tech jacket
Gunmetal grey & black with aqua details
Also available in ceramic & gunmetal
RRP $174.99 CDN
Sizes XS to XL
Recommended for: freeride, race
320D 100% Polyester
Waterproof to 10,000ml
8,000ml breathability
100% polyester anti-chafe mesh lining
Inside pocket for MP3, cards, cash
Removable hood fits over full face helmet
Asymmetrical double front zippers
Surged, taped flat locked seams
Under arm zip vents
Front zipped pockets
Adjustable velcro wrist closures
Rear Zip Pocket
Ulla bottoms

Gunmetal grey with aqua details
Also available in gunmetal & black
RRP $149.99 CDN
Sizes XS to XL
Recommended for: commuting, freeride, race
320D 100% Polyester
Waterproof to 10,000ml
8,000ml breathability
100% polyester, anti-chafe mesh lining
Surged, taped flat locked seams
Size zipper vents
Articulated knee
Front pockets
Belt loops
Invisible back zippered pockets
Lower leg side zips
Adjustable Velcro closure at bottom hem
---
Like the idea of gear designed for women? Wondering whether it will fit you (or your lady friend)? Wish someone put this much thought into guy's riding clothing? Take it to the boards, kids…