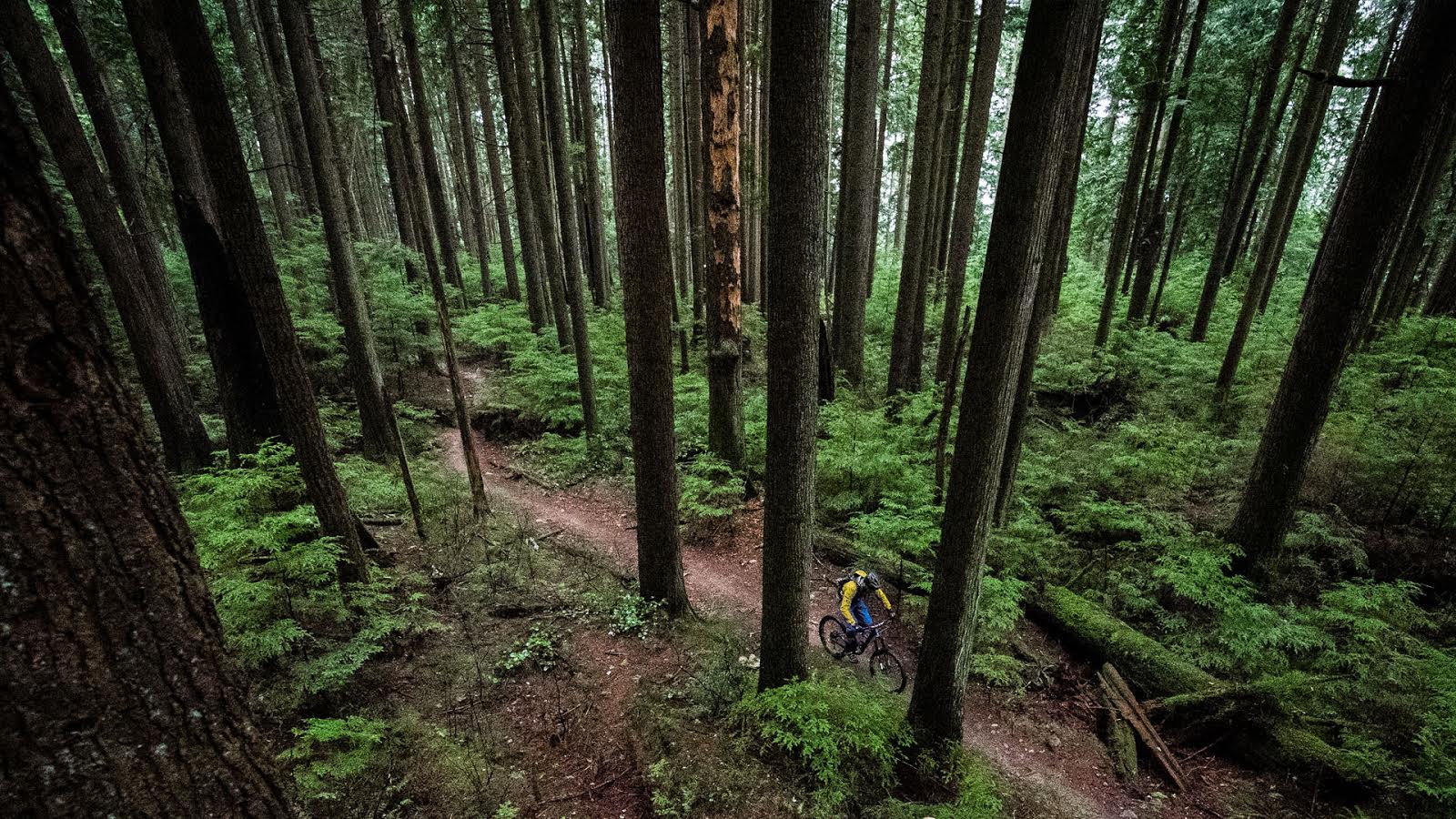 Vid – 2012 Santa Cruz Blur TRc
I have been riding a Santa Cruz Blur TRC for the past couple of months and I have to say it's not the sort of bike I ever imagined having in my stable. For a North Shore bike it's short on travel (130mm in the rear) and low on weight. I've built the frame up to right around the 25 lb mark – with a Rock Shox Reverb post and some relatively meaty tires. Fortunately it has some attributes that make it pretty damned versatile. On top of that it's one of the most desirable looking bikes I've ever had the pleasure to defile. It brings to mind those feathery little planes that compete in Red Bull air races.
The TRc was modelled after the Blur 4X – a bike that was (according to Mike Ferrentino) understood by few but highly coveted by those who got it. It rewarded aggressive riding, it was low, a little slack and most of all it was a bike that liked to go fast. Reading Ferrentino's PR about the new bike had me intrigued so we had one sent up this way.
Early on I rode it on some trails in the interior and it was ideal for pretty much everything I subjected it to. It handled steep and loose, smooth and fast and it loved to climb. This was a bike that gave me super powers. I wasn't sure how it would handle the Shore though.
I'll get into the build etc. at a later date but I had a 140mm fork (a Rock Shox Revelation World Cup with a 20mm front axle) put up front, which pushed the head angle back to 67.5. Normally my instinct is to nudge travel to the upper end of the scale (to compensate for my lack of skill) but I resisted the urge to push it to 150mm. I will likely do that at a later date though. The frame has a Kashima coat Fox RP23 in the rear.
More recently I have attempted to push the TRc to its limit and I've discovered the trails it likes and those it's less fond of. On Fromme taking the TRc down Bobsled was a mind expanding experience. The bike was comfortable at the limit of grip, it was rock solid at speed and it gave me more pop than I've ever had on Fromme's version of A Line. It was also probably my fastest ever trip down a trail I've ridden perhaps 50 times. Ladies Only (the reborn Ladies that is) was another line right in this bike's wheelhouse. It handled the steep sections, excelled on the faster bits and pretty much railed top to bottom. I was riding with my wife and we stopped a few times. but in between I'm certain I rode several sections faster than ever before. The slack head angle, low bb, short stays, the absence of mass and presence of rigidity all seemed to contribute to my increased pace.
Below the Baden Powell things get steep, dark and scary and here I was a little unsure of how the lack of travel would respond – but I needn't have worried. Everything I threw at the TRc got spat out like salmon bones. As Seb is fond of saying, if the geometry is right everything else falls into place. I did find some trails the TRc was less partial to – at least with me at the helm. On Bookwus and Grannies, rooty, awkward old school lines, the TRc did not feel at home under me. I could easily manoeuvre but I couldn't punch through the holes and hooks like I could on a bike with a little more travel and this made it difficult to establish a rhythm. A bike that would sit in the AM category, in the 150-160mm rear travel range, makes me feel more comfortable on these trails.
The bike I rode at Bootleg Canyon wasn't set up as much to my linking. The stem was long, the bars short, it had a little less travel up front and a more spindly fork – but it still was a lot of fun. I've heard some riders say the slack head angle makes the bike a handful on technical climbs but I haven't found that to be a problem. A wide bar helps counteract any front end flop as well.
So far I am loving the Blur TRc. More to come.
---
Is the Santa Cruz Blur TRc a bike you would consider for Shore duty? If not what would you choose instead? Report here…