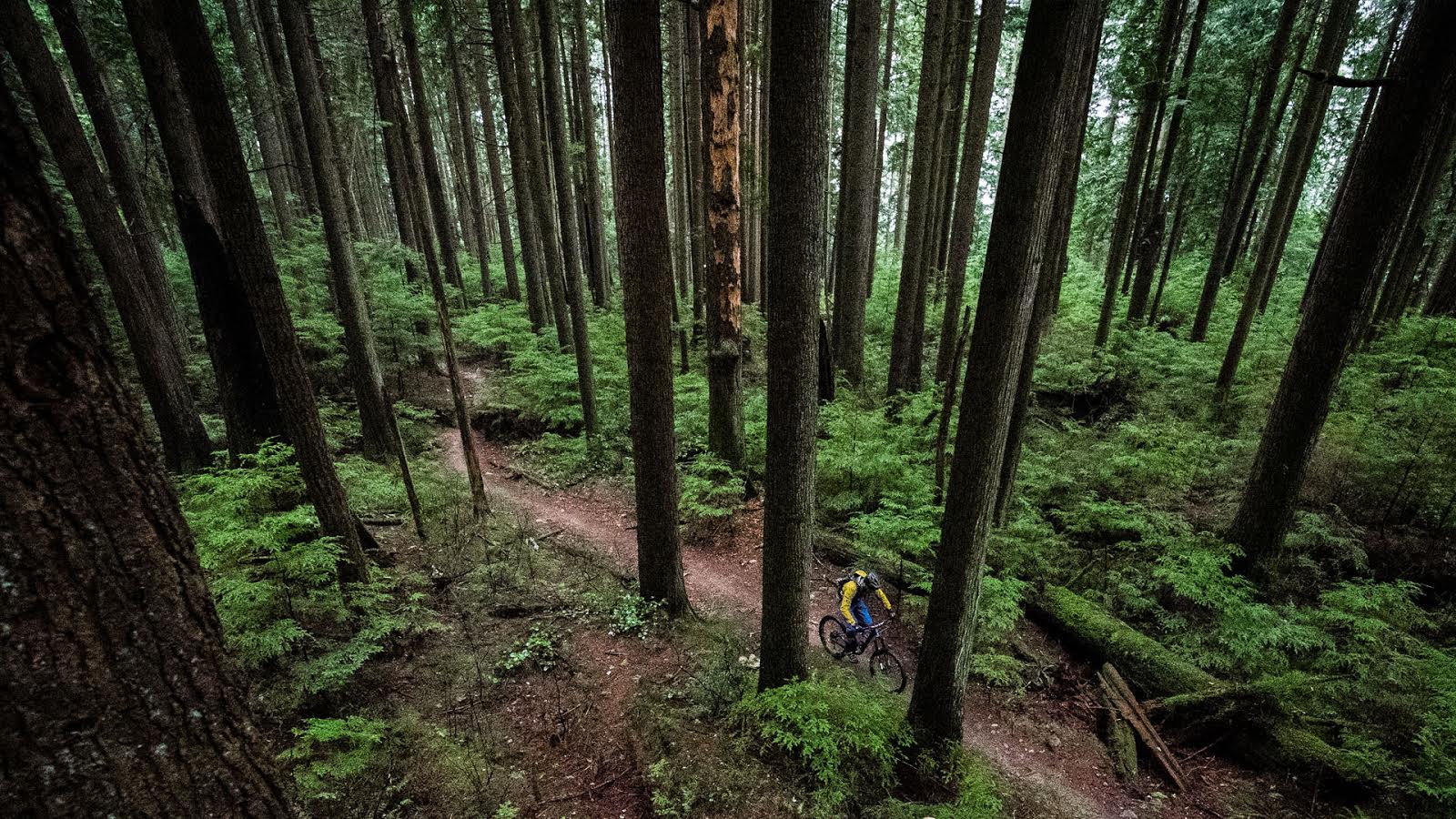 Interbike 2011 – Day 2 Indoors
If throughout the course of our Interbike posts you start to wonder why there isn't much about whole bikes then please don't be upset. There are two reasons for this. Firstly, there are so many bikes on offer these days that we would run out of Kodak film trying to snap them all. Secondly, there really weren't many bikes there.
I know this might seem like a contradiction in terms but there is truth in both sides of the coin. You see, there really wasn't that many bike stands there in comparison to the never ending aisles and glitzy sprawl of components, accessories and aftermarket bolt-ons (pun throughly intended).
Most of the show is about the little things. Bikes are not bikes but simply coat hangers to which we can consume our way to a state of identity satisfaction…or never ending aspiration. The bicycle is another way that we can tailor our purchases to our personal tastes, or at least the outward expression of something we wish we really were. I'm not saying it's all guff out there. Far from it. All of the stuff we saw had some use, even if some of it will only be put to use as landfill.
By day two we had moved away from the weirdness of the outer rings of Interbike and we were moving into the walkways of the more well trodden trade stands. Like I said, there were so many bikes present that we couldn't possibly photograph them all. Instead we have tried to bring you a few of the ones that stood out, or haven't been covered in some way previous by ourselves.
But really the reason we haven't given you an A-Z of bicycles is that most of the big companies have launched their ranges already so we didn't think it would be the best use of bandwidth to replicate information that is available already. If you don't believe me, you should try using this thing I found recently called the internet. Inside it there is this clever guy called Google who knows everything about anything.
Bikes

  Certain members of SCB were touting this bike as 'crash tested in Champery'. How long will it be until we see the full carbon V-10 in stores? Santa Cruz aren't ones to have their thunder stolen by throwing out new bits and bobs at trade shows so even though there was nothing entirely new on show, it does make us wonder what new bikes they have up their sleeve and when will we see them.

  This is the Air New Zealand themed Diamond Back Assault which ties in nicely with Kiwi flyer Kelly McGarry, one of the members of the Diamond Back DF5 team (Development Force Five).

  Someone did awfully well on this bike this year. When we got out our measuring tape and notebook to figure out the stats and settings of this bike we were struck by lightning. Before we were nearly cremated by an unseen force we think we noticed a Saint crank with what could be a BB30 bottom bracket.

  Banshee had a small booth and were showing their 130mm travel 29er bike, the Prime. It's an aggressive 29er built for ripping and tearing on rugged terrain. A 67.5° HA which is adjustable -/+ 1° is the up front number and the rest we do not yet know.
The main standout from the bike is the new KS (which stands for Keith Scott, the suspension engineer behind the design) suspension platform. This is the design that other Banshees will be moving to in the future. I was pretty frazzled when I spoke to Jon Hadfield so I can't remember everything he said about the new design, but what I do remember is that it will stiffen up the hind legs of the Banshee and because of the straight push against the shock it will help keep shock from getting any side loading or twisting.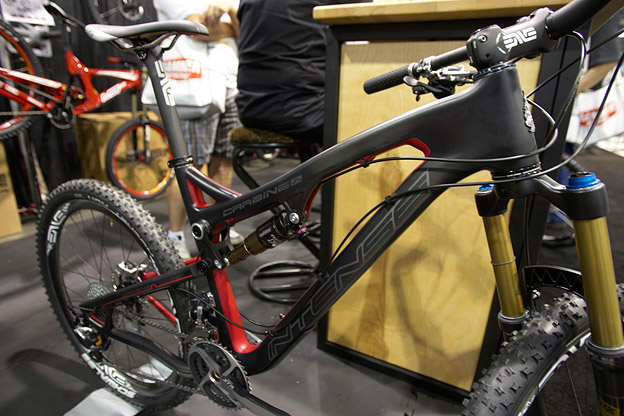 The Intense Carbine SL. For more story on Intense and their move to carbon fibre, offshore production then click on the link HERE

  The Surly Moonlander was one of the most popular bikes at the Outdoor Demo. They look like fun and the noise the tires make is incredible, but really, do you need one? Or perhaps the real question should be, are these the new 29er? (note – this bike looks somewhat normal despite rims that are 100mm wide and tires that are 4.5″ fat because Fergs is somewhat enormous – Ed.)
Stuff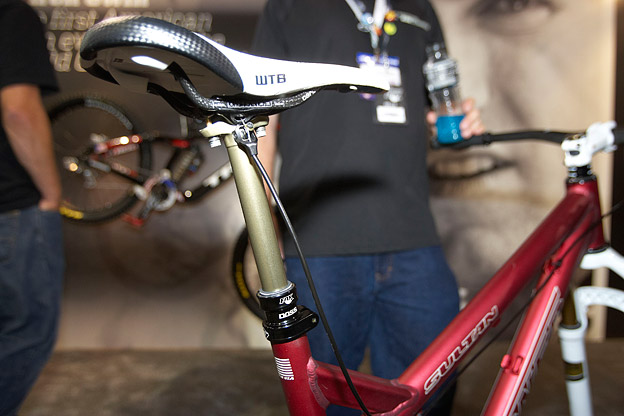 The long awaited Fox Shox dropper, or D.O.S.S. (Drop On Steep Stuff). We saw an early prototype of this at last years Interbike and it was expected that Fox would drop (no pun intended) the full production model at Sea Otter earlier this year. However, it still isn't ready but is as close as it ever has been. Perhaps it will be available very soon, unlike the titanium one piece steerer/crown that was shown last year as well. It is on hold for now and perhaps they are looking at other materials. Perhaps not. Your guess.
The D.O.S.S. is going to be available in 4" and 5" height adjusts so that even small people can enjoy the fun of the fair, and it comes with a two increment drop (40mm and full) which is controlled by a dual position lever that can be mounted in a variety of ways on the bars. The rebound is done by air but activated by a side mounted cable which can be clamped on the left or right hand side of the seatpost, and it will come in 30.9 and 31.6. Price? No idea.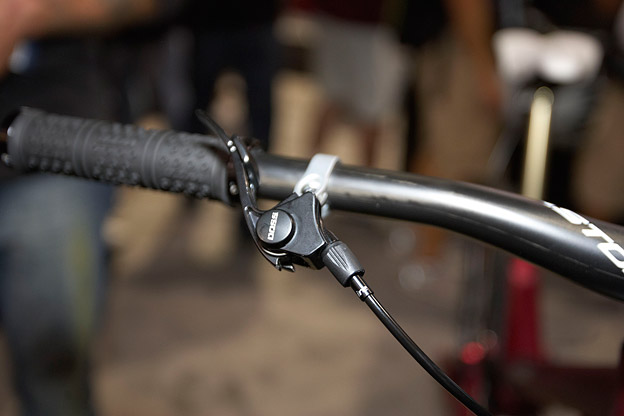 One thing we did want to see was the Fox 34 29er fork, but unfortunately NSMB has a strict 29er content quota and I used it all up on other stories that are coming this way. Actually, the truth is we completely forgot to ask about it. I'd personally love to see a stiffer 29er fork released soon so I could get back to hammering the steeps of BC on my Tallboy.

  Go-Pro had a massive stand, had massive giveaways and had this monstrous car with massive everything on display. This is the world record holder for the Pike's Peak race. Everything is designed for going uphill as fast as possible and it is rather impressive.

  I think everyone was expecting Chromag to drop a new carbon fibre stem and titanium handlebar combo. Instead they have just updated the styling of the bars, stems and seats. They do have a 29er bike out now which has been blowing haters minds in and around Whistler and Pemberton.

  POC don't just make brightly colored helmets. They also make a range of sunglasses. Which would of being awesome to know if summer hadn't buggered off after two weeks of trying.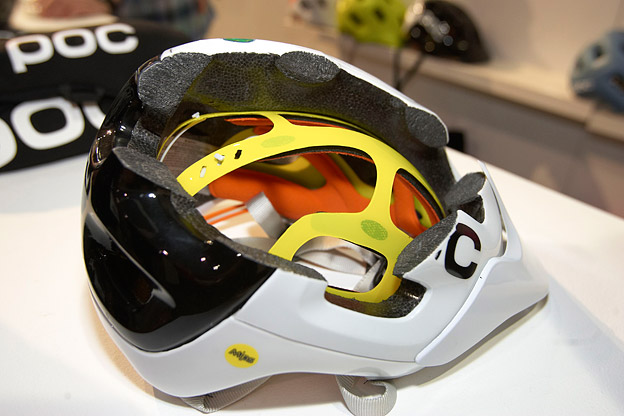 POC are very safety conscious. Here they had a dramatic demonstration of what will happen if you dived head first into a band saw. Thankfully the MIPS system in this helmet saved the bearer.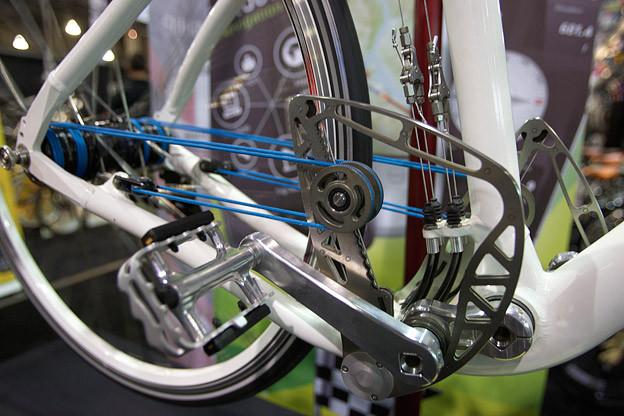 Not content with reinventing the wheel, some clever Hungarian boffin has been trying to reinvent the drivetrain. When I asked him to explain how it worked because it looked mightily complicated, he guffawed and said that actually it was very simple. I looked back at it and it still didn't look simple, but it made me feel simple.
Then when I asked him why he is doing this, he said that it makes pedaling up hill easier. Good, I thought but then Matt pointed out a sign behind the bike that said it made it up to 5% easier to pedal up hills.
Style section (aka Dan Barham's wardrobe)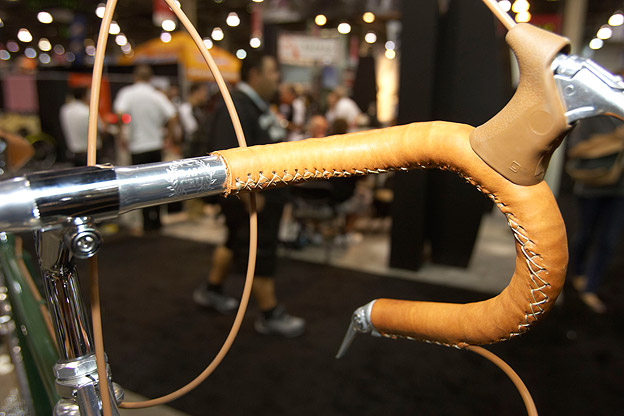 Leather loveliness.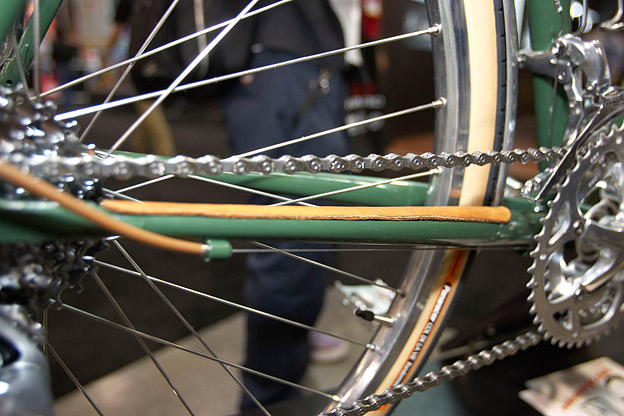 Whips and chains can really do a damage to your bits down below so this saucy company came up with the leather protector. I forgot what the company was called.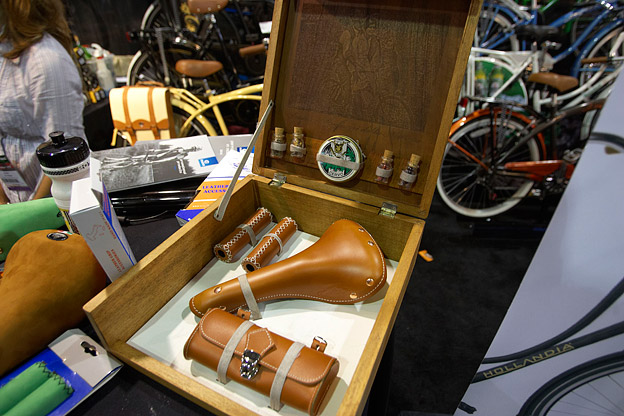 Some commentators have been questioning whether the advent of fashionistas into bicycling is a bad thing. They wonder whether bicycling is becoming a fashionable commodity or a trend. I don't think this is a new thing, or a bad thing.
After seeing that the fixie fad got a lot of people on bikes and now most of them are hooked  on bikes but are looking for the real kind of bicycling that fits them personally, I don't think it's a bad thing at all.
There was a lot of leather and vintage stuff at Interbike which points to bicycling's heritage and history. It shows bicycling has class and a sophistication and a timeless passion. None of this is bad. It is just another shade in the rainbow of biking. We have about a million different sub-genres in mountain biking alone so don't forget that the bicycle is a universal plaything, tool, and vehicle. Don't be elitist and think that just because you have ridden for longer you are any better than another person.
Rant over, now back to the ladies.
Hotties section

  We shared the hold a hottie duties this year. It can be awfully tiring. Thankfully "Mad" Matt Dennison comes into the fray with plenty of energy and a can-do spirit.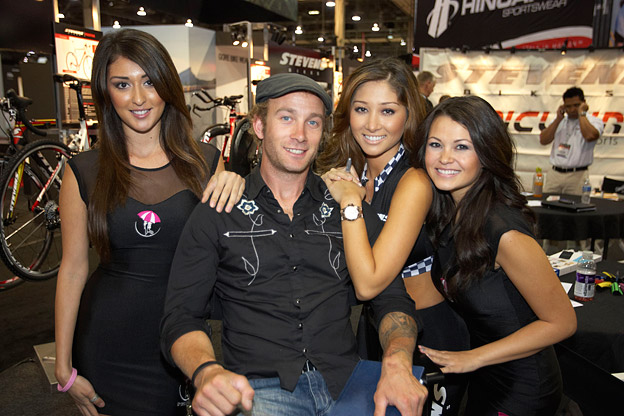 Like I said, tiring. Here the Umbrella Girls offer up a seat to rest my weary legs.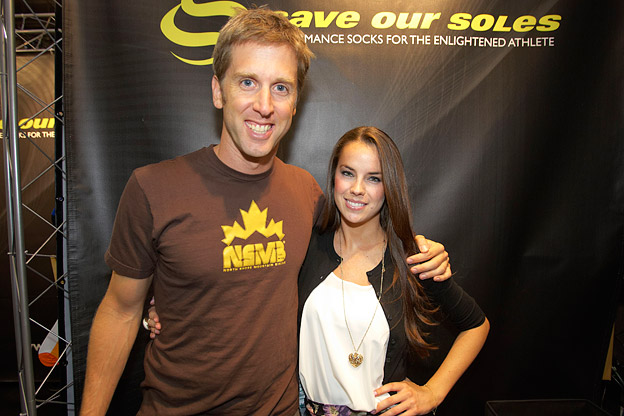 This girl was too nervous to talk on camera so Fergs offered her a comforting hug to help her relax. (note – we don't know what happend to Fergs' head while this photo was being taken but it returned to a more normal size once the shoot was done – Ed.)
---
What has you drooling? Bikes? Babes? Fergs/Seb/Matt? Send it here…