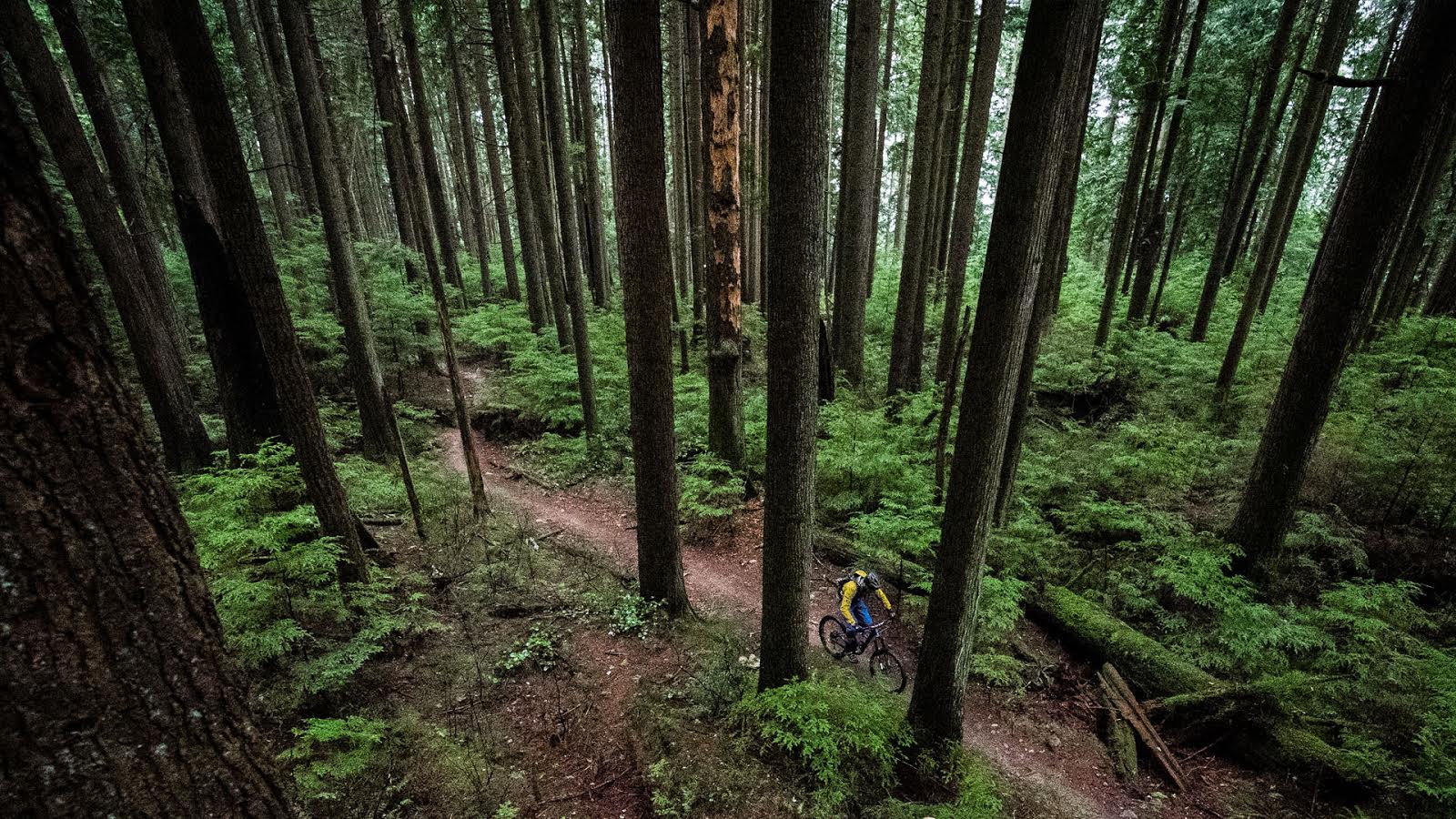 Dirt Demo 2011 (part i)
We dream of having a well-oiled machine at the dirt demo every year. We get up early and arrive before the gates are opened but then the thwartage begins. Our badges aren't ready. The bikes we want are already on the trail. Shit happens. So one must allow the demo to develop as it must.
Today though things went quite smoothly. We were shooting a lot of video for the first time with Matt Dennison behind the lens and asking anyone we could about their first two-wheeler. We also got some nice bikes out on the trail. Because Matt was on a DH bike, we took the cattle truck to the top – and narrowly avoided toppling out onto the gravel road. We scored a pair of Yetis (an SB66 and an SB950) a Commençal Supreme V3 and a Santa Cruz Blur TRc. Seb let some air out and then flatted (flag on the play, which he'll pay for later) but otherwise the ride/film shoot/photo shoot went smoothly over the course of several hours.

  The cattle truck must break some state and international laws – but it's a relatively efficient (if somewhat terrifying) way to the top. Photo ~ David Ferguson.
An un-named bike company marketing honch told us the story of a shop employee looking for a bike to ride in his size at dirt demo. There were two bikes available – one an XC bike and the other a dh race platform. When he was asked which he'd like to try his reply was 'whatever.'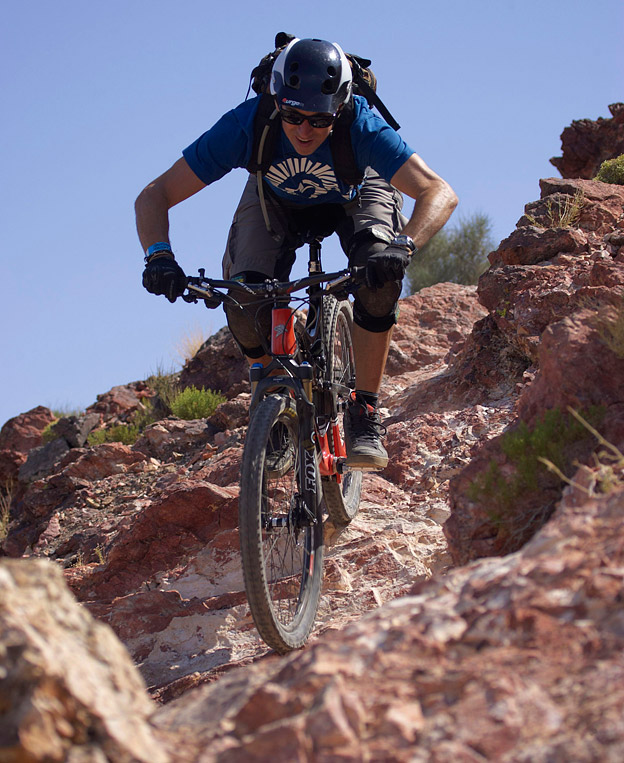 I have been riding a Santa Cruz Blur TRc on the Shore and elsewhere in B.C. this summer. I am a big fan of this bike – and it was happy at Bootleg Canyon as well. It's a mid travel bike with geometry that's been optimized for shredding down hill. It's also one of the prettiest bikes around. More on the TRc later. Photo ~ David Ferguson.
Despite the wasters, many in the industry use the demo as an opportunity to educate themselves about bikes their shop sells – and those the shop down the street is trying to unload. What can you tell about a bike on a lap of Bootleg Canyon? Not much truthfully – unless it happens to be set up perfectly for you. But you can probably get an idea about whose fancy it might tickle.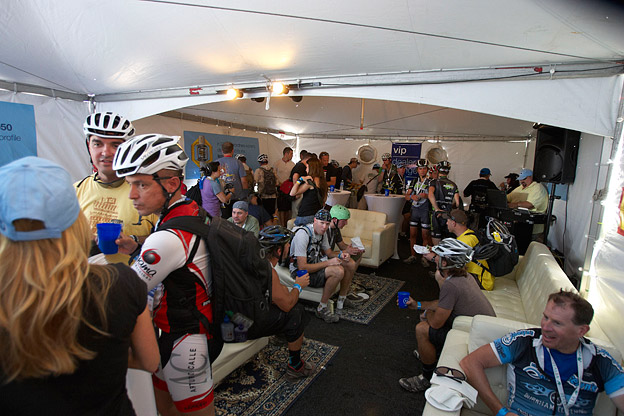 Crankbrother served up a sweet escape from the sun complete with beer and good food. Photo ~ David Ferguson.

   Point One Racing's CNC'ed pedals felt good. They are slim and elegant looking. This begs the question; why is it that neither SRAM nor Shimano, who make all manner of complex mechanisms, have been able to make a banging flat pedal? Photo ~ David Ferguson
After that we went to the Crank Brothers' lounge and had a snack before wandering the booths searching for gold. Race Face was on our radar from the start. Like last year they decided to toss all their eggs into the outdoor basket of Interbike and we didn't want to miss what they were up to. The story of their resurrection is as improbable as it is pleasing. It seemed that some large company in the bike business would buy the carcass of the company, sell the assets and use the name for their own purposes. Instead they have re-emerged in the same space with many of the same employees – but with a leaner, more focussed approach.

  Race Face's motto for 2012.

  It seems that Race Face has continued their tradition of innovative products built close to home. Their SIXC DH cranks are looking like industry leaders. Here are some specs: Addition of 165mm Length and 83mm spindle •  Upgrade from 7075-T6 pedal bosses (threads) to CrMo Steel •  Thicker chain ring tabs (Shimano Saint Standard) •  Addition of removable Granny Spider •  New SIXC 83mm (DH) is 1⁄4 lb lighter than SRAM X0 DH and has steel pedal inserts (SRAM uses aluminum) •  Crank arms and chain rings are made in Vancouver, BC Canada with USA made carbon and aluminum. Photo ~ Matt Dennison

  Riser bars that actually rise are back. Photo ~ Matt Dennison

  I remember being choked when I thought I wasn't going to be able to get my palms on Race Face grips any longer. Thankfully they live on. Photo ~ Matt Dennison

  Matt is helping out with the posing duties. Rachel Troop (above) is not just your average booth babe. She's raced XC at World Championships. Photo ~ David Ferguson

  One of Kenny Powers' (CEO of K-Swiss) employees taking a Specialized out for a spin. Photo ~ David Ferguson

  Seb Kemp has returned with us this year but the day's antics have left him shattered. As usual he'll have lots to say about just about everything – when he's recovered. Photo ~ David Ferguson.

  Like this little dude, we'll be showing you more as the show goes on. Photo ~ David Ferguson
---
We'll be showing you more of the bikes we rode today as we get into the groove of Vegas. Until let us know your thoughts – and tell us what you'd like to see more of here…