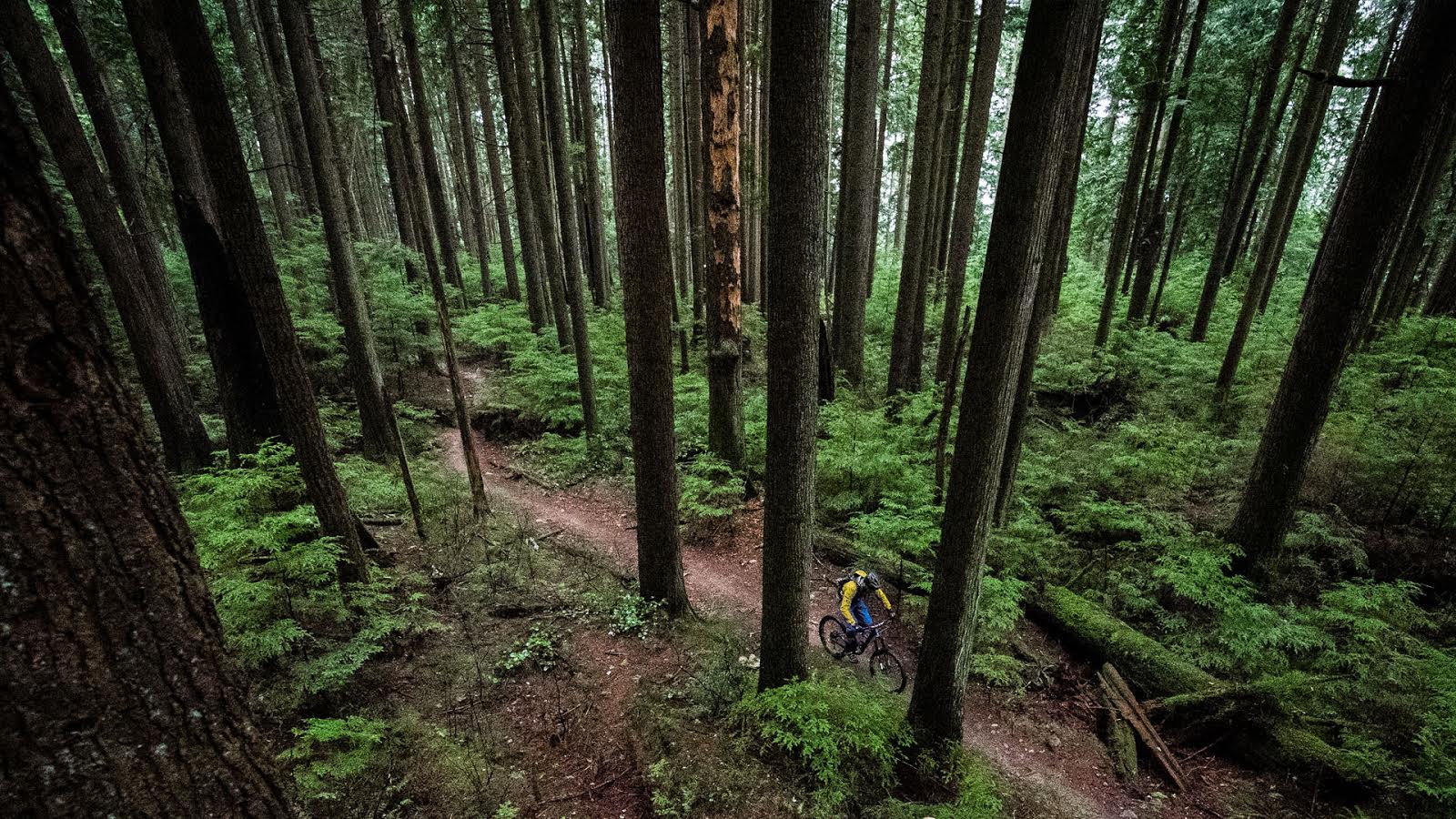 World Champ's Men
Unlike the World Cup virtually anyone can race in the World Championships – provided you are the among the fastest downhillers in your country. As a result the early starters from today's race made things interesting. There were riders overtaking others, slipping down most of the hill – and one who let a gap develop in front of him so he could hit the jumps at the bottom of the mountain. Apparently his time was less important than showing some style. Sadly the cameras didn't follow him. One rider, from the island nation of Mauritius, was riding a rented SX Trail with a single crown fork.

  The National Champion from Mauritius was riding the course on a rented SX Trail with a single crown fork. It didn't go entirely as he hoped as this view looking downhill shows.
About 20 minutes in Brett Tippie arrived on the mic. I'm not sure the World Championships are the best venue for Brett but he was a welcome diversion while the early riders from tiny former Soviet Republics were entertaining us. And then it was HB himself – Greg Herbold – for about five seconds. And that was when things began to skip forward and back inexplicably (I didn't watch live). My recent experiences with Freecaster have been really good but the skipping forward and back was disconcerting. Fortunately, for me at least, things ran smoothly forward once the top riders were on course.
When HB returned he shared some interesting observations. Once you have listened to Nigel Page and Rob Warner for many hours over several races you have heard most of their views on riders and courses and adding new voices makes a lot of sense. All in all though the two of them did an admirable job during what may have been their final broadcast.

  It was a good day for the French – and Michael Pascal reminded me what a star he is in the wet. The veteran slayed it in the rain during the Grouse World Cup here in 2003 as well.
The more I watched the early riders the more I was keen to try my North Shore skills on the Champery track. It's impossible to tell just how steep sections are on video but this certainly looked steeper than any other DH course I've seen footage from. Would I be able to ride it on a dry day? Would it crush a mere mortal (like the rider from Mauritius) in the wet? I'll have to get there to find out.
Canadians Chris Del Bosco and Rob Fraser were among the early riders and both rode well – but it underlined the absence of Steve Smith. You'd have to think this would have been a great course for Stevie and he must have been gutted watching from home.

  Sam Hill was charging and riding well but there would be no repeat of his heroics from 2010.

Injuries played a big role in Champery with several top riders playing hurt. Sam Hill's injured shoulder was not 100%, Fabien Barel was recently hospitalized with four broken ribs (but he was determined to race his last race as a pro and he showed that he still has the pace finishing an astounding 10th), Cam Cole was out after breaking his arm in practice and Sam Blenkinsop missed La Bresse with an injured knee – to name just a few.
Sam Blenkinsop had a couple of significant mistakes and he was only 1.3 back of the fastest time at that point. A clean run would have had him in the mix for the rainbow stripes. Steve Peat had a disappointing run but the cameras didn't show him crashing so it's hard to know what happened.

  This course suited Blenky perfectly but a couple of mishaps hampered his run.

Danny Hart was the fourth rider to last and it became apparent that he was up to something special when he cut a near vertical corner – a move no other rider tried all day. At the first split he was an outrageous 4.6 seconds up on Damien Spagnolo. At the next split it was almost 10 seconds. Coming in to the finish he laid out the most perfect whip you'll ever see and then he rolled across the finish line 11.699 seconds ahead of the second fastest time. As Rob Warner would say 'This is insane!'

  This line was only ridden by Danny Hart. Somehow he managed to negotiate the next corner that appeared impossible.
But there were three riders remaining; Gee Atherton, Greg Minnaar and Aaron Gwin, a talented trio.
Gee's nightmare year continued at Champery – so much so that Warner and Page continued talking about Danny Hart's run. Two massive crashes in short order got them back on the task at hand though and it appeared Gee would toss his bike after the second one. He remained composed though and finished his run looking like he was from an ancient race of mud people.

  When you are 9.215 seconds up at the second split you have time for some whipping. Danny hung this way out there.
Greg Minnaar always seems to come through for the main event no matter what sort of adversity he has to deal with beforehand. On this day he was unable to rise to the occasion with a time that put him in seventh, despite only being four seconds behind the second place rider. In fact only 6.5 seconds separated tenth and second place – which gives you some perspective on the perfection of Danny Hart's run.

  LOOK AT THE TIME!

And then it was time for Aaron Gwin – the only rider to ever win five World Cup downhills in a single year. He was so dominant at times it was clear that the rest of the field were only competing for second place. Gwin looked good out of the gate and at the first split he was only nine tenths of a second behind Hart – but then disaster struck and he left the course and got his bars tied up in the netting. HIs day was done and he ended up 20 seconds back.

  Aaron Gwin was in the running until he pitched it into the netting.
In the end Danny Hart stood alone – 11.699 seconds ahead of anyone else. It was one of those performances in sport that will be long remembered. He dominated seemingly without trying very hard at all – which may have been his secret. Never again will Danny Hart be able to ride like he's got nothing to lose.
This year the established veterans in downhill started to feel the blistering heat of the talented younger riders. Lead by Aaron Gwin, who won an astounding five of seven races, the next generation has arrived. Troy Brosnan, who won his second consecutive junior World Championship, had the second fastest time of the day at Champery. Only Greg Minnaar seemed up for the challenge of youth winning the only races Gwin failed to take. It's made for an even more exciting race series and you have to know that the pace of training in the off season will be higher than ever.
The sad news is that it appears as though Freecaster will not return next year. The UCI has asked for a fee of 100,000 euros from Freecaster. Sadly the numbers don't work so the coverage will likely come from another channel. Another puzzling move from the UCI who recently announced that a highly suspect bicycle site that was recently founded (Jan. 2011) will be sponsoring the circuit for the next three years. 

  Damien Spagnolo threw down an impressive run for second place.
Thanks to everyone at Freecaster – especially Raymond Dulieu for the fantastic coverage. You single-handedly turned the fortunes of the sport around. You'll be missed.
 Here's a Freecaster clip of Danny's run.
---
Comment on Danny, Aaron, Freecaster, the UCI or anything else that's got bees in your bonnet here…