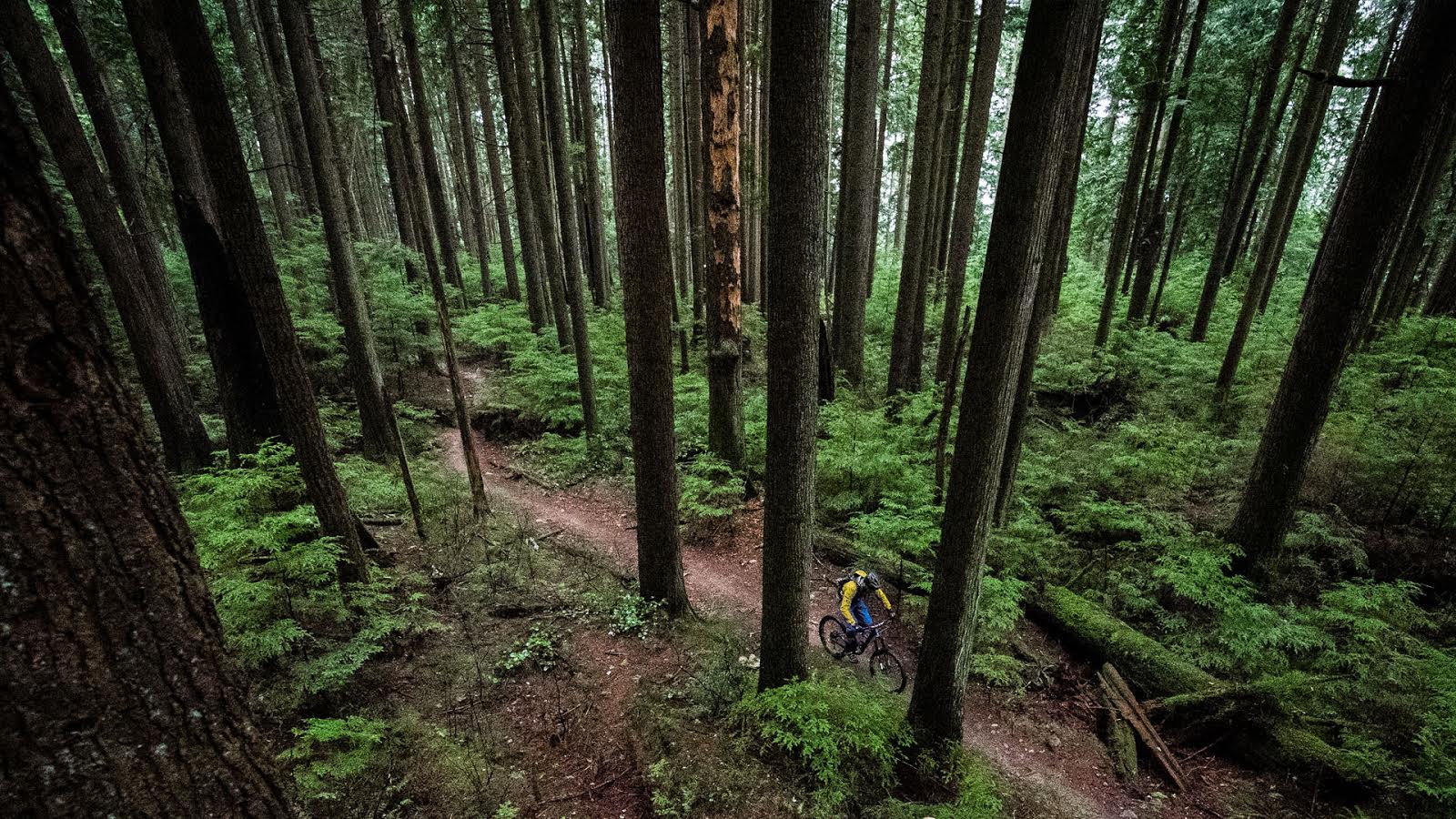 Norco Truax – First Look
Norco has been busy in the frame shop this year, debuting several new sveltely swoopy frame designs. The Truax is the latest evolution of the long running Shore – a burly long travel, yet climbable trail friendly platform. There are two iterations that share the same frame: $3700msrp Truax 1 that I'll be reviewing, and the upgraded spec Truax Team at $5650.
 


  Its a curvy thing, though tastefully restrained compared to some of Norco's previous tube bending escapades. I like the color too.

The new 7″ travel frame is aesthetically impressive – some very sophisticated tube shaping, and well thought out detailing. Though I typically heap scorn on gratuitous noodly tube torturing, I actually like the lines on this frame. The move to an uninterrupted seat-tube design is a significant improvement in my eyes – aesthetically and functionally, though seatpost drop is still limited by a mid tube bend. Norco is still licensing Horst Link FSR technology from Specialized, but it's now implemented in a tidier package. In addition to a pile of shapely hydroformed tubes, the frame sports several new modern niceties including a tapered headtube, post mount rear brake, and a Syntace X-12 through axle. 
  Tapered headtube sporting a new minimalist headbadge design. 45mm FSA Gap stem clamps a 25mm x 760mm Norco riser bar. 
Geometry is oriented towards downward trajectories, with a relatively slack 65.6* headtube. BB is a decently low 14″ and chainstays are 17.25″. Seatube angle is 72*. The frame is available in three sizes – small, medium and large, with 16″, 17.5″ and 18.5″ seat tube lengths respectively. Weight is 37.5lbs out of the box.
 

  There's some mad coordination going on; custom color matched graphics everywhere.
Costs are kept in check with the help of a few house branded components – a 30″ riser bar, ODI-esque lock on grips, a two bolt zero setback seatpost, and generic flat pedals. All are carefully color coordinated. The graphic refinement on this bike is some of the best work I've seen from Norco.
  The BB sports ISCG 05 chainguide tabs and the Sram SLX front derailleur is mounted on the swingarm (ostensibly to maintain vertical alignment with the chain as the suspension cycles).
Components are generally mid spec, but proven performers. Wheels are comprised of Sun Equalizer hoops with 14g spokes on Formula hubs, and are shod with Kendal Nevegal single ply tires. Chain derailment duties are provided by Sram X7 shifters and rear derailleur, with a SLX derailleur up front. Avid Elixir R brakes provide deceleration; a 205mm rotor resides out front, a 185mm on the back. The bottom end is rounded out by FSA Gravity Moto X cranks with dual rings and bashguard and a Blackspire Stinger tensioner. The Norco seatpost is capped by a  WTB Silverado Comp saddle.

  Clean one piece linkage; nice hardware too. Gratuitous acronym stickers abound. Note the remote seatpost cable guide.
Boingy parts consist of a Fox Vanilla R shock (rebound adjustment only), and a Rockshox Totem RS (rebound and slow speed compression adjustments) 180mm coil sprung fork. The fork comes with a huge pack of stickers for customization. My kid was delighted.


  Sram go bits, and the slick Syntace X-12 dropout. 

The Syntace X12 through axle is a proprietary new system that uses a 142mm hub. Essentially a 135mm hub with hub end caps extended 3.5mm on each side to accommodate integrated alignment slots in the dropouts that aid wheel replacement. The pinch bolt that captivates the replaceable through axle nut doubles as a breakaway bolt for the derailleur dropout. Elegant design.
  To be clear, that indeed is a post mount brake. Tidy.

The Norco Truax aspires to be the quintessential modern North Shore freeride bike – a bike that bombs with aplomb, but is pedal friendly. A delicate balancing act of versatility. This type of bike is right up my alley; I spend a majority of my riding time earning my turns on the Shore, and place a priority on downhill performance. I'm looking forward to seeing how this bike measures up. I'll be back with a thorough review once I've spent sufficient time on board. From what i've seen so far, it looks like Norco has built an inspired new chassis.
---
This sounds like a worthy replacement for the venerable Norco Shore. Your thoughts here…