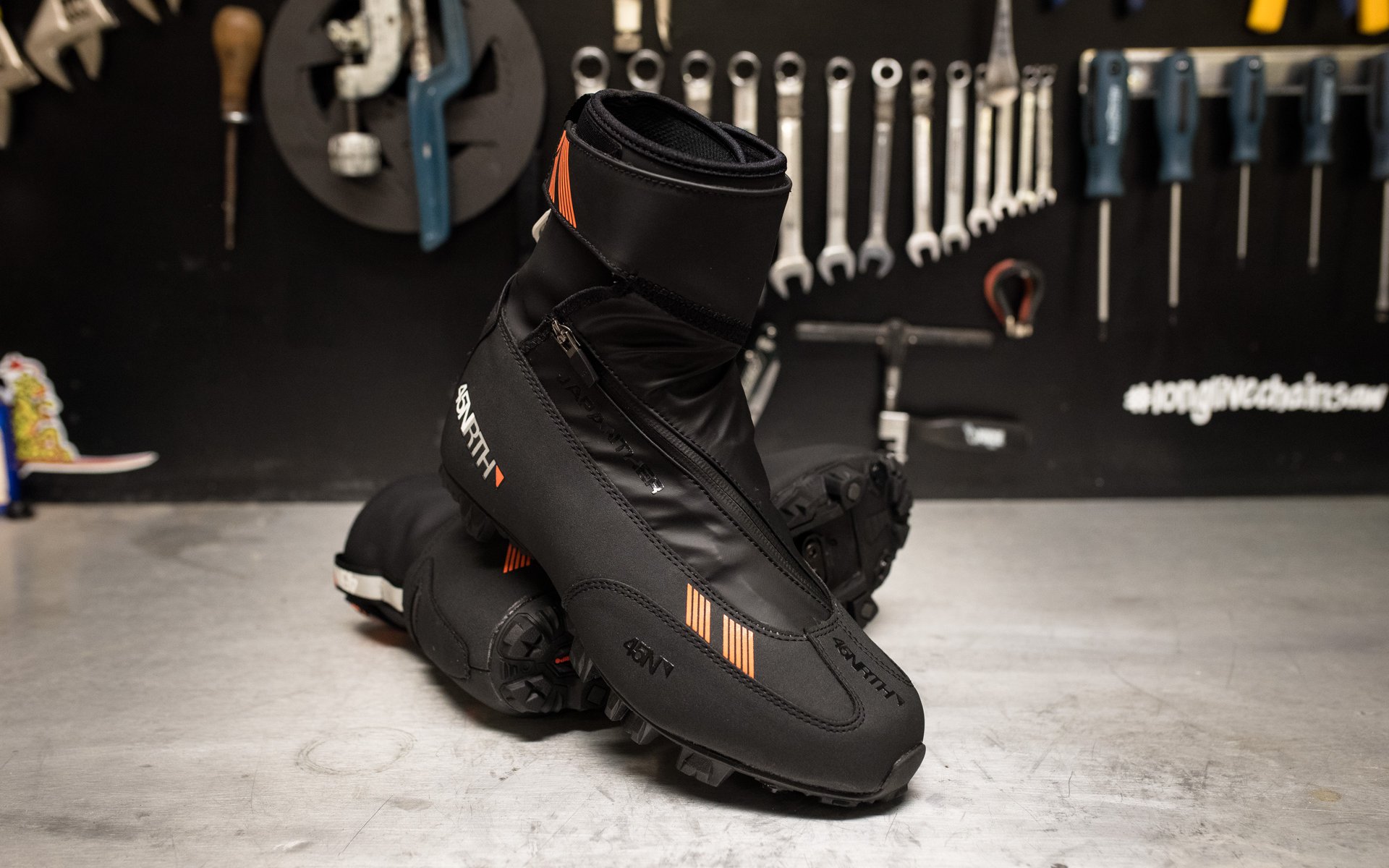 Winter Shoe Review
45NRTH Japanther Winter Shoes
Shortest Day, Longest Ride
I took the 45NRTH Japanther winter spd shoes out of the box, strapped them to my feet, and rode from Vancouver to Seattle on the shortest day of the year. Alright, that was kinda dumb.

I've historically had cold feet in winter: the feeling that my already-limited body heat is being sucked out through my pedal cleats is my normal. It's a condition I've simply dealt with, but have never really sought out to address. I'll admit that I wasn't really sold on the idea of yet another pair of shoes for cold weather – it seemed like more hassle and expense than it was worth. Oh, how wrong I was.

This all came to a head when I came up with the idea to ride to Seattle in December – and in the days approaching the ride, temperatures plummeted below freezing for the first time this winter. I couldn't bear the thought of 15 hours on the bike (which actually turned out to be 16) with classic foot popsicles. So, I reached out to Cam, and he was happy to lend me the yet-to-be-ridden Japanthers.

Design
The Japanther is 45NRTH's lightest shoe, sitting under no fewer than three winter-focused spd boots in the Minnesota-based company's lineup. The sole is nice and stiff – one of my absolute requirements in a shoe – and the cleat slots offer a good range of adjustment. From the bottom, they look like a traditional mountain bike shoe rather than a heavy winter boot. And at 660 grams per side, they weigh exactly 100 grams more than my summer shoes and neoprene covers.
The Japanther's outsole has chunky lugs made of soft rubber that land quietly on hard floors, which translates to decent grip outdoors. Still not quite a Five Ten, but better than the average XC shoe. The insole is a pleasant reminder that these shoes have been designed from the bottom up for cold weather conditions, with a plastic waffle base and a felted wool top, both in the name of improved insulation. And it works.
The upper is a multi-layered affair, with two velcro cuffs, a drawstring-type lacing system, and a zipper to seal it all up. This system feels restrictive when you first put the shoes on, but disappears as soon as you're on the bike. I was concerned that hike-a-bike sections would have me cursing the high cuffs, but it's proven not to be an issue.
Break In
Because the shoes' uppers are so substantial, they didn't come out of the box all that smooth. Of course, that didn't stop me from wearing them for 16 hours that first day. What it did, though, was cause me to loosen the shoes a lot toward the end of that day, to the point that I was eventually wearing one of them completely loose.
I'm happy to report that while the hot spots were pretty irritating (hey, it really could have been worse during that kind of effort), the shoes were actually still very functional with the laces loosened because of the multi-layered design and stiff sole. Now, after more than 1,000 road kilometres and a handful of mountain bike rides, the hot spots have all but disappeared while the shoes still feel good as new in every other way.
Waterproofness
My big ride was cold, but fortunately dry – but that's only one piece of the winter shoe puzzle. 45NRTH doesn't claim the Japanthers to be waterproof, and I can confirm that they are firmly water resistant. I've had the opportunity to fill them with water from above during a torrential downpour where I was just wearing shorts, and to have them soak right through while wearing rain pants. Both of these instances were 3+ hour rides in torrential conditions.
I have two things to say here: first, if you're not wearing pants, water is going to go in the top of your shoes, no matter what they're made of; and second, the zippered cover does an excellent job of keeping the lacing system and liner clean, which makes getting back into the Japanthers after a wet day all that much more bearable. They don't completely keep water out, but they do keep my feet warm in temperatures at and slightly below freezing, and that's what really matters to me.
On The Trail
As mentioned above, the Japanthers have stiff soles as is the norm for performance mountain bike shoes, and soft rubber on their chunkier-than-average (for an XC-type) outsoles. The double-layered construction makes for better protection than most any shoe I've worn, with the reinforced toe box offering impact protection and the high cuffs protecting your ankles nicely.
When tromping around in the woods, the soft rubber makes for better grip than the average XC shoe, but still not quite as much grip as a more flexible, full rubber outsole shoe like a Five Ten. They are stiff to walk in, and that affects grip. If you often find yourself doing mid-ride trail maintenance, you'd probably find a more casual shoe to be a better choice. If you spend more of your time on your pedals than on your feet, you'll enjoy the stiffness. I suppose I wouldn't go out of my way to choose these shoes if I was planning an extended hike-a-bike, but then I've done such things in shoes with less grip.
Fit Notes
For the intended use of these shoes – cold weather riding – I would highly recommend sizing up to fit your thickest socks comfortably (or toe warmers if that's your thing). The interior volume of the size 45 Japanther is generous, with lots of room for me to wiggle my toes even with my biggest socks on, but they're still comfortable with summer-weight socks for rides in shoulder season temperatures. In comparison, I generally wear a 44 when thicker socks aren't needed.
The dual cuff closure is so effective that I am able to restrict circulation to my feet by overtightening them – yet water would still get in through the top in truly soggy conditions. I recognize that most mountain bikers ride in shorts year round, but extreme conditions call for different measures and these shoes are definitely well paired with pants whether waterproof or not.
Wrapped Up
I wasn't planning on getting these shoes, but am I ever glad I did. My feet have never been happier on long and cold winter rides, from the trails to the road. Some part of that is having a shoe with adequate volume for big socks, but the winter-specific aspects of the Japanther's design keep my feet warmer and still drier than shoes and shoe covers ever have. It would be nice if the outer material was a bit more waterproof, but as long as my feet are warm, I'm happy.

For more info head to 45nrth.com