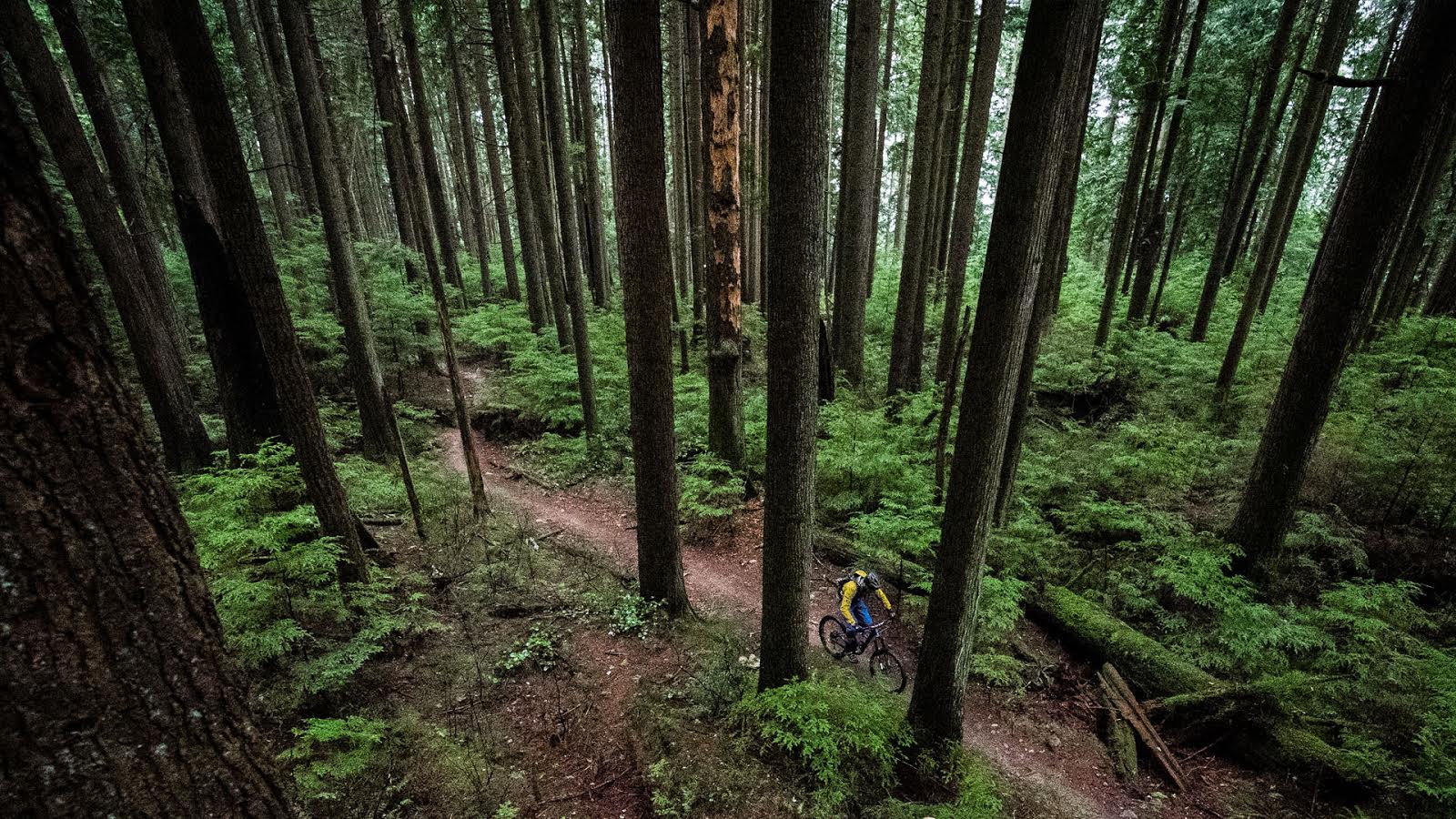 Scion Whistler Report Ep. 14
After a weekend in the city it was nice to get out for a couple great XC rides this week. On Monday I finally got to catch up with the nomad Seb Kemp again. Life has a way of getting busy, and sometimes you don't get to spend much time with your friends. But we quickly got a late evening westside rip in order and enjoyed catching up on the spin (grind) up to the Flank. When conditions are dry, the westside is just too good. Taking high off-camber lines through root gardens, roosting corners and generally having a good time is what its all about. The RMOW trail crew continues to work on the new climb, but it's still a ways away. They were saying that approximately 15 riders a day (weekdays) head up the Flank off the Stonebridge connector, with at least double the amount on weekends. It's safe to say–people like that area as much as I do, and I think others will like the new climb as much as I will as well!
A quiet evening on Garbanzo, I like having the option of a chairlift assist to the sidecountry trails.
Last night I couldn't find any cohorts to go out for a shred or photo session, so I decided to head high via the bikepark. I grabbed my little bike and rode into town, made use of a couple chairlifts and then pedalled/hiked my way up to Khyber Pass. With the sun starting to drop, letting that golden light blanket the mountain, I soaked up one of the sweeter views in the valley before dropping in. It's always a bit weird being way out there by one's self. While not shredding quite as hard, and being a bit mellower and safer than maybe I would have been in a group, it was nice to get into a flowy groove and enjoy the ride. There's more than a few patches of snow yet, but they are short and mostly rideable. Although there is nothing you can't see coming, keep an eye out for 3 fallen trees towards the bottom. At the end I hung a right and bombed down the access road all the way to Tunnel Vision, which is pretty tunnely at this point. People apparently like riding broken stunts as I know a few people have been trying to decommission, or at least pile debris, on the very broken things. One super sketchy stunt was just waiting to destroy people so I took the liberty to destroy it myself. It didn't take much effort given how utterly rotten it was. Most of the broken stuff is easy to spot, so please don't ride it. However, the last sender is still good, as are the low bridges. All in all it was a super sweet late evening ride, and only 2.5 hours door to door!
Last week's PhaSt Wednesday was Schleyer to Lower Canadian Open. As racers merely wanted to come out alive, there wasn't a whole lot of positivity going into the race. To be honest I haven't ridden Schleyer much this year, and my pre-race run on the course was my first on LCO this year too. I cruised the course with a clean run in safe mode with nearly no pedaling. Chris Kovarik smashed out a 2:35 to win the open men by just over one second over Tyler Allison, and 5+ over Nathan Rankin. Chris Dewar grabbed the top step in Masters, Claire Buchar was almost 7 seconds up on Casey Brown, and Zander Geddes took the juniors. Full results and series standings are here. Only 3 events left, including tonight!
Sun blazing up high, one of the better views in the valley, summer or winter, Khyber Pass.
On Friday night the Pumptrack Challenge is going down in the bikepark. It's only $10 so you shouldn't have an excuse not to come out! Riders will be placed in one of 2 heats, with a chance to post your fastest time in a 30 minute jam. The top 5 riders will advance to the final Jam heat and times from qualifying will not carry over to the finals. Check all the finer details here. Point of order, if you're over 13 you need to be on a 26" wheeled bike, so no bmx'ers!
As I was in the city all weekend I haven't had a chance to spend much time in the park, so I can only give a quick overview of what I saw on Garbanzo on my way toward Khyber last night. It appears the trail crew has continued to get some work done up top, although it's still rough around the edges. Freight Train has seen some jump rebuilding and smoothing of some of the rougher sections as well. Although the newer bit by the whale tail (the cow udder) is still closed and the wooden feature appears to have been removed and replaced with a dirt feature. Lower down the big bermed switchbacks have been removed in favour of a more straightline stepdown/table type jump. A few of the jumps before that also feel like they've changed somewhat, so be sure to have a roll through on your first run to check things out before sending. Things are definitely dry out there  and there are lots of marbles around in the corners, so stay alert and don't get too loose!
Golden hour is the best hour for riding, and the soft, warm light coming through the old growth forest while shredding loam down the trail is the thing dreams are made of.
In other news, I think I'm still hacking up dust from last week's XC Toonie. It was a brutal physical affair that saw everyone pinned from the start on a longish Lost Lake course, with clouds of dust hanging everywhere. It probably didn't help that Carlos and I decided to do a pre-toonie ride over on Blackcomb as a 'warm-up'. Some good folk have been working on a climb that I wanted to go check out so we hit that up as well. It was a nice climb with some sweet views that went up an old logging road and dumped into the bottom third of an old school gnar trail at this point. While the idea is that it will go higher, right now most people would be quite intimidated to ride the trail you arrive at. It's steep and tech, although very excting…if you don't mind some pucker factor. Not to mention, riding it on a little bike makes it even more exciting.
Speaking of trail work, this Friday night there will be a WORCA trail evening on Middle Danimal in preparation of next weekend's Betty vs. Veronica race. The plan is to meet at the Stonebridge Rd entrance to Middle Danimal (bottom of 99er, bridge over Gephart Creek) and head in to do a bit of re-routing and benching. Some of the sections need to be a bit more ridable, cause let's face it, it's hard even for advanced riders! The fine folks at the Trek Dirt Series are sponsoring this event and will be providing some snacks and refreshments. The westside is the bestside, and I know lots of you ride over there, so come out and help give a bit of sweat equity back to the trails!
Speaking of B vs. V, only a week and change till this first time event happens, and it's going to be a good one. The silent auction list is massive, and growing as I type this. It's going to be a great day of bike riding and sweet partying later that evening. Huge thanks to Tony Horn and his band of merry men for making this happen! I'm excited to be out there vollying, even if I'm being made to cross-dress. I hope to see lots of non-racers out to cheer on and support all the ladies riding. I always like a cheer along the way during an event, and I know a lot of the girls would love some encouragement while they're out riding.
If you haven't been to Pemby yet this year, or maybe it's been a while, you should head north on Sunday. Maybe a good ride in the morning, followed by the Slow Food Cycle along the Pemby Meadows road in the afternoon? It's all about the farms and the food that's produced in the valley. Its a great way to see a bit of the culture that makes up the Pemberton Valley, and the great food that's available! A bit further north the Tenquille cabin folks have been hard at work the past two weekends, and have made incredible progress. Check out the pictures on their Facebook group page. It's really cool to see families up there having a good old fashioned work party to build a really cool legacy.
I'm a sucker for scenics, and love some good cloud action. The sun sets on another day in paradise.
On Monday I'll finally make my first trip of the year over the Hurly to the Chilcotins as a solid group of us heads up for a Lorna Lake drop with Tyax Air to celebrate Paulo's birthday. I can't wait, A) because the Chilcotins absolutely blow my mind every time I'm there, B) I've never done Lorna and am looking forward to new vistas and trails, and C) epic adventures with good friends is always a recipe for good times! Don't forget to fill out trip reports for that area over on the BC Parks page! Keep letting them know how important this area is for riding!
In Squamish on Saturday, Just Another Bike Race takes place. It will involve 40km of sweet singletrack ripping around squish (check out the course map I did up here). Registration is available on-line, from 6:30-8:30 at Nesters Market in Station Square Mall, or the day of race at the start (Quest University Gym) from 8-10am. If you'd rather just go for a pedal, apparently the Alice Lake area trails that were closed thanks to large aggressive furry felines (cougars) are now open. That being said, you should still ride in a group, make lots of noise, keep your head up, eyes open, and ears tweaked….well, you should do that all the time anyway!
There's only a few weeks of summer left, and it looks like the forecast has finally come around. The fire danger is up to high, so be careful out there with hot brake rotors and dry grass. Finish rides at the beach, and be sure to have a refreshing beverage while talking smack to your friends about your awesome ride!
---
How are you planning to spend the last few weeks of summer? Hitting up the park? Plan it out here…