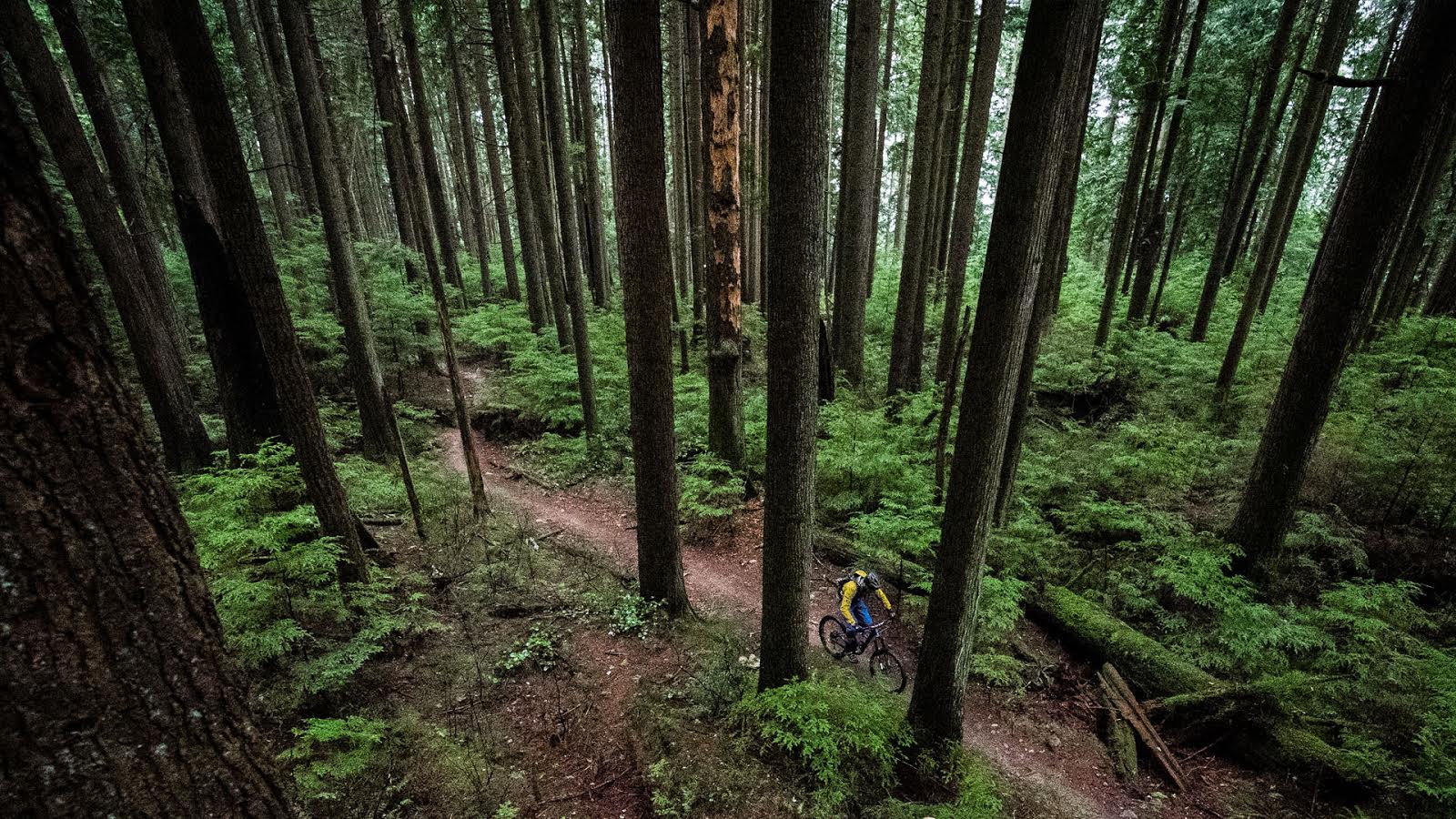 39 things I learned while doing the BC Bike Race, pt 1
On Saturday, July 9, I rolled across the finish line on the final stage of the fifth annual BC Bike Race, a seven-day mountain bike stage race held on the British Columbia coast. It was an amazing moment, and I was beyond stoked to have completed one of the hardest physical challenges in my life.
For those of you not familiar with the BCBR, as it's known, the event is seven days of singletrack racing (or timed riding, as I like to refer to it), camping, communal dining, people from all over the world, and epic adventures. There was also some suffering, a bit of blood, wicked descents, swoopy singletrack and one hell of a lot of fun. It was an experience that will stay with me the rest of my life. It definitely set a new benchmark for me in terms of amazing two-wheeled experiences.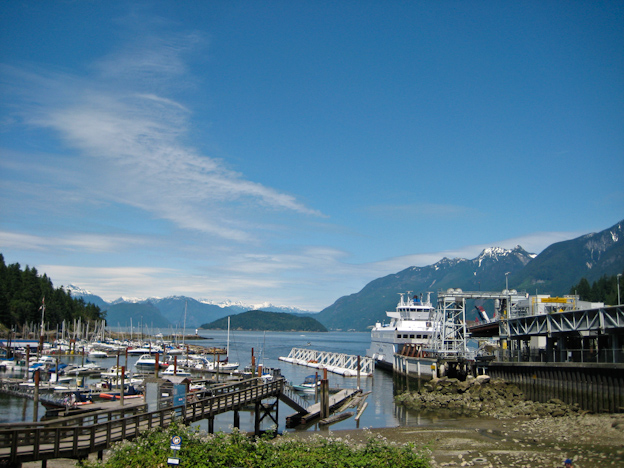 This is the kind of weather you want when you're starting a seven-day mountain bike race / holiday. Getting ready to load up at the ferry terminal in Horseshoe Bay.
It was also a really interesting "learning opportunity". There are things that you simply don't think about if you've never done anything like this. Things that you can't prepare for… unless you have some inside knowledge on what to expect when you sign up for the BCBR. Which is what I'm about to provide right now, at no charge to you. Here's the first part of a long list of things that I learned while riding my bike, hanging out in cycling shorts and hammering awesome trails for a week, in no particular order.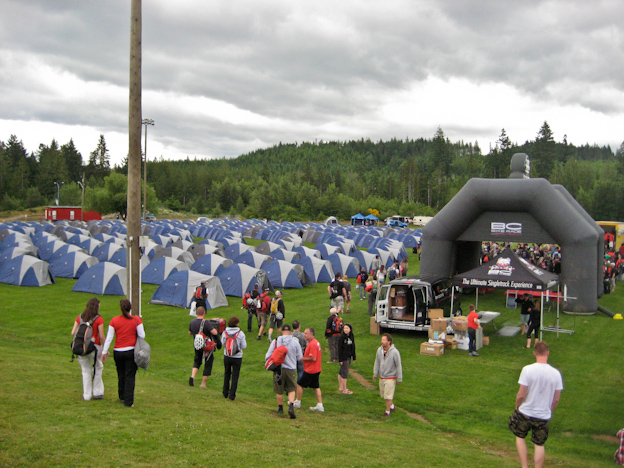 This would become a familiar site over the course of the week. Tent city and the Bear's Den, complete with charging station for all your electronic devices.
1. Use chamois cream / butter – I've been riding for more than 15 years. I'm used to wearing Lycra for long periods of time, and chaffing has never been an issue. I figured I was tough. Taint of leather and all that… Until the BCBR. I chaffed in places that have never chaffed before. Funny how hours of hot, sweaty saddle time day after day after day will do that to you. Next time, I'm packing the chamois cream and applying liberally.
2. The only time you will ever know for certain that there are no more hills is when you actually cross the finish line – the most painful half-truth of the week would prove to be the phrase, "It's all downhill from here!" – especially when you were within a few kilometers of the finish. Invariably, there would be another hill or two or four between that part in the course and the finish line. And by that point in the day, even small hills felt like mountains.

Sure, it looks like you're heading downhill. But you'd be wrong. So don't even think about getting your hopes up.
3. Never believe mileage estimates – the course designers were kind enough to give mileage estimates during the pre-race briefings, but those numbers were usually off by a couple of kilometres. Thirty-two kilometres became 34, and 40 became 43. It wasn't intentional, but after a couple of days I realized that distance estimates were just that. Keep pedalling until you ride under the giant inflatable bear arch.
4. Never believe handmade signs that say anything other than "go left" or "go right" – the on-course volunteers and locals who came out to support the race were great. It was awesome to have people from the communities we rode through out cheering for racers. They often made signs, but these signs were the source of many shattered dreams – especially the one that said "10km to go!" See #3.
5. Bring a height adjustable seatpost – BC singletrack is technical. Sure, you can ride it with your saddle all the way up, but it's not a lot of fun and it certainly doesn't make the day any easier. Take the half-pound hit over a standard seatpost and really enjoy the course. You'll be faster on the downhills, and you'll be able to rest your legs. I probably used my RockShox Reverb 40 or 50 times some days.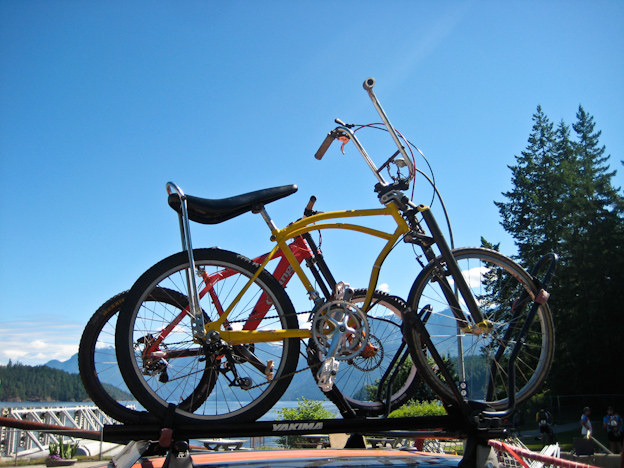 Sweet ride, but it would have been a PITA without a height-adjustable post.
6. Know how to perform basic repairs – I was fortunate to make it through the entire week without any mechanicals, but I was amazed by stories of people who didn't know how to change a tire, or repair a broken chain. When you're 20km or more from the nearest bike shop, it's probably a good idea to be at least somewhat self-sufficient. If not, carry a wad of $20s to pay someone else for doing what you should be able to do yourself.
7. Bring tools – it's like the repair thing. If you're out in the woods with your bike going for a 40 or 50km spin, bring a multi-tool, a pump and a spare tube at a bare minimum. It's not a lot to ask for, is it? Better to have them and not need them than be waiting for someone else with a pump.

Some people just don't listen…
8. Drink more water – It was hot most days that we were racing, and the last thing you wanted to do was get dehydrated. Start drinking at breakfast time, drink right up to start time, drink whatever you've got while you're on the course during the stage, refill your bottles at the aid stations if necessary, keep drinking when you finish the stage, and drink more with dinner. It sounds excessive, and there was more than one day when I felt like I was going to explode from so much water, but I had zero problems with bonking or cramping during the race. The race doctor had a useful phrase that he gave everyone during the initial racer briefing: "A happy mountaineer pisses clear." Wise words. Live by them.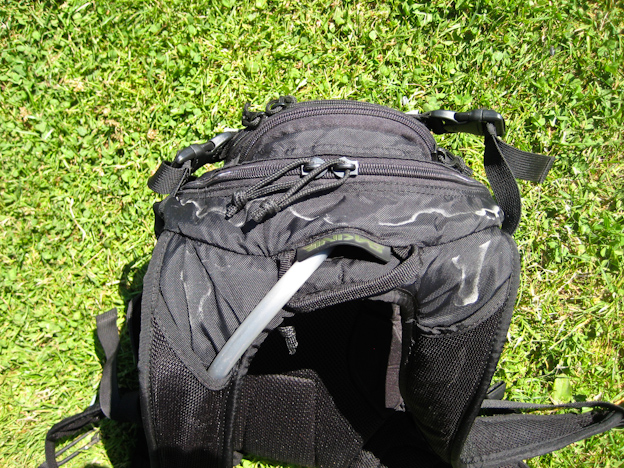 This is why you wanted to make sure to drink lots of water – salt stains on my hydration pack after a particularly long and hot day. It's also a good excuse to load up on chips and pretzels at the end of the stage.

9. Be prepared for the inevitable late-night bathroom break – all that water you're drinking means that you will need to take a leak in the middle of the night. Crawling out of your tent, which by this point will be covered in dew, will be a pain in the ass. Especially if you have to dig around for shoes / head lamp / glasses / whatever. Keep 'em close by because you're going to need them. And if you do decide to skip the trip to the bathroom in favor of a something a little more convenient, just make sure you don't pee on someone else's tent. It's rude.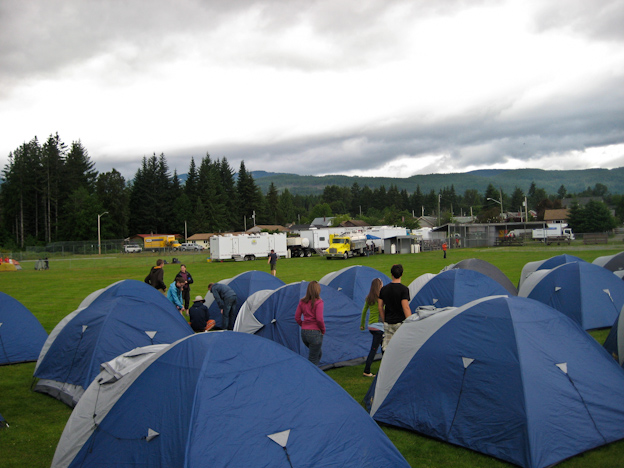 The bathroom trailers didn't look that far away from my tent during the day, but they were an awfully long way away in the middle of the night.
10. Bring seven pairs of shorts, jerseys and socks – sure, you could do laundry along the way, but the day that you're planning to do a load of wash will invariably be the day that you have three mechanicals and spend an extra two hours on course. Save yourself the hassle of looking for a laundromat in a strange town, and pack riding kit for each day. Or be a real man and do all seven stages in the same pair of shorts. Ugh.
11. Bring a garbage bag for dirty clothes – you'll want to contain the funk. Something heavy duty is a good idea. Maybe even some of those kitchen garbage bags with the built-in air freshener…
12. Don't be afraid of Lycra – I split my non-racing time between baggy shorts with Lycra underneath and Lycra all on its own when I'm riding the road. Baggies are great for day-to-day riding, but when you're hammering hard and sweating your nuts off, they kind of suck. Embrace the stretchy fabric and let it works its magic. And if you start getting self conscious, just remember that everyone else's junk is on display as well.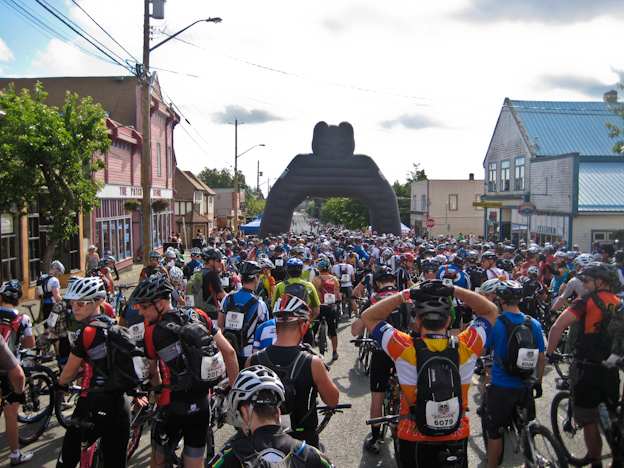 The start line on Day 1 in Cumberland. Notice all the Lycra, with only a smattering of baggy short action mixed in.
13. Eat as much as you can – This is kind of like the water rule. You're burning a ridiculous number of calories every day and you need to fuel the engine. Eat lots at breakfast, grab some food at the aid stations on the course, have snacks when you cross the finish line and go back for thirds at dinner. If there was ever a time to have that second dessert, this is it. No one will even bat an eye.
14. Ride full suspension – The course is rough. Roots, rocks, ledges, mud. You know, the stuff you expect to run into when you're riding off-road in a part of the world covered by mountains and trees. It's very nice to have a bike that will take the edge off things. Feel free to ride your hardtail if you've got something to prove. Or are a masochist. Or a masochist with something to prove. And if you're really into suffering, do it on a singlespeed hardtail.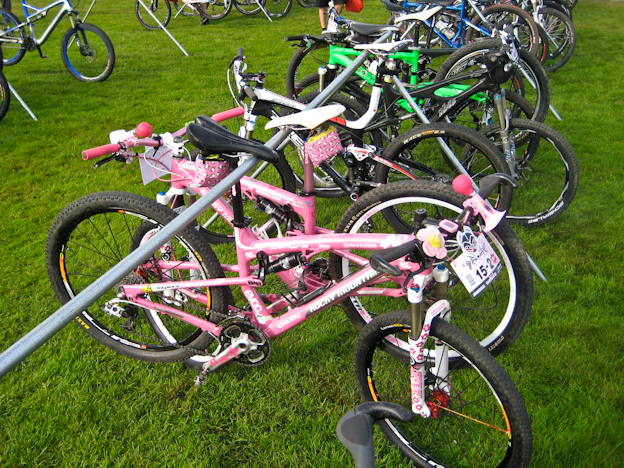 Full suspension was the choice for most riders. Only two decided to go the full pink route, though.
15. Use a 7″ rear rotor – this is a personal lesson, but everyone over about 190 lbs should listen up on this one. I thought I would save a bit of weight by running a 6" rotor and direct mount caliper. That was fine on some stages, but my hands were cramping on days with a lot of descending. I wish I had taken the weight penalty in exchange for more stopping power.
16. Use a wider front tire – pinner tires are one way to save some grams, but given the terrain around this part of BC, it's probably worth the an extra hundred grams or so for the added traction. I used Specialized The Captain tires that were 2.25″ (only 660g) and didn't regret it for a second.
17. Train. Or don't – you don't need a regimented training program in order to do the BCBR. If you ride your bike semi-regularly and can handle a few hours in the saddle without totally dying, then you should be able to finish the race. My training program consisted of me going, "Oh shit, the race is in six weeks. I'd better get in some miles," and then proceeding to ride my bike several times a week. For varying periods of time. At all sorts of different intensities. Unless, of course, I had some pressing reason not to ride. In which case I didn't. And I still finished strong.
18. Stay in a tent – A large part of the BCBR is the communal experience. Hanging out in tent city with most of your fellow racers is a great way to bond, meet interesting people and be in the thick of things. It will also make you appreciate that Motel 6 you stay in on your next mountain bike road trip one hell of a lot more than you would have before spending a week in a tent.

These kinds of campsites are one of the reasons why it's a good idea to stay in a tent.
19. Bring a thermarest – the BCBR tent people will be kind enough to provide you with one of those blue foam camping mattresses, but it's only 1 cm thick and doesn't really do shit to cushion your weary body. Add a Thermarest to the mix and it will be bearable… although, I swear that most of my stiffness during the week came from sleeping on the ground and not the riding. Oh well, live and learn…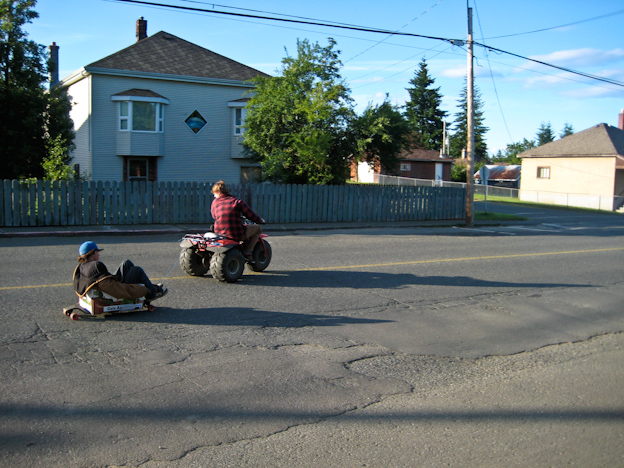 Ah, small town life. Nothing says fun like dragging your friends around on your ATV while they're sitting in a cardboard box on top of a skateboard. As you can imagine, this ended well.
In the next installment of "39 things I learned while doing the BC Bike Race", I'll look at things like questions about what you plan to do in the men's room, finding your people on the course and the importance of Vitamin I. Stay tuned for that and more…
---
Could you add to the list thus far? Do you swear by any of these rules? Take it to the boards…