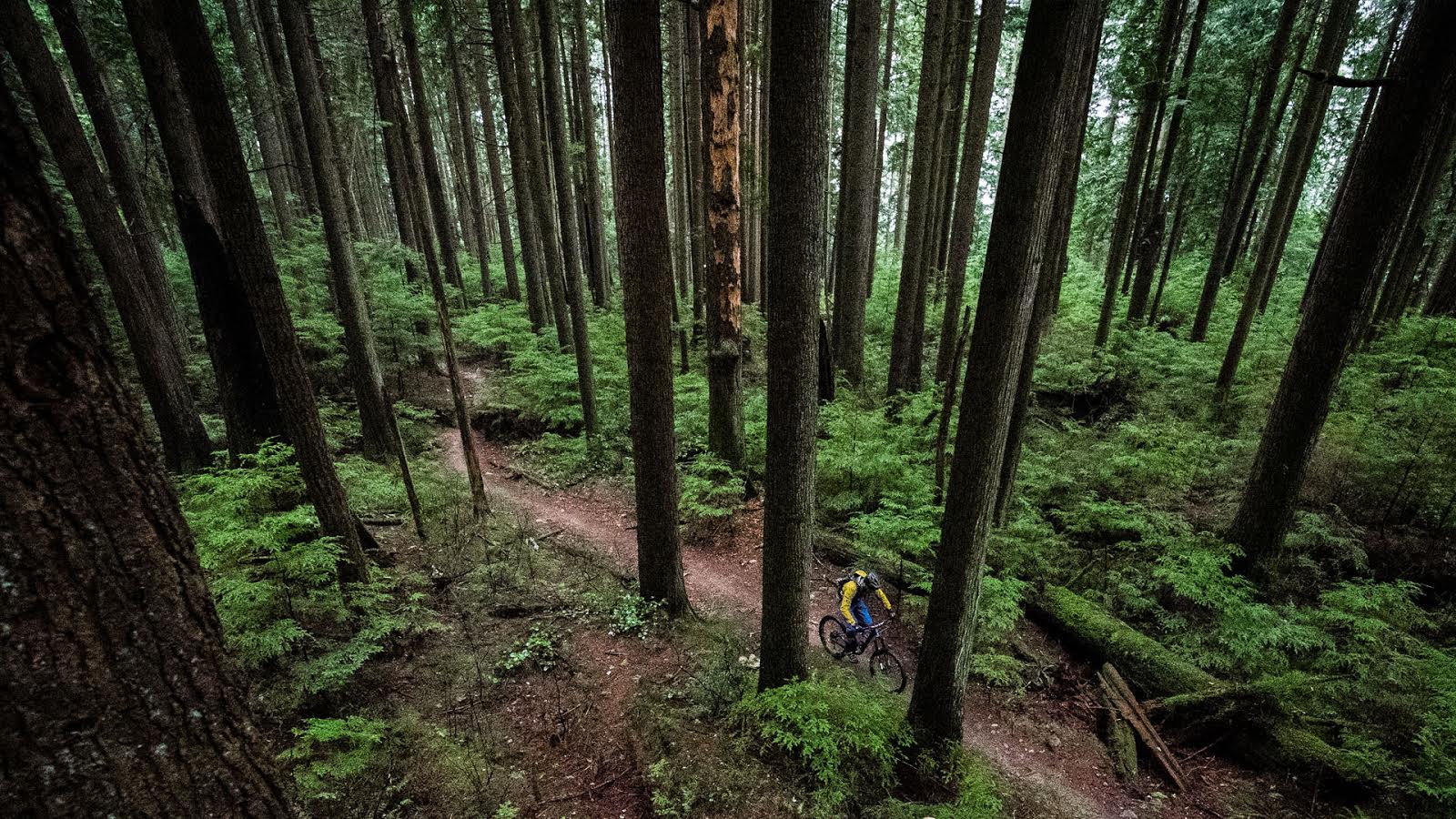 REVIEW: 2011 Marin Attack Trail 6.9
More and more Marin full suspension bikes with their distinctive look have been popping up locally and they've always peaked my interest. So when the opportunity to test the 2011 Attack Trail 6.9 fell in my lap, I was happy to take it on. At close to 200lbs and 6'1" and quite a few years of riding and bike testing under my belt, I felt like I would be able to give the Attack Trail 6.9 a solid run for its money and push it to its limits. I came away from the whole experience pleasantly surprised by some things and let down by others. Keep on reading to find out what worked and what didn't.

The 2011 Marin AT 6.9 in all its glory, plus a few added goods like a RockShox Reverb and classic Shimano 636 clipless pedals to keep the ride fun. || Photo: Stuart Kernaghan
The bike
The 150mm Quad Trail series of bikes is sandwiched between Marin's 180mm Quad XLT series and the 140mm Quad XM series. The Attack Trail 6.9 is the top dog in the Quad Trail series, with only the 6.8 below it. The bike has been around for a while, but is unchanged from last year except for flush-mount bearing caps in the linkage system.
Marin's marketing material says that the AT "redefines what an all-mountain bike can do". The people at Marin also referred to the bike as a pocket DH bike, while the web site says that it's designed for "riders who need a bike to tackle big air and bigger terrain". Bold statements, for sure.
The spec
Complete specs for the AT 6.9 are in the Gear Shots article for this bike. In a nutshell, though, the AT uses Marin's Quad Link 2.0 suspension design. It sports a 73.8° seat tube and a 66° tapered head tube, and BB height is 13.5". You also get an ISCG-05 chainguide mount, Fulcrum Red Zone tubeless-ready wheels, Maxxis Ardent 2.35" tires, a 160mm tapered steerer Fox 36 Float RLC and a Fox RP2 shock.
The drivetrain is SRAM 2×10 with X-7 triggers mated to X-7 front and X-9 rear derailleurs. The crankset is a SRAM S1400 (X-7) with 39/26 chainrings and an 11-34 rear cassette. Stopping is handled by Avid's Elixir-R with a 7" rotor up front and 6" rotor out back.

The 2 x 10 drivetrain wasn't geared quite low enough on long hills. The lack of a bashguard also proved to be frustrating at times. || Photo: Damien Burggraeve
The rest of the bike is made up of quality parts that anyone would be happy to have on their ride. I did add one piece of hardware: a RockShox Reverb height adjustable seatpost; with HA post cable guides already in place, it was an easy job.
The suspension
The Quad Link design found on all Marin full suspension bikes since 2004 is their patented variation on the venerable four-bar suspension; in 2007 it was updated to its current design ­- Quad Link 2.0. There is a lot of technical information available for it on Marin's website but I'll give you the short version of what's actually happening 'under the hood'.
In the first third of the travel, the rear wheel moves in a rear and upward direction, with the bike's Instantaneous Pivot Centre (IPC) centred above and forward of the bottom bracket. This rearward path results in higher shock leverage ratios through a longer effective chainstay, and increased traction as the tire is drawn down and into the bike. More importantly, it keeps those pesky square bumps and small hits from slowing you down.

The two short links on the QL 2.0 suspension design kept things plenty stiff and responsive. || Photo: Damien Burggraeve
Deeper into the travel, the IPC moves and the rear wheel follows an arced path around the bottom bracket, which theoretically nets zero chain growth, eliminates bob and pedal lock out and reduces shock leverage ratio. All of that in turn increases resistance when you get deep in the travel and ultimately minimizes bottoming out. Marin's short suspension links also give you quick suspension response to terrain inputs.
Other pluses for the system are light weight, great tire clearance and low wear and tear on pivots – so much so that they have a lifetime warranty.
Most of my riding experience has been on Horst Link and single pivot bikes, and I noticed right away that the QL 2.0 design rides differently than both. Brake jack and pedal feedback and suspension lock-out are a thing of the past. The QL 2.0 also gives better square bump compliance than both single pivot and Horst Link designs I have ridden. Finally, even without the platform activated on the rear shock, pedal bob was very limited, making climbing more efficient.
The ride…
These days, my riding consists of significantly more up and down terrain than it has in the past. My focus has changed from an FR/DH bent to a more all-mountain style, but with lift accessed riding at Vernon, BC's Silver Star ski hill in my backyard, I won't be walking away from the DH side of things anytime soon. And in fact, it gave me a perfect place to really put the AT to a thorough test.
All-mountain riding
My first thought when the AT showed up was that it was going to be a bit of a beast that I was going to kill myself getting to the top. Fortunately, things couldn't be further from the truth. It only took one ride to see that this bike is the ultimate fighter of all-mountain bikes – tough, strong, quick, light and maneuvrable. Since that first ride, this bike has continued to impress me.
First off, the bike's weight was never an issue. At just over 32 lbs for a size large bike after the addition of a Reverb post and a pair of Shimano clipless pedals, it just felt light. It was also in the same weight class as bikes like the Norco Range One and the Rocky Mountain Slayer 70.
Initially, the slacker 66° head angle had me concerned that the front end would wander and be difficult to control on steeper climbs. The reality is, the bike behaved like a well-trained hound and climbed upward and onward until I ran out of gas. The 73.8° seat tube is steep enough to keep you forward and over the BB, giving the AT great climbing ability and comfort. It likely played a part in keeping the front end in check as well.
Once I found the correct body position – forward – the AT could climb just about anything that was ridable. Adding a travel-adjustable fork to this bike would have been a good choice for the spec, and it would have made the bike almost unstoppable in an all-mountain setting. Unfortunately, the 6.9 didn't come with that option – something that was really strange, considering the model-down 6.8 was spec'd with a travel adjustable fork. Why not carry that spec over to the high-end model? There are plenty of light-weight travel adjustable forks to choose from. Fortunately, that was the only major flaw in an otherwise relatively well spec'd bike.
The AT's 45.43" / 1154mm wheelbase was great in tight and technical trails that demand a nimble bike, but long enough to keep things nice and stable at speed. There's no greater reward for working hard and riding to the top than being able to let loose and enjoy the fruits of your labour, and the AT is totally able to deliver on that.
The AT felt confident and surefooted driving through fast and twisty singletrack, which translates into pure fun. In spite of the longer-than-XC wheelbase, I was impressed at the AT's ability to negotiate tight switchback sections with ease. Once you figured out the bike and committed to the turn, switchbacks fell one after the other.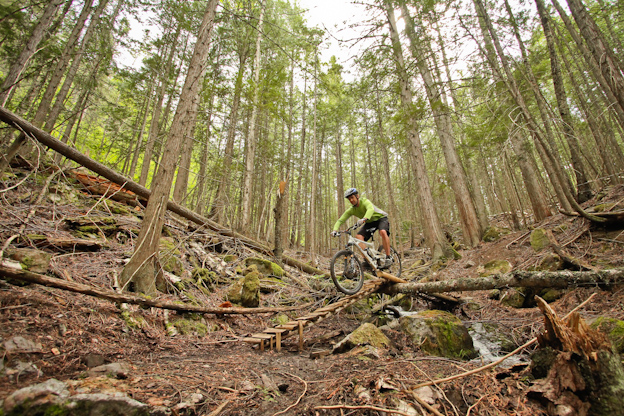 The author putting the AT through its paces on some technical Okanagan terrain. || Photo: Stuart Kernaghan
Another immediately noticeable trait of the AT is that it wants to go, and go fast. I have never ridden a bike that feels like it's jumping out of the gates, until I hopped on the AT. Those 32+lbs seemed to just evaporate with each pedal stroke. A combination of great power transfer from the rear suspension and light wheels make the AT feel like the bike is powering itself.
This translates into the ability to ride harder, longer, further and most of all faster with seemingly less effort than any other bike I have ridden. Technical climbs felt easy, sustained climbs required less effort, and I ripped through singletrack at speed with confidence. Those are all things that all make for a great bike, and the AT delivered in spades.
A real highlight of the AT, and no doubt part of the reason this bike rips, were the Fulcrum Red Zone wheels. They were light and noticeably faster than any other AM wheelset I have ever ridden. The light wheels with what must be the smoothest running bearings I've ever encountered, in combination with Maxxis Ardent tires, give this bike the get up and go of a thoroughbred. Getting your drift on with this bike is easy and let me tell you, it's fun as much as it is scary.
Another thing to note – shock set-up on this bike is critical in order to optimize rear suspension performance and minimize pedal or crank strikes. Too hard and the suspension is very unforgiving, too soft and the bike sits too low. Read the set-up instructions and use the measurements provided, not the typical % of stroke methodology.
Overall, the AT performed exceptionally well in all-mountain situations and in fact far exceeded my expectations.
Downhill and the 'Pocket DH'
After my very positive AM experience with the AT, I wasn't sure if Marin's pocket DH comment would hold up. The slacker 66° head angle and a rear suspension should be well suited to a DH environment, so this bike should theoretically be able to deliver. It  did, but only to a limited extent.
The first thing I noticed was that the AT was right at home and able to keep up with the big boys on the smooth, flowy trails that the Silver Star bike park is known for (Rockstar, Superstar, etc.). It's quick, it pops, it handles well and generally kills it on those kinds of runs. The AT was also at home in the air, and quite honestly, it flew better than expected. I ending up scaring myself a little on more than one occasion because I got so much air. The bike ripped through berms, held its line in spite of slick early season muck and handled drops like a champ.
The QL 2.0 design is really at home in the bike park, and there was little to no stalling on square-edged bumps. It also soaked up the big hits like a pro and the suspension had that bottomless feeling.
Unfortunately, the AT was in over its head when things got burly. The stock components are better suited to AM riding, not the challenge of heavy-duty park riding, and that light feeling on AM trails meant the bike got tossed around in the rough stuff. 160mm of front travel doesn't quite cut it on steep, technical downhills – especially when you're used to running 180mm or more as I am on my regular park bike. It also didn't take long to discover that the stock 7" / 6" rotor combo wasn't enough stopping power for extended downhills, or to slow the bike down when things got skittish.

The AT was at home on this kind of terrain, but things got a little hairy when things got steeper and deeper. || Photo: Stuart Kernaghan
In an attempt to tame this savage, I switched to an 8" rotor in the front and added some beefier rubber on both ends. This did help reign in the AT, but it still made for a bit of a rodeo ride and I had to expend a bunch of extra effort just to keep things in check.
It's certainly possible to ride the AT in the bike park, especially if you've only got enough money in the budget for one bike, but if the trails are particularly rough, steep or generally gnarly, you'll want to upsize the tires and rotors at a minimum before you head out. More travel in the front would be nice, too. And with that many upgrades, you're better off buying Marin's 180mm travel Quake instead of the AT.
There were a few issues
So was I happy with the Attack Trail? In a word, absolutely. Would I say that it's perfect as is? No. The stock components on the bike performed well and I didn't have any trouble with them during the test, but there were a couple of spec choices that made me wonder. There are a few changes – some minor and some major – necessary make this bike a home run.
I alluded to my biggest beef alluded to earlier – this bike should come with a travel adjustable fork. There are lots of fork options out there, and any of them would increase the climbing capability without compromising its descending ability. Not spec'ing the bike with that type of fork was a real mistake in my opinion.
Some of the parts weren't as top-shelf as I would have liked to see. The Fox RP2 rear shock was able to handle the rigors of the job but since the 6.9 is the top-end AT model, I would expect an RP23 shock. Running X-7 / X-9 rather than all X-9 also seemed like a strange mix.
The gearing selection for the 2×10 drivetrain, which worked flawlessly, could use some re-thinking in this application. The 26 x 34 low gear combo certainly makes you work for your vert. I found myself more than once searching for an uber low gear for those steep, sustained climbs but it was never there. SRAM has only just introduced smaller inner rings for 2 x 10 cranks, but even if Marin had spec'd a 36T cassette with last year's largert 26T inner ring it would still have helped a little bit.
That brings me to another issue with many 2×10 cranksets in general, especially on AM bikes – it's not easy to run a standard bashguard. It's not a cool feeling when crossing the apex of a tall A-frame only to have the big ring on your 2 x 10 crankset dig in and stop you dead! There are options for ISCG/BB mounted bash guards to run with a 2 x 10 set-up, but they've just become available and they're an added expense. Riders should be able to easily throw a bashguard on their AM bike – like you can with a triple ring cranksets. Once again, Marin spec'd the model-down AT 6.8 with the logical choice – a triple crankset. Why not carry that thinking over to the high-end model?
On to brakes… the rear brake rotor should be bigger, and it wouldn't hurt to upsize the front rotor as well. 7" rotors on the front and rear should be the minimum for AM bikes.
My final issue is with the single-ply Maxxis Ardent tires. They were light, rolled fast, and provided great grip and control but flatted very easily. I spent a lot of time during the test changing flats. The Fulcrum wheels are tubeless ready, so why not spec tubeless-ready / compatible tires?
Final thoughts
This was a fun bike to test. The AT met expectations head on and even surpassed them in some cases. I was a bit disappointed with some of the component choices and the disparity between the 6.9 model compared to the 6.8 model. Someone was obviously thinking about the issues I ran into when they chose parts for the 6.8, so why not make life easy for 6.9 riders as well? That said, I liked this bike enough to really consider paring down my quiver and only running one bike.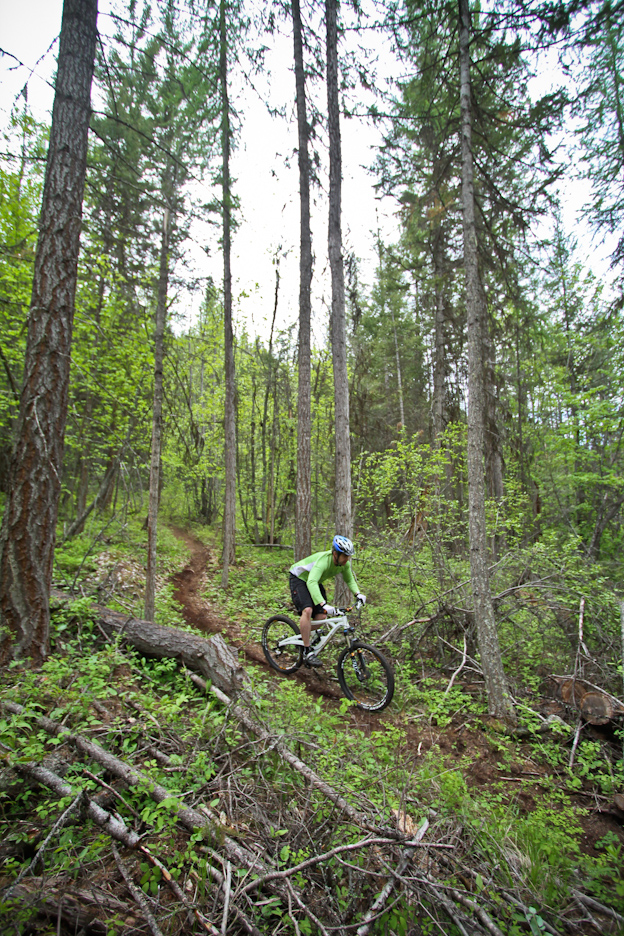 Carving up smooth, loamy singletrack was bliss on the AT. || Photo: Stuart Kernaghan
If you can only have one bike and you're the quintessential AM rider who likes to go up as much as you like to go down, the AT is a bike you should seriously consider.
Would I suggest ditching your FR/DH bike AND your XC ride in favour of a single AT pony in your stable? Not likely. The Marin will out-perform many other AM bikes in both XC and DH/FR riding situations, but it still suffers from the same affliction as most other bikes in this segment: it's just not as good as the real thing. It shines in the middle, but when you get to the extremes it's not as light as an XC or trail bike and it's not nearly as sturdy as a FR / DH bike, especially with the stock spec.
I have no reservations saying that the 6.9 is a killer long-travel AM ride and is nothing but fun to ride on all kinds of trails. Just be aware that the bike has a few limitations with the stock spec. None of them are impossible to overcome, and once you do, you'll have a very capable bike that will take on almost anything you can throw at it. Almost.
---
EDITOR'S NOTE – As this review was being edited, we learned that Marin is making major changes to the Quad Link design for 2012. Boxxy rear ends and QL 2.0 are being replaced with QL 3.0 and a more traditional rear end with a rocker link. Word is that Marin decided to go this route because the new design takes up less room, it's lighter and it's easier (read: cheaper) to manufacture. So if you're in love with the look of the current Marin bikes, pick one up soon because you won't be able to after this year's stock is gone.
---
There you have it – a solid AM performer but also the last of its kind. Want to reminisce about your own AT experience? Did this review tell you everything you needed to know in order to get you off the couch and into the bike store? Head on over to the boards and discuss…