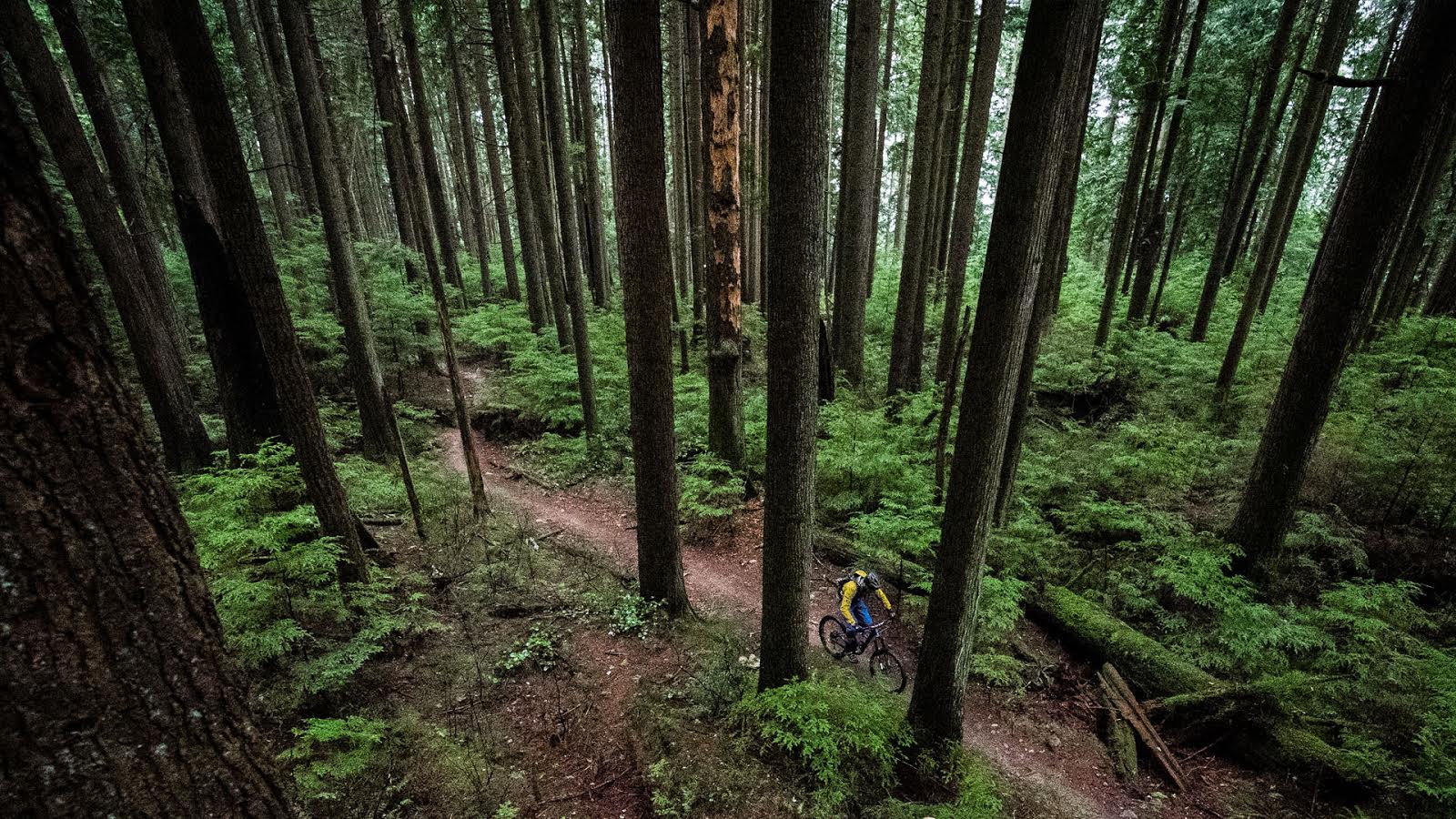 Scion Whistler Report Ep. 13
I'll admit that the bikepark has kind of lost its lustre for me this year. That isn't to say there hasn't been some cool things happening and defnitely not to say there hasn't been good work on trails. It's just that, after 9 years of riding the park regularly I can't spend more than a couple hours up there without getting bored and leaving in favour of a good ride somewhere out in the valley. It's hard to lust for trails that are soft, and not overrun with wannabe racerheads. Maybe it's just a part of getting older, or maybe my priorities are just changing. More and more I find myself just cruising the mellower stuff while trying to get my flow on. And while it's cool to see them building big stuff for those who like to send it, I find myself less inclined to hit that big stuff. When things go wrong they tend to go very wrong and I'm over spending months trying to recover from injuries. That being said, I think another big part of it was the fact that I haven't had a good crew to ride with in the park this year– or at least people looking for a similar riding experience.

Old friends, good times. Enjoying Garbanzo with great friends is a sure thing for fun. L to R, Sarah, Terry, Carlos, Moi, Jeremy, Cam. Photo ~ Jeremy Schaab
While I have lots of friends to ride with, I've felt like I'm having to push a lot harder to keep up with some of them. Taking chances I really don't want to be taking at this point just doesn't add up against the risk, for me. On Saturday I was stoked to be able to ride the park with a group of friends that go back nearly 10 years to our Ontario Cup DH race days. Jeremy Schaab (and his amazing wife Amberlea and son Holden), Terry Lemoinis, Carlos Zavarce, and Cam Somerville were all in town to cap off Jer and Amberlea's "Best Coast of Bust" BC Bikeparks tour here in Whistler. A day of old friends, shredding trails, ripping jumps, and slapping high fives was just what the doctor ordered. It's the people that make the ride. And while the trails were the same as always, the fun level was way up, and in turn my stoke on the park. We ended the day with a hike up to that old classic to show Terry what steep and loamy was all about before he heads back to Ontario. The stunned awe look on his face over beers at Dusty's said it all. Here's hoping we convinced him to move out west! And speaking of moving out west, the Whistler stop for Jer and Amb's trip marked their return to the wet coast, welcome home friends after your exile in Onterrible, I'm super stoked your back!

erry Lemoinis sends in back in Ontario, and had no problem sending it here rolling into Filthy Ape. Our run down RDS may be a clincher in getting him to move west. Photo ~ Jeremy Schaab
In the park the trail crew has been hard at work patching holes, rebuilding berms, and trying to buff things out after the madness of Crankworx.  Garbanzo trails are slowly getting better as well. They were in pretty rough shape for a long time and there continues to be a lot of construction taking place in the lower park.  While not open as of yet, there's a new line going into the left after the fadeaway on Lower Whistler Downhill. It consists of a mega step up booter to a new section that will run beside Wednesday Night Delight and basically come in right above Afternoon Delight at the skills park, with a big rock drop stepdown.  That big hole that was catching everyone on the upper part of AD also got filled in. On Schleyer they also shortened up the last step down before the end of the trail, so keep an eye out for that and have a look before you hit it. The final section of Crank It Up also saw a jump rebuild.  For beginner riders, they've also added a couple of short new singletrack sections off of Easy Does It, just below the Dirt Merchant/A-Line junction (Del Boca
Vista and Shady Acres), with plans to extend them in the near future. Good call on that front–the beginner/lower intermediate selection of trails is pretty minimal and there needs to be more easy
 singletrack to allow those riders to hone their skills.

Yours truly airing out the wall ride by Filthy Ape. Photo ~ Jeremy Schaab
They've also started on the Dirt Merchant/Easy Does It bridge rebuild which will be nice to separate those two trails again in the near future. Finally, sounds like the boneyard will be publicified as they're going to be adjusting some of the features to make them suitable for non-pro consumption.  It's been a long time since the days of everyone being able to rip laps through the boneyard, so hopefully we'll be able to hit some 'smaller' booters and hips in there in the very near future.  I'm sure the past couple days of overcast weather has been nice for the trail crew as they continue to tune things up.  The bikepark is also closing in on their millionth rider visit and have put together a mega prize pack for that lucky person. I think they're only a few thousand day visits away at this point, so get up here and maybe you'll be it!

Paul Stevens bar tweaking the heck out of the first rock face on High Society. Photo ~ Todd Hellinga
Last week saw a return to Phat Wednesday races after the CWX hiatus, with the course being a bit too similar to what we raced in the CWX Enduro, in my opinion.  Upr/Lwr Angry Pirate, Samurai, Ho Chi Min was what we got, which is never an easy one as the tight steepness of Angry Pirate catches more than a few people pushing too hard.  To say I was stoked to see nsmb's own Paul Stevens take the win is an understatement. This guy just keeps getting better and better. And to take the win over Chris Kovarik (who to be fair had an otb) and Nathan Rankin is an awesome achievement!  Leishman's reign over the ladies fell to Claire Buchar who dominated by nearly 13 seconds, with Leishman in 2nd, and Strand in 3rd.  In the juniors it was Julio Cesar Leondro while Dave Harder edged out Chris Dewer and Len(co) Hornidge in Master Men.  Including tonight's PhaSt race we have 4 left on schedule. It should be a fun run to end of the series!

 Saturday also saw the first running of the Ride of the Valkyries on the westside of town.  With a tough course and the first annual Warrior Dash taking place on Blackcomb, Grant Lamont probably saw numbers a lot lower than he would've liked. Regardless, the racing still proved to be tight with Keving Calhoun winning by just a minute over Chris Clark and Leighon Poldevin, 2nd and 3rd respectively.  Overall in the women was Brandi Heisterman who also cracked the top 10 overall with a 9th place, Grant's son Mahon took the juniors.

Dylan Wolsky pinning it into Schleyer in tonights PhaSt Wednesday downhill race. Photo ~ Todd Hellinga
In WORCA news, the Betty vs. Veronica is coming up quick,and word on the street has the waitlist
 exhausted and spots available to register.  Things are coming together nicely and there's a growing list of great auction items and prizes for the apres.  The funds raised from the silent auction will be going to the Howe Sound Women's Centre, so if you can add something to the mix for this very worthy cause, please get in touch with Tony Horn about making a donation.  In anticipation there will be a WORCA trail day on Middle Danimal on Friday August 19 at 5:30pm.  This is a particularly tough piece of singletrack climbing that will see some re-routing and benching to make it more better.  Not only good for the racers, this will make that whole section of trail just before lower sproatt a lot nicer for all riders.  The evening is sponsored by the fine ladies at the Trek Dirt Series who will be providing snacks and refreshments.  We will be meeting at the entrance to Middle Danimal/99er exit on Stonebridge Rd at the Gephart Creek Bridge. We hope to see you there!

Chris Young is back in town and loving the regular riding, good to have you back, Young'r. Photo ~ Todd Hellinga
Paul and I went out for a westside rip monday night and checked out the new bypass the RMOW trail crew is building up the Flank from the Stonebridge connector. Think Piece of Cake/A La Mode style climb, but much much steeper and with some Get Over It style bridges to get through some rocky steep crux areas.  There's some very creative building and route finding going on up there that will be a nice addition to the trail inventory. And while it's still tough, at least you won't be battling hundreds of loose babyheads like on the old route!

One of my best friends, Jeremy Schaab won the BC Bikeparks tour contest this year, gave up his job in Toronto and moved the family back to the best coast, I'm really happy you guys are back and can't wait for more shredding! Photo ~ Jeremy Schaab
Finally, a number of trails in the Garibaldi Highlands/Alice Lake area of Squamish have been CLOSED due to an extreme aggressive and persistent cougar in the area. Three separate incidents on Sunday alone prompted this response while Conservation Officers and BC Parks officials attempt to track it down.  This cougar is showing little fear of groups of riders and isn't backing down.  Until further notice Jack's Trail, Credit Line, Mike's Loop, Entrails, Mark My Word, Value Added, and Wonderland are fully closed. Keep an eye on SORCA.ca for updates on their status.
---
We're with Todd–we couldn't be more stoked to see one of our own take a first at Phat Wednesday. Right on Paulo! Congratulate him yourself here…