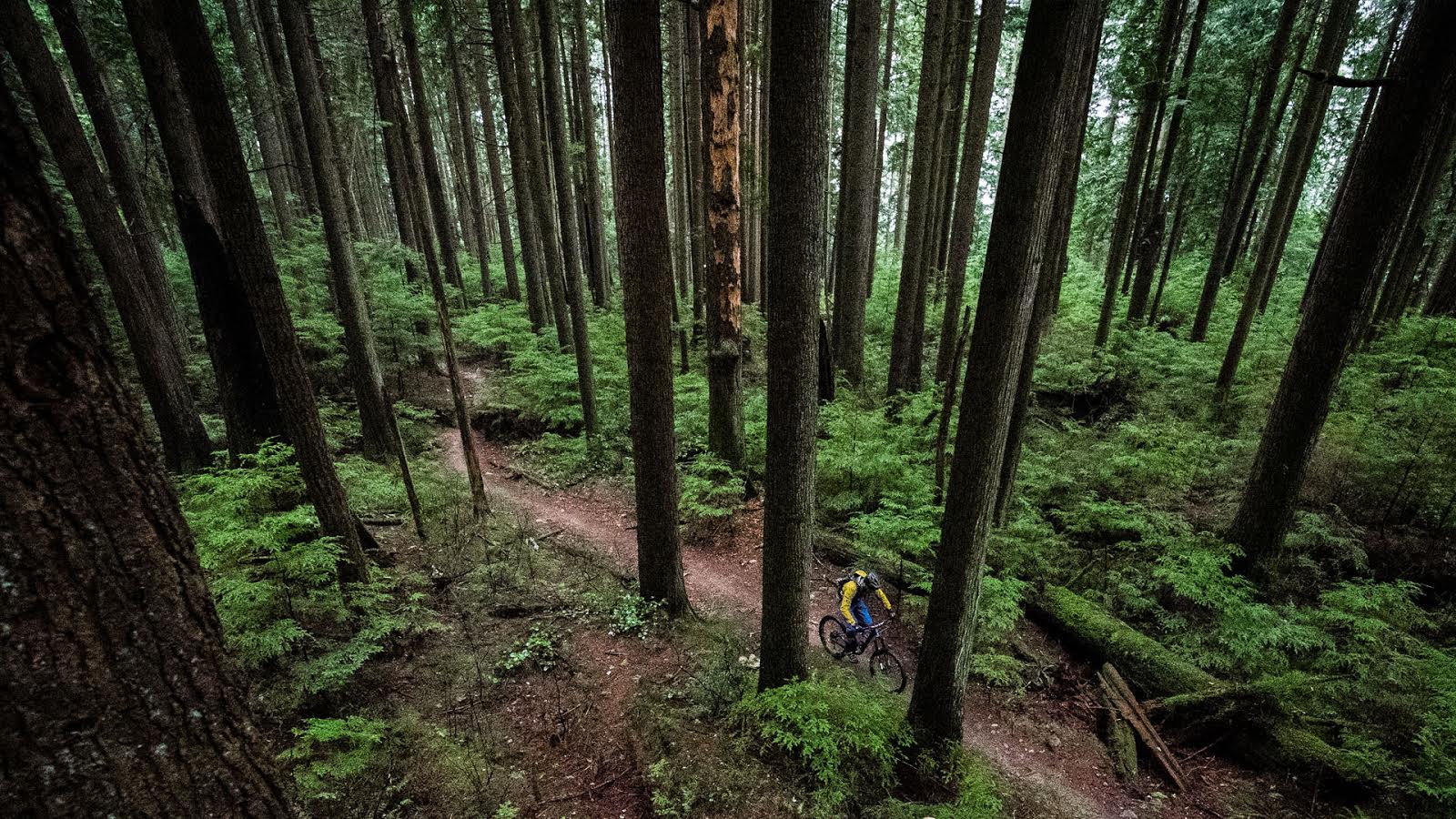 Three Days Of Insanity
Day 1
Since Crankworx has rolled out of town I have been looking for that extra buzz. All the hype, madness and people getting loose makes me want to keep riding non-stop–all the while avoiding the bike park. The sun has finally made an appearance, and the trails are getting dusty and way too compact. So me and some friends planned to hike an area where we had never been before.
After some brainstorming, we decided to hike to the top of Sproatt mountain behind Function Junction. 
Our trek to the top of the mountain took around two exhausting hours. In addition, we didn't have a clue what trial to ride down. We ended up taking a wrong turn and we found ourselves on a misleading mossy single track. This turned out to be the start of the three days of insanity. I never really thought much about the definition of "freeride" but after riding this trail my thoughts on the matter have been re-enforced. In my opinion, "freeride" is the ability to create multiple lines down the side of a mountain, and this section of forest did just that.
As soon as we started the decent I knew this was something special. It was mind blowing having to make crazy line choices and hoping everything links up. What was really amazing was the change in terrain. The top was pretty much alpine riding with very little trees and big green rocks which quickly lead to overgrown bush lines in dense forest. It was such a surreal feeling and was definitely worth the two hour hike.
Our massive hike ended with a 20 minute decent and was honestly one of the best and most rewarding tracks of my life…so far.
Day 2
The following day we planned to shuttle Squamish. We normally visit the trails in Squamish a few times every month, but because the truck's been out of action we've been struggling to get out there. It had been so long that we didn't know what the trail conditions would be like. Back in early June it was all hero dirt and loam. This time around, Squamish did not disappoint. We were slashing our way down the mountain in tire deep loam.
After a few more rowdy laps we made our way down to the car park and had some lunch. Also in the car park were Colt and Jesse Maule, the creators of Projekt Roam. Our passion for filming web videos quickly had us chatting about riding and filming. They have been on the road for 7 months visiting all types of places with a huge motor home. Understandingly, they weren't too keen on shuttling the beast way up there, so we offered them a ride up.
They said they had never been here before and wanted to film some cool trails, so with our knowledge of the trails we decided to show them around. It was super fun shredding with new friends and to see them get stoked on new lines. It made the trip all the better and also made for the second day of insanity. If that wasn't good enough we had a clever idea to hike over to ride Laury 47, a super sick trail with lots of ladder work in a clear cut. Half way over, the path ended and we were confronted with a raging river. Normally there would be a ladder bridge across, but the water was crazy high and it got taken out by the rapids.
We had to find another way across the river, so we charged down the bank to come across a gnarly log. It did have a wire you could hold onto but with a bike it was quite tricky. It was 
more of a circus act in which you risked both you and your bikes life. After some more bush wacking we finally got to the clear cut which looked amazing through the fireweed. I couldn't wait to get to the trail head and start ripping bikes.
The riding was awesome and the dirt was still loose and soft, but we didn't stay on this line for too long. Everyone was starving and we still had the epic bush wack back through the forest and over the river in the back of our minds. Colt and Jesse were super stoked on the riding, and on the walk back we had a chat about shooting the following day. It was an offer we couldn't refuse. A big feed and a short sleep would be quickly followed by another insane day.
Day 3
The sound of the alarm at 8:30am had never been more exiting, and by 9 we were on our way back to Squamish to film with Projekt Roam. The sun was still shining and the trails were in perfect shape. Everyone was feeling the same and couldn't wait to start shooting.
The first thing Colt wanted to shoot was Nineteenth Hole. We scouted out some lines to shoot the day before and time flew by. Nineteenth is one of my favourite trails in Squamish and it was definitely a
 good time shooting it. Big ruts and gnarly roots is what Nineteenth Hole is all about. You can't visit Squamish without riding this awesome trail.
There were 3 cameras rolling so it didn't take long to get the footage we needed. To make the most of our efforts we headed on down to film something completely different–Half Nelson. The jumps and berms were beyond perfect. We found a super old tree on the side of the trail and the old boy definitely wanted in so we made that our first shot. Myself, Colt and Matty were ripping the trail up, and every hike back up was a race to get back to the camera to watch the footage.
We were all trying funky lines and all the hiking up the trail gave us new ideas. As silly as it sounds the best thing about filming for me is the hike. It makes the trail look so different when you hike it, and you see new lines that you would never find while riding. It makes it super fun and keeps you motivated. Not like that's that an issue anyway when you're riding your bike.
At the end of the day the ultimate reward is that I had a new Whistler adventure; I rode my bike down a new epic trail, I met some new people, did a lot of hiking and got some filming done. Every time I get to ride my bike is a good day, but it gets even better when you meet rad people that you have something in common with. I am stoked to have ended these three days of insanity with awesome footage, and something that gets me amped to ride cycles.
---
We're stoked to see what Ollie came up with this time around, and are just as stoked for more. How about you? Insane tales of your own? Story tell here…