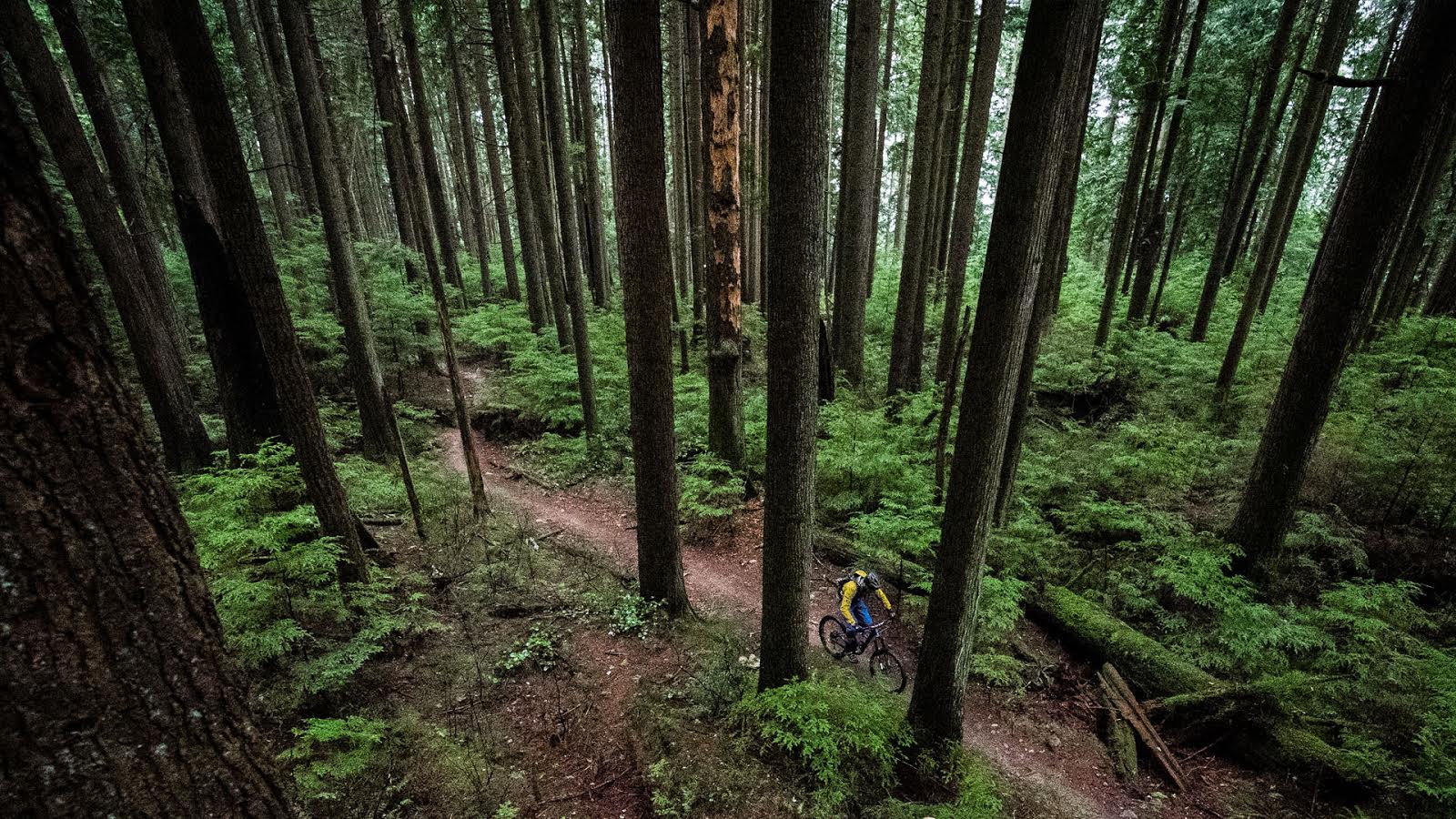 Jamie Goldman's Whis Adventure
Canada Eh
 
In a perfect world things always go as planned. You wake up early, you pack the truck and you leave on time. Your GPS tells you it's going be 12 hours… it's 12 hours. You're home in bed by 10 o'clock, and on your way to some seriously needed rest time. As usual in a Goldman caravan, some things happened that weren't planned, nor considered perfect. On our way home from Whistler while sitting on the side of interstate 5 there was an occurrence. I was scratching my head trying to figure out how I was going to get all my bikes onto my truck after my rack was destroyed – by a less than cautious driver. But first I'll go back and recall my final memories with my beautiful bikes.

  The bike disaster on I-5. Photo ~ Jamie Goldman

Showing up to Whistler during the Crankworx festival is one feeling that you never forget. A mountain filled with trails, all my riding buddies, beautiful scenery, nightlife, and racing. What more could you ask for? First up it was time to dial in my new V10. I adjusted the suspension exactly the same as my previous Rig, so the first few runs I got to rally without paying too much attention to adjustments. With all the top DH racers around I couldn't help but get a few tips on how to get my bike running top notch for the garbanzo DH race. Benedict and Needles helped me out with my suspension and tires, and the next run down the hill was even more fun. I can't stress to everyone how important it is to get your suspension and tires set up for what you ride. If you don't know anyone with suspension knowledge, get into your local shop and they will help get it working the best that it can. You'll be glad you did.
Garbanzo DH was one of the sickest races I have ever done. I wish that I could ride that course every day. It has a little of every type of riding; steep, up, down, muck, mud, roots, rocks, dust, ladders, jumps, gaps and drops. It's the rowdiest race around and just making it down the hill is an accomplishment in itself. It's been a dream of mine to compete in Garbo for about 4 years now. Upper Mountain at Whistler is my favourite type of riding. For the last four years I have been plagued with injuries. I have been unable to even ride upper mountain trails. As you can imagine, I was ecstatic about being able to race this year. My goals for Garbanzo were simple; keep it upright, pin it where I could, learn more about bike setup and have a blast. I had a pretty solid run with minimal mistakes and was stoked to come in 30th, I learned that my mallet clip less pedals need longer pins and that my body can endure way more pain than I put it through during my race runs. I couldn't wait for the next race.

  Racing the Garbo DH to a very respectable 30th place.

Standing on the side of I-5, I rubbed the giant dent in my V10 carbon. I thought back on my weekend. What a fun first and last race I had on that bike. It's amazing the connection you feel with something that cannot feel itself. I wasn't sure if I was mad or sad, but this guy just smashed my hobby, my passion, my life. I couldn't believe my eyes.
Back in whistler the Jeep air downhill was next. I had just finished up slopestyle practice and sprinted back to my room to put on my clips and swap out my number plate. My roommates were making signs and getting ready to come cheer me on during the race. It made me even more excited to get out there.

  Jamie lays some style for the fans during his doomed AIR DH run.
I had only done one run down A-line this season but since that's a trail I had ridden many times in previous years I didn't have any worries. This time I was going to be out of breathe at the bottom. I wanted to push myself harder than I ever had in a race and really see where I stood up against the big boys in racing. I didn't care what place I got, I didn't care how bad it hurt to push through the pain. I just wanted to see where my hardest effort would put me in the results. Up top I had a flawless run, pedaling any spot I could, nearly brakeless through the wood section, only styling it out for the larger groups of spectators, scrubs everywhere and even a few send it to flats. But nonetheless, I put the power down.
As I crossed the finish line, I realized something was wrong… really wrong. I wasn't at the finish line at all, but rather beside it. It seems that at the bottom of the course the GLC drop had a roundabout for riders whom weren't racing to get to the bottom of the hill. Well, somehow I ended up making a wrong turn 100 feet from the finish into the roundabout. I couldn't believe what had happened. As I went through the, well, beside the finish, I hung my head in disappointment. The biggest effort I have ever given a race and I didn't even go under the finish. Even worse, I had no time to compare and see how I could have done. At this point racing for me is to learn and have fun. At the end of the day I was stoked with how I rode and how I handle the pressures at the top of the hill. And hey, I guess I found out that no matter how well you think you know a course… you still need to do a practice run on race morning. Lesson learned.

  Indian Air – Goldman style.

As I dragged a small V10 off to the side of the road, a slight whimpering from the driver door of my truck started to become more prevalent. Adrienne felt the connection with her bike as well. Our smashee may have begun to see how much a part of our lives these bikes really were. Not just pieces of carbon and aluminum, but a lifestyle and an outlet for tension in our lives. Taken away so much faster than we could have imagined, it was hard to fathom. You always think to lock them up at dinner, never leave them in harm's way, wash and lube them after your ride and close the garage at night so they are warm. But even when you do all of that, you never know when they can just be taken away in a snap. It sure makes you appreciate what you have.
As car after car passed by on the interstate, I couldn't help but inspect the damage to my truck full of bikes. I gazed at my Nomad hanging off the back. Thinking of the last race we had, I was hopeful that one day soon we would have redemption. As the only bike that was free from the impact of the truck and trailer it was like she wasn't ready to give up. She wants another chance to pin it hard, and go big, and I can't wait to get back out on a course.

  Jamie getting Joyride fans pumped WWF style.

Saturday had arrived and the Slopestyle was nearing. I hadn't done a single trick that day because the course was much faster than the day before. It felt more necessary to get the course speed dialed than to do tricks I've done before. My first run went pretty well and I had my nerves calmed after that. I came close to the run that I wanted and was excited to go up and give it another try. It was cool to watch all the riders come down the hill. Some contests I can get bored watching but this year Crankworx was a delight. The course had room for big tricks and huge air. Watching Anthony during his hang time on the quarter pipe was insane. All I could think about was how much fun he must have had every time he went off that thing. It was inspiring to me. Twice as much air, he was probably twice as stoked as any other rider.

  Killing it with an Indian Air backflip.

My second run wasn't as good as planned but landed me on the bubble with one rider left to beat me out for the top 8 reruns. Brandon Semenuk, I thought to myself, "I hope he beats me and I hope he wins". There is something about the story of the local boy that always hits deep in everyone. It was like a scene from the movie RAD when Brandon came through with the win. We dumped anything we could find on him as we tackled him at the finish. He made the story of Crankworx complete for me and now it was time to start the journey home.

  I think we have a theme developing here.

Cleaning the condo and packing unwillingly to leave Whistler is one of the hardest parts about visiting there. You can never wait until the next visit but you know that your body will be stoked to rest up a little. What better way to do that then a long drive back home. Everyone knows the frustrations of traffic, cars cutting you off, people honking, people driving without caution. It brings you to the last nerve sometimes. And then BAMMM! What the hell just happened? Your dog flies into the front of the cab, your head slams into the seat and your adrenaline goes through the roof. Everyone is okay thankfully, but when you step outside you see the bigger picture. Your jaw drops and you know the next couple weeks without most of your bikes is going to hurt worse than the crash itself. Thinking back I still can't believe that it happened but you can't dwell on the past. Adrienne and I exchanged information with the other driver and took some quick pictures. Stack the extra bikes off the smashed rack onto the top of everything like a giant Jenga experiment and headed on our way.
A couple of hours later Adrienne began to feel uneasy. She had been having some pain all week but put it aside for the sake of having fun in whistler. She couldn't hide it anymore. Constant back and abdominal pain led us to the closest Hospital. By this time it was around 9pm. 3 hours from home she insisted that she could make it back to Bend but I couldn't stand to see her in this much pain any longer.

  Jamie chilling during the best trick comp.
 
Instantly we were back in an emergency room and she was hooked up to an IV with pain meds and medication for a kidney infection! Adrienne and I agreed that today was probably not the day we should have been driving and that we would grab a hotel after the hospital visit and take a breather. As we left the Hospital we realized the place that we had found to stay was 45 minutes back the way we had came from and were faced with yet another dilemma. We went to the only place open, burger king, bleh, and I mowed down a chicken sandwich and we got back on the road, for the last 3 hours of our tour. 10 minutes out from my house we had the final and last sad experience when I etched a hedgehog into the pavement with both tires on the passenger side. It was one of those times when you're watching something happen but there is nothing you can do about it. He waddled through oncoming traffic flawlessly and when he arrived at my tundra his luck ran out. It was a sad ending to an extremely emotional and stressful day. But I tell you what – once I hit my pillow at 2am… I was lights out. What a trip… see you next year Whistler.
–Jamie Goldman
 
Thanks to everyone who made the trip possible:
SANTA CRUZ BICYCLES
MONSTER ENERGY
SRAM, ROCKSHOX, AVID, TRUVATIV
ENVE COMPOSITES
JETT CLOTHING
GIRO
MAXXIS
CLIF BAR
MUC-OFF
LIZARD SKINS
WTB
CHRIS KING
Gore® RideOn™ Cable Systems
FOXHEAD
BIRZMAN
FIVE TEN
GLOBE SHOES
SKULLCANDY
TRICK X PROTECTION
---
Jamie knows how to tell a story! Thanks Jamie! Have you ever had your vehicle rear-ended while bikes were loaded? Tell it here…