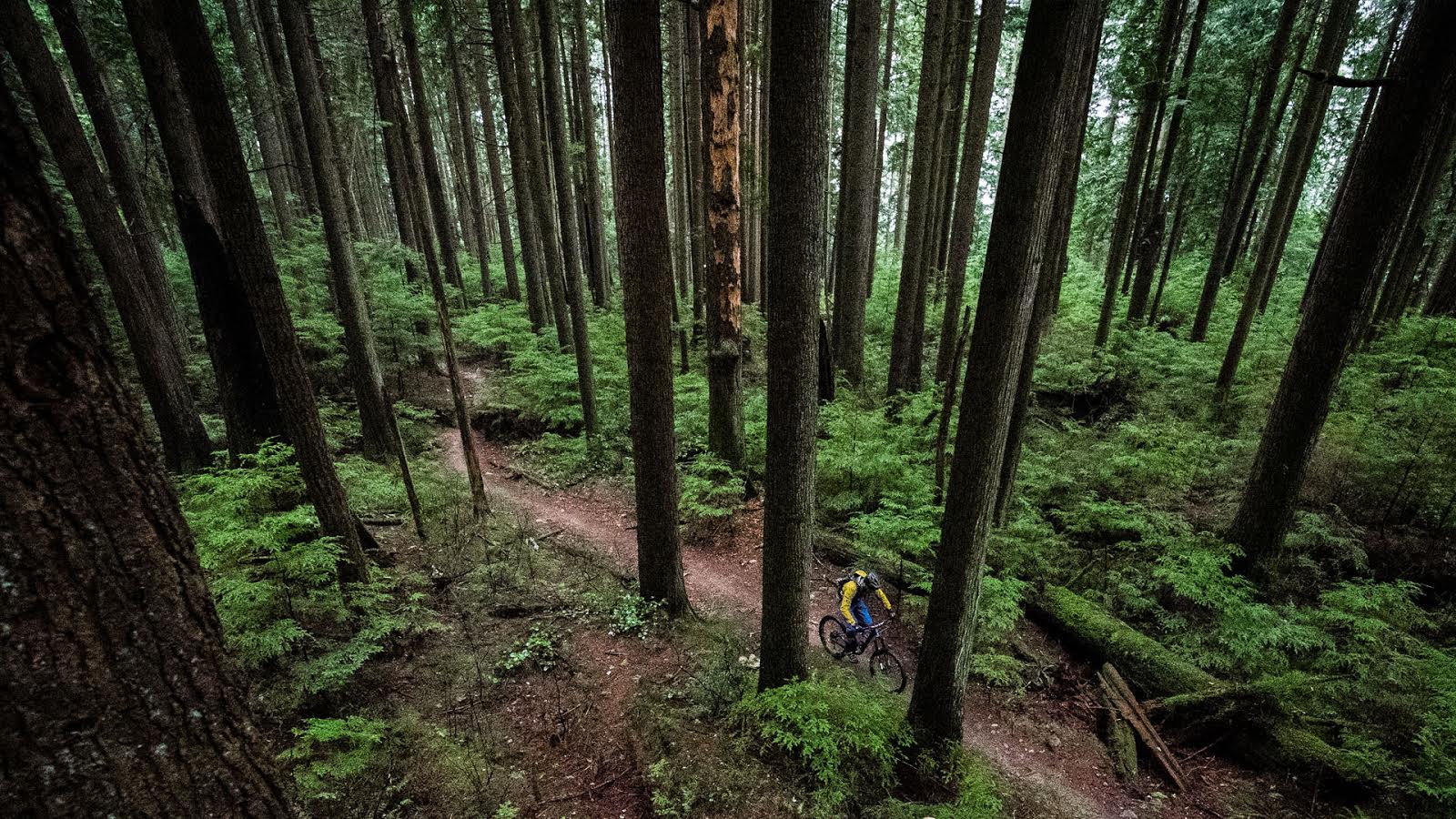 Semenuk Takes It!
WHISTLER, BC – July 23rd 2011 – Over 25,000 wide-eyed spectators were on hand to witness history in the making as 20-year-old local boy Brandon Semenuk from Whistler, BC claimed the top step of the podium at the first ever Red Bull Joyride Freeride Mountain Bike competition. Sixteen of the best riders in the business duked it out for a chunk of the $45,000 in prize money and historical bragging rights. Each competitor had three runs to impress the judges and test their mettle on the brand new, custom-built course. Fifteen-year-old Anthony Messere from Surrey BC, who was merely an alternate for this event 2 days ago, rode well beyond his years and placed on the podium in 3rd while defending champion, American Cam Zink stepped into second place, but neither could stand up to Semenuk's ultra smooth riding style and plethora of high difficulty tricks that catapulted him into top spot.
Semenuk described his emotions through his trade marked grin, "it was such a tight event, but what I love about mountain biking is there really aren't any rivals, people try to make it seem like that but really we're all up at the top talking about the course and pushing each other. We're definitely competing but at the end we're all going to give each other high fives and stay friends. It's just so cool to be a part of this community and to come out on top today at such a great event is just amazing!" His win today secures him a guaranteed invite directly to the finals for the next three years at Kokanee Crankworx and earns him precious points on the Freeride Mountain Bike World Tour.

  Anthony Messere made a huge splash at his very first Crankworx Slopestyle.
The level of difficulty of the Joyride course, which was designed by a number of the athletes themselves, and the high level of talent that competed earned the event a 'Diamond' rating, one of only two worldwide, on the FMB circuit. Diamond stops are the highest rating on the tour and garner the heaviest weighting of overall points. With this win, current FMB World Tour leader, Brandon Semenuk, extends his lead with only two events remaining in the season.
Head Judge Colin Duncan was left awestruck by the course and level of riding in today's event, "That was the best, most dialed in course we have ever seen here in Whistler. I can't believe not only the level of difficulty these riders are pushing, but how close all of them are. When we are on that judge's panel we have to look for the little mistakes and pick apart the runs down to the littlest pedal slips and tiny body movements that aren't consistent with the flow of the trick. But when it came to Semenuk today, I wouldn't so much call it a Cinderella Story as I would call it a Wayne Gretzky story, someone who has been bred for this sport and comes out and shows us what being bred for this sport means."
Meeting of the Minds
In early February 2011, a 'Meeting of the Minds' was organized to design the Red Bull Joyride course. The concept was simple, put together something to progress Freeride Mountain Biking while staying true to what the riders want and need in high-level competition. Red Bull and Kokanee Crankworx professional riders Darren Berrecloth, Brandon Semenuk, Mike Montgomery, Thomas Vanderham, and Cam Zink joined forces with world-class course builder Paddy Kaye of Joyride Bike Parks to create a series of features that would allow for maximum expression and flow from start to finish. As they brainstormed their dream course, artist Scott Dickson brought their ideas to life and drew the course as the riders provided key feedback and design ideas. 
Construction began on May 1st, on a course completely inspired and designed by professional mountain bike athletes. While incorporating as much of the natural terrain as possible, the athletes conceived their ultimate playground, lined with gargantuan manmade features to showcase their skill and imagination. Professional mountain bike athlete Darren Berrecloth, a long-time competitor at Kokanee Crankworx, championed the process: "The opportunity for us riders to provide our ideas to Red Bull Joyride is phenomenal. With this kind of input it's sure to be a crowd pleaser and a rider favourite."
With so much talent in the room and passion on the table, we decided to capture the collaboration and design process. Watch the exclusive four-video series at www.redbull.ca/joyride.
The Evolution of FMB
"Kokanee Crankworx is stoked to work with Red Bull to present the next generation of slopestyle competition," says Darren Kinnaird, Kokanee Crankworx General Manager. "We have been pushing the limits of competition in the arena of gravity-fuelled mountain biking with this festival for seven years and having Red Bull on board to present Joyride in our eighth year is a very big indication of our commitment to the sport's evolution."
Having incubated the course design, Red Bull entrusted the build to Joyride, a long-time event production, course design and construction company. Joyride started its life cycle in 1997 when their team designed a Whistler Bike Park trail called, yup, Joyride, which is still in operation today. Owner Paddy Kaye is excited about the course build: "The vision of what I'm doing, a rider-created and rider-built course, is the same vision the Red Bull team has, so it seems like the stars have definitely aligned." Anticipating the quality of both course and competition, the Freeride Mountain Bike Association will once again recognize the slopestyle event at Kokanee Crankworx as a Diamond Stop, one of only two worldwide.
Red Bull Joyride Results
1st place: Brandon Semenuk (Whistler, BC)
2nd place: Cam Zink (Reno, NV)
3rd place: Anthony Messere (Surrey, BC)
4th place: Greg Watts (Santa Cruz, CA)
5th place: Geoff Gulevich (North Vancouver, BC)
About Kokanee Crankworx
The eighth annual Kokanee Crankworx is presented by Whistler Blackcomb and the Whistler Mountain Bike Park. Kokanee Crankworx is the biggest annual event held in Whistler and is also the largest Freeride Mountain Bike festival in the world. Each year, the best amateur and professional freeride, downhill and slopestyle mountain bike athletes gather for a ten-day, non-stop barrage of competition and celebration. Whistler has the world's most diverse offering of mountain biking terrain, including 150 miles of single-track trails, 5,000 vertical feet of lift-accessed downhill runs in the Whistler Mountain Bike Park, jump parks, and 20+ miles of paved valley trail.
---
Tell us your thoughts here…