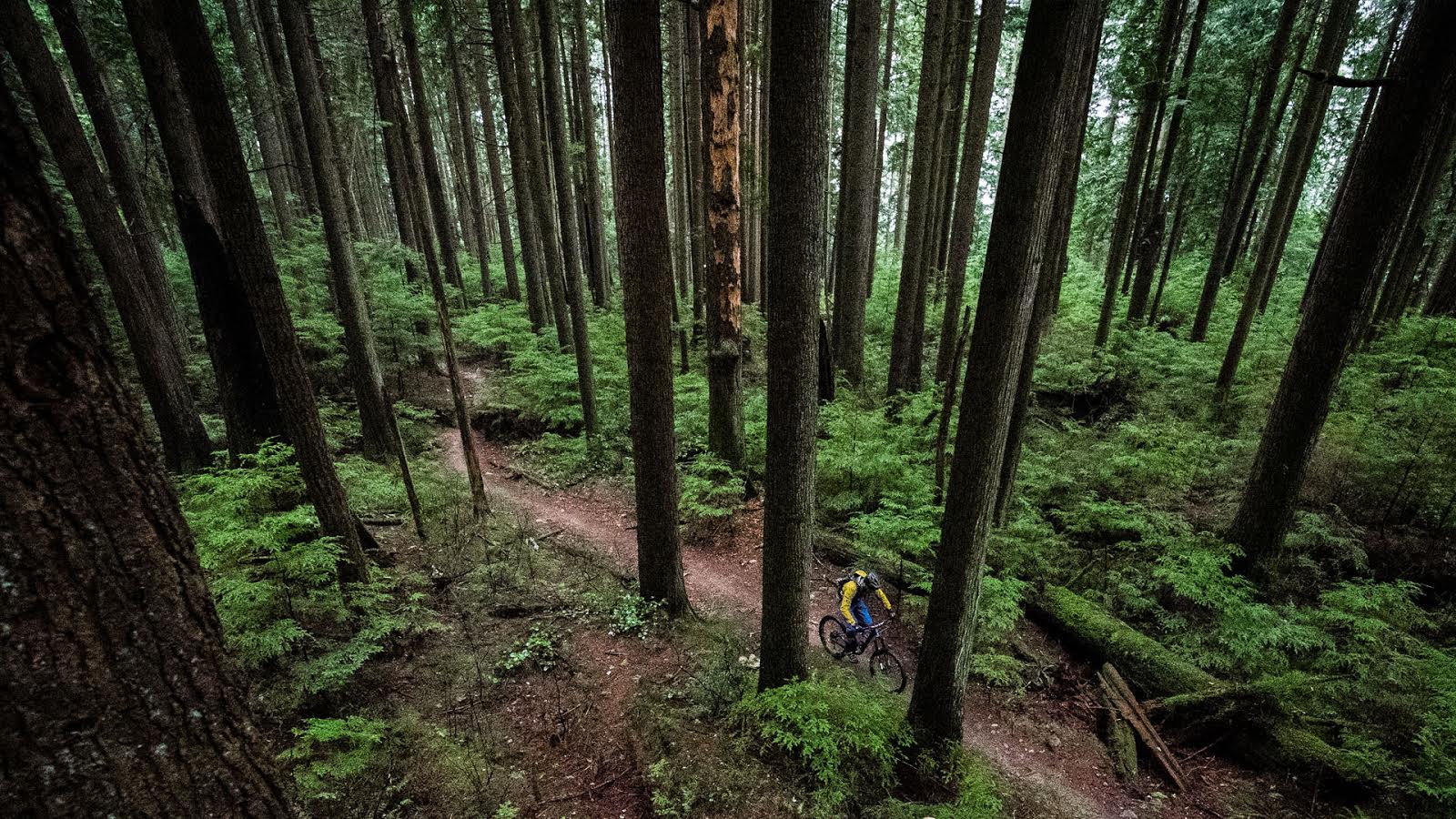 AIRprentice 2011 Part II
While the AIRprenti and photographers are scouring the mountain for photographic gems the rest of us have a little time to burn off some laps of the park. We stop in and see how things are going as well – but our greediness to pillage berm heaven keeps us pointed downhill.
Hearing from the photographers about how the riders work on a photo shoot is gold. We learn who works hard, who is creative and who looks studly on camera, so it's not just about the rest of us shredding laps. Extra props go out to Mason Mashon and Jerry Willows who sacrifice their time in the park to get behind the lens.
Here are a few of my favourite photos from Saturday afternoon's sessions.

  This was a gnarly line on Dag's Downhill that may have been pioneered by Ollie Jones. The kid rides rowdy. Photo ~ Toby Cowley.

  Ben Friesen wasn't old enough to stay in the bar – but he manned up this step up. Photo ~ Toby Cowley

  Brad Mills plays the lead role in this moody shot. Photo ~ Mason Mashon.

  Jon Rempel playing through pain. Photo ~ Dan Barham.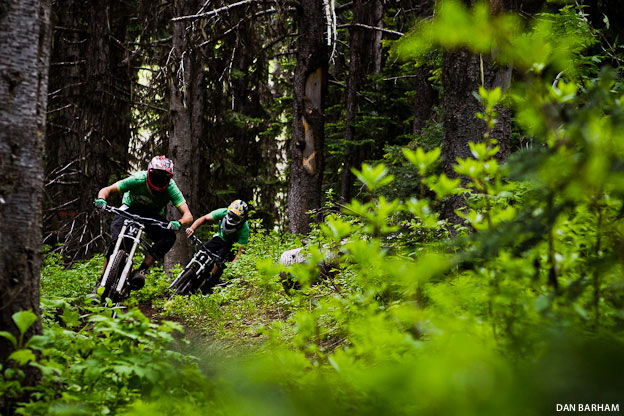 Jon Rempel chasing Stephen Matthews. Photo ~ Dan Barham.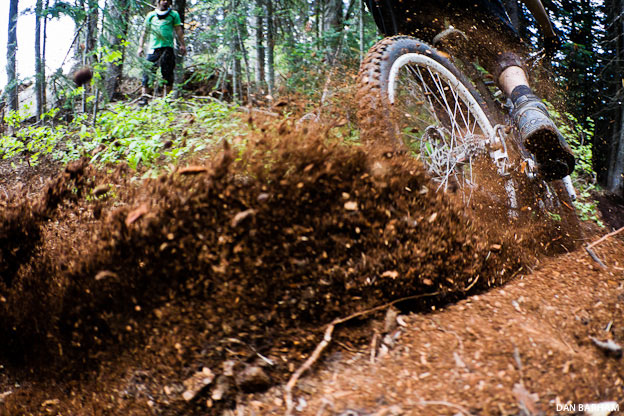 I'll let Stephen Matthews caption this one: Roosting Dan Barham in the face. Photo ~ Dan Barham

  There's enough air to go around at Silver Star. This time Stephen Matthews chases Jon Rempel. Photo ~ Dan Barham.

  Kyle Quesnel – winner of the 9th rider sweepstakes – sent it hard all weekend. Photo ~ Jerry Willows.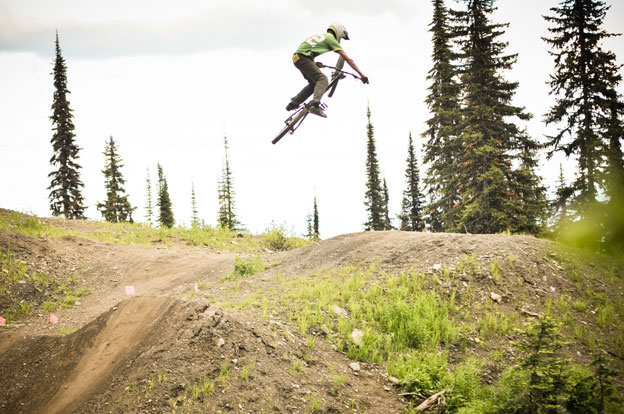 Skye Schillhammer hitting the boost valve. Photo ~ Jerry Willows.
On Saturday evening we went to The Saloon to have a meal and be social. Ian Galbraith, Silver Star's summertime master of ceremonies, set up a tire change challenge for the riders. They went head to head until there were just three left; local boy Brad Mills against Whistler residents Stephen Matthews and Ollie Jones. I saw it as a deadheat between Brad and Stephen but Brad had the crowd on his side and he took the decision – and a fistful of twenties. Jerry Willows decided to sell me out after listening to my critique of the riders' technique. He told Ian to ask me to challenge Brad –  but I turned the tables and threw the gauntlet at Jerry – and took him in a tight race. (actually I kicked his ass)

  The three flat fix finalists went head to head for a hunny spot. Photo ~ Paris Gore
Most of the riders played it pretty casually at the bar and a few turned in quite early. This generation of riders is committed and three of them got up at the crack of dawn to shoot with Paris Gore. The results they got were well worth a few hours sleep.

  The early risers; Skye Schillhammer followed by Doug Sharpe and Kyle Quesnel. Photo ~ Paris Gore.

  Riding in the same order as above, while the rest of us were still asleep, in one of Silver Star's 963 berms. Photo ~ Paris Gore.

  Skye getting whipped when the light was nice. Photo ~ Paris Gore.
Once the rest of us were up and fed it was time for a couple of warm ups and then a race down Dag's Downhill. The weather and trail conditions couldn't have been more perfect. We sent Paul Stevens down first to set the standard and then the AIRprenti followed.

  Stephen Matthews laying the hurt to everyone on Dag's Downhill. He had the fastest time of the day followed by nsmb team rider Paul Stevens, Ollie Jones and Doug Sharpe who was riding a rental bike. Photo ~ Mason Mashon
After the racing was done it was time to choose our finalists. We couldn't get it down to four so we went with five – the quality of riding was that good. Even the four who we didn't put on barstools would have made great team members. This year's crop of riders gave us an embarrassment of riches to choose from.

  Our five finalists. Photo ~ Jerry Willows
We asked Mason Mashon to call, in no particular order; Skye Schillhammer, Ollie Jones, Brad Mills, Stephen Matthews and Doug Sharpe. We didn't go into the comp this year thinking we needed a particular kind of rider because we have a group that is strong in many areas right now. Skye can dirt jump, ride fast and he's got smooth big mountain style. Ollie Jones rides with a ragged exuberance that is amazing to watch. Brad Mills is mostly a dirt jumper but it turns out he can rip a dh bike as well. Stephen Matthews reminded me of Vanderham in the air with his dialled whips and he rides with serious pace. Doug Sharpe rounded out the top five, impressing us with his attitude, enthusiasm and all round riding ability. Once we had this crew selected we could relax a little because it was like shooting fish in a barrel; there was no way we could miss.

  The lads, with help from Mason as MC, kept us laughing. Photo ~ Jerry Willows.
As usual we grilled the riders with questions and each responded with poise and eloquence. Considering Stephen, at 22, was the oldest among them, they are dialed beyond their years. 

  All the riders were presented with a Nokia phone by Dan Scott. Thanks very much Dan and Nokia! Kyle Quesnel won first choice for his efforts. Photo ~ Jerry Willows.
Some years the decision making has been agonizing, with camps forming and insults hurled. This year we pretty much all agreed – Stephen Matthews was our man.

  Ryan Schnepf started the bike lift tradition in 2004 and the winner hasn't needed to be told since. Congrats Stephen and welcome to the team! Photo ~ Jerry Willows.
For the next year , and hopefully beyond, Stephen will be part of the nsmb team. He'll wear the jersey and represent our team sponsors. 

  Stephen on his 2011 Specialized Demo 8. It was custom built at Obsession: Bikes with a Rock Shox Boxxer World Cup up front, a Rock Shox Vivid rear shock, a SRAM/Truvativ drivetrain, Truvativ bars and stem, Avid brakes, a Chromag saddle, DT Swiss wheels and Maxxis tires.
AIRprentice winners over the years:
2004 – Ryan Schnepf
2005 – Benton Hennig
2006 – Neil Meier
2007 – Mitch Chubey
2008 – Justin Wyper
2009 – Andrew Sherry
2010 – Matt Montandon and Paul Stevens
2011 – Stephen Matthews
Thanks!
Ian Galbraith made sure all the details were sorted at Silver Star. Thanks for all of your hard work Ian! Thanks as well to Cameron Sorenson and his trail crew for making sure the mountain was in epic shape. The staff at The Saloon kept us well fed and watered. Thanks for the hospitality! The same goes for Oscar at the Bulldog. If you are in Silver Star make sure you ask Oscar to mix you some obscure cocktail.
I'd also like to thank our photographers and videographers. This was an exceptional year for images and video. Thanks to Dan Barham, Mason Mashon, Jerry Willows, Paris Gore and Toby Cowley for stills and Matt Dennison and Jason Lucas for movies.
Thanks as well to nsmb team captain Trevor Hansen. Much of the hard work leading up to AIRprentice is handled by Trevor and he does it all with his usual panache. Thanks T Bone!
Obsession: Bikes handled the über-dialled builds for the AIRprentice Demo 8 and P3. Thanks to James Wilson, Crazy Lou Costa and all the crew at Obsesh.
AIRprentice Sponsors
Specialized is the title sponsor of AIRprentice and their awesome bikes make it easy to attract the best riders around. Thanks to Nic Sims, Brandon Sloan and Jason Chamberlain. Without your support AIRprentice could not happen.
Thanks as well to Dan Scott of Nokia for providing wicked phones for all the riders and helping out wherever he could.
nsmb.com Team Sponsors
We are very lucky to have the best collection of sponsors in the industry.
SRAM/Rock Shox/Truvativ Avid
Our riders are able to perform at the top level because of top shelf parts from the SRAM group. Thanks very much to Tyler Morland and John Dawson for their commitment to our riders. You guys rock! And to Shawn Cruickshanks for keeping our bikes running like gold!
Maxxis
Everyone loves Maxxis rubber. Thanks to Maxxis supplier Cycles Lambert for keeping our wheels in contact. Props to Ed Wright and Jay Hebert.
Mountain Equipment Coop
MEC provides our jerseys and tees, supports our team and provides vital funding for trail maintenance on the North Shore. Thanks to Laurie Edward, Tim McDermott and Jesse MacDonald.
DT Swiss
Thanks to Paul Guebera for keeping us rolling fast.
Contour
All of our riders use Contour HD POV cams to capture their rides. Thanks to Marc Barros and Lacy Kemp.
Adidas Eyewear
All of our riders use shades and goggles from Adidas Eyewear. Thanks to David Wiesenhofer.
URGE Helmets
Urge is another new sponsor for this year and we are beyond stoked to have their helmets protect our heads. Thanks to Fred Glo!
Five Ten Shoes
The truth is we'd be wearing Five Ten shoes if we were sponsored or not so it's awesome having them as a sponsor! Thanks to Laura Sanders!
Chromag
We're chuffed to represent Chromag saddles.They rule. Thanks to Ian Ritz for being so dreamy.
Dakine
Dakine supports our scene and they make great products. A shout out to Chico Bukavansky and Dave Bisset.
Race Face
It's inspiring to see how Race Face managed to get up to speed as though nothing happened. Thanks to Marcel Jakob for keeping our riders protected!
Pedros
Again thanks to Cycles Lambert, we are lubed and maintained by Pedros products.
Suspensionwerx
When we need a suspension consultation locally we roll over to see James Downing and Arthur Gaillot at Suspensionwerx. For them perfection is the minimum requirement.
---
This was a stellar year for AIRprentice. I didn't think we could top last year but it happened. Give us your two bits here…