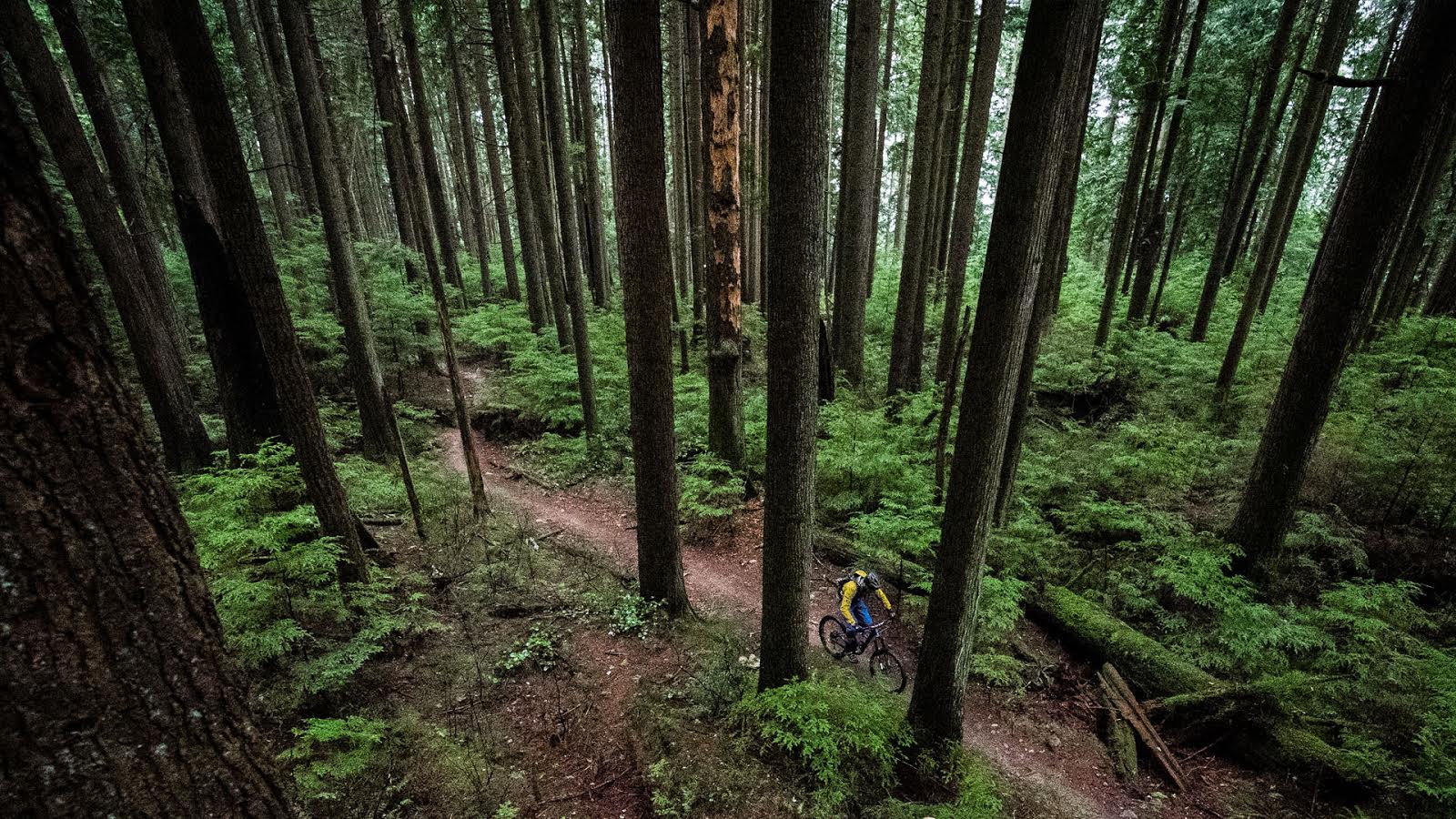 AIRprentice Demo
The build often gets finished at the last minute. We were waiting for some AIRprentice sponsorhip parts and they came in just in time. At the last minute that is. So the buiilds were delayed. The good people at Obsession: Bikes put the pieces together and the bikes turned out great. But it's dark out now and we just arrived at Silver Star – so you are getting shots of the Demo I've been riding for the last few weeks. Right now it was nsmb team sponsored parts top to bottom so it's pretty close to the final version we'll be (gulp!) giving away on Sunday.
This frame is large but the AIRprentice frame is medium. Otherwise the bike that will be won on Sunday has the same brand of parts at every corner – but not the same model. For example this bike has Maxxis Exo 3C Minions while the AIRprentice bike has dual ply Minions.

The AIRprentice bike will be built up with a Rock Shox Vivid Air – but I haven't installed one yet so here's the coil. Notice the rainbow stripes. I'm not a World Champion; I just like rainbows.

This Chromag saddle is the Moon DT – with Chromo rails. The AIRprentice Demo is adorned with a Lynx for rough play.

This is a set of DT 1750s. We put a slightly burlier set of DT wheels on the AIRprentice Demo. These are light but they've been surprisingly robust.

A 10-speed SRAM XO drivetrain (and Truvativ Descendant cranks) makes the AIRprentice Demo go. Along with Truvativ pedals.

This bike weighs in at 36.25 lbs without the VIvid Air. We built up the AIRprentice version a litle burlier. We'll weigh it in tomorrow.
So here we are at Silver Star on a Thursday night – just waiting for the mountain to open tomorrow morning. We have a little bit of planning and scoping to do but really – we're just here to ride the park for an extra day because it rules. I can't wait to get that peanut butter dirt under my tires.
---
AIRprentice thread here…