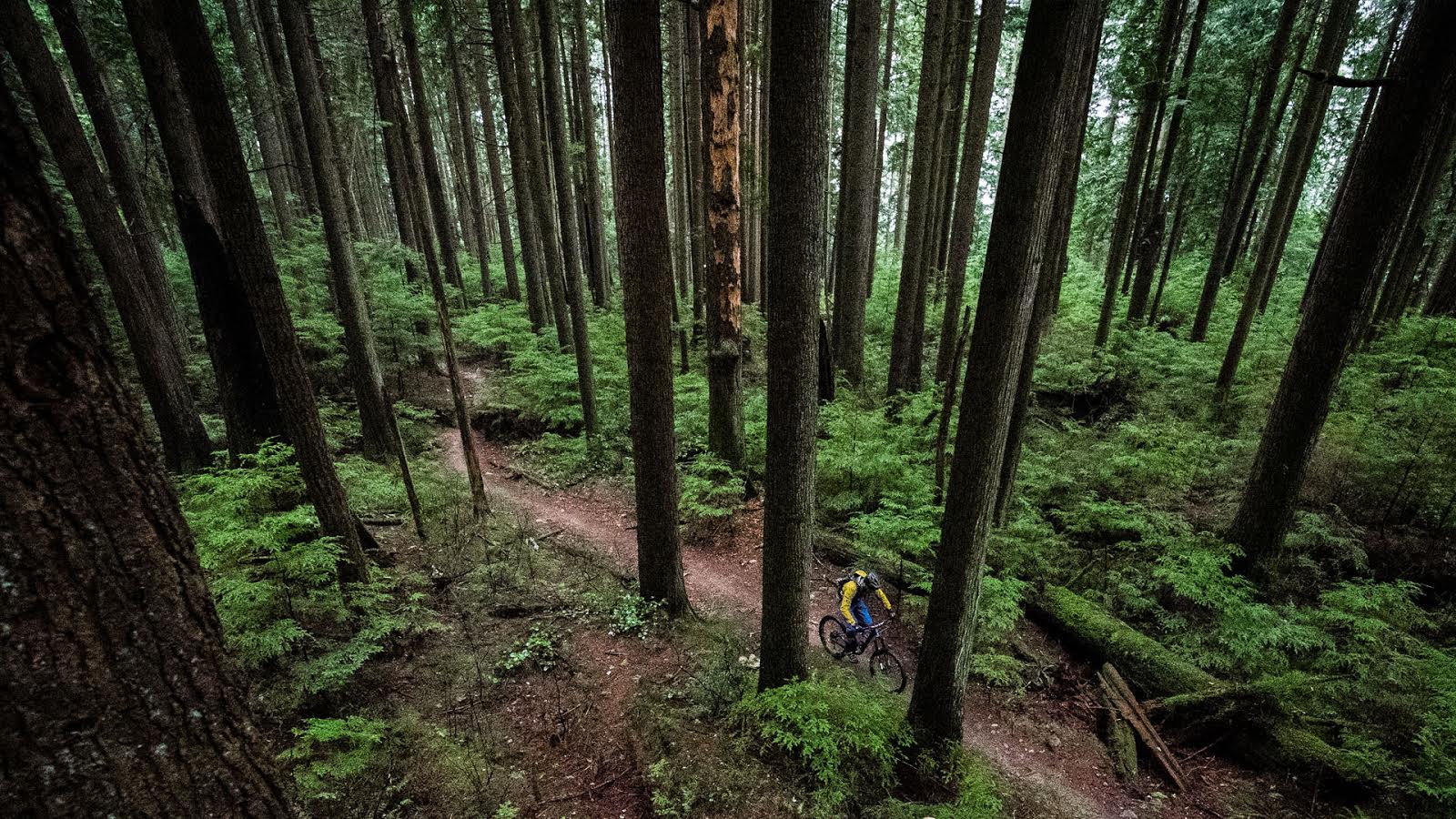 Prepping for BC Bike Race
Last year a friend of mine competed in the BC Bike Race  and raved about it for months. I got tired of hearing his stories of the endless singletrack, the laid-back vibe, great food and smoothly run logistics. As an Aussie living and working in Korea I've made the pilgrimage to Vancouver for riding holidays over several summers. It didn't take much for me to convince myself that a week of West Coast singletrack would be an appropriate way to spend some of my leave.

  My trusty Nomad made it 8000km without so much as a scratch or a bump.
For those that aren't familiar with the event, it's an annual seven-day supported stage race that takes in some of B.C.'s best singletrack between Vancouver and Whistler (via Cumberland, Campbell River, Powell River, Sechelt, Langdale, and Squamish). The race is available in two flavours – the Epic, which averages around 50km per day, or the Challenge, which serves up 30km of world class riding each day.
   Looking back from the Sea Bus on my way to the North Shore. Over the next week, I will happily be leaving all this behind.
The idea of a seven-day stage race has always appealed to me – as much as a chance to escape the daily grind as to compete against myself. I'm not an accomplished racer by any means (more an enthusiastic amateur), but when I got the chance to sign up for this year's race back last December, I set about outlining a little training program to ensure I'd be ready to tackle the task ahead. I spent the cold Korean winter watching my eating and clocking up the miles on the trainer as the snow fell outside. Everything was going pretty well until about five weeks ago, when my preparation suffered a bit of a setback.
On the way back home following a night ride with some friends, I was cranking down a piece of rocky singletrack when I ripped a hole in the sidewall of my front tyre and took a nasty tumble. I picked myself up, wandered out to the nearest road, persuaded a taxi driver to take me and my bike home, and crawled into bed.

 I woke up in considerable pain to discover my helmet in three pieces and no recollection of the crash. After a week of doctors visits, ultrasounds and x-rays, it became evident that I did some not insubstantial rotator cuff damage to my left shoulder. The doctor said that it would most likely heal up without surgery, but it'd keep me off the bike right up to the start of the race. I was torn. Pull out entirely and put six months of preparation behind me, or push on and try to complete the race regardless? After a few days of feeling sorry for myself, I decided I'd forever regret pulling out. I went shopping for Ibuprofen and transferred from the Epic version of the race to the Challenge as a concession to my aching shoulder. All exercise would have to stop, but I hoped that any base fitness would see me through the shortened event.
   A seven-day stage race like the BC Bike Race takes a lot of gear (and this is after significant culling so I didn't blow my baggage allowance on the flight). I still had room for my little moose mascot that will spend the week zip-tied to my bars, though.
Last week I packed my bike and a small mountain of gear, and took an Air Canada flight into Vancouver. As I crossed the choppy waters on the Sea Bus, I looked up into the mountains that will be home for the next week. I haven't ridden a bike in more than a month, so it's going to hurt. A lot. But I can't wait to get out there and give it a crack. With the likes of Mark Weir, Andreas Hestler and Brian Lopes in the race (though they'll be rocking the Epic version, of course), it's going to be an incredible week. Here's hoping my shoulder holds out!
---
The Tour De Singletrack that is the BCBR gets rave reviews. Done it? Doing it? Want to do it? Think Matt can make it with a bum shoulder? Point it this way…