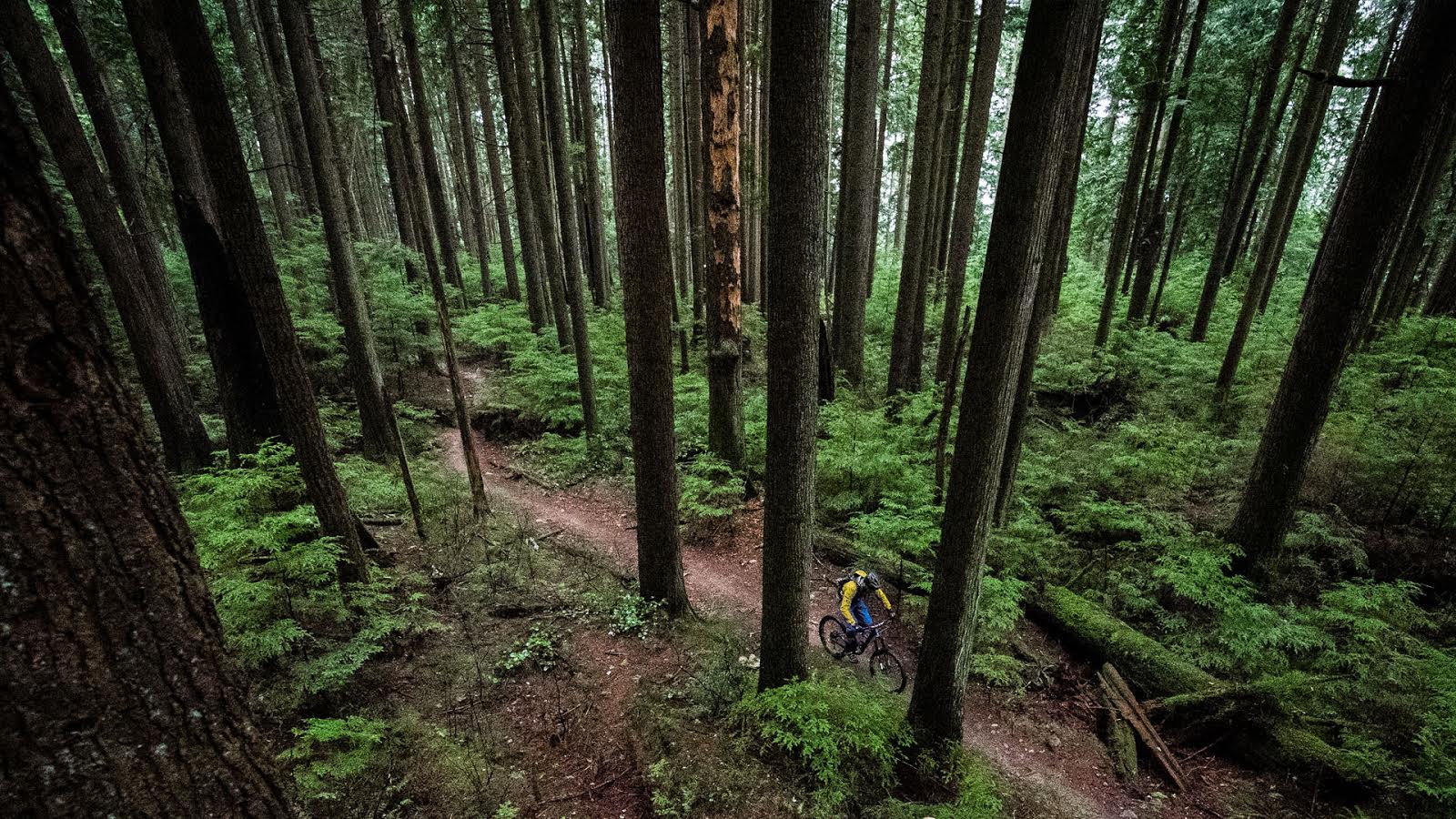 Scion Whistler Report Ep. 6
Another day, and more overcast, drizzley, dampness. While most of us are pining for sun and heat, we're left making the most of what we're given. It's been a busy few days since we last talked, last Thursday night was the Garbanzo Bike & Bean/GLC toonie in the bike park. Usually we end up riding Easy Does It to mid-station so I thought my singlespeed hardtail would be fun. All was good until we cut off EDI at After Atlantis, bombed down Crabapple Hits and then hit the steep slog up B-Line. My theory is that anyone who chooses climbing B-Line as part of a toonie race, hasn't actually ever climbed B-Line. It's not nearly as mellow as one may think, and it's just sadistic on a SS. Needless to say I alternated between walking and riding on that upper section! That being said, the rip down Fantastic, Lower Whistler Downhill, B-Line, and Heart of Darkness was super fun! Add in a good apres (amazing pasta dinner!) and it was another fun evening.
   I like running into friends randomly, and I don't run into Chad (Hendren) enough these days. A new berm on B-Line gets railed.
Friday night was the first Phat Wednesday race of the year, which had been postponed in favour of the hockey game a couple nights earlier (we all know how well that ended). The course was the standard B-Line year starter, but as it wasn't actually extended play yet and because we had the place to ourselves we raced to the valley via Heart of Darkness. It had been years and years since we've come down low, so that was a treat. The fun part of the evening is the unofficial official chainlessness of the race. Although there were a lot of cheaters this year (take off your chains already!), a large number removed their chains in the spirit of friendly competition and were then slayed by the undisputed king of B-Line, Mr. Adam Billinghurst. In the ladies category Sarah Leishman was a sport without a chain and took the overall by nearly 10 seconds, way to go killer! The old men (Masters 30+) shamed big Mathieu Hebert into removing his chain. He whined, then stomped us all into the ground. There were lots of unfamiliar names in the results for old timers. Good to see new faces, although I think a lot of them failed to remove chains. Open Men's category was taken by Kiwi, and Zerode creator, James Dodds, taking nearly 4 seconds out of second place, while Cooper Saver took the junior category. Nice work everyone. It was a fun evening!
   The old Schleyer drop is gone, in it's place a rock drop/stepdown. Sarah gave it a go.
Trail crew has been going like gang busters in the bikepark. The giant slalom course opened last friday, and Marty did a killer job (watch for the video tomorrow). Apparently he was left to his own devices and he built one of the best courses we've seen for years. Brian Finestone told me to tell you that the bikercross also now hosts a permanent Freelap setup and you can get your race on there. Good call installing this here to start. There are plans for one more full time set up and two rovers. We'll have to wait and see where they show up.
The other big change people will notice is the removal of the iconic bridge to drop on Schleyer, with the wood being replaced by a natural rock drop to dirt tranny, with a roll down option on the right side. Opinions vary on it. Personally I think less wood is better, although in its fresh state the new version seems slightly more awkward. Chainsaws have also been heard in lower smoke and mirrors, Gareth Dyer was working in there and it'll be interesting to see what they've done. As of mid-week Dirt Merchant was closed (Open Wed. evening). Hopefully it's getting some pre-weekend buffing and drying out with some hotter weather, from the sounds of it some maintenance would be much appreciated on it. The big GLC drop has also undergone a bit of a refurb making it more accessible to the masses, for good or bad remains to be seen. A friendly reminder for those that need to check it out; please please don't stop on the lip! Stop above the run in, walk down (off the trail) and have a look from well off the trail. People come into that section fast and it creates dangerous situations when you stop in the middle of the trail and things get backed up. Thanks, and lets be sure to practice that elsewhere in the park too.
   I know I talk about Whistler's westside xc trails a lot, that's because it contains trails like this. Dave Anderson and Eric Walton also agree that the westside is the best side.
Blue Velvet has been dug out, complete with massive 15 foot walls of snow on either side of the trail. More woodwork was broken after the heavy snowpack and the opening has been pushed back to the long weekend (July 1st). Sounds like the equipment operators have been working hard and are onto freight train now. With that much snow still to melt, I'd imagine things will be pretty wet up there for quite a while. Also well underway and looking more amazing every day is what I've dubbed the Megapump. Adam (Billinghurst), Gunner (Andrew Gunn), and Kenny (Smith) are creating what may be the most awesomest pumptack ever at the top of the boneyard. It's kinda like last years, only bigger, better, and a bit less intimidating. More rollers and doubles and more berms and it's longer. It looks really good and I can't wait to ride it when I'm back in town in a couple of weeks. Keep up the great work boys! The dual slalom course is also taking shape quickly and it looks to be another tight twisty berm-filled affair.
   Paulo shreds it up on his new Specialized Stumpy EVO. Yes, also westside.
The Pemberton Valley Trails Assoc. held their fund raiser Saturday night in Pemby and reports declare it a rip roaring success with over $4000 raised. JJ spun some beats, the Nimby Fifty crew presented their donation to the Assoc. and draw prizes were handed out. In other news, some reports over the past couple of weeks suggested logging may take place in the PHD area at the Rutherford in the coming months. A few of us have seen some preliminary maps and all in all there isn't too much to be worried about. A bit of the upper upper section will see some logging, but the access to it will improve and the logging company wants to work with the PVTA to improve the trail. There is also now a strong possibility of the old trap line trail to the alpine being reworked. Another good example of resource industry and trails groups working together to improve our recreation opportunities. We'll see how this plays out in the coming months.
   Keyhole to the loam. Tristian Merrick chased down Paul and I while we were out shooting, the key to a good time is good friends and good dirt.
Here in Whistler there's lots of little things happening out on the trails. The RMOW (the municipality) has completed the River Runs Through It bridge, and while I haven't had a chance to check it out myself since the other week, reports coming in say that it is a masterpiece. Can't wait to ride it for myself! Some of that build crew has moved to the upper Stonebridge area and are working on the Flank Trail access. Anyone who's ridden that route knows that it was generally a wet, rocky, mucky slog. A lot of the babyheads have been raked away and they're reworking the line a bit to get it off the wet roadbed and up onto the slope to the side. A definite improvement to a really hard section of trail. It will be interesting to see what else transpires up there as it is a high traffic area these days and I think this will make things much more pleasant. And on that note, big thanks to the westside trail builders, Craig, Mike and Eric for the amazing trails you've created up there. My favourite part of the valley to ride, and great trails that are challenging and beautiful, cheers!
   Paul understands my need to get arty now and then. It's amazing the things we don't notice while we're riding.
If you're of the female persuasion and were thinking about doing the Betty vs. Veronica event in August, you better get registering, and quick. As of Wednesday there are less than 25 spots remaining of the 180 rider cap, and they're going quick! (Last minute update, SOLD OUT! Get your name on the waiting list now!) The response has been incredible and ladies from all over BC, and points further south and east, will converged in Whistler on August 27 for a super fun event. Tony's stoked at the interest and this is gonna be a race to remember I think, one of the first all women's events I'm aware of too. Get on it, or be left watching the fun from the side of the course!
Well, while the first part of this report was written a couple days ago, the past two have been warm and sunny and amazing. The bugs are vicious but that's a small price to pay for some heat finally. I'm off on a dirt-fueled road down the west coast with a beautiful lady for the next couple of weeks, but will still be checking in to keep you abreast of the important happenings. The wonders of modern media!
---
Whistler is starting to dry out and the upper trails are melting (finally) at a rapid rate. It sounds like it might be time to get up there! If you've been lately give us your report here…