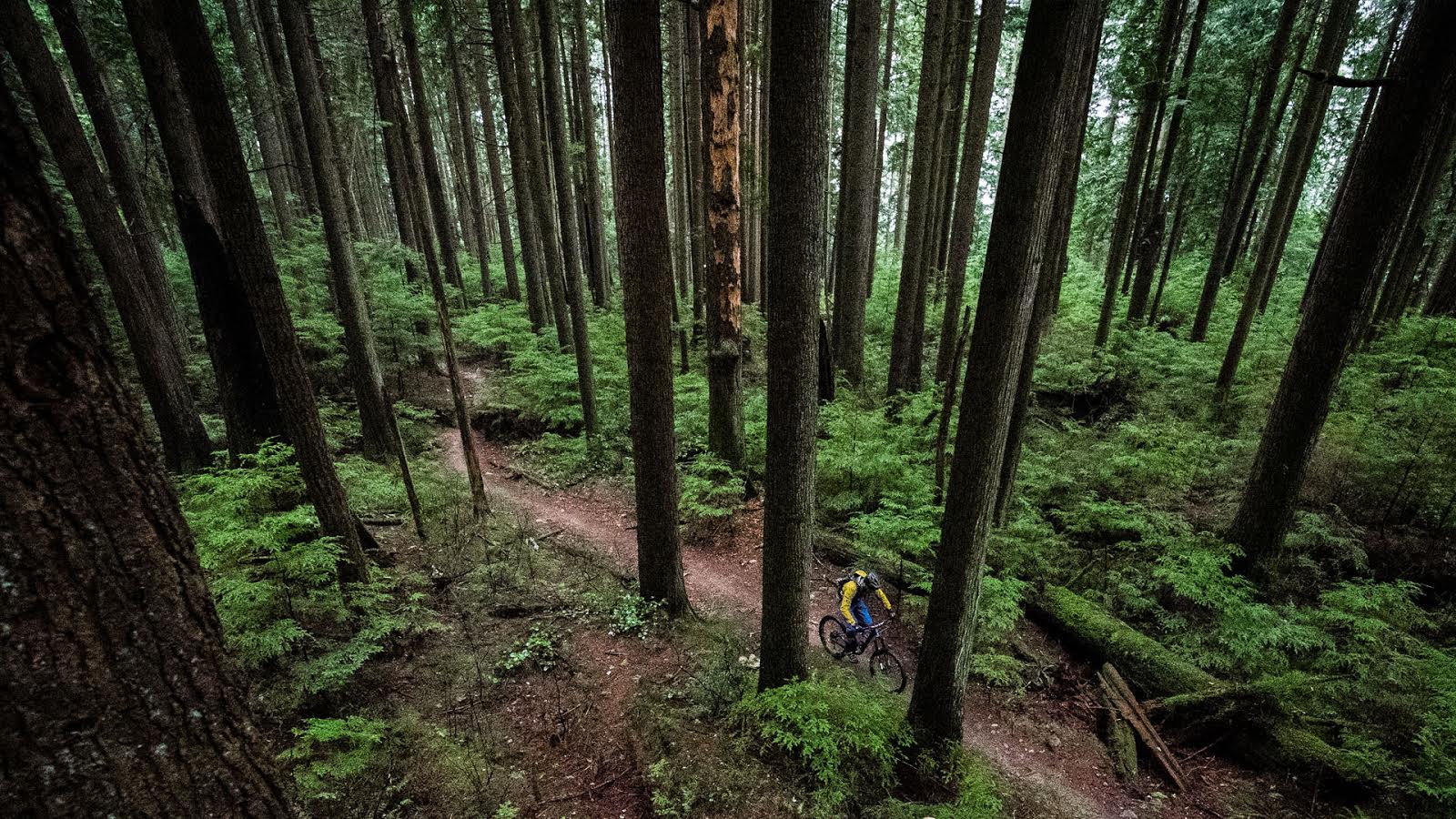 Wade's Excellent Adventure
We're not racers – at least not those of us from nsmb who live here on the Shore. Our team riders Paul Stevens and Mason Mashon like to mix it up against the clock – but the rest of us just compete against ourselves and our riding buddies most of the time. There are exceptions though and Wade's Excellent Adventure will always be in that category.

  This year's turn out for WEA was great. Lots of keen riders, some pros and lots of spirit.
Wade's event morphs each year, twisting to meet Simmons' secret agenda. This year it was a bit of a crusher with a secret route that included lots of climbing and descending – almost 2000 metres of each. Our first lap was Executioner to Dreamweaver, up St. Mary's and then across the Baden Powell and back to the start by the water towers. Or it was supposed to be.

  You can go your own way. This bench wasn't on the route – so we changed the route to could enjoy our first pop of the day.
Things started out okay. Our group was cobbled together with nsmb team riders Jerry Willows, Trevor Hansen and Eamonn Diugnan along with Pete Roggeman, Pete Chambers and myself. Those of you paying attention will note we were six – but the max in the corp. team category was 5. That meant we started off as disqualified. Perfect.

  Fun for the whole family. Events like Wade's are a great way to introduce riders to events without the pressure that inevitably comes from sanctioned races.
We know the trails well and we can pedal okay (although I was struggling on the first climb) and our plan was just to ride for fun and not take any of it too seriously. Unfortunately I was over-caffeinated and I couldn't just roll with it. I was caught up in the fever of the event and really not having much fun – and then I got a flat on Executioner. Normally this is something I can deal with relatively efficiently and smoothly – but with racers passing us and coffee-frayed nerves messing with my head I botched the whole process and it took forever. The good news was that this reminded me that we were out for fun – and I vowed to have some.

  The keen types. I can't remember the last time I saw so much lycra on the fire road.
We took a detour onto the Baden and then four of us rolled down Lower Ladies – which despite the broken roller coaster – was a blast. That is where our second flat happened as I recall – which I think belonged to Roggeman. Eventually we made it to the start finish again and got our second itinerary; climb to Seventh Secret, descend to the third switchback, climb to Ladies Only and then ride the Baden again back to the gate. We chose to ride Bookwus instead of Seventh and we even skipped out by the big log and rode straight into Ladies. Cheating was fun and profitable! And then our third flat happened. I believe it was Eamonn's this time – just when things were going well. This one went a little more efficiently and we got on our horses again – for about five minutes.

  Wade giving instructions at the start line.
On the new and incredibly fun section of Upper Skull or Big Stupid (depending on who you ask) Pete Chambers decided it was time to pinch his tube until all the air leaked out. Four flats and four different riders. We were all running a little extra pressure because of the event and generally none of us get flats on our group rides. I think I've had one in about the last three months – before Wade's that is. How we managed to string together four flats I'll never know. By the time we came around for our third and final lap the barbeque was going and we were all a little hungry. Let's just have a bite and then continue? I was skeptical and I wanted to finish our already abbreviated route – but I was overruled and we were done.

  All smiles on the first climb. I didn't smile until after we reached the Baden – and remembered to have some fun.

  Wade loves to give back to the community and spread his love for riding mountain bikes. Great event Wade!

  Fun in the woods – this was a great day of riding.
None of us was bummed since we had a great ride on a beautiful day – but some riders who took it more seriously laid down impressive times. Arthur Gaillot and his partner Dylan Wolsky allegedly completed the entire course in 2:03 – and that's with Arthur's penalty for going in the heron pond (see video!). That is so fast it's almost hard to believe – but I'd never doubt Arthur's route finding so I'm sure it's legit. Wade figured the winning times would be closer to three hours.

  Some fuel for our descent – and our flat repairs. Only Trevor and Jerry kept their pressures up all day.

  These guys were having too much fun.


   Andrew Shandro making a cameo.


  Conditions were about the best they have been all spring.

  Great support by local bike companies!

  The presentation of the cup – about the best one all week. Team Rocky won the corporate team category with a time of 2:06.
If you'd like to see the full results – click here for a PDF
---
Were you there? Stories to tell? How do you like Matt's video? Share it up here…