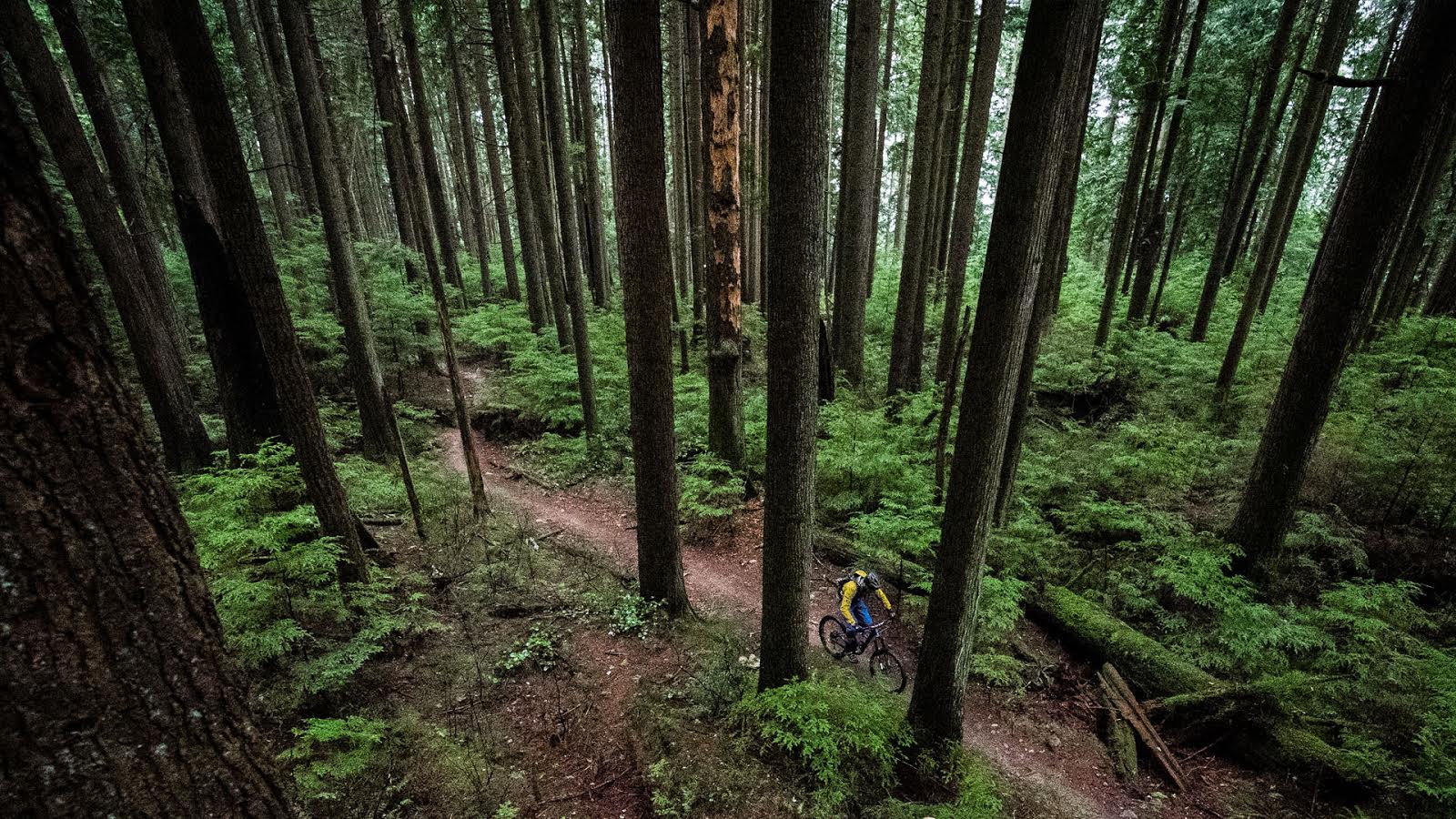 REVIEW: 2011 Norco Range 2
Norco's latest foray into the ever-growing all-mountain category of bikes is a departure from the past. When the new 6" Range was unveiled for 2011, it killed off two other 6" bikes in the Norco line with one fell swoop. It was designed to be more capable in burlier terrain than the Fluid LT and and less bulky than the much-loved Six, but still able to go hard. Those were big shoes to fill, though. Was the Range up to the task? Keep reading to find out…
I've gone over the details of the Range a couple of times here on nsmb.com, first in last summer's 2011 product launch and then in the Gear Shots preview for this bike, so I won't spend a lot of time going over those things. 

To recap: the Range gets Norco's new Advanced Ride Technology (A.R.T.) suspension design. It's still a Horst Link, but it has new pivot locations. There's also a tapered head tube, a 142mm rear end, a post-mount rear brake and a straight seat tube. Head angle is 66.5°, seat angle is 73.0° and bottom bracket height is 13.97". Ranges come with ISCG 05 tabs for chainguides, as well as top tube cable guides for height-adjustable seatposts.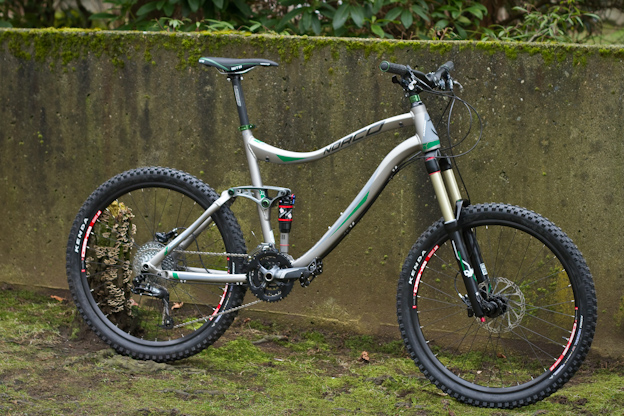 The Norco Range 2, in stock kit. It's a big bike, but it doesn't look disproportionate. And I'm a fan of the swoopy lines. || Photo: Stuart Kernaghan
Components for the mid-level Range 2 are as follows: suspension is handled by a RockShox Lyrik 2-Step RC2L fork and Monarch RT 3.3 rear shock. SRAM bits include X.7 3 x 10 shifters, an X.9 rear derailleur, an X.7 crankset and Avid Elixir 5 185mm brakes; the front derailleur is a Shimano SLX. In the cockpit, you get a 760mm wide Norco alloy riser bar and a Race Face Evolve AM stem. Keeping the Range 2 rolling is a wheelset built around Sun Jumping Flea hubs and T M-480 Enduro rims and Kenda Nevegal 2.35" Stick-E rubber tires. Out-of-the-box weight for an XL bike was 33.0 lbs, without pedals.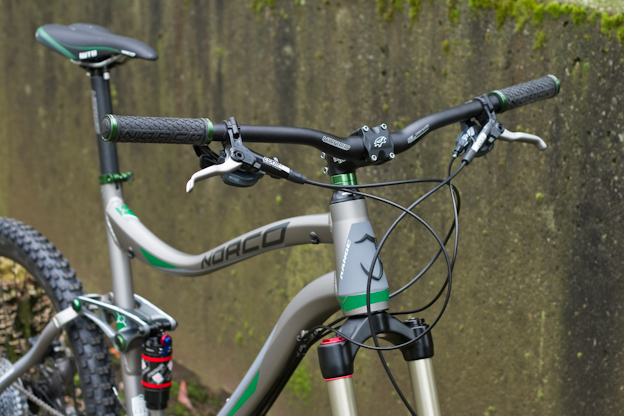 The cockpit on the Range was plenty roomy. All of the components worked well, and the Avid Matchmakers cleaned up the bars nicely. Note the tapered head tube, and top tube clamps for height-adjustable posts. || Photo: Stuart Kernaghan
I made a number of tweaks to the bike to personalize it. That included adding a RockShox Reverb seatpost and changing the stock grips for ODI Rogues. I switched back and forth between flat pedals and the new Shimano XTR Trail clipless pedals during the test, and ran the bike with WTB Stout tires for a while. Weight went up and down depending on the parts, but it ended up being about 35.4 lbs. with the Reverb post and flat pedals.
Ride characteristics
I've spent a lot of time on 6" bikes over the last couple of years. They're the bikes that I ride most often, and in my opinion, they're the bikes that are most capable of conquering almost any terrain you'll encounter short of a DH course. I was fortunate to have a few months to ride the Range, and got to know it well while exploring technical cross country rides, shuttle runs and some sustained climbs on the North Shore.
First off, I have to be honest – I wasn't really looking forward to riding my normal Shore XC loop or some of the bigger climbs around here on the Range because of the weight. When it actually came time to pedal, though, the poundage didn't turn out to be as much of an issue as I thought it might be. 
There were two things that saved the Range on the hills: the component selection and the A.R.T. suspension design. I'm one of those riders who always wished for one more gear on long climbs, and the 10-speed drivetrains on the Range proved to be a blessing. On longer climbs, I was able to get in a comfortable gear (read: really, really low) and spin to the top. The other benefit of the large 36T cog was that I was able to spend more time in the middle ring before I had to drop into my granny gear, which made for more efficient and in some cases less painful climbing.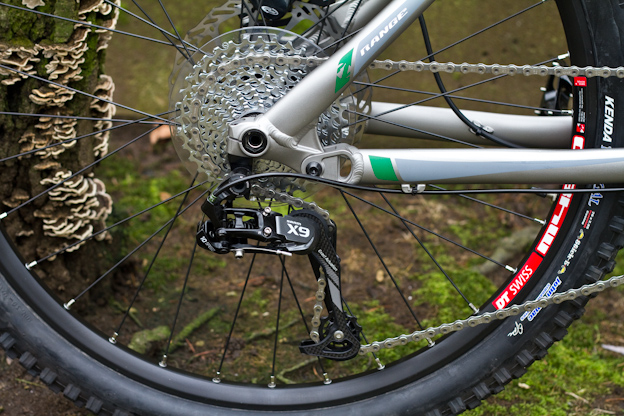 The new pivot locations make for a very positive ride experience, and the 142mm rear end adds to the overall stiffness. A replacement bolt for the derailleur hanger screws into the frame by the lower shock mount. || Photo: Stuart Kernaghan
Although you don't really feel the new A.R.T. suspension design on more gradual climbs, it is definitely noticeable on short, steep, nasty little grunts. The trail I use for XC benchmarking on the Shore (Bridle Path, for those of you who know the area) has plenty of little climbs that are rocky, rooty and generally technical. They're the type of climbs that are possible to power through from a seated position if you're having a good day, but often require some brute force to make it to the top. And these climbs were where the A.R.T. really shone.
Norco says that the new pivot locations in the A.R.T. system allow for additional chain growth and a more rearward axle path. In the real world, that translates into a rear end that digs in on these techy climbs and less suspension bob when you are pedalling like a madman. The rear end felt more connected to the ground, which meant that power was being transferred to the trail and propelling me forward.
In spite of the heft, the Range turned previously challenging uphill sections of trail that I was often forced to muscle my way through into just another section of trail. I didn't have to attack madly and put as much energy into cleaning these sections as I had before, and I was able to focus on line choices more than getting power to the pedals. This feeling of being more connected, more hooked up, still applied on those particularly steep sections where I still had to stand.
Things continued to go well on cross-hill trails, thanks to a couple of different factors. Norco did a good job when it set BB height for the Range at 13.97", and I was able to pedal through the seriously rough stuff without anything more than a very infrequent crank or pedal strike. Even when I dropped the Lyrik fork down to the minimum setting, there were no clearance issues, which doesn't always happen.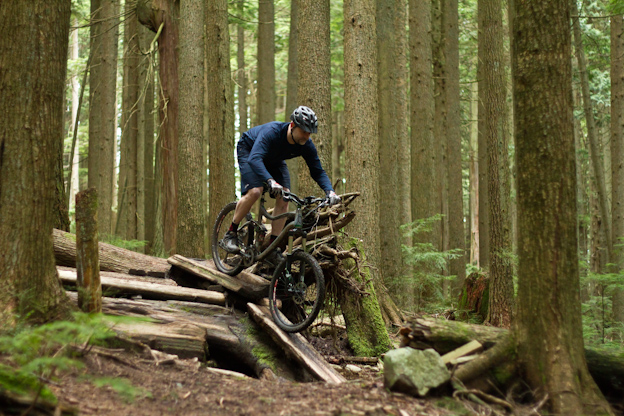 The author testing out the Range's slow-speed technical handling abilities. || Photo: Vicki Cunningham
Another happy number was the wheelbase. The XL Range has a wheelbase of 46.88" / 1191mm, which is shorter than the Specialized Enduro at 47.75" / 1213mm, almost identical to the Rocky Mountain Slayer at 47.04" / 1195mm and just a little longer than a Giant Reign at 46.4" / 1178mm.
What does that middle-of-the-pack number mean? The Range has enough length between the axles to be able to handle speed without being a boat or sacrificing handling on tight singletrack. I rode the Range through twisty trails, over wooden stunts that changed direction and around all sorts of trail debris and it never felt like the back end was trailing behind or removed from the equation.

Dan Austin lets it hang out just a little bit on some wet boardwalk. || Photo: Stuart Kernaghan
Angles are as important on AM bikes as they are on any other category of bike, if not moreso. These bikes are being asked to do more, to go faster, to carry riders through gnarlier terrain but still perform well on slow-speed maneuvres. The 66.5° head angle is sufficiently slack that the Range could travel well at speed, without having any of the dreaded front wheel flop when climbing. Ripping faster sections of familiar trails was fun, and the bike handled very cleanly. I didn't do much shuttling on the Range, but when I did, I always felt like I was able to go as fast as I want while still being nimble and quick in tight sections that required finesse.
The other area where head angle is important is on steeps and technical roll-ins. I was able to nail a very steep rock roll-in on a brand new trail the first time out on the Range, and things just got better from there. The more I rode the bike, the more confident I got on steep lines.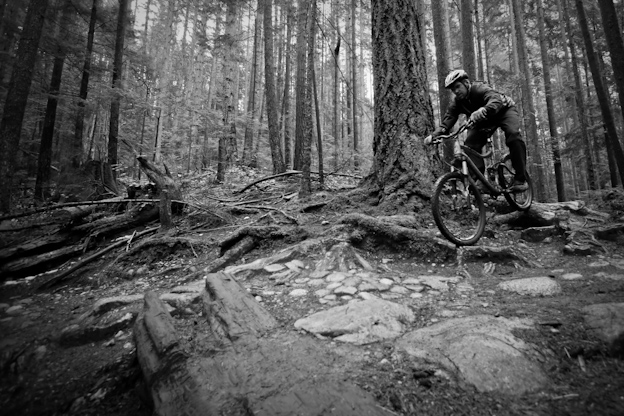 Descending on the Range was a piece of cake, even on the first day aboard a new steed. || Photo: Stuart Kernaghan
A second opinion…
nsmb product tester Dan Austin had a chance to take the Range for a spin when he made a trip down to Vancouver, and he was impressed with the experience. Here's his take on the bike:
My first thought when I laid eyes on the Range was that this is a nice, clean but tough looking bike – slight where it can be and beefy where it needs to be. Tapered head tube, forged link arms, beefy shock mounts yet slender hydroformed tubing combine to give you a bike that looks light enough to pedal up but burly enough for the reward on the way down. 
During the ride, Stuart and I were chatting about how bikes don't seem to have big 'wow' type changes anymore. Not long after that, I thought to myself, "Wow, this bike really climbs well."  That's when I realized that refinements to things like suspension designs can still have a wow factor, it's just a little more subtle than the huge sweeping changes like when hydroformed tubing first came out, or the first 7" single crown fork was introduced. 
The Range persisted on more gentle but cobbly climbs without losing traction or giving me any feeling of being held back. As long as my legs could keep going, the bike complied like a loyal dog.  Getting up and out of the saddle on more technical climbs didn't change how the Range acted at all; it just stuck to the ground and pressed on. I never felt that annoying tug of a bump trying to hold back the bike as the suspension compressed on the way up and over.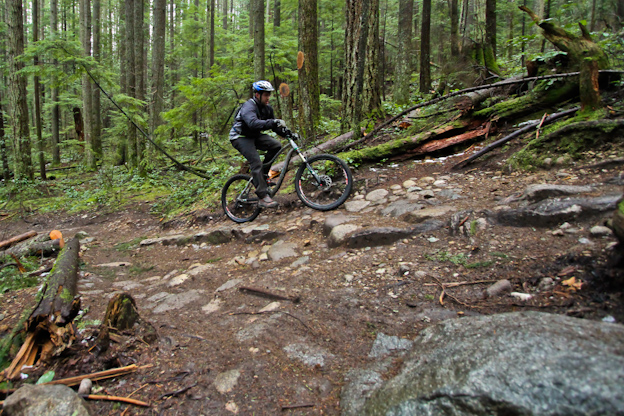 Climbs like this are deceiving. They don't appear to be too much work, but you're often left pedalling like a bastard to make it to the top. The Range makes it easier, though. || Photo: Stuart Kernaghan
On sections where I expected the bike to spin out or stop dead, the rear end just gripped and continued on like it was nothing. It was almost like the bike wanted to climb, and the more technical the climb the happier it was. 
Going downhill was equally enjoyable. Once the Lyrik was stretched out to full travel and the seat dropped, it was like a trusty long travel ride soaking up the terrain as fast as I could feed it.  Although we never really did any highly technical or particularly steep DH-style trails, I spent enough time on the bike to get a feel for what would be possible if you pushed the Range.
So if you can't tell, I was quite impressed with the Range's climbing prowess and from what I rode, was very happy with its downhill performance. Off the couch, it was a great ride. It was comfortable, fit well and felt right in any application I faced on my time on the Shore.
Would I use it all day in the bike park? No, but hey, it's not designed for that either. Would I take it on multi day epic trails in the Chilcotins? Heck, yeah.
– Dan Austin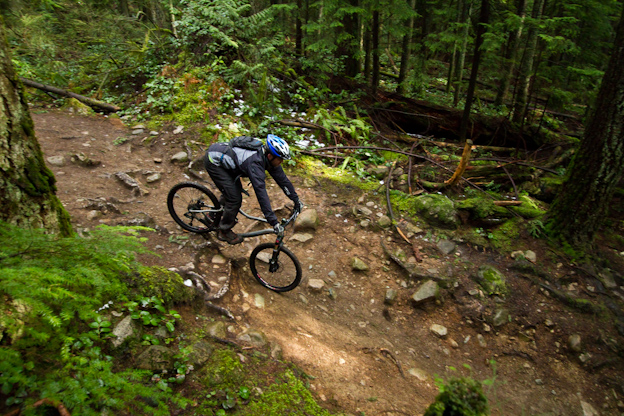 Descending on the Range was confidence-inspiring, and the bike was more than capable of handling just about any type of all-mountain terrain in its way. || Photo: Stuart Kernaghan
The good stuff
Some bikes feel comfortable as soon as you throw a leg over the saddle. This was one of them. I'm testing an XL, which has a theoretical top tube length of 630mm / 24.8". Combine that with a 70mm stem and a moderately tall head tube and I'm a happy camper. I also felt comfortable when I started pedalling. The Range had absolutely no bad habits, no quirks, nothing strange that required a learning curve. Get on bike, ride bike, have fun.
The Range rode well in virtually every situation that I came across. Not revolutionary, but well. That was likely do in large part to the A.R.T. suspension. The new design makes the rear end stick to the dirt at times when you're expecting it to slip out, and that inspires confidence across the board. It also handled steeps, drops and technically descents without any problem whatsoever, and liked to move quickly.
The new 142mm rear axle was a good thing, especially when things got rough on the trail. At 220lbs plus gear, I'm definitely the type of person that benefits from them. The added stiffness from this system minimizes rear end flex, helping the Range track better while I was hammering through gnarly sections that were littered with roots or baby heads. Less deflection means more control, and more confidence.

The rear end on the Range is stiff, thanks to the 142mm rear but also because of the welded one-piece rocker. There are hand-holds on the rocker, supposedly to make the bike easier to carry, but I never ended up using them. || Photo: Stuart Kernaghan
A few other things that I liked about the Range: a water bottle mount on the downtube, so you can throw a bottle of energy drink on the bike if you want; the post-mount rear brake, for one less adaptor; ISCG mounts, in case you decide to run a chainguide; cable guides for a height-adjustable post; a smart component mix that didn't have any real highlights or lowlights, and that allowed the bike to come in at under $4k; and the full-length seat tube, so you can run a proper seatpost if you don't want to go the height-adjustable route.
Room for improvement
In most cases, there's room for improvement when it comes to bikes and the Range is no exception. My single biggest issue with the Range is the weight. At 35+ lb. for the XL – with a Reverb post and flat pedals – the bike is at least three or four pounds heavier than many other bikes that are the same size with the same amount of travel. That will start to become noticeable if you're out on some all-mountain epic for several hours, especially near the end.
I'm not entirely sure where all of that weight comes from. The stock double ply Nevegal tires are certainly one culprit. The Reverb post would only add about half a pound. Maybe it's the frame? Maybe the component mix? Little bits here and there add up. Regardless, this particular model Range is a bit chubby. We're not talking gastric bypass surgery here, just a few months at Jenny Craig…
Something else I didn't love about the bike was the cable routing for the height-adjustable post. Currently, the Range uses two pinch clamps that bolt onto either end of the right side of the top tube. (They're also too far apart, which leads to loose housing in the middle.) A double set of standard cable guides on the bottom of the top tube would allow you to easily run the housing to either the left or right side of the bar. It would also deal with the issue of the different cable positions coming out of various HA posts.
Rounding off the list were a few minor quibbles. Drivetrain performance was inconsistent; some days the chain skipped at the top end of the cassette and it would be fine on other days, even if the conditions were the same. Rebound on the Monarch air shock was too slow, as well, even when it was dialled out to the fastest setting. Lastly, I would have also preferred a quick release lever on the 142mm rear end, rather than having to pull one more tool out of my pack to change a tire.
Final thoughts
I liked riding the Range. It was fun, capable and I feel confident in saying that the bike can handle just about any all-mountain situation you could think of. Lighter / smaller riders would probably even beable to use the Range as a park bike, if they could only have one bike in their stable.
Apart from a few minor issues, the Range is pretty much everything Norco had hoped it would be. It's certainly more confident than the Fluid LT in burly terrain and lighter than the Six by several pounds, it incorporates some good new technology and it's fun to ride. How it stands the test of time remains to be seen, but the Range certainly rounds out Norco's line-up very nicely.
If you're in the market for a new AM bike that is very capable and will help you climb better – and are not going to get too bent out of shape about a couple of extra pounds – then it's worth adding the Range to your list of bikes to check out.
---
So, were you thinking about the Range but wondering whether this A.R.T. thing was the real deal? Like the idea of a bike that's able to take a licking and keep on ticking? Want one for your stable? Head on over to the boards and spill yer guts.