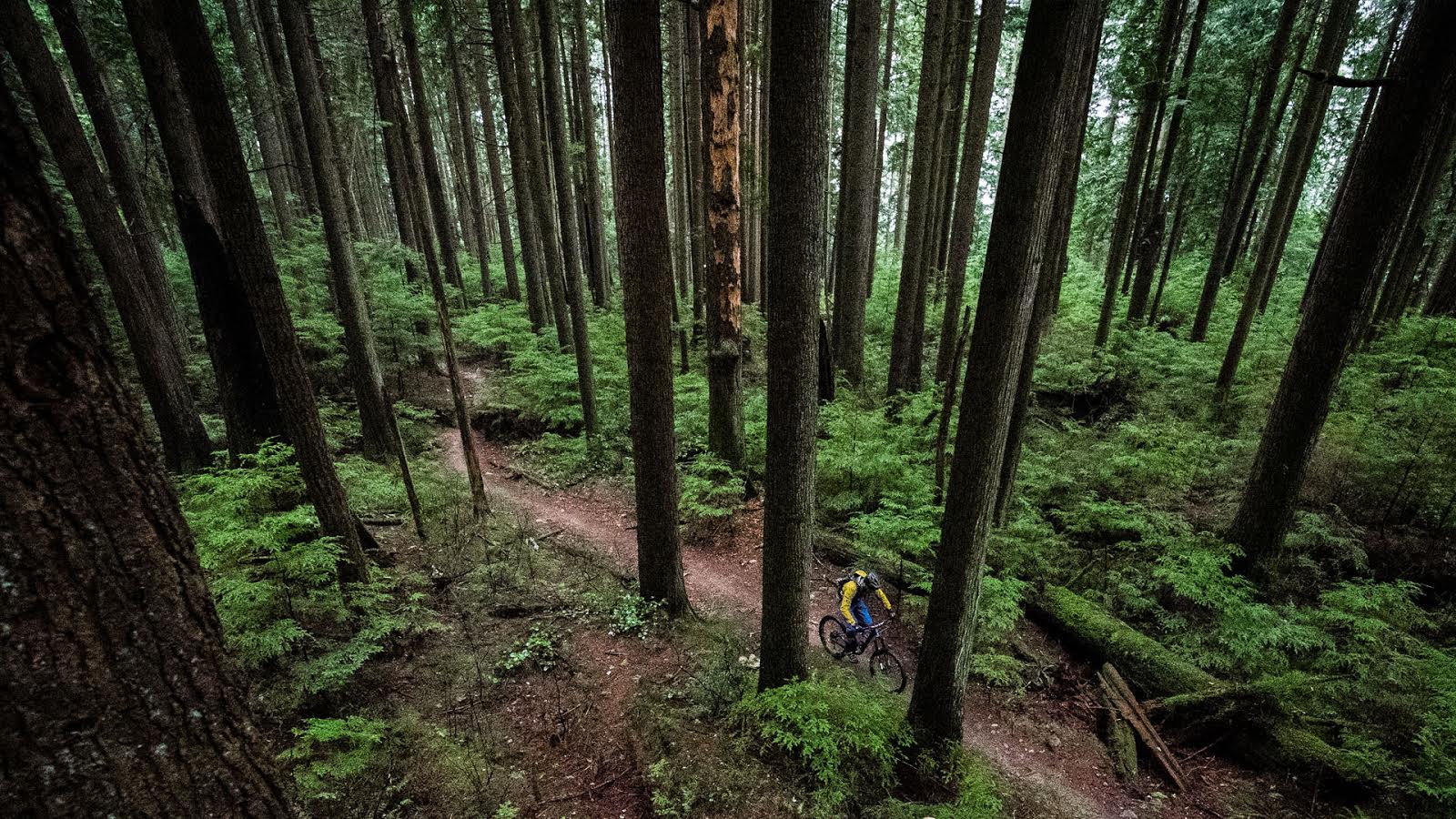 Wade Simmons Interview
Cam McRae – It's a bit unusual for a pro rider to get involved in a project like this. What got you pointed in the direction of a guidebook?
Wade Simmons – Yeah you think, unusual? For me it was a natural move. I travel a lot with my bike, and everywhere I go I buy a guide book or map. I pour over the thing the night before to make sure I get the most out of wherever I am. Then, a couple of years ago it dawned on me……Shore!

  Wade Simmons riding Cypress. Sterling Lorence shot all the photos in the book – and they are great as you'd expect.
How did your partnership with Sharon Bader come about?
I'd known Sharon for may years prior to our partnership. Her husband Lee Lau is legendary in the MTB world, and so is Sharon for that matter. They are active pro-MTB activists and true hard-core riders. I was kicking around the North Shore guide book idea for a couple of years and then last summer started to get stuff down on paper and get serious. Doing a little research with trail builders, I heard through the grape-vine that Sharon was working an a guide as well. I soon contacted her, interested in her idea, of course. After our first discussion, we realized that we were working on different concepts and determined it would be good to combine our efforts, and make the ultimate guide!
Calling it a 'Locals' Guide' is sure to get some attention. Why did you take that approach?
Deciding on a title was of course difficult for Sharon and I. We could have gone with something more direct/obvious, like "MTB trails of the North Shore" or similar, but the North Shore is such a web of trails that it would take a couple of locals to make sense of it. And you would be hard pressed to find two people more legit to create such a project. So we ran with it. Now, looking forward into more projects, we have a great idea of how to work the continuing title "Locals' Guide" into this.  

  The Baden Powell is a useful connector that runs from Deep Cove in the east to Horseshoe Bay in the west – a full fifty kilometres.
Is the book more useful for locals or visitors?
I really can't answer that. I helped write the damn thing but still read it at breakfast! We thought that if we did a good job, locals would like to see the familiarity laid out in front of them and maybe give some ideas for new loops. We joked how dudes/dudettes running late for family dinner could pinpoint on the map exactly where they got that flat tire and had to walk 10kms out, "so just be happy I made it home". For visitors, we hope it will help them maximize their riding time and make more sense of this great place.
Did you give out any secrets? How did you decide which trails to include?
Given the volatility of secret trails on the Shore, and for the safety of our families, we did not expose any secrets worth keeping. A few oldie lesser-known gems made it in, but having privileged knowledge of the area, everything is green light. It was easy to decide what trails to include. Most of them are on the kiosks at trail heads or easily found through online searches. Anything a bit more under the radar, if we were unsure, we contacted the trail builder(s) and asked them if they minded.

  The Locals' Guide To North Shore Rides is filled with maps. Some show an over view and others give you more detail – or map out a particular suggested ride.
You've ridden all over the world Have you used guidebooks in the past? How did you find most of them?
I am a big purchaser of guide books and maps. Every destination I go I try to buy either a specific MTB map or book or else a regular topo map. It's the only way to know if you will be missing the goods. Most riding meccas like Fruita or Moab have guide books which can be found at bike shops. But in the less developed areas, the only resource is often a topo map found at climbing shops and the like.
Did you have any good examples to follow?
Oh yeah, we looked at tons of books to get ideas. We would take notes of what we liked and disliked and expand from there. Great resources like Brian Finestone's and Kevin Hodder's "Whistler Mountainbiking Guide Book", and the "Fruita Guide Book" by Troy Rarick and Anne Kellar are great examples. Also, the new "Vancouver Trail Running Guide" by Rich Wheater, which was printed just before ours, is a great guide!

  Sharon following Wade on Seymour.
Your suggested rides is a unique approach. How did that idea come about?
 
The suggested rides came about knowing that many of the trails on the Shore are not suited for every rider, or not worth riding at all for that matter. The locals who grew up riding here can handle most trails, but trying to sell the riding to tourists/visitors is hard because of the technical aspect. So, we wanted to give every level of rider an opportunity to get out and enjoy the trails. With the time allotment, that gives newbies an idea of what they are in for. A map doesn't do that. There is such a vast amount of trails that after more than 15 years of riding here I'm still linking new loops!
Tell me about a couple of your suggested rides – maybe two of your favourites.
We had a lot of fun developing the suggested rides. It ended up being hard work; tons of riding variations on different trails. Choosing the favorites was hard. I think we did a good job providing varied terrain within the rides. We started to think of the Shore in a different light. We imagined ourselves tourists and what we would expect and want to experience.
It's difficult to pick just two favorites but I have a couple in mind:
My first is the "Seymour Epic East Side: Technical Tour". It's an awesome loop! First you ride Indian River Road out 2 kms for a warm-up through tranquil rain forest, then climb sweet single-track on the Baden Powell up to Old Buck. Then get your ass kicked by the Old Buck grind up to the Seymour Road. Another spin up to the corner and a short techy climb up to TNT. You're at the top! The loop then descends TNT into Cabin trail and then into Dale's ending at the powerline. This combination of trails is so fun and challenging both technically and physically, true All-MTN bike terrain. Then it turns left and climbs steep up the powerlines. We timed the climb and it only takes 5-7 min, or 10min walk…perfect! Then at the Mushroom trail intersection we go right and head to C%$t Buster. This trail is one of my favorites and a definite cherry on top to finish off with. Once back on the Baden Powell it's a nice rolling spin back to the start. 14+ kms riding, 1000m+ worth of climbing/descending and 11kms of sweet Shore singletrack!

  Using the Locals' Guide is a great way to get out of a rut and discover some new routes.
 
My second pick is the "Classic XC ride" on Cypress. This starts at the High View lookout at second switchback. A beautiful place to start a ride when you think about it: epic Vancouver views, lots of parking and public washrooms- re-thinking the Shore! The ride starts out with a warm-up climb to Lot 5 and the start of Blind Skier trail. We ride Blind Skier into SGS. This is classic Shore with tech climbs and loamy descents. These trails are rarely ridden by Cypress' predominantly shuttle crowd. A short jaunt on the access road heads you to the next section of trails which again are surprisingly twisty-turny and again classic old-school Shore. Following our directions, you will spill out onto the Cypress bowl road with a huge smile on your face and a nice 2km spin back to the car with hopefully a cold beer waiting for you as you take in the Vancouver skyline. Your new favourite loop!

  Wade tackling the tricky roll after Bart's Bridge on Ladies Only.
Do you need to be a solid rider to take advantage of the book?
 For sure not! The book goes into detail about every sanctioned trail on the Shore, so it's a great resource for all levels of rider. Riders can grow with the book, this is why we provided the "check when ridden" boxes in the mountain overview pages. It's like a passport!
You started riding the North Shore in 1991. How would you describe the way the trail system has evolved in that time?
The trails have been evolving in tune with people's riding needs and character. Some staunchy people would disagree with that. It's evident though that advocacy groups like the NSMBA, local media like yourself and local government such as the District of North Vancouver's trail crew have been doing as good a job as possible trying to satisfy the masses. The old trails still exist, new legal ones are being made, and let me tell you, there are probably as many "secret trails" in those woods as in our guide book. Bob Dylan sang it best in "The Times They are a Changing"……It's a great time to be riding mountain bikes on the North Shore.
---
The Locals' Guide to North Shore Rides is available in bike shops on the North Shore and at MEC.  You can purchase it online from the new and improved nsmb.com online store or from mtbtrails.ca. If you are one of the first 100 people to purchase the book from mtbtrails.ca you'll get entered to win two nights at the Lynn Valley B & B.
---
Have you seen the book? Do you like it? Planning to pick one up? Any questions for Wade? Point it this way…