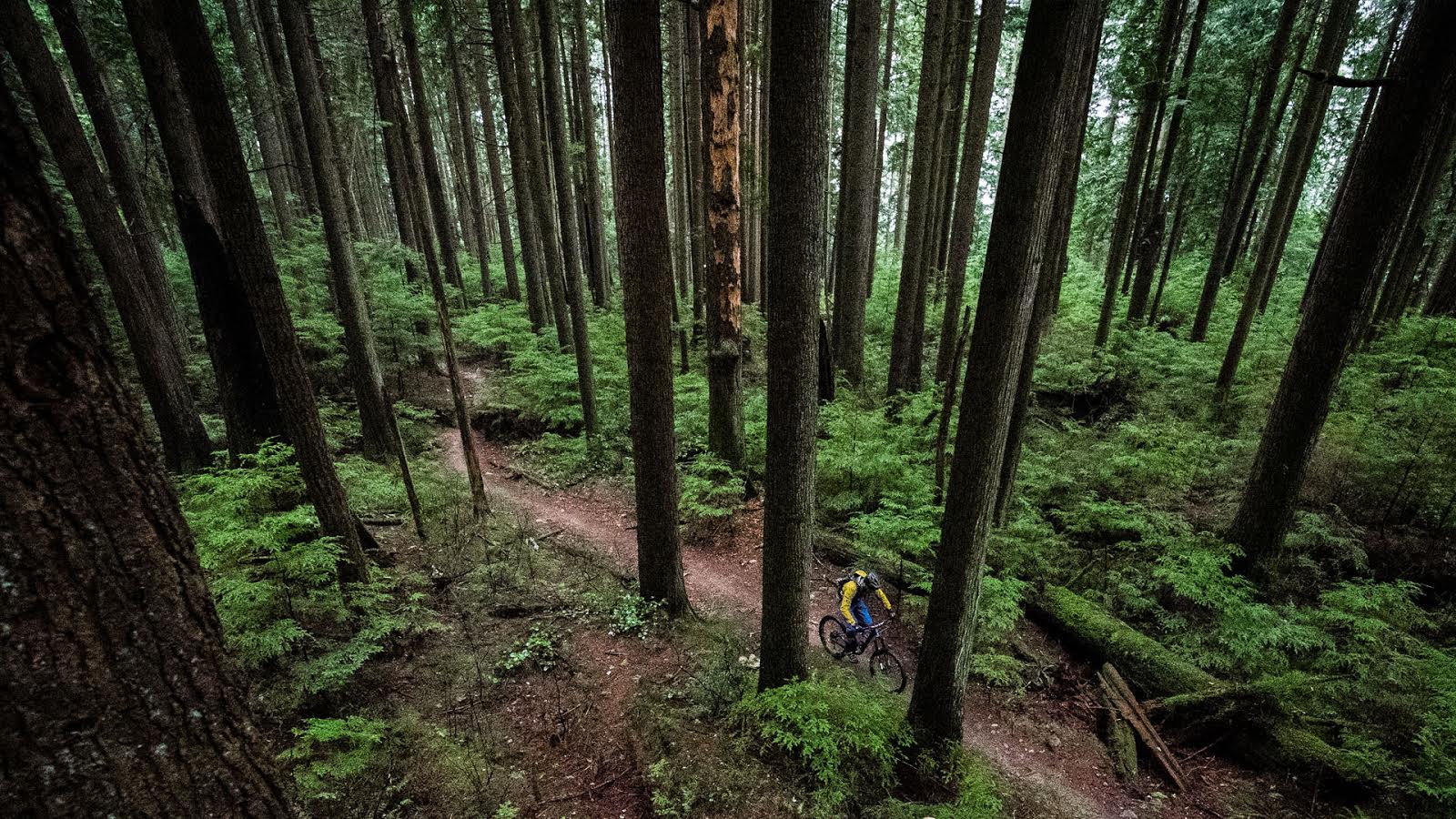 Dale's Trail Day Report
It never fails. Every time I think about going to a trail day I'm as excited as a Hell's Angel before a court date. But once I'm out there tramping around and digging I remember that it's actually a wicked way to spend a day. You end up thinking about riding lines, meeting interesting new folks and feeling pretty chuffed about what you managed to accomplish. That feeling continues to ramp up toward the end of the day when you see everything that gets done. This was nsmb.com's first TAP trail day so all of those feelings were multiplied by the awareness that this work wouldn't have been completed without us and our stellar crew of builders.

  We were stoked to have almost 30 people working on the trail at during the day – but we were even more impressed by the quality and quantity of work they produced. We had an awesome crew. Photo ~ Jerry Willows

  Thanks to the generous support of Rock Shox – we were able to commandeer two trail bosses; Digger and Jerry Willows. Here Digger's dispensing some pearls of wisdom. Photo ~ Jerry Willows
Maintaining trails here on the North Shore is a tricky business. No matter how rundown, rotten, chundered or cratered a trail is you, can bet there is some diehard rider who likes it just the way it is. And the last thing they want is to share their hidden 'gem' with the rest of the riding population – which is invariably what happens after maintenace takes place. We were aware of this pitfall but we pushed ahead anyway. Hopefully more riders will be pleased than displeased – but you can be sure we'll hear from the fomer group in greater numbers.

  Nathan Loewen came out with his two young sons and took out this stump that was right in the middel of a narrow section of trail. Great work Nathan! Photo ~ Jerry Willows

  Before the switchbacks there was a little natural hit. These lads reinforced it and gave it a little more pop. We were all eager to give it a try. Photo ~ Jerry Willows

  Linus did some great work with his custom shovel. This berm is going to be fun. Photo ~ Mason Mashon
We're very lucky to have both Jerry Willows and Todd 'Digger' Fiander working with us on Dale's. Digger loves showing people how to build trails and when he's around everyone gets more work done. Jerry is an experience builder as well and the two of them scouted the trail before hand to get a sense of what needed doing.

  Before: This section had some mud issues and was a little uninspiring. Photo ~ Jerry Willows

  After: Some excellent spade work and now you can carry some good speed through here. That log still needs to be bucked – but Eamonn ran out of gas. Photo ~ Jerry Willows
We mustered outside of a still dark Different Bikes at 8:15 and we were pleased to see a good sized group. Over the course of the day we had almost 30 people there – including three little boys who thoroughly enjoyed our sandbox in the woods.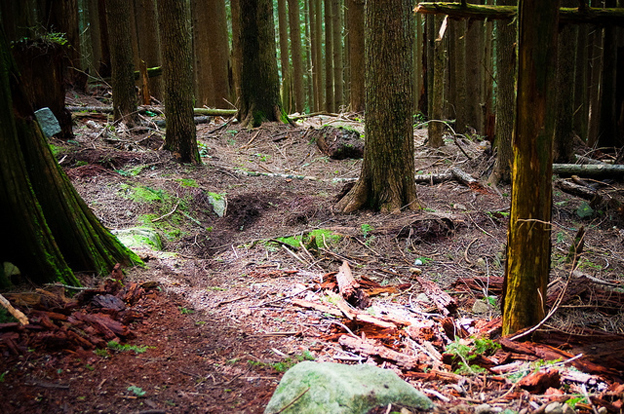 Before. Here there were multiple lines, some water issues and no distinct trail. Photo ~ Jerry Willows

  After. That's no longer a problem. Rail away. Photo ~ Jerry Willows
We didn't talk about this specifically but based on Digger and Jerry's direction our goals were to manage water runoff, improve durability and add fun. The first feature on the trail, a ladder bridge to skinny with a ladder bridge at the end, was ready to fall down and had to be removed. Luckily our crew put the stunt's carcass to good use and it became the frame for a nice air to start. It can be rolled as well if you'd prefer.

  The site of the decaying ladder bridge was completely rehabbed. Some of you are going to be disappointed to see the log and drop gone – but it was ready to collapse any day. If you'd like to rebuild it the log is still rubber-clad for grip. Feel free to get in there. Photo ~ Jerry Willows

  Now there is a nice little launcher – that could be rolled if you prefer. It's a little bit of a hip for extra points and it should be pleasurable. Photo ~ Jerry Willows
Digger doesn't like to pave trails. His technique is to fill holes with rocks and gravel and then cover those with 6″ of golden soil. We managed to find some pretty good mines in the area and these allowed us to fill sloppy holes, reverse the grade in places to help runoff and build some nice berms.

  Eamonn our saw guy. After accidentally spraying his nipples with hot cedar (the photos are for sale – contact Jerry) Eamonn opted to put on a shirt and jacket. Photo ~ Jerry Willows
Dale's features in this weekend's North Shore Bike Fest Super D and it should handle all that traffic better than ever – and keep the riders smiling.

  Tim Coleman testing out his berm. Tim grabbed his bike once we wrapped and tried it on his Norco Range. He called it a good mix of berms and flat corners and declared it 'butter smooth.' Photo ~ Jerry Willows
Thus far we have only worked as far as the swamp. Jerry and Eamonn laid down stringers and they managed to cut all the rungs as well – but the bridge isn't built yet.

  nsmb team riders Mason Mashon (left) and Paul Stevens made the trip down from Whistler along with 2010 AIRprentice winner Matt Montandon (too busy building a sneaky hip to pose for photos). Photo ~ Jerry Willows

  This section was a real mess. Now it's a work of art – if we do say so ourselves. Photo ~ Mason Mashon
We'll be doing our next trail day in a few weeks and we'd love some more help. One we have the date chosen we'll let you know.
---
The TAP program is going great guns. Thanks to the nsmba for the great support, to SRAM, Blackspire and Dakine for prizing and to Rock Shox for partnering with us to revamp the trail.
Has anyone done a lap yet? Bring on the comments – good and bad. We want to hear what everyone has to say here…