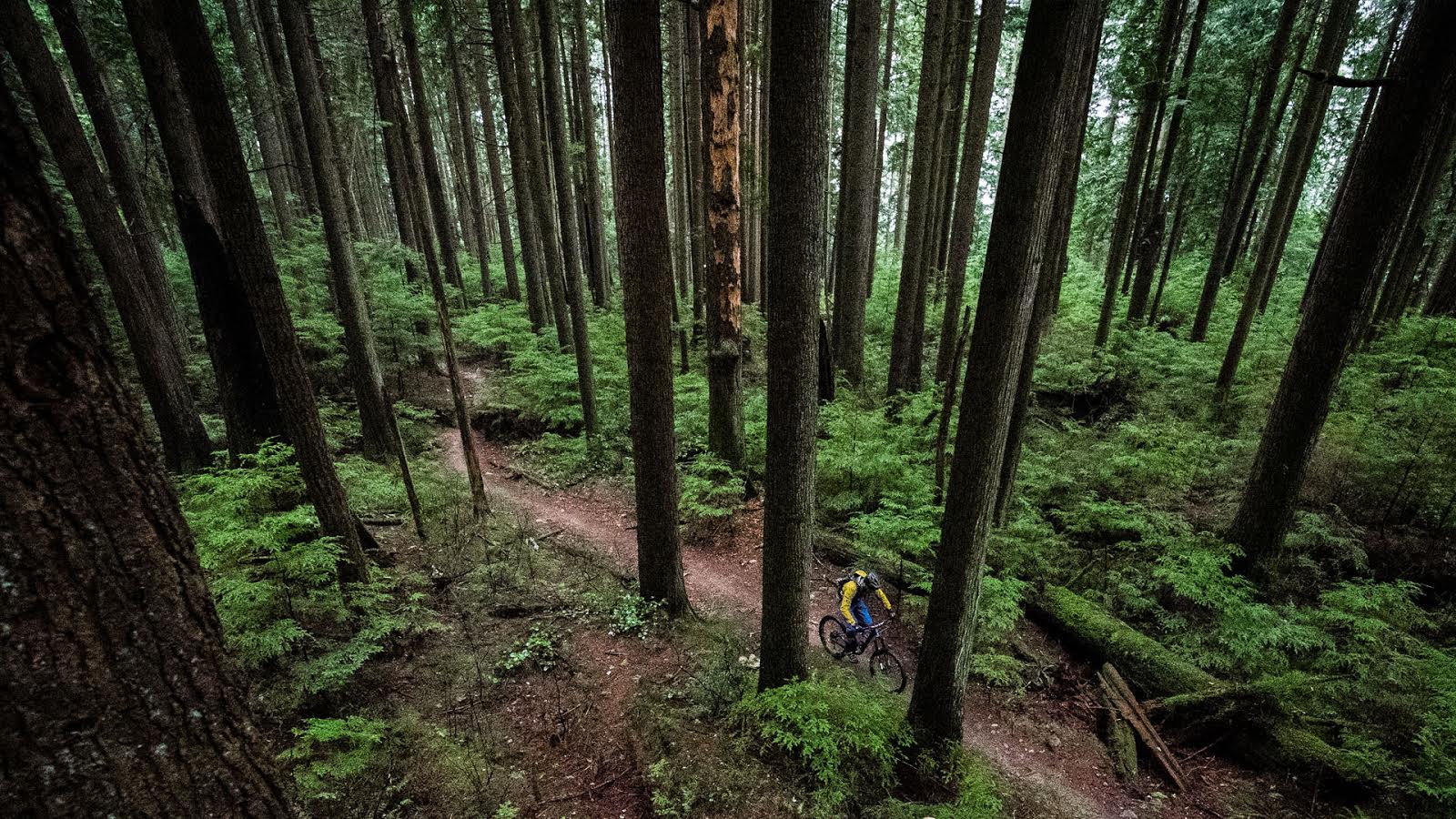 The Whistler Report S2E1

While winter had its long icy grip on us for what seems like years, it's hard to believe it was nearly six months ago that I wrote the last one of these for 2010. A long winter of stormy days, and deep powder was certainly an enjoyable way to spend the off-season, but to say we're over it would be an understatement. That being said, I really do like my time off the bike in the winter, not thinking about wheels for a good chunk of time reinvigorates me for the time when the snow finally melts, and recharges me for the long wheeled-season that we're now getting into.
  Paul Stevens wheel tap to snow roost on A-Line.
Whistler is only just emerging from our second snowiest season on record, and the deep snowpack in the valley has meant that our usual early season low valley trails have only begun to melt out in the past couple of weeks. Typically we'd have been on Train Wreck and Trash, and sometimes Lake Lake, for nearly a month at this point instead of 2 weeks, but I guess that's the way the cookie crumbles sometimes. In the bike park the crews have been working hard since the end of the Telus festival clearing trails, and it seems their effort has been full-on, having cleared 12 trails for this weekend's opening festivities. No small feat given the deep, heavy snowpack that crushed bridges, even on the lower mountain (Easy-Does-It bridge over A-Line was a victim).
  Bustin' out of winter! Mason Mashon is amped to be back on the wheels, and whips it out on A-Line. Conditions will be varied, some soft spots at the bottom of berms where snowmelt is seeping through, but good higher in the turns. Jumps will be raked and buff, singletrack likely very wet.
What does this mean for the Garbanzo Zone? Well, we all know how fast weather can change in these parts, and Enviro-Canada is forecasting a hot summer. That being said we're still looking at over 3m of snow at Pig Alley, just below the top of Garbo lift, and the past week has seen a couple of 20cm snow days on the top of the mountain. The last I saw on Whistler before they closed for skiing was the Blue Velvet bridge over Freight Train completely buried under snow, as well as the whole whale tail step-up/down feature on FT also hiding under a 4+foot thick blanket. Crazy year for sure! Considering that Crankworx is 3 weeks earlier this year I'm sure the mountain will be focusing on the upper trails once they get through all they can on the lower mountain. Thanks for the effort crew, I know people are excited to get out there and shred their downhill bikes.
  Mason and Paul doubling up on the big A-Line booster.
While waiting for Ullr to release it's icy grip on Whistler, many have shifted their focus north and south, as we usually do, for our spring riding fix. In Pemberton there's been a rash of trail work and we've had some fun times getting back into the groove. A successful trail day was hosted by the Bike Co./PVTA a couple weeks back, and most trails below the Paraglide launch are snow free at this point, although Stimulus is reported to be blowdown central. PHD has been cleared by a crew, but the road remains snowbound at this point.
A fine crew of gentlemen also put a serious buffing on some Mosquito Lake trails, and now you can ride what more than a few of us feel is one of the better XC loops around; Econoline-Dark Forest-NightRider/MooseJaw-MI2 might be one of the funnest loops out there now, starting with a Happy/Waco climb and a quick No Err loop first and you've got yourself a recipe for good times! Stop in at the Bike Co. and say hello to the gang and buy a $10 Pemberton Valley Trails Assc. membership to support the trails you're going to be enjoying. The PVTA works hard to maintain and build the goods up there, and they need our support more than ever this year. If you'd like to show your gratitude from the comfort of your computer, click on this link and donate/join. Rumour has it a new trail map will be available soon, I'll keep you posted.
The 2nd annual NIMBY Fifty goes down in a week and a half, the last update (May 16) said they're 80% sold out and the course has been cleared and marked. No word if last year's champ, and world cup champ, Catherine Pendrel is back to defend, come out and race if you're early season legs are up to the challenge of Big Nimby's 101 switchbacks.
  There's new trail to be sampled in Pemberton, and Katrina Strand definitely enjoyed the fresh loam. You'll have to find it yourself. The info is out there for the clever ones.
While most of my spring riding takes place in the drier climes to the north, we also venture south on occasion, and the fine folks in Squamish also know a thing or two about building and maintaining awesome trails. In addition to their annual membership, SORCA has implemented a trail pass program that allows you to show your support without having to purchase a full membership. $15 is the price, and 100% of the funds generated go back into trail work. A great way for those out of towners who use the trails to give a little back to the trails. Thanks SORCA for all your amazing work! There's also a new trail map available at local shops, only $10 and $3 from the purchase will go back to SORCA, it's compact and waterproof, perfect to throw in your pack.
  Pemberton Bike Co's Seb Wilde, leading out some city boys on his home turf.
Meanwhile in the Whistler valley, without a dedicated crew of paid snow clearers, trails have very gradually come out of hibernation. In the south end of town Train Wreck is riding, although the extension is still snowy, and Runaway Train to the Sea to Sky Trail is closed right now as the Cheakamus Community Forest does some logging in that area. Trash is fully clear, although the Riverside trails are still under snow towards the suspension bridge. Danimal South to North is mostly clear, although the middle section still has a few deep/large sections of snow that require dismounting, and Lower Sproatt is still under 1-3 feet of snow in most place. Reports also have Emerald Forest mostly clear, and the no flow zone in Emerald/Rainbow is slowly coming on-line. Most of the Zappa trails in Lost Lake are rideable, and I went for a singlespeed xc through there Friday evening which was really fun. For an actual full-on ride, I'm happy to report that Kill Me Thrill Me is riding great and is totally clear, most of Whistler rode it last weekend and it was good to run into lots of friends along the way. Your best bet for the latest on trail conditions is to check out the Bike Co's trail page, very up to date for both Whistler and Pemberton.
  Sarah, Paul, and Dylan enjoy spring in Squamish, and a new bridge likely not long for this world. Look for a more official crossing in the (hopefully) near future.
The Alta Vista pumptrack was dug out a few weeks ago and has been fun, but I feel I need to get on my pulpit and give a bit of a sermon on respect. People seem to be able to bring lots of things to eat and drink while they're there, but they've forgotten how to take their trash out with them. It's disgusting and totally disrespectful. I'm not sure where people lost the ability to behave like civilized persons, but it's getting old. Clean up after yourself. Your mom isn't here to do it for you. Additionally, whilst riding, please be aware of those riding while you aren't. I have seen some poor examples of spatial awareness lately (people standing in the way/on the track) blocking lines, etc. Step off the track if you aren't riding please. There's also some tools/buckets around, take the time to water the track when it gets dry, huck rocks into the woods, and fix holes as they develop. It doesn't take a lot of effort to keep it running nice, especially if everyone does a little bit every time they go. A clean pumptrack is a happy pumptrack, help make it a happy place!
I'd also like to take a moment to give a very heart felt thank you to the hard working Board of Directors at WORCA. This past winter saw them dealing with a potentially serious outcome from a lawsuit that had been brought against the club. Through perseverance and dedication they worked very very hard and our club still exists today thanks to that hard work, and also the consideration of the Plaintiff who dropped the suit. Thank you from the bottom of my heart, WORCA is the lifeblood of this community in the summer, and I'm not sure what we'd do without it. Those curious about the situation can search our local media (Pique/Question) from the past couple of weeks for more info. Show your thanks and support and buy your membership and/or make a donation to the club!
  Sarah McQueen deep in the lush rainforest of Squamish, fresh loam is really really good!
In more regular programming, the annual Bike Swap to raise money for our Youth Program takes place this coming Saturday May 21 at the Olympic Plaza in the Village. Drop off is from 8:30-10am with the doors opening at 10am. If years past are any indication, get there early! A bunch of shops and the Chromag crew will be there unloading stuff, so come and get a deal! And a hot tip for would be sellers, no one wants to pay premium prices for your used gear, regardless of condition, price it to sell or else you'll be picking it up at the end of the day! In other Youth news, the dirt camp registration has gone live, so go register your kids for the best thing they could do this summer, teach them the skills to make them life long riders!
No word on trail sweep days yet, although I'm sure that with the high levels of snow they're waiting for more access to make the sweep worthwhile. Stay tuned!
At the river dirt jumps Ryan and his band of merry men has completed their annual spring rebuild, and I must say that even this occasional dirt jumper is interested in getting down there more often, it looks great, flowy, and fun. Looks like the pumptrack is getting a much needed make over too.
  There's not many things more fun than shredding A-Line with your best friends, or any trail for that matter. Hope you get out this long weekend and let 'er rip with good peeps, no matter where you're riding!
Thank you to Brian Finestone and Johnny for getting Matt, Paul, Mason, and myself up the hill the other day as well. We appreciate the lift and hope everyone enjoys our pre-opening look at the conditions!
-todd
---
The Scion Whistler Report is back! We're stoked to have Todd once again reporiting on all things Whistler and this year we're adding a video component. Stay tuned for Matt Dennison's video of Mason, Paul and even Todd ripping the park on Wednesday ahead of opening. And if you've got anything to say (yahoo perhaps?) say it here…