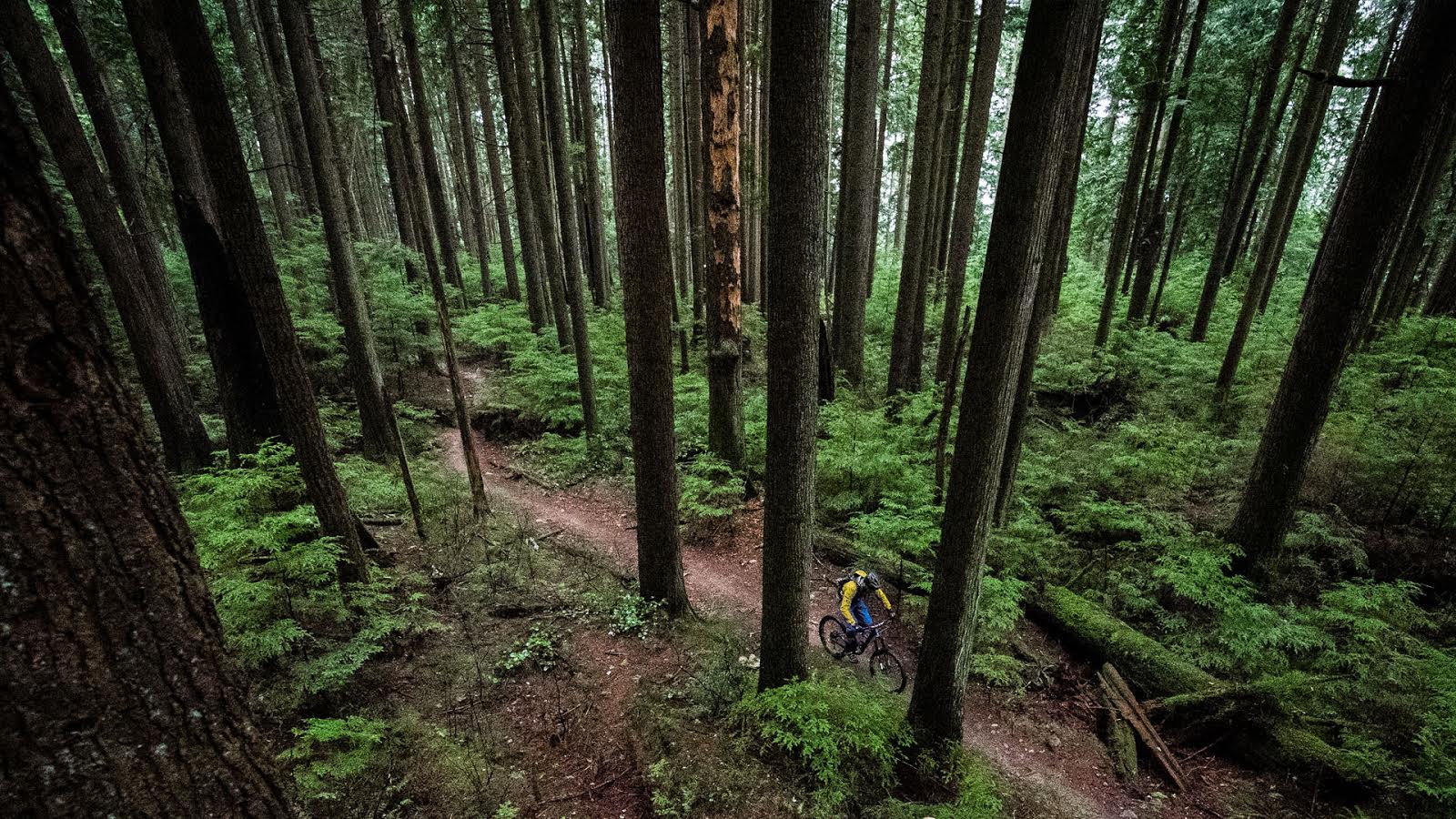 First Look: 2011 Trek Scratch Air
You may have noticed Trek's front and center presence these days, with a killer roster of professional athletes, race teams, marketing, and most importantly- awesome bikes.  Trek, along with help from freeride pioneer Andrew Shandro have shown the world their passion and dedication for gravity mountain biking, and it shows. Over the last year I have had the opportunity to test two of Treks latest offerings, the Session 88 and most recently the Scratch Air, both of which exceeded all expectations.

Fully kitted out 2011 Trek Scratch Air awaits.  
Looking at the Trek lineup the 6.7" Scratch sits in-between the 8" Session and the 6" Remedy, making it an ideal multi purpose North Shore machine. If your DH bike has been collecting dust and/or your XC bike simply scares you, consider the Scratch – you wont be disappointed. 2011 marks the second year for the Scratch; however, the first for the Scratch Air – featuring the best of the best…..of the best. 
Its easy to get caught up in all the marketing and gram counting these days, we are inundated with new products and fancy colors daily. One of my favorite quotes is from a local frame designer who simply says, "Don't be fooled". I think this is great advice especially for myself as a tester, with that in mind lets see what the Scratch can do.

Developed with freeriders and racers alike, scratching Fishman in the corner.
Nailing a build on an all mountain machine is no easy task. Savvy bike nerds would spend months piecing together a build like this. There is a fine line on a bike like this- too heavy and you can't pedal it, too light and you can't send it.  Weighing in at a very respectable 32.7 pounds, Trek proves you can have your cake and eat it. The Scratch is North Shore approved out of the box.
At first glance you'll notice a handful of Bontrager components- bar, stem, grips, and tires. I generally sport Maxxis Minnions; however, I thought the Bontrager XR4 Expert 2.35" were almost better. With sticky rubber, and slightly higher volume than a Maxxis the XR4 proved to be an awesome tire.
Bright red DT Swiss E2000 wheels really set the bike off.  Weighing in at under 2000grams for the set, they are stiff, light, and strong showing no signs of wear.
Avid Elixir CR's make braking possible with 7" and 8" rotors. These brakes have been out for a while and seem to have worked out all the kinks since their introduction.
This year we saw the release of 10 speed drivetrains at first I thought it was just more marketing and frills trying to "fool" us, I was dead wrong. The Scratch uses Shimano's 2×10 with a 24/36 chainring upfront and a massive 11-36 cassette. This extra gearing allows you to billy goat your way up anything yet still have proper gearing for descending. Coupled with an ISCG mounted Race Face dual ring chain guide, your chain is always where it should be. Front shifting is crisp and reliable thanks to a frame mounted XT front derailleur. Not having used a Shimano drivetrain in years I was blown away with the performance and feel of the XT Shadow rear derailleur.

Sharp colors, shapely tubing, and fancy new Shimano 10 speed drivetrain.
Telescoping seat posts have received plenty of attention these days both positive and negative. Riders are saying it's the most important upgrade you can do; however, reliability has been the major issue. The Scratch comes with a Crank Brothers Joplin with 4" of remote controlled adjustability. This is the 2nd generation Joplin and has proven to be problem free for myself. Having the option to adjust seat height on the fly has completely changed my riding experience, its more efficient, confidence inspiring, and well its just awesome!
Fully adjustable Fox air suspension provides 170mm (6.7") of Full Floater rear suspension via high volume Float RP23 with pro pedal and boost valve. Paired with an all-new Fox 36 Talus RLC (rebound, lockout, compression) with FIT cartridge providing 120mm-160mm (4.7" -6.2") of front travel. These two pieces of machinery attribute to the Scratch's dreamy ride and steep price tag ($5349.00). Fox makes tuning and adjustability a breeze with a provided shock pump, sag indicator and intuitive dials.  After a few rides you'll be tweaking it on the go as you roll up to a chundery section.
Chunder [chuhn-der] n.
1. Unreasonably rough terrain
2. Terrain so rough you want to vomit
3. Terrain generally requiring a downhill mountain bike

Eg: Did you see that Trek Scratch blow through the chunder! Photo example below

Slack angles and Fox Suspension eat Chunder for breakfast. 
Trek allows further geometry adjustments via its Mino Link located on seat stay. By rotating the hardware in the EVO link you can adjust the head angle from 66.5° to 66° while lowering the bottom bracket 7mm.  This seemingly small adjustment makes a big difference and it's dead simple using a 5mm Allan. I tried both positions but prefer the slacker position for all types of riding.

Geometry adjustments so easy even I can do it!
Trek integrates many of its technologies found on its big brother the Session 88 such as the one-piece magnesium EVO link – a light yet stiff linkage system. The
E2 tapered head tube a lighter system than full 1.5" yet stronger than a traditional 1 1/8th. Braking forces are minimized via Treks magical patented Active Braking Pivot. Finally the Full Floater rear suspension makes for a highly tunable and active rear suspension. The rear shock is not connected to front triangle; rather it connects to the EVO link and chain stay. 

Treks magical Full Floater suspension system works as good as it looks.

It's evident how active the suspension is when you hit the trails. When climbing with Pro Pedal on the rear suspension is noticeably stiffer, yet it actively contours to the terrain rather than bouncing over it, this provides excellent traction and stability. I was surprised I was able to clean steep technical climbs I've previously failed on lighter shorter travel bikes.  
Descending is where the Scratch Air shines. Pop the fork, drop the seat, flick the Pro pedal and lose your mind. You will notice right away how lively the bike feels thanks to its dialed and balanced suspension system. It seems to suck up all the chunder and pop all the wonder. The Full Floater system has a very consistent and predictable feel adding to your confidence. The Scratch likes to sit in the middle of its stroke over aggressive terrain with a reserve for big hits along the way.  You can really feel the suspension work has it keeps the wheels on the ground. I am really enjoying testing the Scratch and pushing its limits, which seem limitless.

Where will your Scratch take you? Epic vistas in Pemberton B.C.
It's hard to say exactly what the Scratch was designed for, as it is so versatile and adjustable. I have ridden it on 4-hour North Shore epics with the likes of Andreas Hestler, pinned shuttles with Jamie Biluk, and even some hucks for the camera. I have never been so comfortable on one bike over such different terrain.
 
If I could choose two words to describe the Scratch Air it would be playful and versatile. With a history of DH racing I value the importance of a DH specific bike; however, when you can ride the same trails with confidence on a smaller bike and have more fun in the process it may be time to break the mold. Stay tuned for the long-term review with more photos and videos from Brad Holmes and Matt Dennison.
---
What do you think of Connors first look at the Scratch? Ever ridden one? Watering at the mouth? Send it…