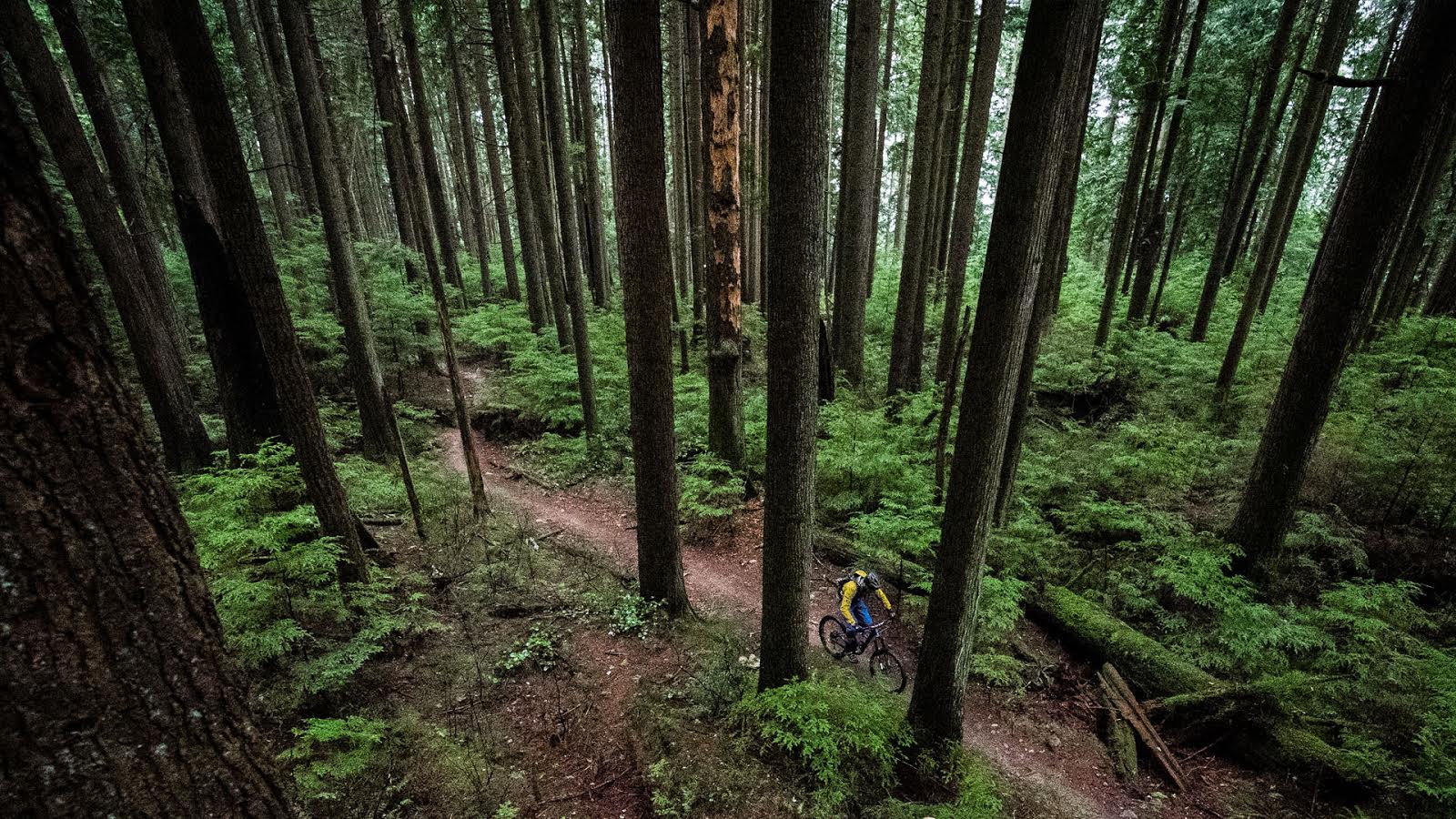 Late to the Party – Part III
Parts I and II of this story followed my discovery of the North Shore trails that had been in my backyard my whole life, and a summer of exploration on my ever-evolving hardtail. One of the reasons I bought a mountain bike in the first place was to train for cyclocross – but, as summer came and went it became clear that I wasn't going to be racing. I had fallen into a deep hole on the North Shore. On the plus side, my technical skills that helped me enjoy cross were better than ever, and I was riding multiple times a week with friends old and new.

  The endless deep forest of the North Shore.
I assumed a role as ambassador for the sport, encouraging and facilitating my friends to come and experience the trails. Having been off mountain bikes for years, Jesse caught the bug hard and has since upgraded his frame and fork. Just one of a number of people I've had the opportunity to spend a lot of time with on the trails, Jesse's rekindled love for dirt riding really makes my efforts seem worthwhile.

  Sharing my awe in the forest…

Just as I'd set out to push my limits, Jesse was stoked to have a challenge ahead of him on the trails. In a year I've come to appreciate the many different technical skills necessary for riding the Shore. From slimy root shoots and steep rock faces to elevated skinnies and drops, being a one-trick pony just won't cut it out here.

  Jesse getting rad with his new fork while I hone my photo skills.

  Khaled on some fresh work on Fromme, moments before I cracked a rib.

  Exploring "the other North Shore" with Mike, another long time friend back in my life because of mountain bikes.

In November, with seven months of riding on it, I brought my Talas in for service. Having put a gouge in one of the stanchions months earlier, I was considering a new crown and steerer assembly. Since I was within my warranty period (good thing they're not counting rides!), Fox offered a very decent price on the replacement. Given a colour choice on the uppers, I decided I wanted a change. Even though I had a white bike, I had to have the new-for-2011 black with Kashima stanchions.

  The Fox Talas was a major stepping stone in my riding development, and I was stoked to try the updated version.
The new stanchions slid significantly smoother than the 2010 did when it was new: I now had to run about 10psi more than I did with the fork it replaced. At this point my setup seemed to finally be reaching its final stages. Apart from the brake levers and calipers, shifters and derailleurs, and rear hub and cassette, my 8-month-old steel Brodie was gone. On my hardtail I had conquered so many obstacles I'd come across in the year; there was no trail I wouldn't ride. My camera skills also improved, and I have to thank the Handsome Gentlemen, Billy and Andrew, for letting me try out lenses and other equipment before investing in them myself.

  New fork day: admittedly, this was a bit of gear nerding.
Eventually I felt I had educated myself about the different types of full suspension frames and the forks that go along with them to begin considering one. I wouldn't be surprised to learn that my friends were placing bets on when this would actually happen. Ryan at Mighty Riders had long been telling me about his Banshee Wildcard that he'd only ridden for a few months in 2009 before breaking his ankle. I researched the bike, and judging by the online reviews and my riding style, it seemed like the 5" slopestyle and light freeride bike would be a good fit.

  My research indicated the Wildcard's single-pivot design was not a limiting factor, though I wouldn't buy a bike just based on a description – I had to ride!

My main concern was its pedaling ability, as the majority of my riding still required you to pedal up for every trail you descend. Ryan agreed to a test ride with a strict "you break, you buy" agreement. I picked the bike up and, not able to resist a sunny afternoon in early November, headed up for a couple solo laps on Bobsled and Natural High. The seat post was unfortunately cut too short for my legs, though, so I wouldn't find out how the bike would really pedal. But, one thing was for sure: the Wildcard just wants to jump.

  Enter: the Banshee Wildcard
Of all of the full suspension bikes I rode last year, the Wildcard felt the most lively under me. Instead of soaking up every bump, it wanted to get airborne – but still felt super stable when the wheels were on the ground. A BMX on steroids, or something like that. As it seemed like I was ready to jump into the full squish market, Omar insisted that I try his Banshee Rune, a 6″ all-mountain frame, before I committed to buying the Wildcard. I was grateful for the offer and, as with the other chances to ride someone else's setup over the year, would not decline. We took both Banshees and Khaled's BottleRocket for a shootout on Ladies.

  The Rune, a worthy contender in the All-Mountain category.
For a Fromme bike, as long as you're comfortable pedaling up the fire road, it's the descent that really matters. The Wildcard's top tube, a half-inch longer than my Chameleon, was reasonable for a freeride-specific bike. All Wildcards have the same 15″ seat tube, so I was going to be on a long post regardless. Transition's BottleRocket, which Billy had been riding all year, also has a short seat tube.

  The Transition BottleRocket is often mentioned in the same breath as the Wildcard, which isn't surprising since they feel quite similar once pointed downhill.
The shootout was a success. Trying out all three bikes on the same sections, one after another, really helped solidify my decision. Since the top tube on the medium Wildcard is 23″, Jodi was happy to ride it when I was on the Rune; she noted the confidence a short-travel freeride bike gives you when you've been riding a hardtail almost exclusively (as we'd both been doing all year). In terms of pedaling, the Wildcard performed as well as I could hope, and definitely better than the BottleRocket or any of the downhill bikes I'd tried out.

  Jodi loves getting out on the trails as much as I do, and supports buying new bikes!

I took the Wildcard home, my first full suspension bike, feeling good about the scrutiny I'd given the decision. I may pore over geometry charts, but you don't have to be a total nerd to enjoy the experience of a well-tuned bike. Ironically, the whole bike cost me less than I had into modifications on the hardtail – but that's the cost of building a custom bike. My school semester really started to kick my ass shortly thereafter, leaving me with two sweet bikes and not as much riding as I had hoped.

  Mike came out from Abbotsford to weigh in on the Wildcard decision, and gave Ladies the what-for.
As soon as the Wildcard entered the stable, my hardtail was neglected. As cross season came to a close, and the inevitable injuries that come with familiarizing oneself with the Shore were not as much an issue, I brought a few of the Mighty guys up for a ride on Fromme. Matt H had been heckling my lack of presence at cross races, and was happy to try out the bike I'd been spending all my time on. With Bobsled as a smooth introduction to the Shore, it's easy to take new riders out for a couple of laps and gauge their interest in other trails.

  Taking Mighty's cross-dressers to the trails. The Chameleon had been neglected, but worked well as a loaner bike.
This ride was the first outing with a new lens Jodi had bought me for xmas, and I put it to good use right away. The SLR camera is a bit cumbersome to carry in a riding bag, but the new compact lens made this a bit easier. Of course, when it comes out with shots like this, you don't complain about carrying a big camera. (Sometimes your riding buddies will complain about having to re-ride technical sections to get the shot, though!)

  Nick Berry, shredding his 4″ XC bike as usual, will not shy away from anything.
As always, the point of getting out there is to have fun with your friends and see some awesome stuff out in the forest. I'm beyond happy to guide my friends to places like this.

  Your first time on the Pipeline rock rollers is undeniably fun. Matt B quickly learned that his S-Works XC bike was not the ideal machine for this terrain.
---
There is still one more installment of Morgan's adventure – and we'll deliver that shortly. What began as one article has become four – and I'm pretty happy about that. Give some love or heckling to Morgman
here…