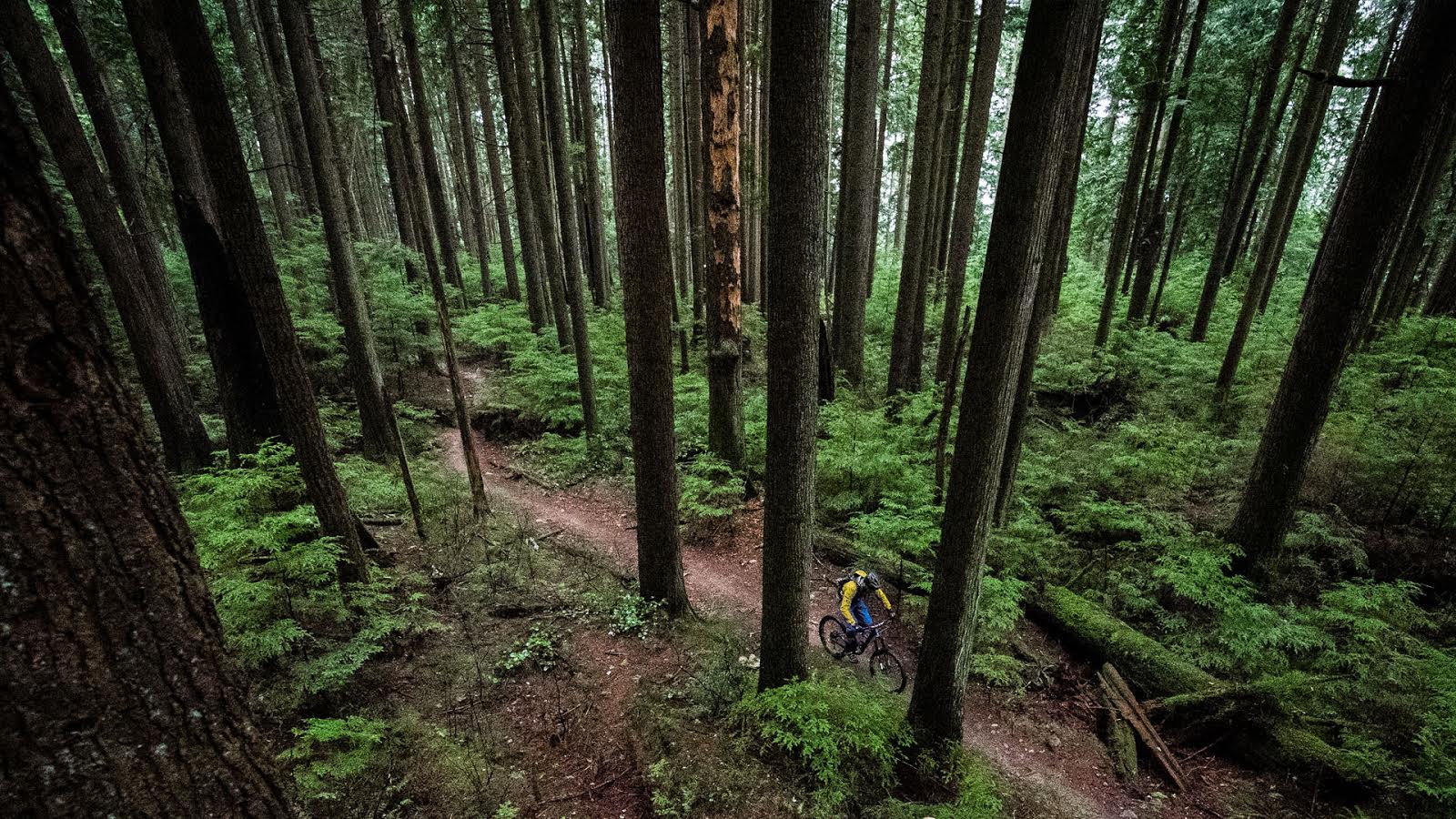 Rock Shox Lyric RC2 DH
All Mountain Fork Review –
Most of my reviews in the past have been centered on downhill equipment, and for good reason as downhill is my competitive focus. However I do quite a lot of regular old mountain biking too. When Cam at nsmb learned this he asked I do a review on some new 160 mm travel forks. This is part 1, and is a review of the 2011 RockShox Lyrik Solo Air RC2DH 160/170 mm.


  The test steed, a Norco Range with the RockShox Solo Air RC2DH. A pretty combination I'm sure you'll agree.
When I get a new product to review, I always run to my bike room, excited, product in the left hand, snifter glass of single malt in the right, imagining myself careening though some woods, said new product functioning flawlessly. This is quickly punctuated by my inner engineer that finds a pen and paper, and starts writing down every observation during installation. My first impressions of the Lyrik were rather positive. I really like the aesthetics of the fork, the air pressure chart on the leg is nice touch (even if it is a little ways off), the axle system is slick, the sag markings on the stanchion are handy, it has lots of knobs to play with, has a standard 545 mm axle to crown height in the 160 mm setting, and it's very light at 2180 grams (4.8 lbs for those less metrically savvy). This made both the engineer and the child in me quite happy. That was until I tried to turn the compression knobs. What exactly was Rockshox's inspiration for these knobs; an ancient finger torture device, maybe a set of kitchen knives? Looky here at these delectable knobs that adjust super fun stuff, but you're going to suffer every time you use them. What a tease.
   I really liked the sag markings on the stanchion, a nice touch that makes setting the fork up just that little bit easier


   I'm undecided about the front brake line securing method. At first I thought it was a bit cheap for a high end product such as the Lyrik. That said a number of other high end suspension products on the market these days may have nice attachment methods, but still require a zip tie to prevent the hose scuffing up the arch. Here one zip tie gets the job done.
   Rockshox's infamous sharp and difficult to turn compression adjusters. That said the damper has excellent range of adjustment, and performed effectively as advertised.

My stoke for this Lyrik was high, but it went a bit sour when I got on the trail. The suggested air pressure on the side of the fork resulted in what can only be described as micro-waved marshmallow. (It's not because I'm fat, Arthur mentioned the same thing in his review of the Revelation). After some additional air molecules were jammed into the left leg the subsequent 5 minutes of single track were pure bliss. The Lyrik carved up one of my favourite bits of single track with such mind numbing efficiency I couldn't help but inform the entire forest of my enjoyment with bellows of exuberance. Then the trail got a bit steeper and the fork didn't work anymore because it was buried deeper into its travel than Ron Jeremy on a Friday night. Twiddling the finger slicers in attempt to firm things up did little more than irritate me. I stopped again and added some more air, which resulted in a big manly 'I fixed it good' smile on my face. The additional air helped the Lyrik smoothly soak up even the harshest of G-outs like a champ. This made me quite happy again, right up until the next high speed bit of trail where the fork was about as smooth as falling down a set of stairs. I fiddled the finger slicers some more, but even with the compression damping completely minimized, I could barely see where I was going. Over time I settled on a compromise air pressure where the fork felt a bit harsh at speed, and a touch soft in the steeps. I couldn't help but think on a few occasions how much better this fork would be with a coil spring.
   While I'm having a bit of a moan I thought I'd add my thoughts on ladder bridges in corners. Photo ~ Glenn Franks.
After a month or so of riding I decided to take the Lyrik apart with the intention of upping the travel from 160 mm to 170 mm (which is a dead easy job). Rockshox has an excellent service manual that is located on the Service section of their website, but can only be found if you pretend to be a 'Dealer'. In the process I discovered that whoever built my fork must have been having a bad day. One leg was bone dry, and the other appeared to have a double order of stale chocolate milk. Once rebuilt the fork did perform noticeably better on the trail. With both legs properly lubricated the fork was suppler and the air spring in the 170 mm travel setting felt more linear. It seems to me as though the air spring was designed and optimized for the 170 mm travel setting, and finding the 'right' air pressure was much easier.
   The Lyrik proved to be a great all-mountain fork in the 170 mm setting and felt at home on the varied North Shore trails. Picture by Glenn Franks.
Further criticism lie in the longevity and durability department. I thought the white painted crown was an odd choice, which has since lost the battle with my North Shore Rack.  From a poke around the internets it looks as though the black version of the same fork may have an anodized crown, which may age a little more gracefully. Also after a few short months of riding the Lyrik has developed a bit of a "thunk" at top out, and there is a strange knock part way through the travel. I'm not sure what the problem is, and don't always notice it while riding, but it's something I should get looked at.
   Railing turns on the Lyrik. Photo ~ Glenn Franks.
What Rockshox offers in this Lyrik is mostly a fantastic product that has some areas that could use a little improvement. The upsides are; the fork is stiff, inspires confidence, the damper works very well, the adjustments are effective with a great range of adjustability, the fork is light, and the styling looks the business. However at a Canadian MSRP of $1450 it is rather spendy, the build quality seems a bit inconsistent, the fork requires fairly regular loving, and I needed to fiddle with the air spring more than I'd like. If you're dead set on an air fork I think the Lyrik RC2DH Solo Air compares very evenly to its main competitors. If it were my money, I'd pay the weight penalty and go for something with a coil spring in it.
---
Have you ridden a Lyrik lately? Does your experience compare to Tim's? Would you like to serve him some pre-season trash talk? Whatever your pleasure, exercise it here…