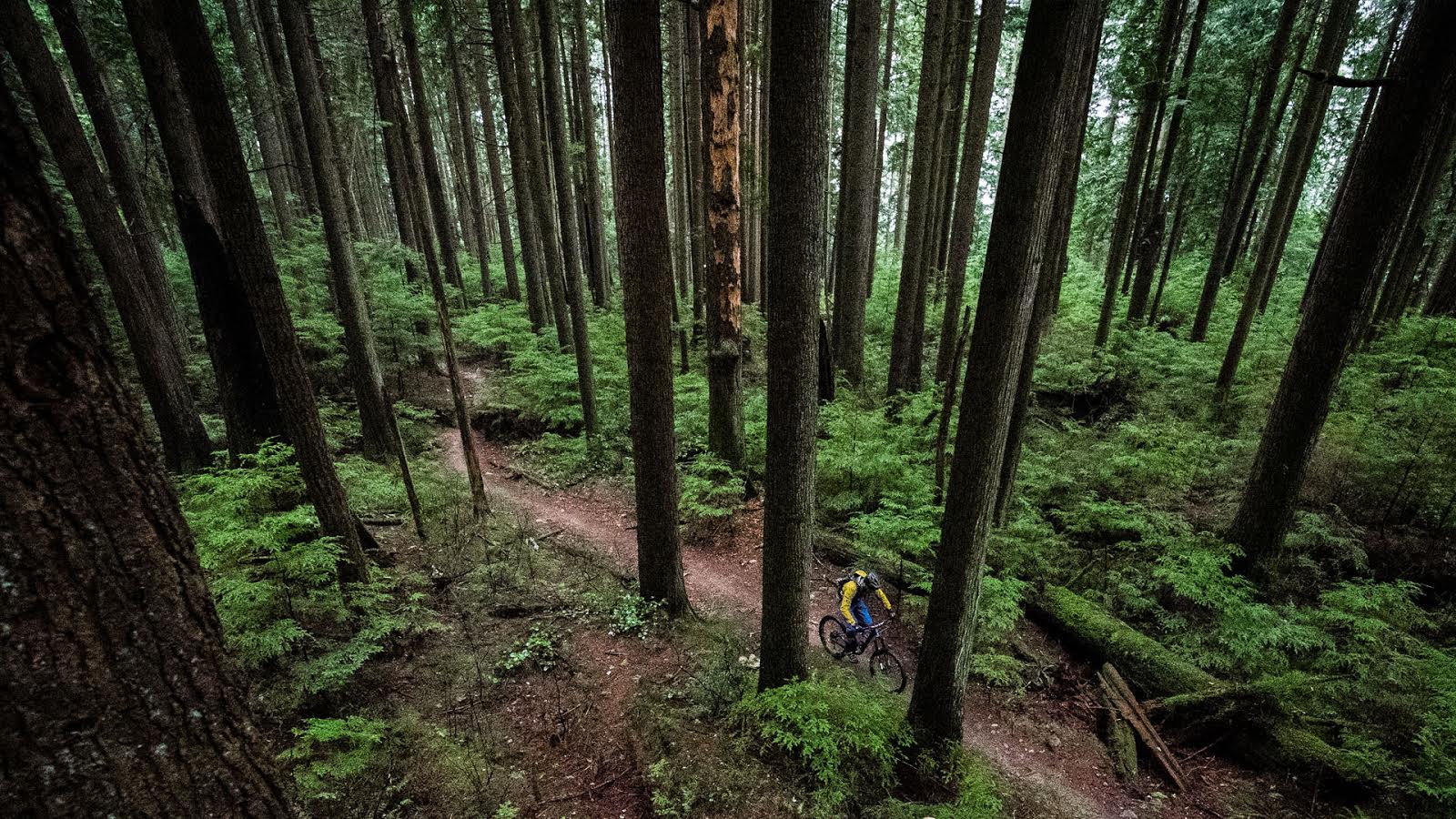 Gear Shot Update
We haven't always been bang-on when it comes to follow up – but we're getting better. In light of that I'm going to take a second look at some products I've been using personally and update my impressions. 
Formula The One Brakes.
I really wanted to like these brakes. They are light and Italian and far sexier than anything that slows you down have a right to be. The fittings are gold-anodized aluminum with a Torx head and everything about these screams exotic and beautiful.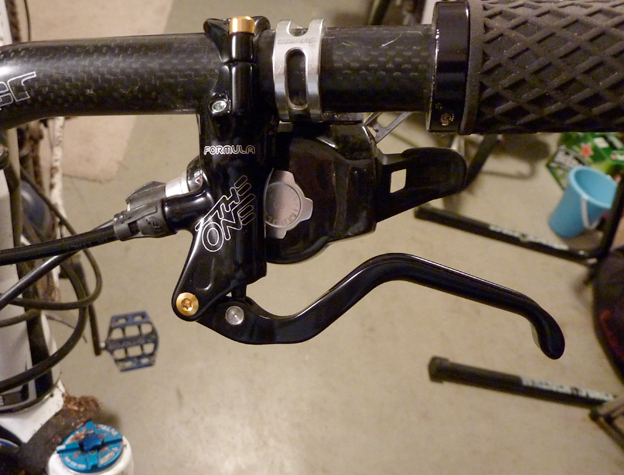 For 2010 Formula paired their R1 levers with their 'The One' calipers to make 'The One' brakes.  I'm not sure about the naming process but they sure look great.
At first I wasn't very happy with The One brakes at all. I replaced the pads and things got a little better – but they never got to where I wanted them. In many conditions they were fine. If you were going fast or if the conditions weren't terribly demanding they did the job admirably. They failed me in conditions that you may not encounter in other parts of the world – but that are relatively common here on the Shore. Often we have trails with very steep short sections with 90 degree corners at the bottom. If you can't rein in your speed you are bound for the rhubarb. In these situations The Ones didn't provide the raw power required, which made me compress the levers at max power. When you are white knuckling it's tough to keep things moving in the right direction and my confidence took a deep dip. The thin, light rotors were another issue. They bend easily – but they save some weight so that may be a price you are willing to pay.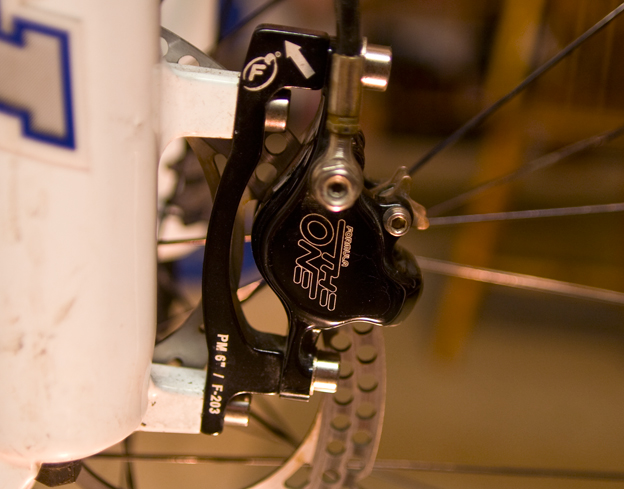 The forged, one piece, 24mm dual piston calipers – designed for power.
A few other riders were on these brakes and their impressions were generally more favourable than mine – but I can't say they were riding in the conditions where I found them lacking. For most DH races and most conditions these brakes should perform fine. In my experience, when things got steep and nasty, they weren't up to the task.
Neoguard
I used this product all winter on more than one bike and it did a great job keeping the trail out of my eyes. Occasionally under full compression there is a little tire buzz but that's about the only nitpick I have. Sure, a ghetto tube set up works – but this is re-useable and you can slide it on and off whenever you like.

 The Fox 40 with a large Neoguard mounted up.  You'll never know it's there – until you go crashing through a puddle.
---
Urge Endur-O-Matic Helmet
I've been wearing this helmet for months now – and the results are good. It has remained comfortable and the straps stay put. I appreciate the light weight (only 320 grams) and the 'Gangsta Pad' does it's job absorbing sweat. It's unique enough that people ask about it – so if you are the shy retiring type it may not be the best choice. The venting is adequate but I don't find it to be quite as cool as a more conventional hairnet-style helmet. 

  The Endur-o-matic visor is indeed light (Urge says 'almost 0 grams') but while it's removeable it's not adjustable – something I didn't appreciate.
Canadian msrp for the Endur-O-Matic is $119.95
---
DT Swiss EX 1750 Wheels
I've been beating the hell out of two pairs of these wheels and they have been surprisingly durable.  I have a set on a DH bike and another set on an AM ride and both have been ridden hard – but I've put more miles on the AM bike by a wide margin.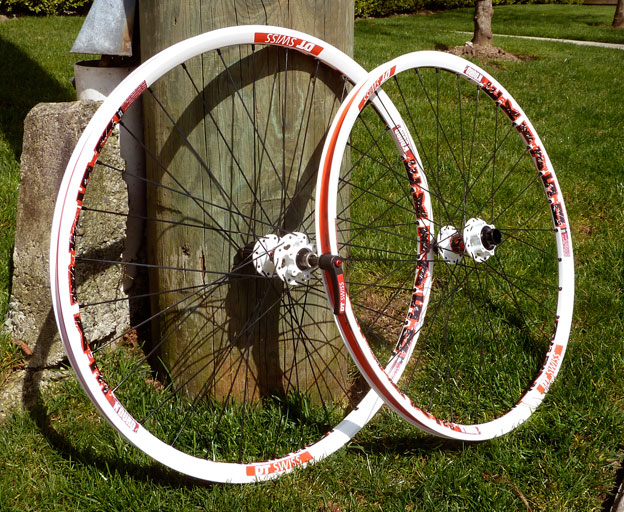 Who would you rather have building your wheels than the Swiss?  The EX 1750s weighed in at exactly that weight wtih the rear skewer (820 front and 930 rear).
The set on the Specailized Enduro I have been riding are still looking nice and true – but I put a minor dent in the rear rim coming down a line called Semi Retarded on Fromme. It was a bad hit and I wasn't surprised to see the blemish. The rims on the DH bike are actually in better shape despite being ridden by a few different riders and days in two different bike parks. I'm not saying the EX 1750s are worthy of day to day bike park hammering but they are surprisingly robust for a wheelset that weighs only 1750 grams – and the freehubs have functioned flawlessly. For reference I weigh 175lbs (80 kilos) and I'm generally not too hard on wheels. I try to get out and ride at least three times a week.
---
Rock Shox Reverb seatpost
This post started out working extremelywell but then it slowed down – literally – when the weather got cold. Luckily Suspensionwerx – our local suspension tuning and maintenance shop – came to the rescue. They put in some special sauce and my post now runs flawlessly. They're not saying what they use but it's a full synthetic product that is the same weight as the stock fluid. They also drop in an additive to help things run a little more smoothly.

 The Matchmaker X clamp and Xloc combination allows you to attach everything to both sides of your bars with one clamp per side. Photo ~ Stuart Kernaghan
The performance post-Suspensionwerx has been vastly improved. I can now adjust the damping so the post moves much faster if I desire and the lever action is much lighter.

  In the full down position.  If you want it lower than this you'll have to use your QR.
Aside from that one little glitch the Reverb has been by far the best remote adjustable post I have ever used. It adjusts in infinite increments, can be slowed down or sped up with a dial you can reach on your bars and it doesn't rattle at all.

  And here's fully extended – but you can put it anywhere you like.
So far this post wins the blue ribbon. Actually it rules. Get one.
---
Blackspire Sub 400 pedals
Not much to say here really. The grip has stayed consistent, there is no play in the pedals and all the pins are still in place. They have taken some serious knocks but they have not failed. In fact I have pounded the hell ouf of these foot holders with some sloppy riding and they are hardly worse for wear at all.

  Here's how the pedals looked after several months of hard use. 

  And here they are after a winter of abuse.
---
Shimano XT Dyna-Sys 3 x 10 drivetrain
I've put these parts through a nasty winter of Shore riding – and thus far they have been performing extremely well. There seemed to be a glitch early on – but it turns out that was my fault. When I was installing the chain I actually didn't thread it through the derailleur cage properly and it was hesitating under load. Once I corrected my bone-headed move it began to shift very well indeed – even under load. I've used this set up in mud, snow and generally every crappy condition you can imagine and it's been flawless. I really like the gear range and with a 32 up front and an 11-36 in the rear it's rare that I need to drop down to granny. A 1 x 10 even here on the Shore would dial in just about every situation here on the Shore – except for the steepest technical climbs. So far I'm a fan of 10-spd.

  10 cogs of joy and a Shadow Derailleur.
---
Do you have any questions, comments or criticism? Actually we welcome praise as well. Whatever you've got point it here…