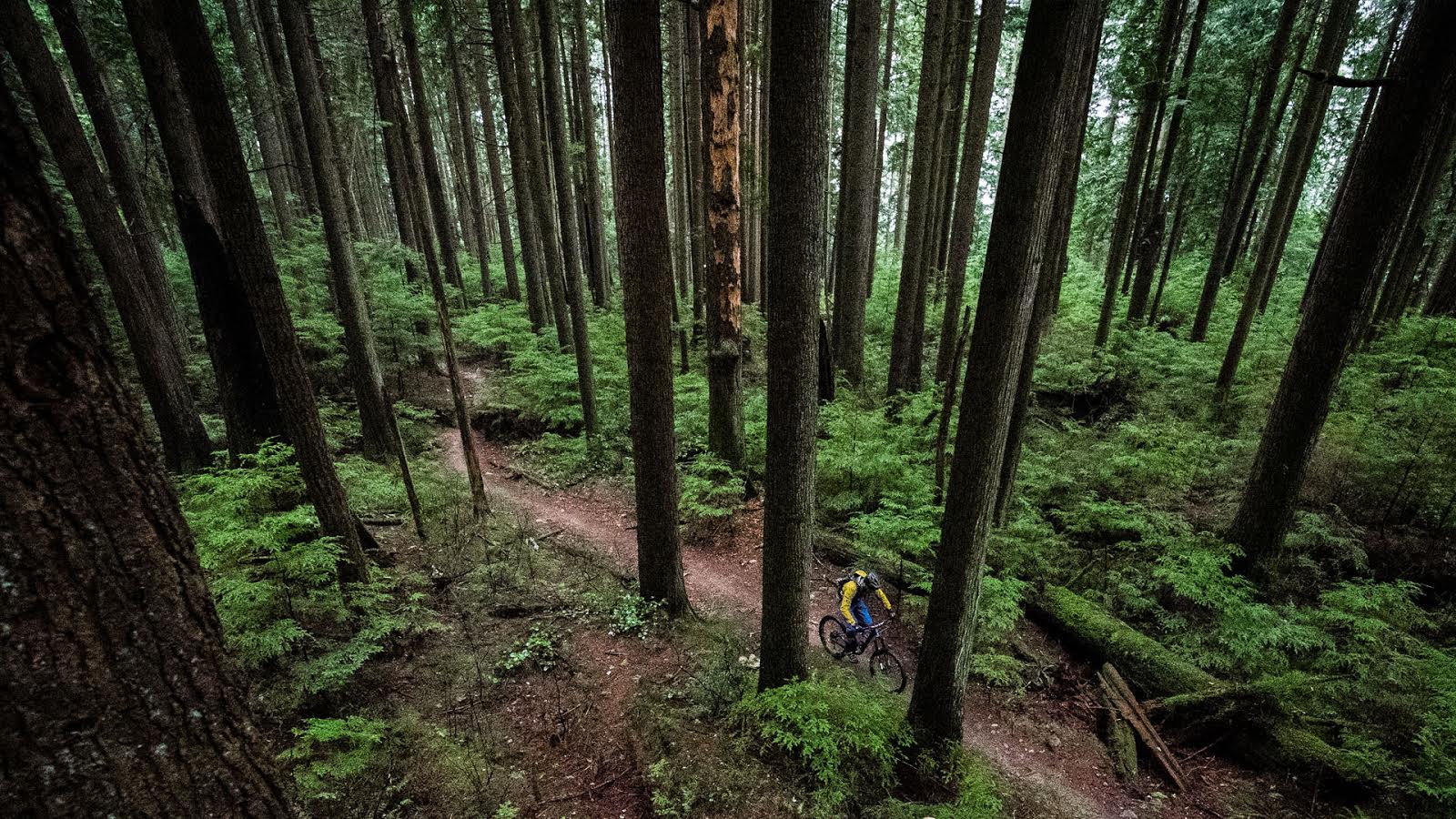 Revolutionary DH Bike From Specialized
Everybody knows that DH bikes don't need to be as heavy as they are for their intended use – unless they are going to be used for years and years. An elite level downhill frame only needs to last for one blistering 3 minute run. So, Specialized thought, let's make the fastest DH bike in the world – but engineer it to last only long enough to win a World Cup Race or a World Championship.
Specialized chose nsmb.com as the media outlet to reveal this new approach to DH racing that was achieved by the clever combination of several revolutionary technologies.

  The 2011 DisposaDemo is a revolutionary way to build downhill frames.

Top DH riders will tell you that their rims only last a single race run these days – so they are essentially disposable. Why not take the same approach to frames? Specialized engineer Jason Chamberlain explains more. "With our carbon technology there's no limit to our ability to manipulate wall thicknesses so we can be incredibly precise. Our approach was to remove material in areas where a failure would be less catastrophic. Obviously you don't want your head tube to shear but if your rear stays snap or your bottom bracket drops out you'll likely stay out of hospital."
The Disposa Demo Carbon will be the world's first disposable DH bike. Some riders will only get one race run out of a frame while others may get three or four – it all depends on how aggressively you ride and how smooth you are.

  This is the lightest DH bike every built – and it's made to win the toughest races on the planet.
Brandon Sloan continues, "we're finding that Brendan and Sam can get three or four race runs out of the frame before the Early Warning System™ indicators begin to chime." Obviously you want to know when your frame is about to fail before it happens, so Specialized developed the Early Warning System™to alert riders.  Clearly carbon is all about fibers and at optimum strength all the fibers are intact. Specialized installed tiny sensors that can measure the percentage of fiber failure at six specifically designed failure points on the frame.  Tiny lasers calculate and record each fiber failure and once that magic percentage is reached you'll hear the Marimba Chime borrowed from the iPhone.  Just up the road in Cupertino there is a core of DH riders who are well known to the staff at Specialized (known as the iDH team) but this is the first time they have collaborated on a project. You'll notice an Apple sticker the size of a postage stamp at the left rear chainstay – one of the six failure points.
Chamberlain takes over from there, "our in house torture testing has shown us precisely what percentage of fiber loss a frame can withstand when World Cup level forces are applied. This percentage is different for each of the six failure points in the frame and the sensors are calibrated to emit the marimba when the fibers are within 10% of that crucial percentage." This technology was first developed by McDonnell Douglas for military aviation applications, and once it was de-classified Specialized jumped on it.

  A high leverage ratio allows the shorter than average travel shock to provide a full 8″ of travel with a Rock Shox Vivid Air.
Obviously one goal was to make a lighter and faster DH bike but Sam and Brendan have found that the failure points also absorb shock like Specialized's revolutionary Zertz™ inserts used to absorb and dissipate shock for their successful line of road bikes. "Crikey, It's like having an extra inch of travel without losing any power isn't it," was how Sam Hill summed it up.
The mules have been ridden by Specialized Product Manager Brandon Sloan as well as Jason Chamberlain who was lead engineer on the project – and of course Sam and Brendan.  Each of these riders is a different size and weight – so how could a planned failure bike work the same for each of them? Specialized devised another frame selection specificaton by adding weight classes for each size of bike. Small, medium, large and extra large frames can each be purchased in three weight classes: Pinner, Regular Joe and Will Farrell (from Old School). If you are under 135 lbs you are a Pinner while regular Joes tip the scales at 183.5. Will Farrell frames, which bear a stylized image of Farrell's Old School character, Frank Ricard, streaking up the downtube, are good for riders up to 231.5 lbs. Riders who can't make that weight are advised to buy an aluminum Demo – and perhaps hit up Jenny Craig.

  The DisposaDemo is wheeled through the museam at Specialized headquarters in Morgan Hill CA. It seems this bike is destined for a place in this hallowed space.
The main target audience for these bikes is racers who take things very seriously, those who will make any sacrifice for the win. And that's where the pricing comes in. Frames are sold in two packages; the Trifecta and the Season. The Trifecta, a trio of frames, is for riders who only want to key in on certain important races – and those who are willing to push snooze on that first warning chime. Brendan Fairclough told us that with this approach most riders will easily get 9 or 10 races out of the Trifecta, "or at least parts of 9 or 10 races" he added. The Season pack sees Fedex deliver 5 frames to your door and for a calendar year you'll get instant replacement of a compromised frame within 48 hours via Fedex.
I asked Brandon Sloan about the pricing model. "Obviously these frames aren't for everyone. Our stock Demo is already very light and lighter riders can easily build them down to a very durable 35 lbs. For top level racers – or those with deep pockets – this will get you to the next level but it's going to cost you." The Trifecta which comes stock with one Rock Shox Vivid Air rear shock, will set you back $9000 US and the Season is an even twenty grand.

  "Obviously you want to know when your frame is about to fail before it happens, so Specialized developed the Early Warning System™to alert riders."

A complete version of the Season is available with a Rock Shox Boxxer World Cup up front to complement the Vivid in the rear, a complete SRAM XO group, ceramic coated titanium rotors with carbon spiders, carbon wheels and bars and even a prototype carbon direct mount stem from Truvativ. Specialized were close lipped about the frame weight but Chamberlain let it slip that the complete (Will Farrell class – Jason is tall) he was riding weighed between 24 and 25 lbs. Price for the Complete Season is $25,000 US. Because the bikes and frames need to be ordered directly from Specialized in Morgan Hill there is no Canadian or International pricing. Certain shops will have examples to show consumers but with four sizes and three weight classes it's too much stock for the average IBD.
You'll be able to order Trifecta and Season kits on May 1st and the Complete Season will arrive two weeks later.
For more on this and other bikes from Specialized click here…
---
Are you the sort of rider willing to risk it all for a win? How bad to you want it? Will anyone be able to compete? Sound off here…