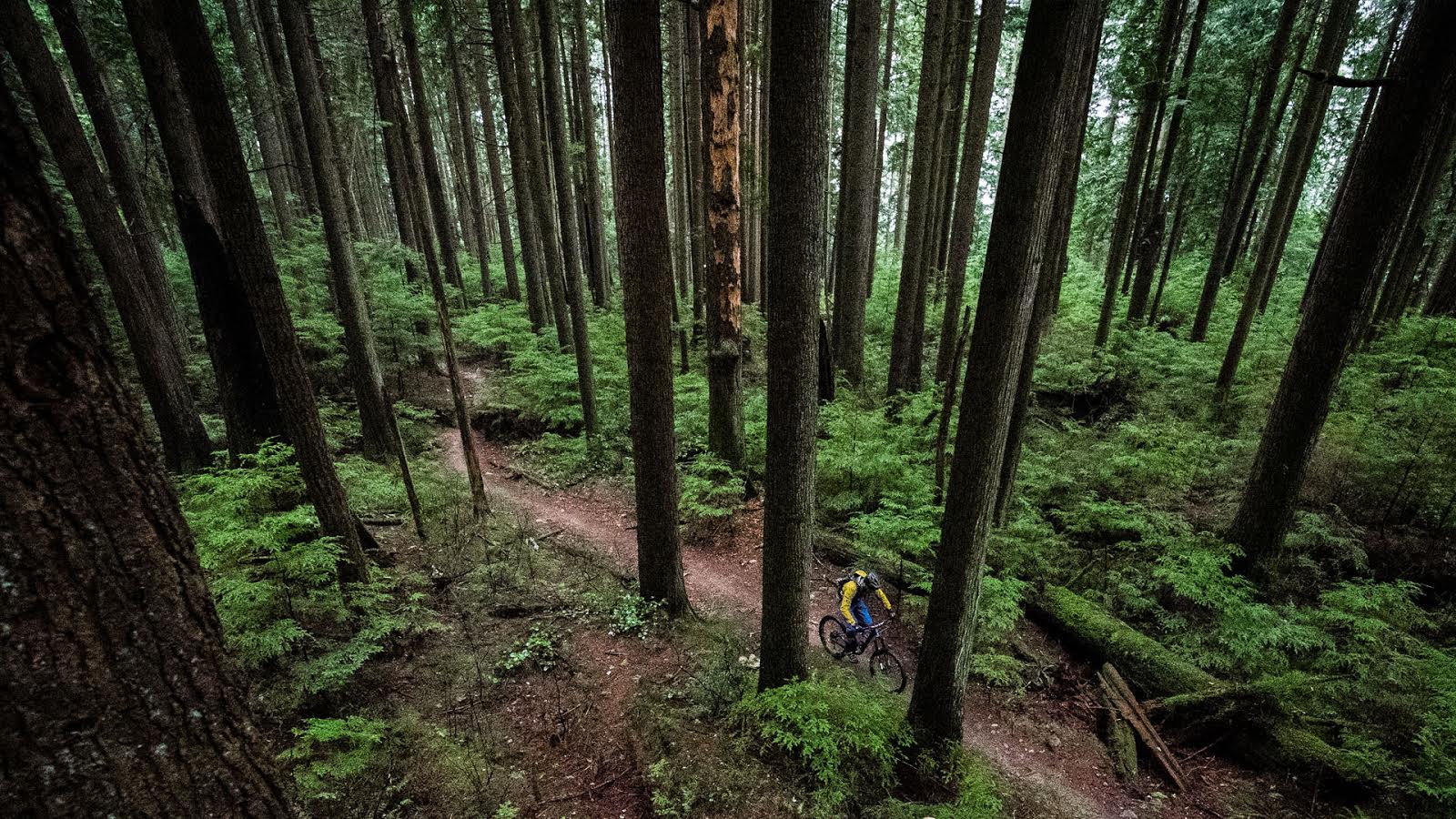 New Bikes from Santa Cruz
Introducing the Blur TR Carbon
An entirely new addition to our family, the Blur TRc defines what we think a trail bike should be. Crafted from carbon fiber, featuring our proprietary lay-up process, the frame weighs a scant 5 pounds with shock included. Patented VPP suspension offers 5 inches of travel and combined with the carbon fiber frame, chassis rigidity is second to none. The top tube length and riding position are evolved from our climb-happy xc bikes – a bit more stretched out than on our longer travel rigs – but mated to a relaxed head angle that is sure to make any dedicated gravity fiend weep with joy.
Mike Ferrentino sent us this addition to his description of the Blur TRc
The late great Blur 4x was a bike that developed a fiercely loyal following because it was slack and beefy and way too much fun to rip down a hill on. But it was inadequately named, heavy as a boat anchor, and the geometry wasn't something that most riders could cotton to 8 or 9 years ago. The people that got it, got it.

  Carbon fiber frame and swingarm

Our new Blur TRc is almost a spitting image of the old 4x in terms of geometry, but it has 10mm more travel and the frame is about two and a half pounds lighter. Probably stronger too, although we did use VPfree downtubes on the 4x, so i wouldn't want to go head-to-head on that allegation. Anyway, it's the kind of trail bike a hucker could love, and it's the sort of bike that big burly freaks who corner hard with their entire torsos out in front of the bars will absolutely love.
  VPP suspension, 5″ travel

   Grease ports in lower link, angular contact bearings, oversize aluminum axles

  Carbon fiber upper link, angular contact bearings, oversize aluminum axles


  Tapered head tube

   Dropouts, disc tabs, suspension pivots molded into frame during one piece layup – lighter, stronger, stiffer.
  Metal chainstrike plate
  Aggressively slack geometry
  4.9lb frame weight (w/shock)

   24lb as pictured weight
Available in Matte Carbon/Green or Gloss Carbon/Orange
$2699 US MSRP frame with Fox RP23 – Complete bikes from $3799
Spring 2011 Blooms New Bikes!

It is springtime, and just as sure as the blossoms are going to get blasted from their trees by violent sideways rainstorms here in coastal California, this is the season we love most, because it means one thing – New Bikes
We'll keep this short for now, since we've got a bumper crop of two-wheeled mountain bike goodness to show off. If you want to get more details on each of the bikes featured below, click on the pics.
The sales staff will be ready to start taking orders on these bikes April 4th, and we expect to have bikes shipping out from here toward the end of May. US pricing is included in the individual model breakdowns.
Highball
There are still those times and places where the best way to light the fuse and blow everyone else into the weeds is by riding a hardtail. Bigger wheels have revived the venerable double diamond design, and by mixing the smooth rolling hoops with a feathery 2.4-pound carbon fiber frame, we've come up with a potent race weapon. Anyone who complains about a bad day climbing while riding this bike needs to find another sport. The Highball is insanely light, razor sharp, nimble but surefooted, stiff as a plank, and designed to do two things: 1. Race. 2. Win.
More on the Highball here…
Tallboy Al
Tallboys have become mighty popular bikes in the relatively short time since we introduced them, and they have been getting rave reviews from the press and, more importantly, from the thousands of riders who've rolled off into the sunset aboard them. The pairing of VPP suspension and 29" wheels created a fast rolling, crisp handling, versatile bike that exploits the benefits of big wheels to the best of their advantage, at home anywhere from remote alpine singletrack to crowded jittery start lines. Now the tall can is available in aluminum – same geometry, same lines, same great suspension, teeny bit more weight, whole lot less money.
More on the Tallboy Al here…
---
Any of these on your wishlist? I'm thinking the Blur TR would make a great North Shore pedal bike – and anyone I know who has tried the Tallboy can't say enough about how great they are. The Highwall on tech terrain? Maybe not so much. Mail your take in here…