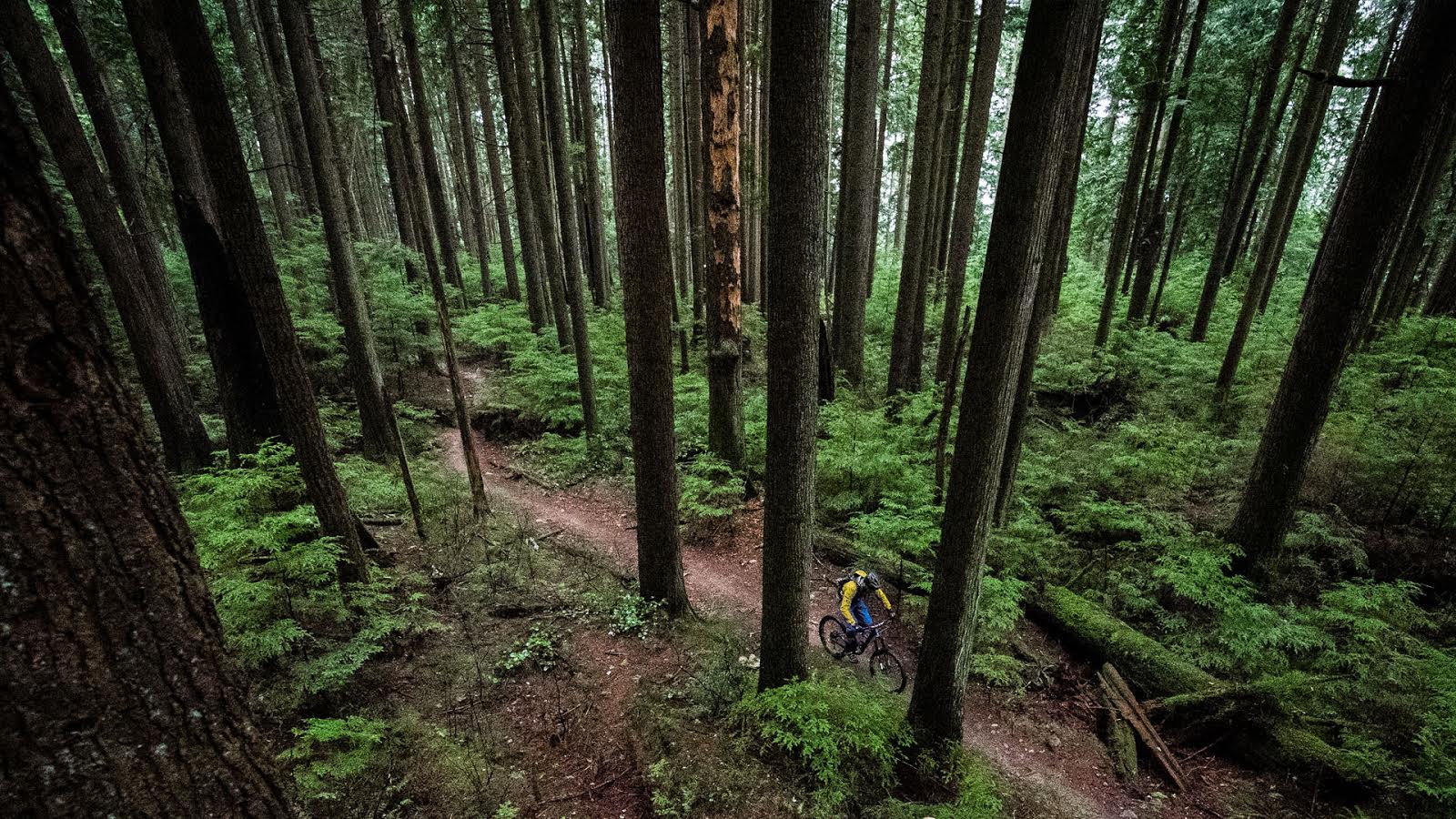 Gear Shots 70
2010 Shimano Saint Cranks
I hate creaky cranks.  I mean REALLY hate them.  So, when it came time to replace the creaky, cranky Truvativ's on the Scythe, I spent some time and thought on which pair of cranks to sink some money into.  Enter the Shimano Saints.  Billed as "lighter and stiffer than ever before", they certainly looked nice out of the box.

Ooooo, shiney.  Shimano Saint cranks straight outta the box.
This year's version uses the "Hollow-tech 2" design, with a claimed increase in strength of over 200 %.  The forged hollow aluminum arms are finished in your choice of black, black or black.  Graphics are attractive but border on the ostentatious.

Saints looking sharp on Andrews Scythe.
The cranks come in four versions which are all available in 165/170/175 mm lengths.
FC-810-1 – 68/73 BB width – single ring with bash – MSRP $296.74 CAD

FC-810-2 – 68/73 BB width – double ring with bash – MSRP $437.30 CAD

FC-815-1 – 83 mm BB – single ring with bash – MSRP – $327.98 CAD

FC 815-2 – 83 mm BB – double ring with bash – MSRP – $452.94 CAD
They can also be ordered as just the cranks and bottom bracket, so you can re-use an existing chain ring/bash guard if you like (this is the option I chose).  I installed the cranks (along with some shiny new Straitline pedals) on the Scythe I told you all about last year.
Just to refresh you all on my impeccable credentials as a consumer equipment tester – I weigh over 200 lbs, am a bit of a hack and tend to ride hard through things just outside my actual skill level.  This typically results in wonky landings, crashes and impressive wear and tear on my equipment.
Immediately upon installation I noticed, well, nothing.  No creaky-cranky, no perceptible flex and no perceptible friction.  I took this as a good sign.  My first ride was one to definitely challenge any crank-set – the Port Alberni Dropzone DH Track.  This course definitely lives up to its name with four pretty good sized drops in the first 30 seconds of the track.  The first one is new this year and it's a pretty slow speed step down to a not so steep transition – so maximum application of force to the cranks.

The cranks got their first ride at the Port Alberni Dropzone DH Track. Photo ~ Collin Wilson
Since then (and I know for sure as I log my rides) I have put about 34 hours of solid DH riding into the cranks, and have yet to really notice them.  This has included the Port Alberni race, Hammerfest in Parkseville, the BC Cup in Nanaimo and the Island Cup Finals at Rumblefest in Port Alice.  Included in the mix have been some shuttles up Forbidden and a ride of pretty much every DH type trail in Cumberland.
While it's only been a month and a half, I haven't noticed any considerable wear on the cranks or the finish.  All in all, I would give these a 9 out of 10 on the "hackable" scale  (only things that are free get a 10).
---
Straitline "Wide Platform All Mountain/Freeride" Pedals
PINS! RED!  I had to have them!  Despite having ridden with Shimano SPD's on all of my bikes since 1992 (yikes!) I have always ridden with flats when attempting freeriding or racing downhill.  I therefore could not resist these red pieces of shiny bling! (and it was my Birthday…)
Made right here on Vancouver Island, in Sidney, Straitline pedals are CNC machined from "proprietary high strength aluminum alloy".  They feature 14 HEX pins per face and spin on an "IGUS IGLIDE" Polymer Bearing System (really fancy bushings).  The axles are nickel plated hardened alloy, and they come in a lot of colours.  Seriously, if you were to pick up some of the other CNC trinkets Straitline makes (brake levers, stems, headset spacers) you could customize your parts package with any number of colour combinations.  Want all reds? Done.  Chirstmasy (red-green-white)? Done. Stealth black? Done.  They also offer two blues, bronze, ti-grey, pink and white.

Red is just one of several sexy colours to whip on your ride this season.
•  517g / pair (including all 56 traction pins) built for heavy hits and Freeride DH applications.
Initially I rode the pedals with all of the pins in.  At the BC Cup race in Nanaimo, after talking to some of the faster guys riding the same pedals, I removed the middle pins and kept only the pins around the perimeter of the pedals.  While I can't say I noticed a huge increase in grip – I didn't notice any loss and at times, with 510's, these pedals feel as secure as clipless.
Had one funny thing happen since they have been on the Scythe – I have had one occasion for each side where the pedal has actually become completely un-threaded and fell out.  On both occasions I wasn't really riding anything serious, and since then I have included checking the pedals with my regular "bolt check" routine.  I do plan on pulling the pedals apart and adding some grease, and will provide an update on the boards if this ever happens again.
Andrew riding out from the last drop at the Rumblefest DH track in Port Alice. Photo ~ Collin Wilson
Overall I am quite pleased with the Straitlines.  They are grippy and still look pretty blingy despite some big crashes at the Island Cup finals in Port Alice.  I will have to give the pedals a 7 out of 10 for now until the "unthreading" issue can be laid to rest.
Test them out yourself for a MSRP of $149.00 USD.
---
Blur Goggles
Seeing where you are going is very, very important.  Having been the victim of not quite seeing where I am going many times and a recipient of laser eye surgery, I take eye protection quite seriously.  I have been riding with goggles for the past three years, ever since I moved to Courtenay and started living 20 minutes from a bike park.

Your vision will be far from blurry with these goggles.
I chose the white Blur goggles as they show up better in photo's (yes I am vain) and match my trail bicycles racing "strip" quite nicely.  While not anything very fancy or high tech, the Blur's have done the job and tend to only fog on wet, warm days when the riding slows down.  They will take tear-offs (not that I have ever used them) and replacement lenses are easily available.  Overall, I have been happy with these, and will give them an 8 out of 10 on the "hackable" scale.

Mmmm…colour-coding. *Homer Simpson drool*
Like what Andrew had to say? Check out more on his MTB adventures this year at http://www.citizenclass.ca/
---
Own a pair of Straitlines? Got some experience with a set of Shimano Saints? How about goggles from Blur? Give us your own review on the boards…