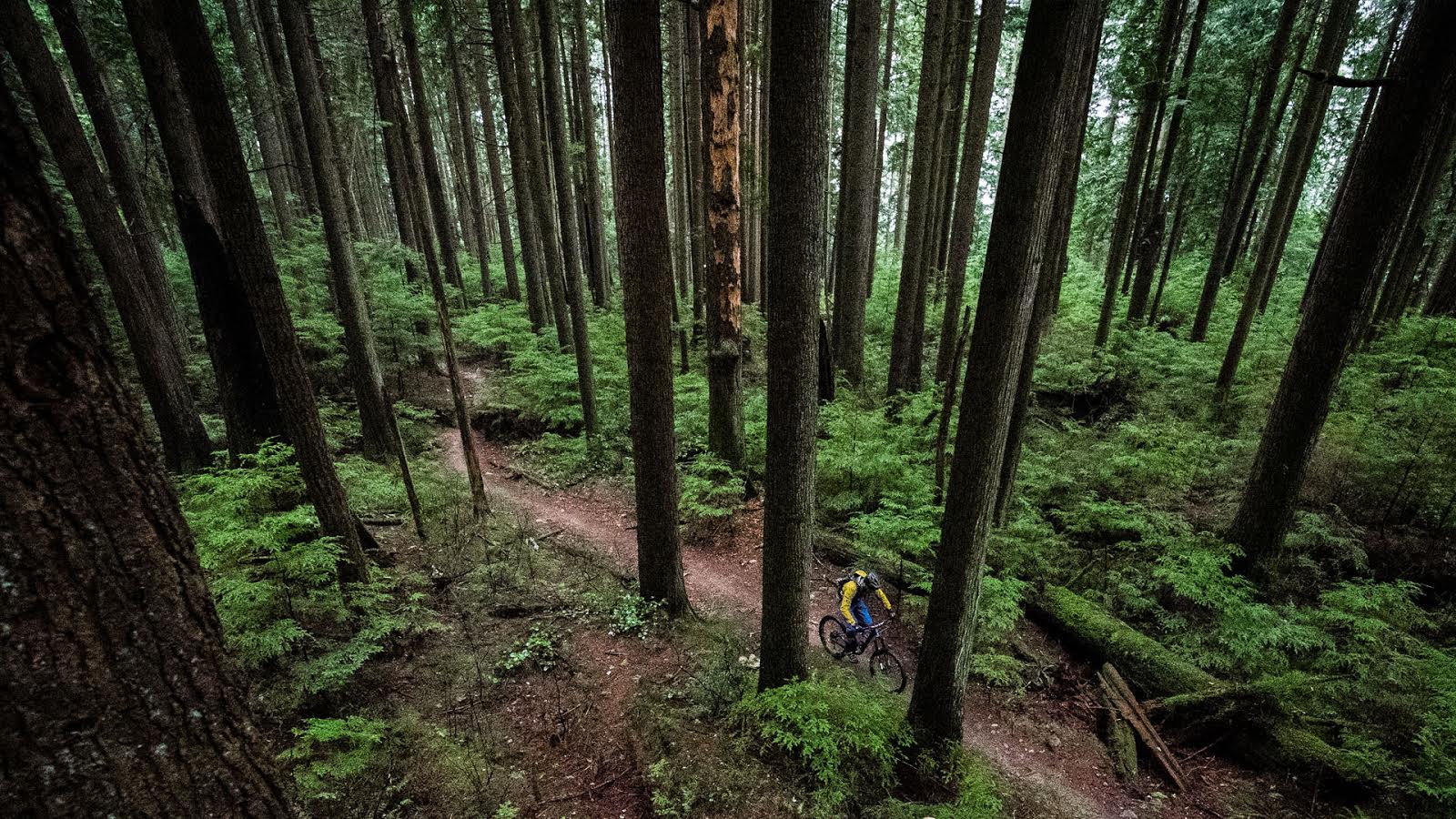 Gear Shots 69 (dude!)
Race Face Turbine Stem (70mm)
Words and photos ~ Cam McRae
Making a pretty stem must be hard. Otherwise why would there be so many clunky, angular, crappy looking examples adorning some very nice bicycles? Until recently one of the few I liked to look at was made by Thomson. A stem's job is obviously is about function but it's also one of the parts we look at most. If it can do its job without making your eyes burn why not?
Race Face's new Turbine stem caught my eye instantly – with no burn. It's elegant and sleek and it's even slightly rifled along the shaft – a very nice touch (and just like a Thomson!).

Calling all weight-weenies.
What else can I tell you about this handlebar holder? The 70mm version we were sent weighs a scant 125 grams (or 126 – my scale couldn't decide) and it works just as well upside down if you'd like to lower your front end. It's got either a 6-degree rise or drop depending on your preference.
The bar clamp interlocks neatly to spread force around (according to RF that is – I'm no engineer) and the whole unit stinks of precision.

No 'burn' on the bike. What do you think?
The Turbine stem comes in 60, 70, 90, 100 and 110mm and it's aimed at XC and AM (but I'd use the 60 for freeride duty for sure).
Pricing for the Turbine is the same in the US and Canada. 60mm $89.99 all others $93.99.
---
Maxxis Minion DHF 3C EXO
Words and photos ~ Cam McRae
Could this be the tire I've been looking for? Actually it might even be the two tires I've been looking for – one for my DH bike in less demanding conditions and one for my AM bike in the snottiness of winter.
The Minion DHF might be the most popular DH tire there is. Riders from pro to plumber use them front and rear to win medals, championships and coupons for lunch at Subway. Maxxis has cottoned on to this and when they made the the EXO version (more on this below) they only made the DHF version – no rears.

Sniff sniff…ahhh the smell of fresh tires in the morning.
I happen to be in that minority that appreciates the DH Rear – particularly riding here on the Shore. In Whistler I'm fine with DHF front and rear but I appreciate the consistent bite, both cornering and braking, the DHR provides in nasty situations. But I'm also greedy. I desire a fast rolling, lighter DH tire that can take a pounding without pinch flatting. And I long for a light, grippy 2.5″ AM tire that will give a little more rim protection and a more forgiving ride than the 2.35 minions I ride most of the time. So that will make me go to the DHF front and rear.
It's the sidewall that makes the EXO version of the Minion different. Maxxis describes EXO like this: "An extremely cut-resistant and abrasion-resistant material added to the sidewalls of select mountain tires. This densely woven material is also lightweight and highly flexible, ensuring that the performance of the tire remains unaffected." From the outside you'll also notice a pattern on the sidewall of the tire to further identify the EXO action on the inside. The upshot is that this tire weighs (on my scale at least) just 880 grams compared to 1265 grams (claimed) for the standard wire bead dual ply Minion 2.5 DHF 3C.

Wear and tear resistant but lightweight. These Minions are ready to take it to the shore.
I'm going to try the 3C version of the Minion 2.5 EXO – which is a different beast than the normal Minion 3C. The regular Minion 3C has a deep layer of 70 durometer rubber and then a strip of 42 down the centre and 40 on the side knobs. With durometer a higher number equates to a harder material. For the EXO 3C DHF Minion the durometers are laid out in the same pattern as the regular Minion but the numbers are apparently 70/60/50 – so this should provide a little less grip, particularly in the wet, but longer wear. The durometer is said to gradually change as the tire wears so the outside center durometer will start at 60 and then gradually increase as the tire wears down and get to 70 by the time the tire is bald.
Now once the snow melts I'll get out on these and let you know how they roll.
The Canadian MSRP for the Maxxis Minion 2.5 DHF 3C tire is $79.90.
---
Chromag Moon Saddle
Words and Photos ~ Andrew Major
I've owned a lot of seats, and ridden many more…
From the soft-yet-supportive, to the ones you have to break in, to the ones that break you in (there's a joke about Soviet Russia in there); most every engineered-by-a-doctor-anatomically-correct-stitch-job out there.
My personal preference on saddles is for firm, yet supportive, padding with generous concavity, and generous sides for DH cornering. My all-time favourite (minus stitching on the cover) is the Fi'zi:k Gobi XM.

In Soviet Russia, Chromag Moon Saddle sits on you. (And no, the saddle isn't peeling – that's a tool pouch.)
It takes a lot to get me off my Gobi's to even try another saddle. I've read a lot of reviews, heard a lot of opinions and I've never been a fan of Chromag's saddles; pretty graphics, durable coverings, but otherwise just warmed over generics offering nothing special or innovative (sorry Ian).
Enter the 2011 Chromag Moon. WTF?
One piece cover? check! (*does no stitching happy dance*)
Perinium channel? check!
Nice-&-long Ti Rails? Check!
Firm-yet-forgiving squeeze test? Check!
Freaking weird shape? Check???
After playing around with the saddle for a few minutes, trying to find my comfort position for flat pedaling, I ended up setting the new Moon (pun intended)with the tail and center of the saddle level to the ground (so you are sitting in the concavity pedaling on flat terrain) and leaving the nose pointed downwards.
Riding on flat ground the Moon is a definite improvement over previous Chromag saddles: Firm, yet supportive. It feels almost as comfortable as my, much pricier, Gobi.
My first climb was a mix of really steep, steep and less steep fire road. Sometimes loose, sometimes rocky and mostly granny gear.
The real surprise: As the terrain becomes steeper and you scrawl up the saddle you NEVER feel like you are pressured by the nose. The opposite in fact: As you shift your weight forward on the saddle there is a generous perch that you could pedal on all day.
Comfortably Numb. Here I Come.
In -MY- opinion this is the first full-featured XC/All Mountain saddle that Chromag has made and it is Very, Very Good. Combine the fit and feel with their reputation for durability and it is a sure win. 

The Chromag moon looks just as good on your bike than it does on Calvin and Hobbes.
I always like to support rider owned companies when their product can compete with the big guys. This saddle stands up with any of the hyper-engineered North American saddles or Italian designs.
If you are looking for a new saddle. Definitely check this one out!
Disclosure: DrewM works in a bike shop. He rides his bike a lot. He has a lot of opinions. He has no affiliation with Chromag and receives no compensation from recommending their product over any other.
---
If you have tried any of this gear and would like to offer dissenting or concurring opinions serve 'em up here…