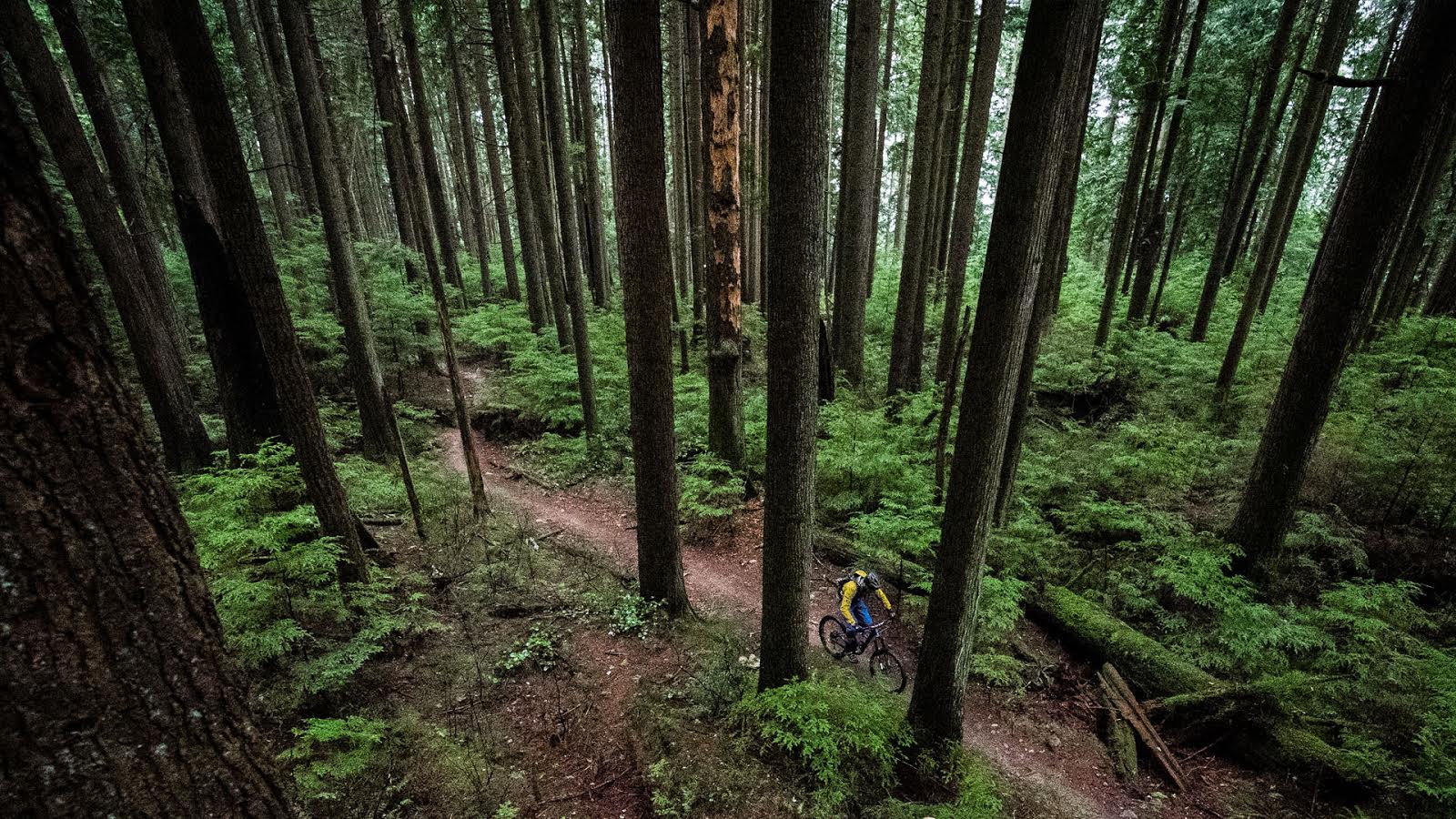 Taylor Hollstedt Interview
Tool Man Taylor
In each community there is that go-to bike mechanic and in Kamloops it's Taylor Hollstedt from the Bicycle Cafe. He is the personal mechanic of Matt Hunter, Graham Agassiz and Kurt Sorge when they are in town and he was flown to Rampage by Kona to mechanic for Graham this past year. His contribution to the community doesn't end at work; he is a respected dirt jumper and jump builder working in the Kamloops bike park and his own jumps which have been featured in Dirt and Bike Magazine. His impact here has a long history dating back to the early days of freeride where you can see him in films like Pedalfiles, Torque and Outer Extremities dating back to the nineties. Taylor's commitment and love of the sport in Kamloops has never waivered. 

  Hiding in the corner of the Bicycle Cafe is a photo of Taylor learning to jump when he was 13. The custom redneck frame was a gift from Matt Hunter.
When I think about boring people, Taylor Hollstedt comes to mind. Each and every morning he strolls into work at the Bicycle cafe with a serious lack of facial expression and nothing even remotely humorous to say. Throughout the day he continues to tell long, anti-climactic stories while screwing up peoples' bikes…
Just kidding. Taylor is easily the funniest guy we know and we love working with him. He is constantly dialing in peoples bikes and we're pretty sure he has a PHD in sarcasm. Outside of the shop, Taylor is probably the most bad ass old school rider in town. He grew up in Kamloops building jumps and shredding trails and there has never been a line he couldn't get himself through. No matter how sketchy. Between keeping peoples' bikes running and keeping the dirt jumps jumping, Taylor is a local favourite and he really keeps the Kamloops scene rolling.
---
Who are you and where do you come from?
Taylor: My name is Taylor Hollstedt and I come from Kamloops, B.C., Canada

  Taylor has chased John Gibson around Kamloops for decades, sneaking onto Graham Agassiz photo shoots whenever he can. Photo ~ John Gibson
How long have you been riding bikes and what got you into the sport?
Taylor: I have been riding bikes forever but I would say the last 15 years have been my best so far.
How long have you been running the Bicycle Cafe for?
Taylor: We opened in the spring of 2003 so since then. I can only take credit for about 15% of the workload though. Cheryl is 85% of our team.

  No caption needed.
Do you find it a difficult task trying to balance owning a bike store and making time for riding your bike?
Taylor: I don't do a very good job balancing it in the summer time. The shop is really busy and usually I just want to chill out in a lake somewhere if I get a spare moment. The fall is probably my favourite time of year. The shop mellows out a bit and the dirt gets amazing! I am making a conscious decision to ride a lot more this season. The shop has a lot of great employees so I'm looking forward to spending more time on my bikes and a little less time on my work stand.
What do you consider to be your greatest accomplishment in the sport?
Taylor: No major accomplishments for me. I think when I look back the summer of 2000 was my best riding year when I was younger. Building, filming, riding, and racing was all we really thought about so life was good. I think I've spent the last 10 years getting to a point in my life where I can focus on those things again so that gets me pretty stoked.

  Taylor used to have a hard time turning left so he built a dream line in his yard, massive left turn included. Photo ~ Allan McVicar
What do you hope to accomplish in the future?
Taylor: I want to ride, build, and race a lot more starting this season. It's easy to get caught up in shop stuff but I really want to make riding a focus for the next few years.
You got to travel down to the Rampage in the fall. What were you there for and how did it all turn out for you?
Taylor: Rampage was bad ass and really opened my eyes. Traveling to events and getting together with such a great group of people is amazing. Once again it's easy to say you don't have time to make those kinds of trips on a regular basis but I really want to start making time. I went down to help Aggy out as his mechanic, bike/water carrying Sherpa, and do some digging. Graham has been with the shop since he was a tiny BMX racer kid so to get to see him shred at Rampage was pretty emotional for me. Those guys are all riding at such an amazingly high level and risking it all in an event like that. We had some things come up over the course of the week and Aggy kept his head the whole time. That kid is a real pro and he has nothing but big things ahead of him.

  Taylor Bar Humping his way through college. *Editors note: Taylor never went to college, he blew is scholarship on truck parts.

Is your Rampage style trip something you would like to do more of in the future?
Taylor: Definitely. There was talk of possibly making the trip to Chatel this year to keep Aggy's bike shiny and fresh.
What are you doing when your not riding or wrenching at the shop?
Taylor: Working on my truck or fishing.

  Taylor has elevated a rare skill of bonding one piece of metal to another into an art of his own. Photo ~ Matt Miles
Describe your perfect day.
Taylor: I've had a lot of perfect days lately. Anytime I get to ride with friends and not have to think about anything else is a perfect day in my books.
Thanks Taylor. Any thing you want to add?

Taylor: I get to wake up everyday and not dread going to work. I get to work with and see people I love each time I come to the office. Riding is something I love and it is something my life is built around. Thank you to Cheryl, Big Bri and everyone who has made the shop an amazing success!
---
Has Toolman Taylor ever diddled with your bike? Ever chased him down a dusty trail?  Confess here…