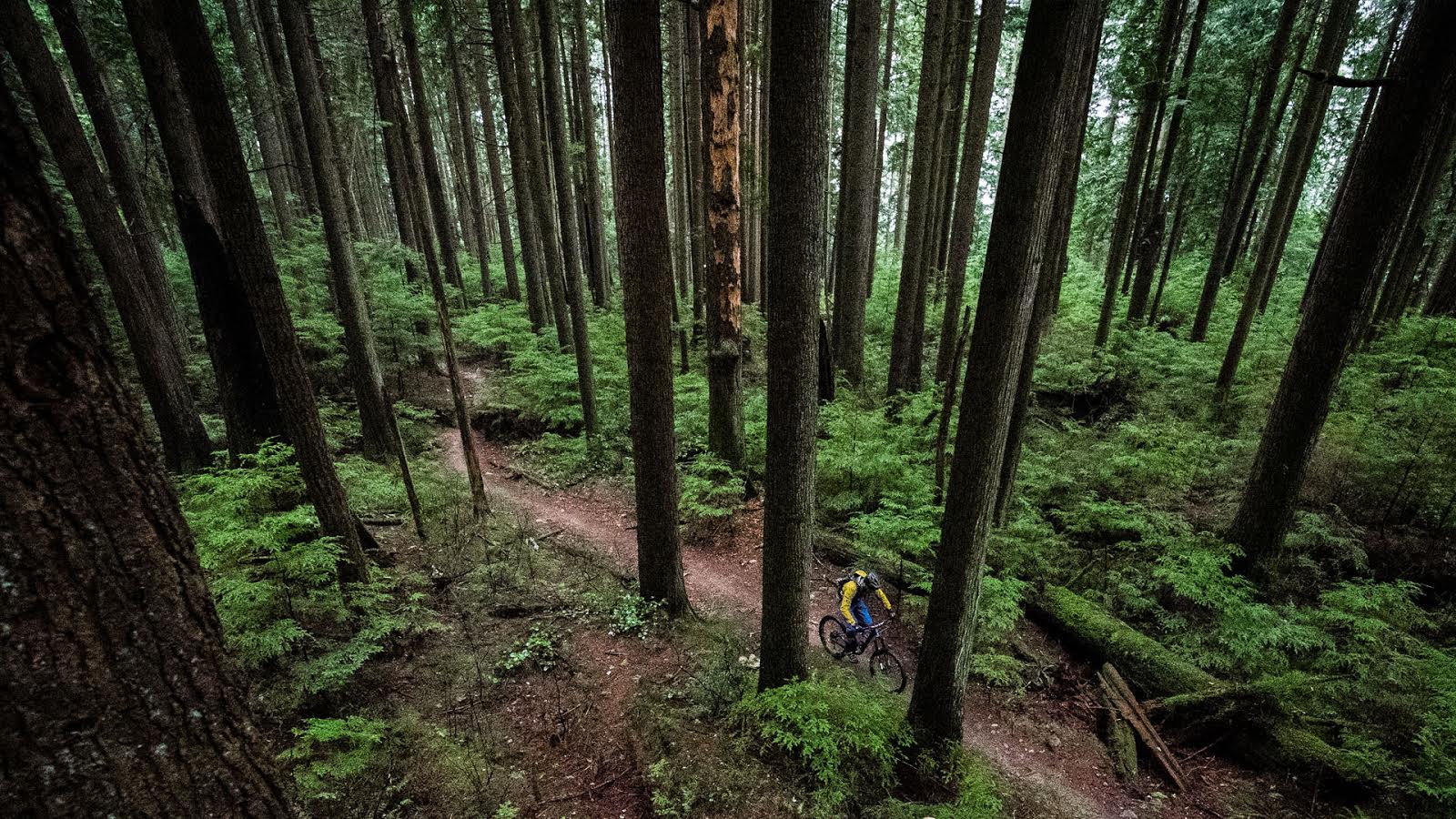 InfocusMTB Interview
Who's behind the infocusmtb team?
The infocsmtb.com team consists of the three brothers Toni Tillmann (24), Andi Tillmann (22), Michi Tillmann (19) and their buddies Flo Berghammer (19) from Munich and Markus Reiser (25) from Garmisch. The team is currently supported by Scott apparel, Chromag bars, stems and saddles, Acros parts and Aclass wheelsets / Alexrims rims.

   Big no hander by Michi Tillmann in Kamloops. Sun Peaks was our fist stop on our BC bikepark tour. As I said in the Interview, this park absolutely rocks! Big jumps and smooth trails everywhere. At first we didn´t want to hit that jump because it looked a bit sketchy, but then teamrider Flo Berghammer just gave it a try and we started a super fun session. In the end Michi threw down this massive no hander.
How was the infocusmtb team founded?
The idea for a media-orientated freeride team came up because we've always been riding together on the same level and we all love to shoot videos and photos. What helped us pretty much with our decision is that Toni is a professional cameraman and so we had quite a solid basis to build up the team. Still, we have to admit that our concept was definitely influenced by the Canadian Coastal Crew. Their small but awesome edits probably tipped the scale to suit the action of founding a team to the plan that we had had for quite a while which now exists since August 2010.
 
What are your daily jobs and how do you manage to get enough time for riding?
Michi studies sports science at TU Munich, Toni is a student of digital film and animation at SAE Munich and regularly films the UCI MTB Worldcup as well as lots of other extreme sport events (so if you watch the WC next time, think of us :-)), Andi is a student of sports-media and event management and works for the bid commitee for the Olympic Games in Munich 2018. Flo is just graduating from High School and works for an Indian delivery service 😉 and Markus is a banker in Garmisch at the Sparkasse.
As we all study or work it´s not easy to have enough time to shred but we really use every free minute for our passion. Unfortunately we can´t go biking as often as we would like to. That´s not just because we have lots of work but also because many of our riding spots around Munich have disappeared lately. For a mountainbiker living in Munich, riding means driving at least one hour to get to the next proper riding spot. Of course, we all hope to get some trails back very soon, and with the construction of a new pumptrack in Munich´s Olympic Park the future just got a bit brighter.
 


  Michi rippin´ the wallride. One of many incredible days in Whistler bikepark. After shooting all day long for our team edit up on Garbanzo we discovered this beauty of a wallride. The light seemed to be perfect and so we decided to grab the camera once again.
What are the main tasks of the team members?
Actually, we do split the different tasks in our team quite clearly. But of course, we often help each other out as well. Toni and Michi are responsible for the whole producing part, which means they do the filming, photography, cutting and editing. That´s because these two guys are the most experienced moviemakers in our team.
 
Andi handles the whole marketing of our team: he´s in contact with the sponsors, takes care of our online presence and makes sure we leave our footprint in magazines. Flo produces/ is responsible for a good atmosphere in the team and Markus is our trailbuilder and sweets delivery man.
 


   This photo of a nice drift of Teamrider Andi Tillmann was shot up on Garbanzo as well. After Flo and Andi shot with photographer Daniel Roos all day long, Toni decided to take some photos as well and snapped Andi going sideways.
Your Canada video was a huge success – what are the plans for 2011?
First of all, thanks for the awsome feedback! All the positive comments show us that we are on the right track. For sure Canada is our first priority again. If you´ve been there once, you´ll come again 🙂 It´s so worth its money. Additionally, we will surely often be in Italy at Lake Garda or Finale Ligure again. But also bike spots in Austria, like Schladming or Leogang, will definitely be among our frequent destinations. We don´t have a fixed schedule where to go yet, but we will definitely travel a lot again.
Which destination is the number one on your must-go-list?
Clearly California. Who doesn´t dream of perfectly shaped trails and sun all day long. But we´d also like to explore Scandinavia, Austrailia and New Zealand as they seem to have awsome landscape and trails too. In winter (as Bavarians we love the snow too) Alaska would be a fantastic destination.

  Even the animal kingdom seems to be impressed by our sport 🙂 Andi Tillmann with a pretty corked barrel roll on our homedirts.

Which videos inspire you?
 
As I already said the Coastal Crew is pretty inspiring.They just show our sport very emotionally and have an awesome style. But there are tons of awesome videos online so it´s hard to highlight individual ones. But we constantly check the web for sick videos for sure.
 
Do you plan to make an DVD?
We haven't got anything planned in the near future because we really want to improve our popularity with short but high quality edits first. Furthermore there is just not enough time for such a big project at the moment. If we really decide to produce a full length movie someday we want to have enough time for it so the quality doesn´t suffer.
What are your homespots?
As we have been coming back to Canada for several weeks or even months each year, I'd definitely call Whistler one of our homespots. Other than that we have a small dirtpark (the one you see on the pictures) at home, near Munich which we constnatly use for our training. Unfortunately we have a lack of dh spots. at the moment. We used to go to Oberammergau, a bikepark near Garmisch that is now out of order, but at the moment we have to go to Austria or Italy to get some real dh action.
 

   These two pics were shot at our homespot right after we came back to Germany from our BC trip
Here, we regularly practise our tricks and have chilled sessions.  Flo Berghammer with a nice superwhip.

Do you dig a lot or do you prefer just to ride?
Like I already said we are constantly building and improving our own dirtpark with a mulchpit, hipjumps and a fruitbowl (in construction). Markus is continuously building different ridingspots in his surroundings. He´s the man when it comes to smooth dirtjumps. We also have in mind to build our own real freeride trail. But unfortunately we live in an environmentaly protected area, the so called Flora-Fauna Habitat of the Isar valley, and mountainbikers aren´t very welcome in this region, so the whole project is hard to accomplish. But maybe we´ll build something in Canada – who knows:-) You'll find out  about it when we have made a video.
Tell us something about your highlights of the Canada trip?
Every trip to Canada is one whole highlight. I can´t remember a single really bad incident in the last past years. Over there, biking is based on a whole different level than in Europe and is much more publicly accepted. If there is a grandma watching you dirtjump she´ll yell "Thats awesome, show me once more!" or something like that. Where we live you´ll mostly hear negative comments while riding.
But there was one special highlight this year I could pick out of the whole highlights pot. If you fligh over to Canada don´t just visit Whistler but make a short trip to Sun Peaks as well. In our opinion this one was one of the most fun and callenging bikeparks we´ve been to so far!

  Andi Tillmann with a backflip one foot x-up.
What are the differences between Canadian and European bikeparks?
Canadian bikeparks have perfectly built and shaped take offs. If you ride a trail e.g. in Whistler for the first time you barely have to look at a jump twice because you know it´s gonna work, as the shape and the dimension just fit. Another big difference fore sure, is the immense variety of trails. There´s just something for everybody. The last but most important point in my opinion is the regular maintenance of the trails. Some of the so-called bikeparks in our country are just an impudence.
Will you compete in downhill races or other competitions?
We will surely take part in some DH and Dirt contests. The next ones will be the dirt comp at Lake Garda Bike Festival and the Bavarian DH Campionships. We also try to compete in some of the German and European ixs cup races as well as some Crankworx races in Whistler. But our [focus] will mainly be on the media production.
Do you have fun editing the videos or do you wish just to get out and ride your bike?
Of course we like producing videos, otherwise we wouldn´t have chosen this type of team concept but would have gone for a race team. Of course, cutting and editing can be very time-consuming and also annoying but if you see the final product and get such a positive feedback from the scene you know it is worth it.
Do you push each other within the team?
We definately push each other a lot! As we all ride on pretty much the same level that works pretty well. We don´t really have a team member who's an utter daredevil. We know about the dangers in mountainbiking and as every real mountainbiker we had to experience that on our own body as well. Of course, we sometimes try moves on the limit but we always use our brains while riding and most importantly we wear proper protection.

  Of course, team in[focus] also showed up at Andi Wittmanns Bavarian Super Session. Markus Reiser and Flo Berghammer threw down some nice tricks and had a lot of fun. Flo Berghammer with a super dumped 360.
What do you think about doing tricks – are they important for your team?
Doing tricks is indeed important for us as well. We are clearly big bike orientated but still ride a lot of dirtjump as well. As a freerideteam, and that's what we call ourselves you should be able to ride all kind of styles and terrain. Furthermore solely dh vids would get boring pretty soon. Finding a good mixture is important.
Top 3 bikevideos of all time?
Follow Me, Lifecycles, New World Disorder VI unchained.
What's your filming equipment?
Depends on what we plan to do we can choose out of the following equipment:
Camera:  Canon Eos 5D Mark 2, Canon Eos 7D, Go Pro Hero HD.
Lens: Canon 24-70 f2.8 L USM, Canon 20 f2.8, Canon 70-300 f.4.5-5.6
Euipment: Pocket Wizards, Metz Flash, Monfrotto tripods
 
Moreover Toni is able to rent pro equipment at his filming school.
What do you think about helmet cams?
If you talk about helmetcams you have to concretize what you mean with that term. Shots á la The Collective totally improve the quality of a movie. But they of course use 16 mm pro cameras that are mounted on the helmet and produce a perfect clear shot. We only use consumercams like Gopro or Contour to loosen up the edit a bit or if we want to show something from a special perspective. Altogether we try to avoid using these cams for quality reasons.

   Last but not least our second home again. Once more a shot from Sun Peaks bikepark. Markus Reiser with a stretched out no foot can can.
How did you spend the winter?
As I already mentioned above, Bavarians love the winter and the snow so we went skiing and snowboarding a lot – as we do every year. But still we can´t entirely stop biking in the wintertime. We go dirtjumping at our homespot and just last weekend we went to Bozen, Italy to shred some nice Dh trails. Some weeks ago we also drove down to lake Garda for a day and shot a small edit.
That´s the result of one day filming: Click here…
 


 
Thx for reading (?) this interview guys and thx to all our sponsors. Hope to see you on the trails! Stay tuned on infocsmtb.com
---
What do you think about the Bavarian Coastal Crew?
Can they fill the Sunshine Crew's big shoes?