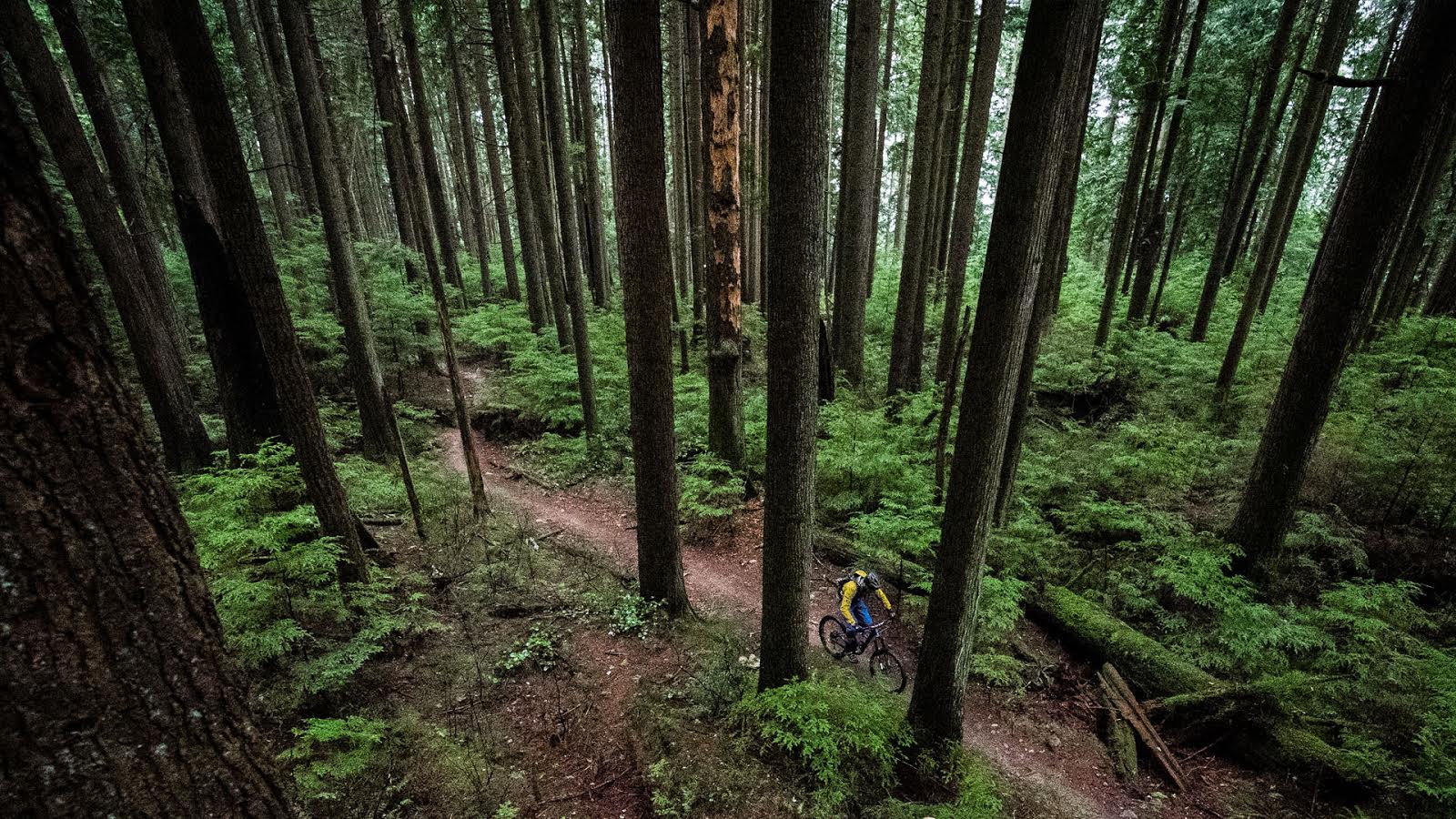 Lost Lake Lovin'
Well, it is that time again, Winter. Most of the gang has traded in their bikes for skis and I'm down in the city going to school. It's times like these that I like to reflect on how awesome last summer was, and dream about a place I really fell in love with, Lost Lake.
I rolled into Whistler after a the tail end of a five year stint in the armpit of Ontario, North Bay. Five years of long nights studying, working at a bar and the occasional drink or two had left my body in a state. After a couple of rides dealing with my wheezing, lackluster fitness my friends pulled me aside and told me I had to start riding more XC and get back into shape.
  Dunbar Shop Dog Ozzy and I go for a swim.
The best trails in Whistler are not in the bike park and a lot of people that live there don't even bother riding in the psedo-concrete jungle that is A-line and the like. Not to overhype the Lost Lake trails as the best, because they are not, but a 5-minute pedal from my summer home was Lost Lake Park and although the trails are not the most extreme they are a lot of fun. You may know Lost Lake for its excellent swimming and, ahem, scenery in the summer but if you haven't checked out the trails in this area you are missing out.
The trail network which often plays host to Loonie races, BC bike race and WORCA kids camps is classic, fun cross-country. Lost Lake can be broken into two sets of networks. The green trails (Molly Hogan, Tin Pants ect) which are gravel hard pack and are a blast to drift in the corners and skip out on some technical climbs. These trails are also great to take new riders on, or spin your legs out after a day in the park. The second set of trails are blue trails, known as the Zappa trails. They are where I found my long lost legs and lungs. Each trail is named after a Frank Zappa tune and the trails link into one another for an awesome ride. There are climbs so an xc bike is ideal however you will often see people rocking it with their downhill bikes.

  Green – solid line Blue – dotted
While there are the occasional tech sections in the network it is easy to find your flow and often I've equated riding in Lost Lake as a form of active meditation. You can make a few hours ride of the trails or get in a 'pinner' lap before dinner. The trails have great drainage and riding them in the wet isn't a problem.
My favourite route (the one in the video) enters behind the Austria House and spits you out around the RV park. From here your options are to head back on the green trails to lost lake park or take a slightly longer and more technical Zappa trail route back to the same point. I often opted for a quick jaunt over to Nesters for a spicy tuna roll and spicy chicken teriyaki wrap… Whatever, I burned those calories.
  The crushed gravel was perfect for filiming Paul the Passenger!
Here is a video to give you an Idea of what you can expect in Lost Lake.

Big thanks to Paul Stevens who spent his time injured helping me film this; sorry it took so long to do anything with it. Lost Lake has something for everyone. It's a great place to bring you're spouse, kids even parents. Hope to see you on the trails this spring!
---
Have you ever ridden the Lost Lake Trails? Is Carlos over-selling them? What is your favourite Zappa trail? Sing it here…