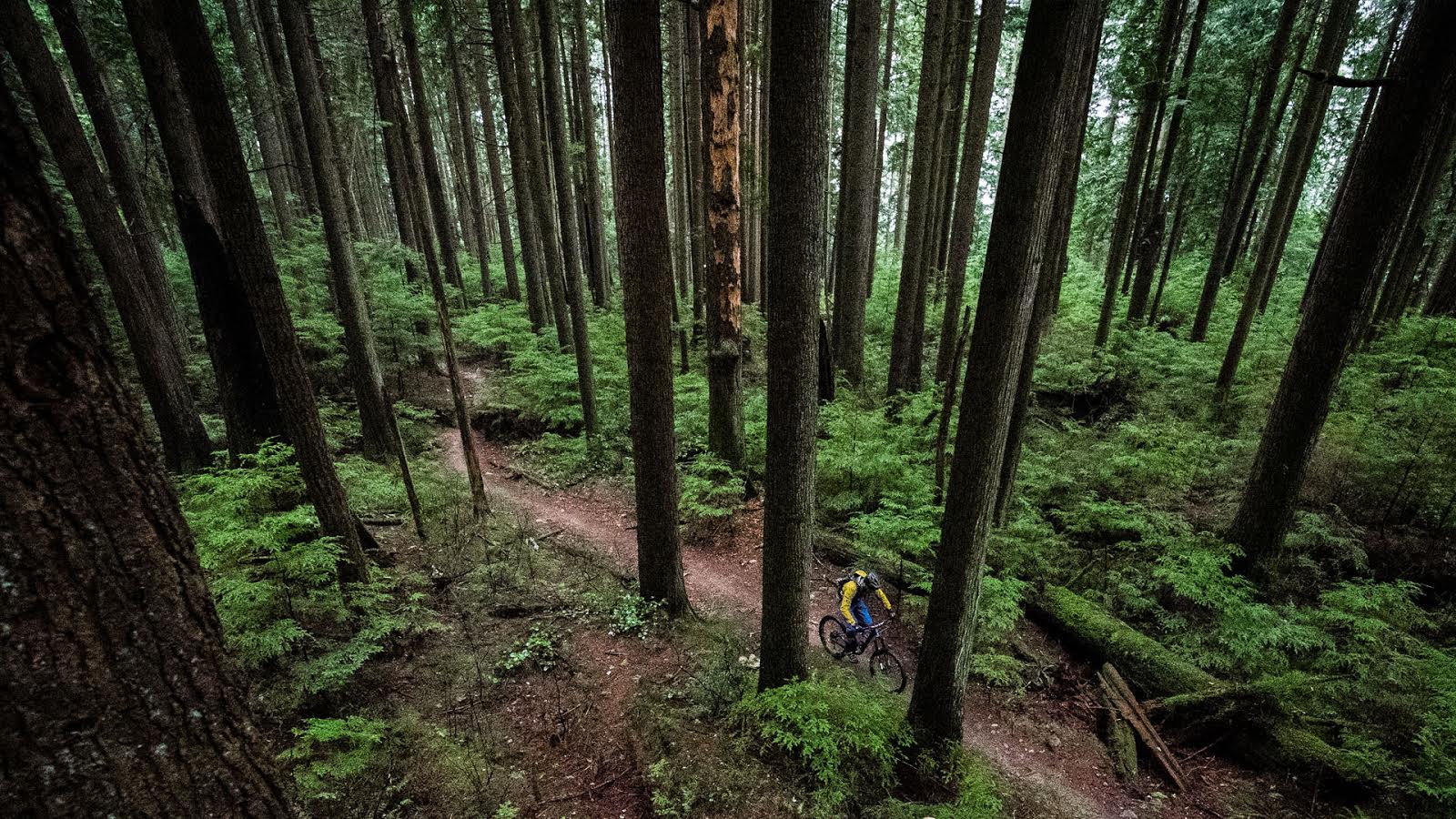 Late to the Party – Part I
Twists and Turns: Looking Back at a Year of Trail Riding
Every bike has its story, and with each ride, this story is made longer. If it's ridden long enough every part on a bike is replaced or upgraded. This is the story of a bike's evolution through a one-year period. This past weekend marked the anniversary of my now-irreversible foray into the world of mountain biking. I spent quality time on four different frames this year, and did day rides on about a dozen others, bringing my camera along to document the whole thing. Growing up on the North Shore, you wonder why I didn't do this sooner.

  Hidden beauty on Mt. Fromme.

The technical disciplines of riding have been a pursuit my entire life. I grew up in a neighbourhood of kids who were weaned on the 1987 cult classic Rad, at the mouth of the Seymour River. Blasting jumps was everybody's favourite, but especially mine. For a kid who grew up on the Shore and rode bikes all his life, the story of how I never got into mountain biking turns out to be pretty long in itself.

  My first two wheeler, a little BMX that was perfect for my grandma's terraced back yard.
I grew up aware of the North Shore's trails, but had never invested in a bike that was capable of the more technical stuff. I had an entry-level steel GT cross country bike when I was 12, but was more into the Honda XR75 that I bought with lawn mowing money and kept at my dad's house on the Island. I did do some XC riding on Mount Seymour with new friends when I started high school, but that bike was always too big, and I never really caught the bug.

  16-ish years ago… the old Honda kept me occupied, and I was really into the airtime.

In 1997, on a Venture BMX frame and fork that I'd bought for $12 and cobbled together from spare parts, I learned how to drop in to my first vert ramp. It was 11 feet high, and was accompanied by a street park at Playland for the summer. The best part? Riding there was free with a $40 season pass. It was pretty clear that the Zellers bike was not going to survive. Money was always tight, and I didn't expect to get a new bike. However, my mom found room to buy me a $400 BMX that was up to date with 48 spoke wheels and a gyro.
That BMX went through many iterations over the next few years, and definitely had every single part replaced at some point. In Grade 10 I cast and lathed a set of aluminum pegs in metal shop that still survive to this day. I did my work experience for high school graduation at John Henry Bikes. I was riding year round at Seylynn and Griffin bowls, and at the Lonsdale indoor park in the summer. I rode with friends, always pushing each other to improve. At 15 years old, I organized a BMX contest there, supported by John Henry, Singletrack Cycles, Up North BMX, and P.D.'s Hot Shop.

  The flyer for my BMX contest, put together by P.D. and starring Travis Fontaine.
But I haven't yet answered the question of why I didn't get into mountain biking when I was younger. Hanging out at the local shops, I could see the North Shore freeride style evolving, and knew I could be good at it. I figured that if I got a mountain bike it would be no time before I'd be hucking the biggest jumps around. The financial barrier was a big factor, but the prospect of a major injury also loomed in the back of my mind. I felt quite mature in deciding to save mountain biking for my later years. In November of that year, I fractured my skull within 30 seconds of arriving at the newly-built Richmond skatepark on my BMX. Life sometimes tells you it's time to slow down.
As a somewhat entertaining part of this history, I moved to the base of Mt. Seymour in Grade 11 and ended up doing a lot of riding with the guys my age from Deep Cove who had invented and produced a product called Trykes. These were marketed to the BMX and skateboard crowd, but were definitely too expensive and weird to have widespread appeal. Part of that expense was the Rocky Mountain-produced aluminum frames, an original of which I still own. We would get shuttled up Seymour to draft each other down the road, and then ride the power lines to Old Buck or Baden-Powell. Ridiculous, but fun. We attended planning meetings for and saw the Parkgate skatepark built.

  My Tryke. The Roach pad was standard but many of the other parts are swapped out.
After finishing high school, I spent a couple 30-day winters on the lifts and in the backcountry of Mt. Seymour. That gave way to racing cars and motorcycles, doing courses in both and leading group outings with other like-minded friends. I've always loved machines, and this was just a phase where I tinkered with larger, more expensive ones. I was never about speed as much as cornering, and I still love to carve a mountain pass with a low-powered machine and a good set of tires.

  The girl car that I bought from my mom, with four bikes on it.
After starting at Capilano College in 2005, I got back on my old BMX for the first time in years. Doing loops of downtown from my good friend Lyle's place in East Van; I hadn't explored the city on a bike in a long time, and found it refreshing. In April 2006, Lyle gave me my first road bike: a green Apollo that had been in his family since it was new in the '70s, now converted to single speed. My first time on 27″ slicks, the bike felt like a rocket. I immediately started a 32km round trip commute across the Second Narrows, and fell in love with bikes again.

  The car that was to be the catalyst for my switch to life on a bike.

At the time, fixed gear culture in Vancouver was still quite small. It's easy now to call everyone with a track bike a hipster, but even a few years ago it still felt like everyone knew everyone else. There was a movement all down the Pacific coast of hill bombing and bike nerding, a subculture where I met a lot of good people, practicing tricks and riding to keep warm. That was the first year I rode through the winter, and fell solidly back into being a bike person. I blew the transmission in my car and, instead of fixing it, chose to move to East Van and get around by bike.

  Gettin' rad in the Little 100, an annual single speed cruiser relay at the Strathcona Park oval. Photo ~ Brandon Edwards
In April 2007 I accomplished probably one of the dumbest feats in my life: I rode my brakeless track bike up and down Mount Seymour. My legs hurt for days. Three weeks later I went over the bars on that bike and broke my collarbone. Even without mountain bikes, my life has been a series of small injuries punctuated by more serious ones. You try not to let these things get you down, and I recovered and came back even stronger. I kept trading parts and frames with friends to try them all out, studying geometry charts and learning the differences even small changes can make.

  That would be mine without the brakes…
In 2008, I repurposed one of my bikes for cyclocross with a set of knobby tires, drop bars, and ugly bar tape. The Sekine Machine was almost 30 years old, but that didn't hold me back from the fun of cyclocross. My friend Matt and I started a tradition of listening to songs from the Rad soundtrack to get stoked on race mornings.

  Back on the dirt, the Sekine brought back that Rad Racing feeling.
I ended up winning the Men's Citizen race at the Vanier Park Classic in a category of 57 people and in front of a crowd of East Van's finest hooligans, and taking second place finishes in two other races. Having been turned off of sanctioned racing in the past, I finally felt like I'd found my place on the cross course.

  Winning the race on a 30-year-old single speed, East Van had reason to celebrate. Photo ~ Elaine Christian
With a taste of victory, I was invited to join the Mighty Riders team and decided to buy my first new bike in twelve years. Mighty is a team that I was proud to be asked to join, and I was in good company. I wasn't really into structured training, but took shop owner Ed's advice to "just ride lots." That I could do. I rode a ton in 2009, logging 200km, 300km, and 400km days, and a 1400km tour of Washington with my trailer.

  A rare beardless moment, after riding from Vancouver to conquer the Coquihalla summit's steep final pitch just to ride back again. Photo ~ Andrew Hartline
I bought my first new bike in over ten years, from a brand I had lusted for since my days as a grom at John Henry: the scandium Brodie Romax B-Team. Whatever I had said about that old Apollo being a rocket was thrown very far out the window. This bike truly is a rocket.

  The Romax B-Team with a few nice upgrades from Raceface.

Back to the movie Rad, in late summer that year Ride On BMX shop put on a race called Helltrack in the woods at Vanier Park. Inspired by the qualifying races for Rad's Helltrack, it was 4 guys per heat, in a pyramid to the top. I entered and won the Pro class, while cheering on my friends in the Bro class. Coming home with a trophy just in time for the beginning of my first real cyclocross race season, I was pumped.

  Lyle ran race support and carried the trophy home.
Committing to a full season of racing for the first time in my life, I went into the 2009 cyclocross with my sights set on the top. I was placing top-5 in the B category consistently, but was just on the edge of the podium. Eventually, though, avoiding a drink the night before racing got to me, and I decided to stop taking things so seriously. Magically, my results started improving immediately – a testament to having the right attitude. By the end of the season, I'd taken a 1st, two 2nds, and multiple 3rds, gaining the upgrade points to move to the Elite category in 2010.

  This is where I made the pass for the win at Burnaby's Foreshore Park. Photo ~ Doug Brons

I had looked around at cyclocross races to see what the most successful racers were doing. It seemed as though many of the fastest Elite racers were also mountain bike racers. I decided it would be a sound plan to buy an XC mountain bike for off-season training. Little did I know, this decision would end up pulling me away from the world of sanctioned racing. Fresh off a successful race season, I wanted a bike that seemed like a logical next step from my race bike. In buying your first mountain bike since the '90s, there is an almost-incomprehensible range of bikes to choose from.

  My Mighty Riders teammate Nick Berry also chose to do his winter training on the trails.
For simplicity and cost, a hardtail it was to be. Frame material and amount of front travel were among my considerations, but so were looks and pedigree. My experience with the Romax was good, and it was natural to look to Brodie's current hardtail crop. The options in my price range – which was about half of what I expected to put into the bike after its initial plateau of modifications – were the Holeshot, an aluminum "Shore hardtail" with 140mm of travel; and the Catalyst, a classic steel XC bike with 100mm up front.
With a background in BMX and three TIG-welded track frames in the past few years, I went with steel. The Catalyst's blue paint popped, and it had a great classic aesthetic. Hydraulic brakes and solid 9-speed drivetrain. Mighty had a medium in stock, but we decided on a large based on my road bike fit. I remember Ed saying "the days of riding your XC bike a size small are over." With the intention to race, and my success on the also-large Romax, I agreed.
In February 2010, I took delivery of that beautiful steel XC machine. After my first ride, a familiar loop on Burnaby Mountain, I was hooked. I had a hilarious over-the-bars crash, got made fun of by my out-of-practice, yet more experienced friends, and knew I had made the right choice. Big tires, good brakes, a granny ring and some squish were exactly what my cross bike was missing. Fun on the trails without being beat up. Looking back over a year of riding, it's amazing the switch that was flipped that day.

  The giant-sized Catalyst on its first trail ride.
I was stoked, and the next day took the bus over to go exploring on Mt. Fromme. Being on a solo ride didn't seem that odd; I'd done quite a few rides on my cyclocross bike and even my track bike in the Lower Seymour Conservation Reserve. I made a single change on my bike, replacing the original stem with a more reasonable 100mm one that I had kicking around.

  The Catalyst on that first fateful day up Mt. Fromme.
This is where the story really deviates from what I was anticipating: walking down most of the technical trail features on the north side of the Fromme switchbacks, the only option was to come back and conquer them. What had started out so innocently as off-season training for cyclocross was about to become a full-blown addiction to hardtail freeride. I was in uncharted territory, and excited to explore.

  Beautiful photos around every corner on Mt. Fromme.

I grew up in these forests hiking with my family, and the discovery of riding here amongst the old growth stumps was, in a way, a homecoming. My BMX background lends itself toward technical riding, and on the Shore, those skills are put to the test in the form of wooden structures, rock faces, slippery root drops, and so on. With these endless technical challenges I had met my match.

  On foggy days, the green of the forest seems to pop even more than usual.
I was hooked on more than just the riding. Countless hours have gone into hundreds of individual trail features that each have their own personality. You'll be out in the forest, bounding along on rocks and roots, when all of a sudden you're gliding silently through the air on a log that seems to never end. This is referred to in Life Cycles, one of the most anticipated films of 2010, as "the mystery of what lay around the bend."

  I was intent on capturing the beauty of the trails on the North Shore, and brought my camera along on every ride.
My next ride on Fromme I ended up going down Seventh Secret and Ladies Only in a torrential downpour. I met a guy at the top who was willing to roll with me, and for that I can be forever grateful. In a year I've met so many people out on the trails, and a patient riding partner can make all the difference in having a good experience. Digger has done a lot of work on Ladies this year, and many of the now-smoother sections were still in-progress. Needless to say, I did a lot of walking with my XC bike.

  "Classic Shore" conditions, as Mr. Summers would say.
I was definitely exhibiting characteristics of what we call "the enthusiastic noob." I found myself riding over the Second Narrows and through my old neighbourhood and elementary school to do loops on Mount Seymour a couple days a week. The trail network seemed endless, and in a way, it's true: weather conditions change the feel of a trail from day to day, and a trail feels new again when you haven't ridden it recently. That mystery is a renewable resource.

  The intense green of Mount Seymour's Bottletop trail.

Realizing the Catalyst would not build into a race contender, I went the other way – more Shore-friendly – with my modifications. It seemed that first plateau of change was being approached – except for one very important piece: the fork. The entry-level air fork was diving through its travel even with more than the recommended amount of pressure in the cartridge, and I knew this was going to bother me.

  Higher volume and more pinch flat-resistant tires, a bar with more sweep, and a saddle that fit me quickly made their way on to the bike along with the 100mm stem.
I can't quite describe what it feels like to rationalize buying a fork that retails for more than your entire bike cost in the first place. However, after a dozen rides, I realized that on the mountain you really depend on your fork. I wanted something strong, but still XC-light. By that time I was certain I was going to buy a Fox fork, the 32 Talas 140 with a through-axle seemed the most versatile option.
After the Talas was ordered, I had the chance to demo a 32 Float, set to 120mm. With this fork I did one of my longest rides of the year: a 75km round-trip from home to trails on Burnaby, Seymour, and Fromme, with over 2300 metres of climbing. With trail riding you count hours on the bike instead of mileage; on this ride we counted both. The word epic is used too often, but this one qualifies.

  Finishing a 75km day with Upper Oil Can may not have been the smartest idea, but we made it. Photo ~ Emily Sportsman
In March our posse solidified itself. Riding is a personal experience, but sharing that experience with some good buds makes it all the better. I'd like to think that Andrew Summers from Brodie and his friend Billy Jackson were at least partially responsible for my disappearance from most other disciplines of riding.

  Hearing Billy's story of his solo ride of the Seven Summits in jeans was a major inspiration. He later won Wade's Wisdom contest for the story

The Handsome Gentlemen's great attitude towards riding and a love of photography meant that we became great friends this year, spending countless hours doing shoots on the trails, roadtrips, and generally having a good time.

  Andrew and Billy, founding members of Handsome Gentlemen Weekly.

Shortly thereafter, the fourth Handsome Gentleman – not a gentleman at all – joined us on the trails. Jodi had the skills to ride the Shore and a super positive attitude. We became the best riding companions, and would often ride the same route together two days in a row. Since we were both riding hardtails, the terrain provided more than enough challenge.

  Jodi takes her hardtail down the ladders on Mt. Fromme with ease.

The increased confidence from having a fresh memory of a trail is a great way to learn. We especially loved riding Ladies, and with enough day light for evening rides, a quick after-work lap was viable at least a couple days a week.

  How many times did you ride Ladies before you cleaned the whole thing?

I went from choosing the wrong line, to seeing and memorizing the lines. I was pushing the limits of my skills, my evolving hardtail, and my new fork. In May, a couple weeks after a particularly large dorp-to-falt and my first big bottom-out of the fork, I discovered some cracks in the paint surrounding my brand new bike's head tube. To many, the 30 rides I'd taken the bike on would be an entire calendar year's worth of riding; I was at three months.

  Airing out my dirty laundry on Mount Seymour. Photo ~ Billy Jackson

With my first XC race scheduled for the upcoming weekend, I frantically contacted Brodie's product manager, Bruce Spicer, to have him look at the frame. He knew exactly what I'd been doing with the bike, as we had been riding together. He expressed concern with the Talas' 40mm of extra travel. We scratched the flaking paint from the head tube welds, and confirmed the frame was not cracked. He advised me to race on the weekend if I kept the fork at lower travel, but said I should be on the lookout for a new frame for the type of riding I was doing.

  Keeping up with Andrew on his Brodie Zealot was not what the Catalyst was intended for… Photo ~ Billy Jackson
The Salty Dog Enduro was a great introduction to endurance racing. Team relay racing and lots of spectators make for a great atmosphere. I raced a two-man team with my friend Manny from Kelowna, and we ended up taking second place in our category with 94 km ridden in 6.5 hours.

  Racing the Catalyst in Salmon Arm on its last weekend.  Photo ~ Rhys Lannon
The next day we rode some amazingly flowy trails on the west side of Lake Okanagan. With an ironically awesome medal made of wood wrapped around the rear-view of my little Mazda, the Catalyst had a proper retirement party. I made the drive home and disassembled my brand new bike.

  With its forgiving steel and good looks, the Catalyst had provided me with a quality learning experience. Photo ~ Jodi Rolston
---
Congratulations for making it this far. This story has more twists and turns to take – and you'll see those in part II. Does any of this parallel your own birth as a mountain biker? Did you, like Morgan, come to the mountain side of riding late in life? Confess
here…