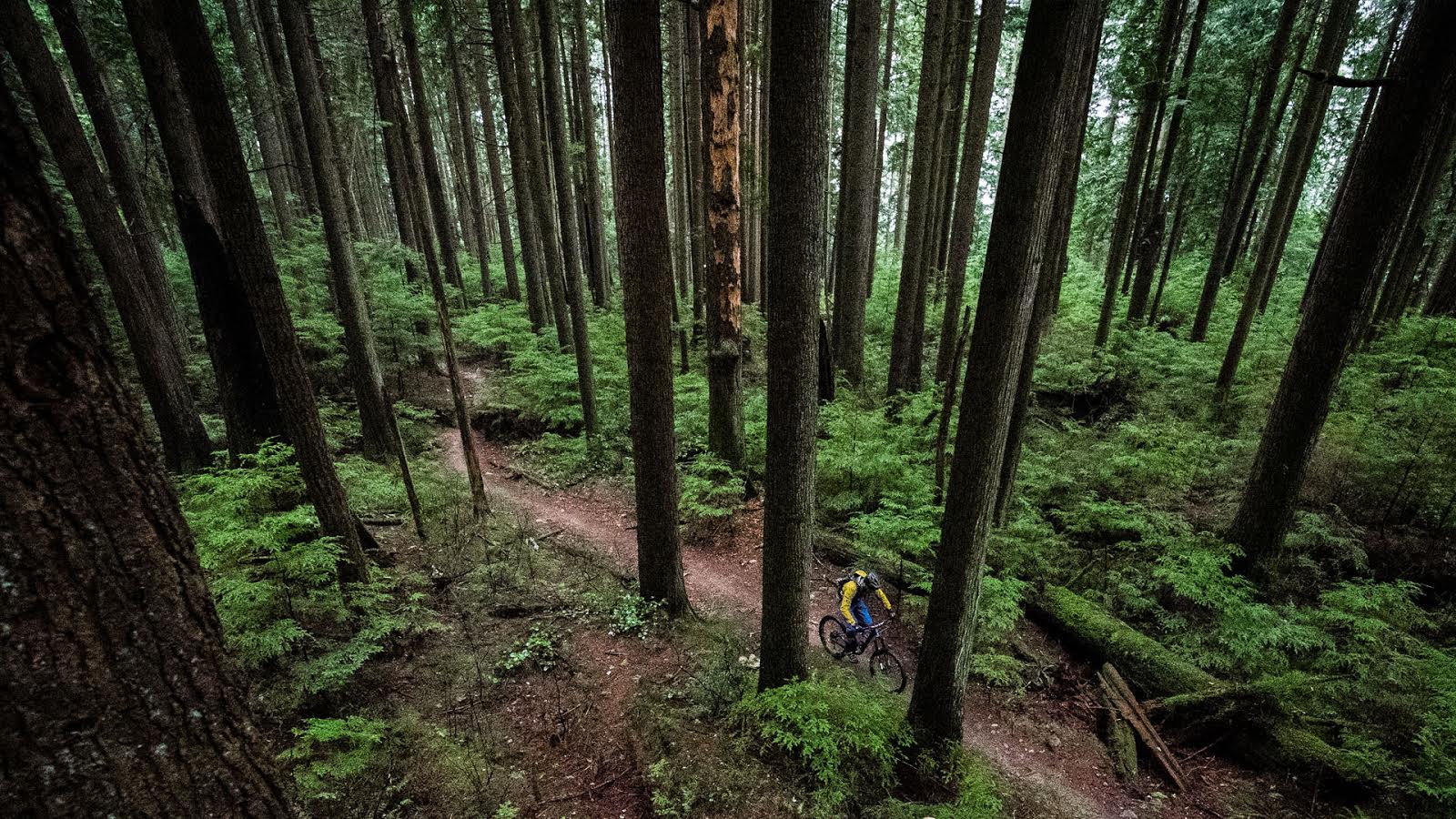 Gear Shots #68
2011 Norco Range 2
Norco decided to shake things up for 2011 with a totally revamped all-mountain bike named the Range. The Range replaces two other 6" bikes that had been staples of the Norco line-up: the lighter-duty Fluid LT and the heavier-duty Six, which was phased out after the 2009 model year. Norco's goal was to create a bike that climbs better than the Fluid but offers the descending and big(ger) hit capabilities of a Six – without the weight penalty.

The 2011 Norco Range 2, in stock attire (plus some generic pedals), is set for all-mountain adventures.
The new bike also gets Norco's new Advanced Ride Technology (A.R.T.) suspension design, which is a modified Horst Link with new pivot locations that allow for additional chain growth and a more rearward axle path. Norco says the new pivot locations increase the anti-squat characteristics of the Horst Link design; that in turn reduces suspension bob and makes the bike pedal more efficiently.  

The new A.R.T. design and Syntace rear end on the Range, complete with new rear derailleur mount.
There are a few other new design advances on the Range: a 1 1/8″ to 1 1/2″ tapered head tube, the Syntace 142mm rear axle system, a post-mount rear brake and a straight seat tube instead of the interrupted seat tube that used to characterize Norco full suspension bikes.
Ranges come in five sizes, from extra small to extra large. I'm testing an XL, which has a theoretical top tube length of 630mm / 24.8". Head angle is 66.5°, seat angle is 73.0° and bottom bracket height is 13.97". A welded one-piece link arm helps add to overall stiffness, and incorporates handholds on the arm to facilitate bike carrying. Ranges come with ISCG 05 tabs for chainguides, as well as top tube cable guides for height-adjustable seatposts.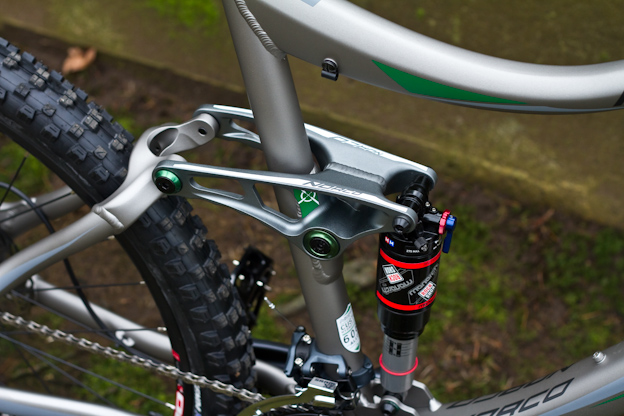 The rocker arm is forged in two pieces and then welded together. One of the height-adjustable post guides is mounted on the top tube.
Component highlights for the mid-level Range 2 that I'm on include a RockShox Lyrik 2-Step RC2L fork, a RockShox Monarch RT 3.3 rear shock, a Norco alloy riser bar, a Race Face Evolve AM stem, Avid Elixir 5 185mm brakes, SRAM X.7 3 x 10 shifters, a Shimano SLX front derailleur and SRAM X.9 rear derailleur, a SRAM X.7 crankset, a wheelset built around Sun Jumping Flea hubs and T M-480 Enduro rims and Kenda Nevegal 2.35" Stick-E rubber tires. Out-of-the-box weight was 33.0 lbs, without pedals.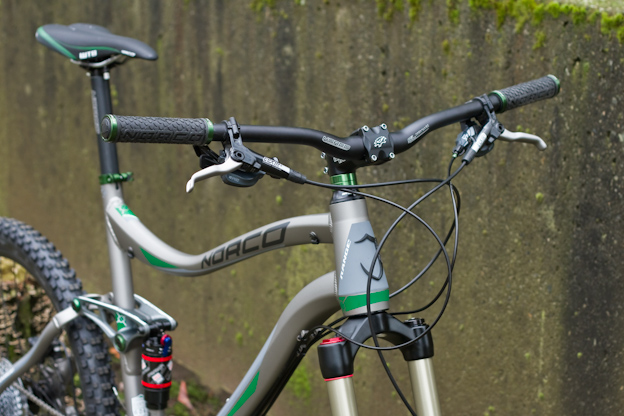 The Range 2 cockpit is well spaced out thanks to the 760mm wide Norco house-brand bar. Alloy parts are color-coordinated with the frame accents.
I made a few minor modifications to the Range after picking it up, to make it more suitable for my kind of riding. That included swapping out the stock seatpost for a RockShox Reverb height-adjustable post, replacing the 42T chain ring with a bashguard, and installing the new Shimano XTR Trail clipless pedals. That brought the total weight for the bike to a rather portly 35.03lbs. MSRP for the Range 2 is US$3,365 / CAD$3,650. Stay tuned for a full review after a few months of thrashing, and we'll see if newer really is better.
RockShox Domain DC fork
Double crown forks are awesome. You get added front-end stiffness and more travel than a long-travel single crown fork. In most cases, you can overlook the weight penalty and decreased turning radius in exchange for those pluses. The one thing that you can't overlook with a double-crown (DC) fork is the price tag. An aftermarket DC fork will set you back anywhere from around $1,200 to $2,000 or more, depending on where you're shopping and how many bells and whistles you want in your fork. That's a serious investment, even if you're not hard up for cash.
RockShox has come up with what it feels is a good alternative for riders who are looking for the pluses of DC fork goodness without the sticker shock: the Domain RC dual crown. Based on the successful and price-conscious Domain long-travel single crown fork, the all-new-for-2011 Domain DC offers up 200mm of travel for about half the price of most other DC forks.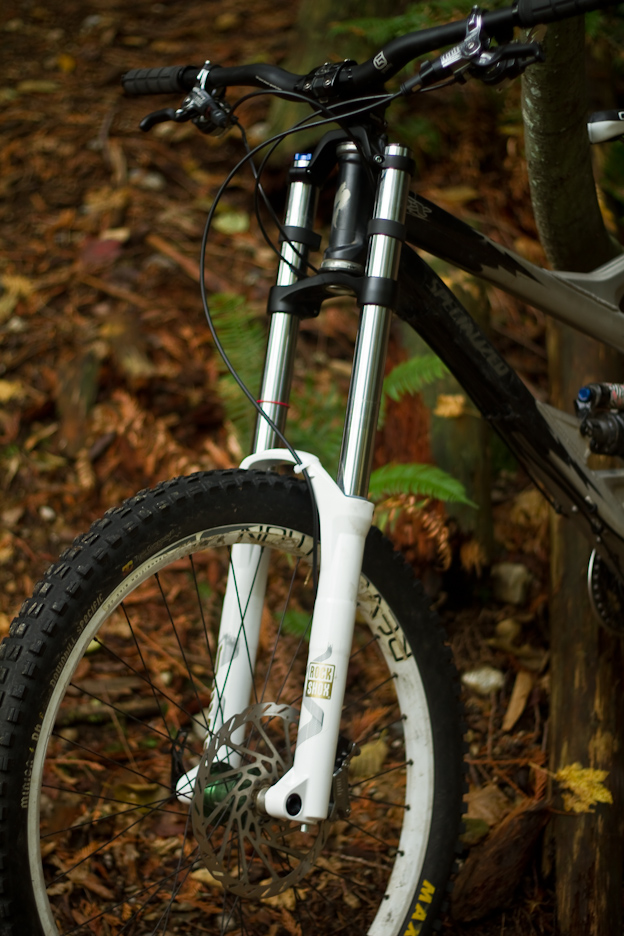 The Domain DC fork gets chromed steel stanchions instead of aluminum stanchions like the Boxxer forks get. They look different, but do the same job as the higher-priced (and lighter) Boxxer stanchions.
The Domain DC fuses the best concepts of RockShox's high-end Boxxer forks with the cost-cutting technology of the Domain single-crown fork. That means it gets the same 35mm stanchions as the Boxxer forks, coil springs, a forged crown that accepts a direct mount stem, and magnesium lowers. Complete details are as follows:
200mm of travel
Motion Control IS damping
Coil springs
External rebound, low-speed compression and internal spring via preload adjustments
Aluminum steerer
Forged, 6061 T-6 aluminum crown that is direct-mount stem compatible
Stanchions are 4130 series tapered wall steel that has been chromed
Lowers are magnesium, feature the new Maxle Lite 20mm axle, and are post mount
When you put the Domain RC beside the 2011 Boxxer RC, the only major difference between the two forks is the stanchions and the accompanying weight. The Boxxer RC gets aluminum stanchions and comes in at 2,882g / 6.35 lbs, while the Domain RC has steel stanchions and tips the scales at 3,424g / 7.55 lbs. (For comparison, a Boxxer R2C2, weighs 3,009g / 6.63 lbs.)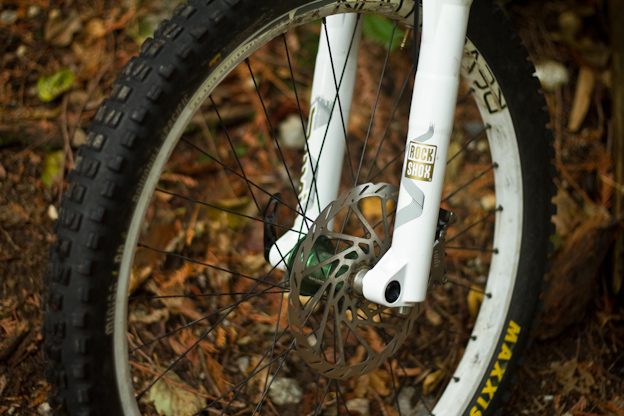 The Domain gets the same lowers as its Boxxer brethren, but uses a Maxle QR axle instead of the Maxle DH axle on the Boxxer. This may be a "price-point" fork, but it certainly doesn't look like one.
How much, you ask? MSRP is a measly $660. Yes, less than $700. All of a sudden, you don't need to sell a kidney to get your hands on that DC goodness. The Domain RC comes with a tall and short crown, as well as two spring different springs. It's available in black or white color options. Stay tuned for a full review after a couple of months of use and abuse.
Truvativ Holzfeller direct mount stem
Double-crown forks add considerably to the front-end stiffness of any bike, but if you really want that "Holy crap, there is zero flex in front end of this bike" feeling, you need a direct mount stem. There are a plethora of direct mount stems to choose from out there, most of which are variations on a similar theme: a forged or CNC'd piece of aluminum that is somewhere between 30mm and 50mm long. Most are made by component companies to go on someone else's fork.
SRAM subsidiary Truvativ makes it a Holzfeller stem that's designed to be paired with sister company RockShox's Boxxer and Domain DC forks. It also offers something that is exceedingly scarce in the direct mount arena: a 60mm option.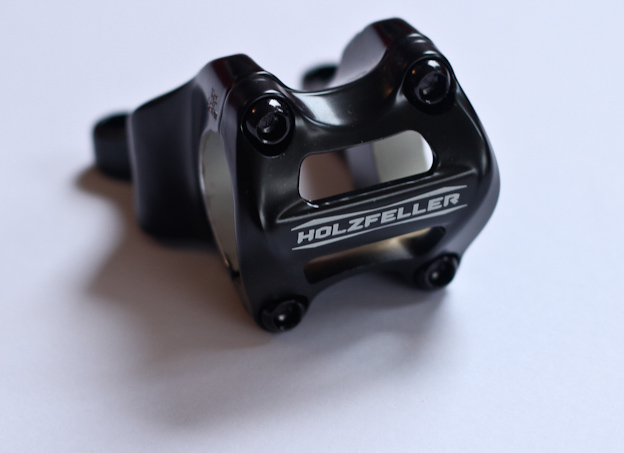 The Truvativ Holzfeller direct mount stem. Simple, yet effective.
Why is the 60mm length important? Simple: it allows taller riders to get the bar where they want it, without having to revert to a standard stem and losing out on the joys of direct mount. And that's important when you're well over 6′ – or need to stretch out a frame that's just a little small for you.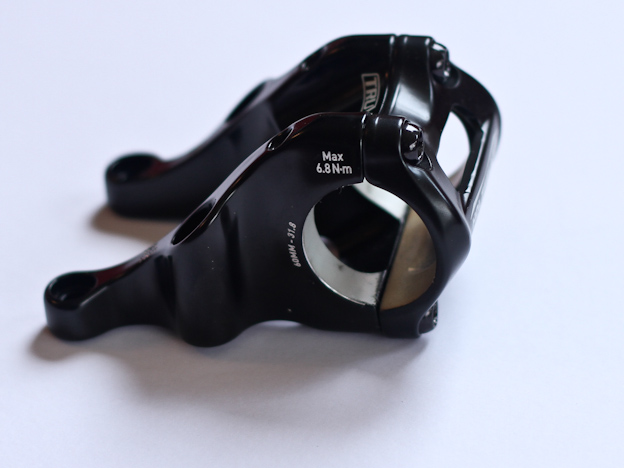 The 60mm length, in glossy black.
The Holzfeller stem is forged and then CNC machined from 7050 aluminum alloy. It's available in 50mm and 60mm lengths, and uses cro-moly bolts. Weight is 190g for the 60mm version, and you can choose from black, white or Boxxer red color options. MSRP is US$75, but retail prices seem to vary quite a bit.
Riders who don't need that extra 10mm can choose the 50mm stem and match it up with their Boxxer (or Domain DC).
---
Think the Range is too heavy, or is it just right given the spec? Will you be opting for a Domain instead of a Boxxer this year? Head on over to the boards and testify.