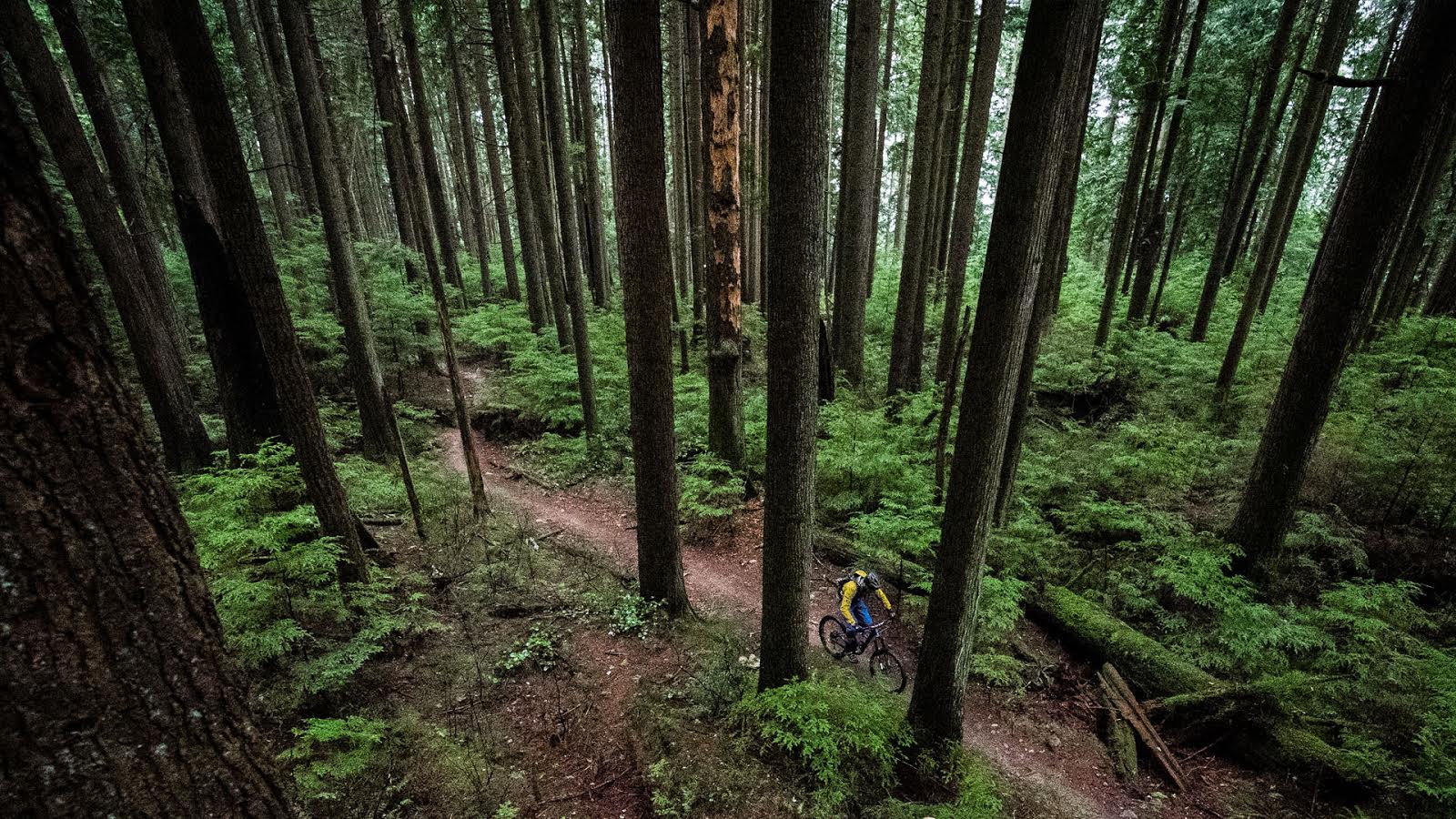 Micayla Gatto
1) Ok Micayla lets get the Cosmo stuff out of the way first! What do you like better?
Burgers or sushi:  Sushi
Boys or girls:  Strapping young men 😛 hahaha
Orange or black:  umm I love colours, but not orange, and black is slimming soooo…. black?
Sneakers or stiletto's:  there's a time and place for both!
Beatles or AC-DC:  AC/DC
Jeans or Victoria's Secret: Victoria's Secret UNDER jeans  hahaha!

  Racing to 7th place in the 2010 Crankworx Air DH.
2) Tell us how 2010 went for you. Any highlights come to mind?
2010 didn't go as planned to be honest, however there were some very awesome surprises too!  I won National Championships, and the Dual Slalom at Crankworx, which  I would say were my two biggest highlights.  I was also in 5th place at the first split in the finals in Leogang, which is the best I've ever done.  Unfortunately I crashed just after and ended up finishing covered in mud, half blind, and 2 of my fingers jammed into one part of my glove!

  Don't you just love it when girls ride bikes?

3) They held the Oakley Ride @ Crankworx this summer. They flew Cedric in from France and Lopes was onboard along with you. What was the deal?
Oakley hosted a learn to ride camp this year, where we took celebrities and taught them how to mountain bike!  It was a ton of fun, and I got to meet some pretty cool people.  I helped coach the women, and they were all very excited to ride, and actually did quite well!  Everyone got equipped with the proper Oakley attire, along with body armour, so we were all looking fresh and flashy for the cameras!  I hope we can do it again next year.
4) You sat atop the podium at Crankworx in Dual Slalom. What was that like for you to win and who did you beat down to do it?
I was shocked to be honest.  It was definitely a season highlight for me.  I just had to try and calm myself down when it came to the finals, because it's not over until it's over! I beat Jill Kintner into the finals, then Emmeline Ragot for the win.  I was stoked! They are both highly respected top athletes, and I was honoured just to be racing with them; winning was unreal!

  Winning the 2010 Crankworx dual slalom – with pretty painted nails for added speed.

5) Micayla you won Elite at Canadian Nationals then later on head to World's in Mt. Sainte-Anne. Sadly you flatted in your race run. How did you feel after all the training and being on home turf?
It was a devastating end to a season to say the least. Without the results I wanted in the previous World Cup races, I was really determined to make St. Anne a banger.  I flatted at the top of the course and couldn't believe it. I didn't DNF though!! I stuck it out to the bitter end, giving it all I had when I could; I wasn't going down without a fight!

  Dropping in at Heckler's rock during the Canadian Open DH – Crankworx 2009.
6) How long have you been riding for Commencal and Oakley? What kind of sponsors are they to work with?
I've been a part of the Oakley family for 5 years now; They are THE BEST!  I could go on forever, but I think that sums it up haha. They are so friendly, so giving, and so encouraging to my career that it honestly feels like a family rather than a sponsor.  I have been riding for Commencal for 4 years, and they are great! I love the bikes, geometry, and the graphics they use. The crew at the Andorra Headquarters are all young and super eager to keep developing some of the best bikes on the planet.  No complaints here!

  Two of the fastest chicks on bikes Rachel Atherton and Micayla!
7) Micayla you raced some World Cups in 2010. Where were they and how did you do? What's it like to race the worlds best and fastest riders?
I raced:
Ft. William, Scotland      Q:11      F:12
Leogang, Austria            Q:9       F:10
Champery, Switzerland  Q:16     F:16
Val Di Sole, Italy             Q: 10    F:12
St. Anne, Canada           Q:11     F:21
Racing World Cups is a whole different animal then National Series races.  I've met some of my best friends on the Circuit, and everyone is very encouraging.  Crashing seemed to be my theme of this season, so my results were less than spectacular from the goals I had set.  With such a good season the year before, I put a lot of pressure on myself to raise my level of performance even higher.  That being said, some pretty hilarious stories have come out of those races, and I learned something new with each. This winter I've been sorting out the kinks and I should be good to go for 2011!  

  Just imagine how fast their kids would be.

8) You've been to South America for some events, where and what were they? What is the scene like below the Equator?
I just have to say one thing: Chileans are CRAZY!!!! I've gone down to an urban downhill race through the city of Valparaiso, Chile, for 3 years now, and each year seems to be crazier than the last!  Thousands of people show up to watch the race, and they are by FAR the most passionate people I have ever met. We usually go for a few weeks, and are given rock star treatment, complete with hords of fans wanting autographs! One group of guys followed us back to our hotel and stood outside the window shouting at me to throw my sweaty kit to them… Steve threw his sweaty boxers instead, and I think a brawl broke out last year and someone got trampled when Cedric threw his shoe into the crowd. Insane. It's definitely an ego boost going down there; a great way to start off the year.

  Micayla racing at Crankworx 2009.
9) Mtn biking legends Nico Vouilloz and Anne Caroline Chausson returned to Crankworx in 2010. Where do you see yourself in 5-10yrs?
Kudos to them. I only hope to still be shredding half as hard as Nico and Anne-Caro in 10 or so years. They are machines, and in my opinon depict the pinacle of athleticism and what it is to be a professional athlete.  I look up to both of them. That being said, I hope to be at the top of my game in 5 years! Come on man, I'm still young! 

  Micayla represents both Oakley and Commencal with speed and style.
10) Were you invited to the Red Bull Rampage in 2010? Do you think you or any other women, Rachel Atherton maybe, could ride that type of event?
Hahahahahhaha you're funny. No, I was not invited. The only tricks I do are into foam pits, water, or on my tramp bike. I think it would be neat if women could compete at that caliber of freeriding, but we've still got a long way to go I think before we are Rampage-Worthy. That being said, I'm sure there's a handful of us that could hit some pretty gnarly lines…. now only to flip whip it too….
Thanks Micayla!
---
Look for big things from Micayla in 2011! Cheer her on here…