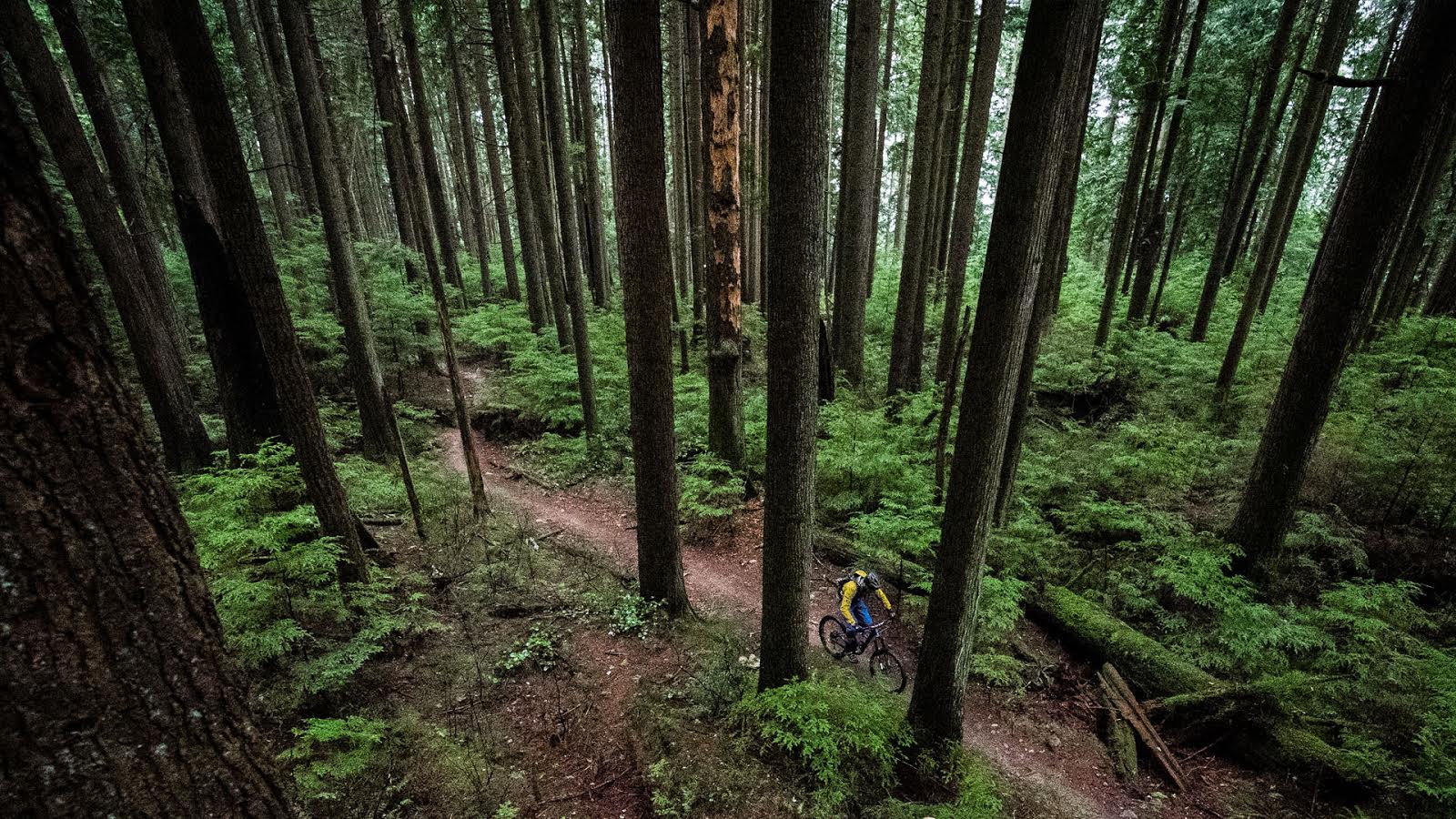 Build a brodie
Build your own bike frame with cycling legend Paul Brodie
The wheels are always turning in Paul Brodie's head.
Brodie, who has been credited with helping to bring the west coast mountain biking craze to life and has been inducted into the Mountain Bike Hall of Fame, is very much a thinking man. And when he came to a time in his life when he decided it was time to 'give back' it didn't take him long to come up with a plan.
The founder of Brodie Bikes   —(a company that he sold several years ago) decided last year to sell the jigs and frames, basic tools for frame building, to raise cash for a new motorcycle. His friend Brent Martin purchased them and suggested that Brodie should find a way to use them to teach people the art of frame building. 
Martin was one of Brodie's first customers back in the 1980s — riding a bike Brodie designed with a sloping top tube. While some people questioned the usefulness and style of the sloping tube frame, Martin wanted to use it for racing.
"Sloping top tubes were new back then, and the local hardcore element of mountain biking questioned the design," Brodie recalls. "Brodies were so new that even Brent wasn't sure about the name; he took half of the decals off. One side said 'bro' and the other side said 'die.'"
Martin took his brand new Brodie Romax to the Cheakamus Challenge — one of the year's biggest mountain bike races — and he won the event. Martin was unstoppable on his bike that season and became the 1986 Canadian champion. No one ever questioned the sloping top tube design again and Paul Brodie became a very busy bike builder.
Since then, Brodie Bikes developed into a respected bike manufacturing company and the name became synonymous with biking in BC. Paul Brodie has since sold the company but has come to a time in his life when he wants to share his knowledge, and passion, for the sport.
"It's not like I had a plan in my life to teach bike building, but I have been building bikes since I was 12 years old and I have a lot of experience at it," he says. "I've been making all sorts of different bikes and I want to be able to share the skill."
It's not uncommon for avid cyclists to pay people to build specific frames, or to build their own frames. Martin pointed out that a frame-building program in Ashland, Oregon, has a nine-month waitlist. So, the wheels in Brodie's head started turning and he approached UFV to teach a two-week course at the university. For Martin, it's an opportunity bike enthusiasts shouldn't miss.
"This is a lifetime opportunity to learn from a true legend and pioneer of the mountain bike industry," says Martin. "It will also offer people a very unique opportunity to design and build a custom frame of their choice, from the ground up in a two-week accelerated course."
 
The course, which is limited to four students, costs $2,500 and will take place at UFV's Aerospace Centre at the Abbotsford Airport. Students will come away with a hard-tail bike frame and the experience of working with a name synonymous with success in the biking world.
"Students will leave the course with knowledge and experience that you can't read from a book or get over the internet," adds Martin. "And they will experience the world of frame building at a whole new level in a productive and professional workshop. Besides that, they get to work with a legend in the biking world."
While no frame building experience is needed, Brodie says this is a course for bikers who know what they want.
"Participants do need to know what style of bike they want, the basic design, and what they are going to use it for — the type of riding they'll be doing. We'll be using the original jigs and fixtures that I used to build more than 4,000 hand-built Brodie frames."
If students wish, and complete their frame quickly, they can bring other parts of the bike and work on assembling the entire project, with Brodie's help. Only the frame, constructed from a choice of cro-moly tubing (available in different sizes and wall thicknesses), is included in the course.
In class, participants will learn about frame design and geometry, and will work with full scale drawings. They will also learn how to weld and braze metals together and experiment with the tools of the trade.
"Students will learn the technical side of frames," says Brodie. "We'll be talking about the head tube angle, fork rake, trail, and more. And they will come out of the course with an industry-standard bike frame they have built themselves. There is nothing like riding a bike with a frame you have personally built."
For more information contact Karen Massier at Karen.massier@ufv.ca or 604-847-5471. To register for the course contact UFV at 1-888-823-8234 and quote course number 80300. Course details can be found at www.ufv.ca/bicycleframe .

Paul Brodie
Paul has been creating things out of metal since he was 12. If it wasn't a bicycle he was working on, it was probably a motorcycle. During the early days of the  mountain bike boom, he became well known for the more than four thousand bicycle frames his company, Brodie Research and Technology Inc., produced. This was followed by a decade of restoring and recreating antique motorcycles for  his new company, Flashback Fabrications Ltd. This included creating (from old photographs) the 1919 OHC Excelsior board track racer.
 
Now Paul has returned to bicycles, teaching those same frame building  skills at UFV that helped to set his bikes apart. Frame Building 101  is a great introduction to the world of metal and bicycle construction. Come have the experience of a lifetime, designing and building your own frame with the legendary Paul Brodie.
 
 PAUL BRODIES' FRAMEBUILDING SCHOOL FAQ
 


Do I need any prior experience?
No.
Are there any prerequisites for this course?
No, but it does help to have good hand / eye coordination, and good (corrected) eyesight in the medium to close range. Minimum age is 18.
How often does the course run?
The course is scheduled to run 6 times a year.  Of course if there is more demand we will offer more dates.  If you have a small group of friends and a date in mind, contact us and we can schedule a course just for your group.
What is the class size?
We limit the class size to a maximum student/instructor 4:1 ratio


What kind of tubing will I use to build my frame?
We use high quality, butted, 4130 (cromoly) tubing from a variety of sources.
Why can't I build using the super light, heat treated tubing?
Because the thin wall is more difficult to weld, it doesn't make sense if you are just learning those skills. It is more suitable for an experienced frame builder.
Why can't I build with aluminum or carbon fiber?
These materials offer challenges that are unsuitable for the novice frame builder.
What type of bicycle can I build?
Almost any type of a steel "hardtail" frame, without lugs. This could be a MTB, single speed, cyclocross, road, or track bike. Wheel sizes are 26″, 29″, or 700c. Frames can be TIG-welded, or fillet brazed. Brake bosses either V-brake or disc. We are not setup for tandems, recumbents or full suspension bikes. They are a LOT more work…
Can I build an elevated chainstay bicycle?
No. Our fixtures aren't designed to accommodate this style of frame. 
Do I get to build a fork?
No. Forks are not easy to build for the novice, and there are many good ones on the market for a reasonable price. However, you do need to know what fork you will be using on your frame.
Can I build a full suspension frame?
No. This is much too complicated for an introductory course such as this.
A tricycle?
Maybe.
How are the days structured during class?
Classes are Monday to Friday, 8am to 3:30pm, with 45 minutes for lunch. Course duration is two weeks. The focus is "hands on", but there will be a lecture and demonstration daily, with the occasional slide show.
How much of the work do I get to do myself?
As much as you like, or are able to do. If, after practicing TIG-welding, you do not feel your welding skills are sufficient, then the instructor will weld your frame for you.
Will I be able to finish my frame?
Yes. There is enough time in this course to have it ready for paint at the end of two weeks.
Where can I buy components for my frame?
Registered students will be able to buy a gruppo at close to wholesale pricing. Please let us know in advance if you would like to do this.
Will I be able to paint my frame at UFV?
No. Painting a frame is a very different skill from building a frame, and it is not within the scope of this class to offer that. There are painting services available elsewhere, and we can refer you to them.
Do I receive a certificate upon completion of the class?
Yes. All students who successfully complete any of our classes receive a Certificate of Completion.
Can I get a job building frames after my graduation?
It is possible, yes. It is also possible to create your own job and become a self-employed frame builder; the Internet has made this much easier. Others just want the satisfaction of building their own frame.
Is the course run during the summer?
Yes there will be a summer schedule and if you have a group of friends interested we can schedule a course just for you.
How much does the course cost?
The course cost is $2500 Cdn, inclusive.  This fee is payable to the University of the Fraser Valley when registering for the course. 

What does tuition include? 

The course cost includes use of shop facilities, tooling and shop supplies.

Is the cost of the course tax deductible for Canadians?

The University of the Fraser Valley issues a T2202 Tuition Deduction tax form for our Bicycle Frame Building course.  This is sent out from the University in the spring.  


Are there any additional fees for International Students?
No.  The same tuition rate applies to all students from Canada or other countries.
Is there a charge for shop supplies?
All shop supplies used during the course are included in your course fee.  This course is based on an "average" tube set, dropouts and brazeons. If you opt for premium components, there may be an up-charge.
Will I need to buy textbooks?
No. There will be handouts on all aspects of the frame building process, but you may want to take notes as well.
Do I have to bring my own tools?
No.
What time does the course start?
The course starts at 8 am in the morning and ends daily at 3:30.  We have about 45 minutes for lunch. Bring your own lunch or there are fast food outlets available within a 5 minute drive.


What should I wear while on the course?
Steel toe boots, comfortable clothing.
Will I receive a certificate?
Students successfully completing the course will receive a frameable statement of completion from the University of the Fraser Valley. 
Will there be homework?
No.
Where is the UFV Aerospace Centre?
We're located at the Abbotsford International Airport at 30645 Firecat Avenue, Abbotsford, British Columbia. Abbotsford is located 45 minutes east of Vancouver, BC and 5 minutes north of the USA border.


Where can I stay while at UFV?

Abbotsford  has the usual variety of small to mid-sized name brand motels/hotels, as well as a variety of B&B's. 
       
•        Super 8 Motel 1-800-663-9842 www.super8.com 
       
•        Comfort Hotel 1-604-859-6211 www.choicehotels.ca 
       
•        Best Western 1-800-937-8376 www.bestwestern.com 
       
•        Coast Abbotsford Hotel 1-800-716-6199 www.coasthotels.com 
       
•        Super Suites www.supersuites.ca  
       
•        Ramada Inn www.ramada.ca

Here are the course dates:


(20187) Paul Brodie, Jan 17, Mon – Fri 8 am–4 pm, $2500. 
(20188) Paul Brodie, Feb 7, Mon – Fri 8 am–4 pm, $2500.
(20189) Paul Brodie, Mar 14, Mon – Fri 8 am–4 pm, $2500. 
(20191) Paul Brodie, May 9, Mon – Fri 8 am–4 pm, $2500. 
(40084) Paul Brodie, May 30, Mon – Fri 8 am–4 pm, $2500. 
(40085) Paul Brodie, July 4, Mon – Fri 8 am–4 pm, $2500. 
(40086) Paul Brodie, July 25, Mon – Fri 8 am–4 pm, $2500. No class Aug 1.
(40087) Paul Brodie, Aug 22, Mon – Fri 8 am–4 pm, $2500.
Here are some testimonials:
 Paul's competence and enthusiasm make the course invaluable from both an educational and enjoyment perspective. The blending of theoretical information with practical instruction result in the students learning how and why at the same time, which really took the course to the next
level. I have recommended Framebuilding 101 to several friends, and am considering taking it again to enhance what I've already learned.
 Thanks Paul!
Ken Ecker
I'd been wanting to take a bike repair course, when I heard there was "
 Bike Frame Building 101″ with Paul Brodie I knew this was what I had to take. I worked all summer to buy a Dirt Jumper bike now I could design and build my own. Paul's course was like being in the design and engineering department at the factory. I will never forget these 2 weeks. Now I will be riding a Dirt Jumper I designed and built. The  frame stamped with my serial number gave me the feeling that I could  design stuff too, just like Paul.
Thanks Paul
Daniel Reddicopp
I found the Frame Building course at UFV to be a great experience. Having ridden and raced bikes for years it was really exciting to finally have the opportunity to design and build my own bicycle frame. The small class size allowed each student to get lots of one on one training from Paul Brodie. I would recommend this course to anyone with a passion for two wheels!
Simon Blythe
---
Got some design ideas you'd like to get on the dirt? Done the course? Any FAQs? Send it here…