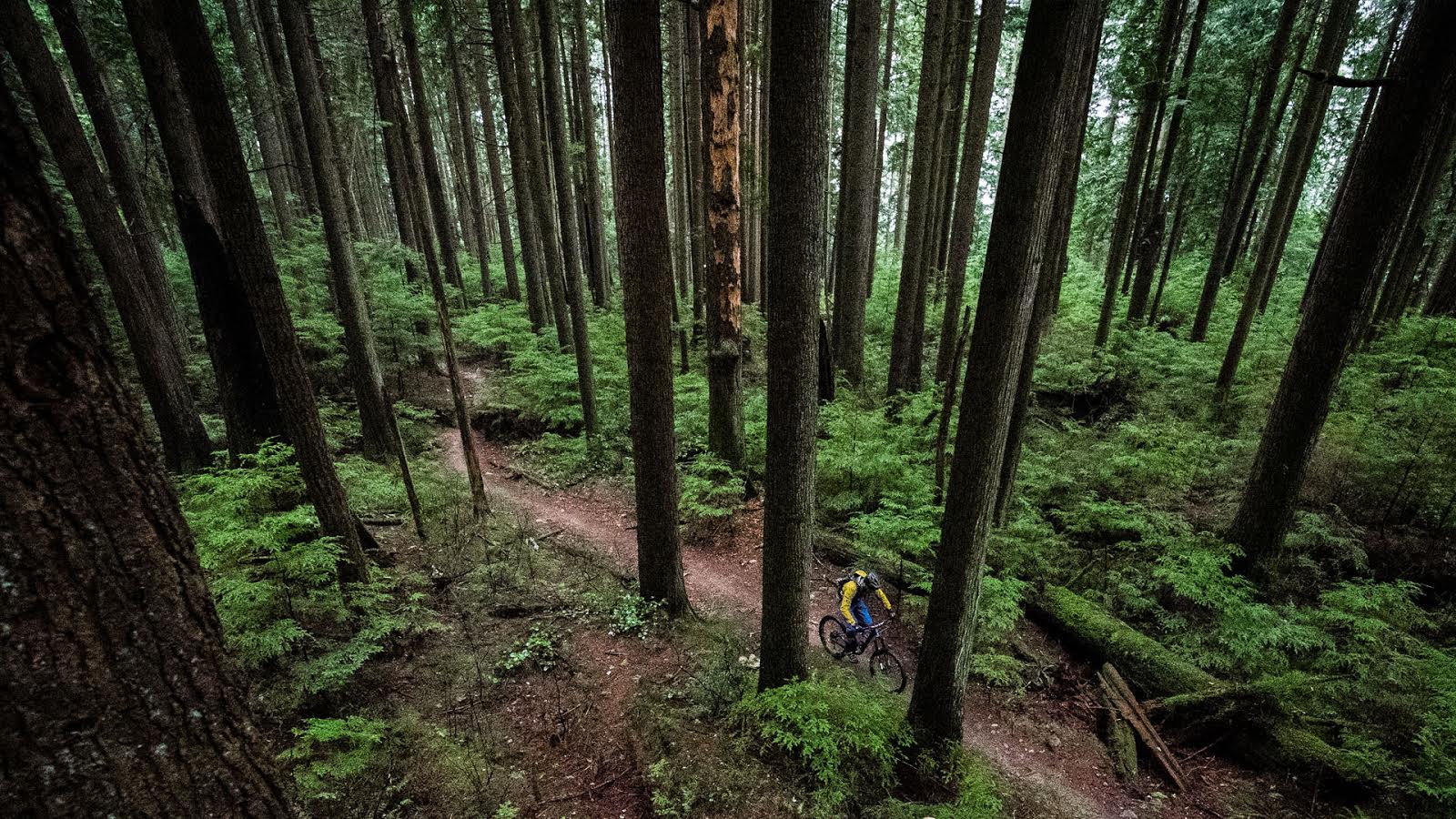 Gear Shots #67
Mucky Nutz Fender Bender
Shot by – Mark Mayo
Nobody likes having mud in their eyes. Especially while you're pinning it down an awesome bit of trail. There are two ways said mud ends up on your eyeballs. Some of it shoots up off your front tire, miraculously weaving its way past the downtube on its way straight into the corner of your eye. Most of it, however, was tossed perilously into your path by your own treacherous front tire where that mud seems to turn right around mid-flight and make a kamikaze run at your face. Not fun. For many winters now I copied the DH guys who stretched an inner tube between their fork stanchions to stop that mud before it got ahead of them. The inner tube is a simple and effective solution that has been productized into neoprene form with nice velcros as the Neoguard. Lots of folks run with this setup, and it works wonders. 
Recently, though, I've been seeing another solution deployed on the forks of many a North Shore rider. Also inspired by a DH racer ghetto solution, the Mucky Nutz Fender Bender 2.0 is the trend-du-jour around here, based entirely on the fact that everyone loves saying "mucky nutz". Seriously. Mucky nutz! Say it!
  Stylish, simple, and keeps some of the mud off your seals to boot. Photo ~ Mark Mayo
The Fender Bender is simple to install – cut the supplied velcro into 5 sections and attach to the fork legs and brace, twist it around a bit to get it centered and lined up, and you're good to go. Install took maybe 2 minutes, it fits nice and snug and hasn't moved at all for me. It's a very thin piece of plastic (nearly identical to the "Rail Tail" downtube fender if you remember those) and hence weighs nothing (16g), doesn't get heavier when wet, and, well, it just works. That's right, end of story, the thing works incredibly well at keeping the forward-flung mud out of your eyes and off your stanchions, seals, and brace. It also, in my opinion at least, looks pretty damned good doing it (and yes, it comes in a bunch of colours).  My only nitpick is that sometimes when ripping down a trail with a particular kind of "course sand" the tiny little pebbles that get flicked up kind of rattle off the guard and it sounds not so "quality". But really, I'm stretching to find a negative here.
The fender bender installs securely, and the wrap around design keeps some mud off the stanchions, seals, and brace. Photo ~ Mark Mayo
The only question that might not be obvious is whether or not this handsome number actually works any better or worse than the venerable stretched inner tube solution. To answer that, I think a diagram is in order:
   More or less keeps the same amount of mud out of your eyes as a Neoguard (or the ghetto tube equivalent) Photo ~ Mark Mayo
So the Fender Bender isn't going to keep the upward firing mud rockets out of your face (still need a downtube solution for that), but it certainly matches if not slightly improves the mud protecting capability of the inner tube setup and offers a bit of fork seal protection too due to the wrap around design. I'm pretty sure I'll be keeping mine installed all year round.
Looks good, weighs nothing, is cheap (~$15), and actually gets the job done. Recommended. A+++++. Would buy again.
To order one hit up Muckynutz.com of course.
---
2011 Poc Trabec Race Helmet
Shot by – Cam McRae
I've always been a fan of the in between helmet. I guess you'd call it an all mountain or enduro approach to cranial protection. Light enough to wear all day but with better coverage and protection than your average XC skid lid, these helmets make sense for any ride where you are pedalling and then descending on challenging terrain. The Giro Xen comes to mind or the Urge Endur-O-Matic.

  Our reluctant helmet model wasn't so keen on staying still for these shots. Photo ~ Cam McRae
Poc's entry for this niche steps up with their usual one-two punch of fresh styling and tech advances aimed at keeping your head working properly. The outer shell uses an Aramid wrap – a kevlar variant like that used in bullet proof vests.  Aramid is said to protect the inner liner, distribute impact force and add durability – while keeping the weight down. Our sample weighs 350 grams. 

  Good venting, attention to superior protection, great fit and quality accoutrements make the Trabec Race a solid choice. Photo ~ Cam McRae
Everything about the Trabec Race oozes quality. The buckle, strap and retention system all have a BMW feel (okay – maybe Volvo since POC is Swedish – certainly better than IKEA though). There are no seams in the smooth plastic fittings and everything fits a little better than your average brain bucket.

  There are more subtle colour choices available including white and black – but why not live it up?
The 16 vents make this helmet a poor selection for a cold winter day. This lid vents so well I got an ice cream headache on a recent ride – which bodes well for the fair weather. It also fits my misshapen noggin better than most helmets I have tried before.
The Trabec comes in two models and six colour combos – The Trabec Race – MSRP $175 US and The Trabec at $145US. (CDN numbers not yet available.) (The Race model uses extra Aramid reinforcements)
For more check out Pocsports.com
---
2011 Specialized Demo 8 frame
Shot by – Cam McRae
The Demo started out life rather crudely – as a 50lb steel prototype that hangs to this day on the wall at Specialized headquarters. They had hit on something big though and the frame has been refined to the point that it's now one of the most sought after DH race frames on the market. There was a time when Demo frames were dismissed as freeride huck wagons – but that all changed with the arrival of Sam Hill and his winning ways. Sam's input changed the frame right away but all of his (and Brendan Fairclough's) modifications didn't make their way into production until this year.

  It's very frustrating having almost everything needed to build up this beauty. The 2011 Demo has the shortest chainstays of any DH frame on the market. Photo ~ Cam McRae
One of the first things I noticed is how sleek this frame is. Previous Demos were mud collectors – particularly around the main pivot. Things are far smoother this year and there's now a channel where things used to gum up. This is by far the best looking Demo yet – and one of the sleekest looking DH frames on the market. It's low slung with a short back end and it weighs 11.2 lbs with a Rock Shox Vivid and a steel spring (this weight also includes two chainstay protectors, seat clamp and the rear axle).

  The Demo's tubes are even more shapely than they have been in the past. Photo ~ Cam McRae
The Demo now has a 150mm rear hub spacing as well as a Press Fit 30 BB shell. There are two settings to allow you to adjust the bb height and head tube angle and you could add a Cane Creek Angle Set to adjust the head angle independent of the BB height.

  New for 2011 – a press fit 30 bottom bracket.  Photo ~ Cam McRae

  I'll admit it – I love the rainbow stripes. Looking forward to trying out the Rock Shox Vivid as well. Photo ~ Cam McRae
We're waiting on a few parts (a few items from ACROS in Germany are particularly exciting) and then we'll be building her up.
---
Anything here on your wish list? Questions about these bicycling products? Spit it out here…